SHARE THIS!
Post this graphic on your social media profiles and encourage your followers to vote! Voting is unlimited!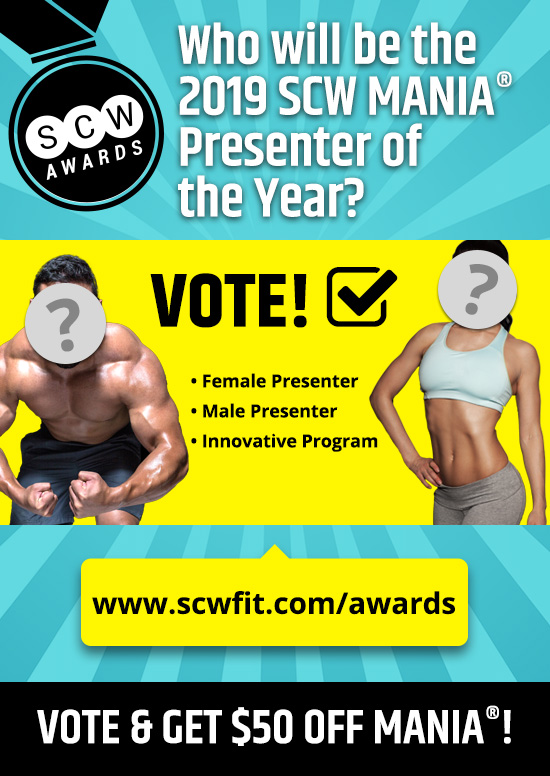 (Click to enlarge and save)

VOTE HERE for your Favorite MANIA® Presenters & Programs
One nominee per category will be honored as the MANIA® Presenter of the Year for that particular event location (New York, California, Florida, Atlanta, Dallas, Midwest, D.C., Boston). These MANIA® Presenter of the Year Award Winners stand prestigiously on their own.
All voters receive the one-time use of a $50 AWARD off the 2018 MANIA® of their choice! (Can not be combined with other discounts.)
2018 SCW MANIA® Award Winners
---
NYC MANIA®:
Leslee Bender
Steve Feinberg
Barre Above®
---
California MANIA®:
Susane Pata
Marc Coronel
TriggerPoint®
---
Florida MANIA®:
Tricia Silverman
SGT Ken®
One Day to Wellness
---
Atlanta MANIA®:
Mindy Mylrea
Jeff Howard
WATERinMOTION®
---
Dallas MANIA®:
Tricia Murphy Madden
Marc Coronel
ActivMotion Bar
---
Philly MANIA®:
Pattie Bostick-Winn
Lawrence Biscontini
Schwinn Cycling
---
Midwest MANIA®:
Kari Merrill
Jeff Howard
TriggerPoint Therapy