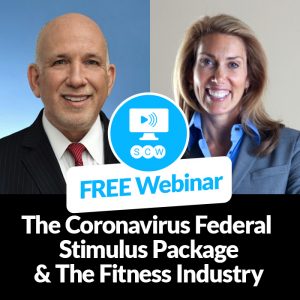 The Coronavirus Federal Stimulus Package & The Fitness Industry
with Alan Roth, Esq. & Sara Kooperman, JD
FREE WEBINAR: Courtesy of SCW Fitness Education
Wednesday, April 1st!
6pm-7pm EST
5pm-6pm CST
4pm-5pm MST
3pm-4pm PST
REGISTER HERE FREE: www.scwfit.com/livestream/#webinars
This Wednesday, April 1st, SCW Fitness Education is hosting a FREE webinar on the Coronavirus Aid, Relief and Economic Security (CARES) Stimulus Bill that signed into law on March 27, 2020. The Government has created a bill providing loans to businesses that many companies may never have to repay. This 350 billion dollar Stimulus package is aimed at supporting the many suffering businesses impacted by the coronavirus pandemic. The goal of this legislation is to prevent unemployment rates from escalating out of control and keep our businesses from closing.
SCW's presenter is Alan Roth, Esq. Mr. Roth is one of the (if not "the") foremost SBA experts in the country on Small Business Administration loans and had an actual hand in writing the new rules relating to this Stimulus Package. Mr. Roth will provide an overview of the CARES Act provisions.
Mr. Roth will address the following questions:
1. Why did the government decide to implement a bill where businesses receive a loan and never have to pay back all or part of it?
2. How does the Stimulus package works in general?
3. What information must a health club, studio or fitness vendor collect using what date perimeters?
4.-Who does this Stimulus Package apply to, Large Health Club Chains? Independent Small Health Clubs?, Boutique Studios, Private Personal Trainers? Not-For-Profit Businesses such as the YMCAs?
5. What are the two (2) distinct concepts used to understand the Stimulus Package?
6. How does a business calculate the amount of the loan?
7. What does payroll include?
8. Can you include your independent contracts to determine payroll?
9. How does a business calculate the forgiveness on the loan?
10. How is rent calculated? What about partial rent or hourly space rental or percentage rental?
11. What constitutes utilities?
12. What if there is nothing for your employees to do? Do Health Club Owners continue to pay their employees to sit around? Are owners forced to pay salaries if there is nothing for their staff to do?
13. Are Group Fitness Instructors (that are employees) who are only paid after performance or on commission included in the payroll analysis?
14. Are Personal Trainers (that are paid as employees) also included in the payroll analysis?
15. Are "necessary" independent contractors who are paid hourly or as a vendor covered?
16. What happens to the amount of the loan that is not forgiven?
FREE WEBINAR courtesy of SCW Fitness Education
Wednesday, April 1st
6pm-7pm EST
5pm-6pm CST
4pm-5pm MST
3pm-4pm PST
Register Here: www.scwfit.com/livestream/#webinars