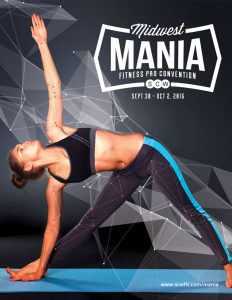 Midwest MANIA® is almost here…September 30-October 2, 2016!
The MANIA® Fitness Conventions are pleased to bring local education and certifications with their regional conventions to the Chicago area next month. The Midwest MANIA® conference will serve over 1,500 health and wellness professionals and offer a variety of education to meet the needs of all fitness professionals.
"MANIA® is more than just a fitness convention – it's the place where the fitness community goes to learn, get inspired and recharged!" says Sara Kooperman, CEO of SCW Fitness Education. "MANIA® is affordable and perfectly suited for everyone from the budding exercise professional to the seasoned fitness veteran."
MANIA® is a three-day fitness professional conference offering 17 different sessions every hour at each location. The convention features world-renowned fitness educators leading over 250 sessions and 31 certifications on topics such as Personal Training, Group Exercise, Active Aging, HIIT / Tabata, Ballet Barre, Nutrition, Kettle Weights, Yoga / Pilates, Cycle, Aqua / WATERinMOTION®, dance / Zumba®, small group training, business management and more.
During the convention, participants will also earn continuing education credits though SCW, AFAA, ACE, NASM, ACSM, AEA and others for each session and certification training they attend.
Come browse the best selection of fitness equipment, apparel, accessories and media in the industry. Take advantage of MANIA®-exclusive specials, product demos and more! The Expo is FREE and open to attendees as well as non-attendees.
"Rub elbows with your favorite presenters, shop the Expo and celebrate being part of a greater health and wellness community," says Kooperman. "It's a shot of adrenaline for every fitness career that keeps our attendees coming back for more!"
For more information about MANIA®, visit www.scwfit.com/midwest.
Here is a complete list of dates and locations:
Dallas MANIA® | Aug 26-28, 2016
DC MANIA® | Sept 9-11, 2016
Midwest MANIA® | Sept 30-Oct 2, 2016
Boston MANIA® | Nov 11-13, 2016
New York City MANIA® | Feb 24-26, 2017
California MANIA® | March 24-26, 2017
Florida MANIA® | May 5-7, 2017
Atlanta MANIA® | July 28-30, 2017