From the Crowd to the Main Stage: Take the Leap with SCW Fitness Idol
by Robin Taylor
Do you remember the day you passed your first exercise certification? Do you remember the first class you ever taught? Have you ever told yourself that one day you will be in front of other instructors teaching them what you know? That one day is now, SCW Fitness Idol is the answer.  Join the ranks of top MANIA® Fitness Pro Convention presenters who jump-started their careers at Fitness Idol. You could be next!
All dreams have a beginning. Take the first step and sign up today on our website www.scwfit.com/idol. All-Star Presenters such as Yury Rockit, Billie Wartenberg, Tricia Silverman, and Connie Martin stood in your shoes.  They knew they wanted more and went after it and won, RIGHT HERE at SCW.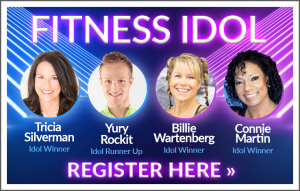 Do you have what it takes to become an SCW Fitness Idol? We are always looking for that special Personal Trainer, Group Fitness Instructor, Business Leader, Nutrition Lecturer, and Aqua Presenter, just to name a few. All categories and disciplines are welcome to apply.
Winners secure their own Presenter slot at a future MANIA®.  They also receive coverage in an SCW Idol press release. All applicants are accepted to compete. Each contestant must lead a live 3-minute presentation of either movement or lecture, show quality verbal and visual cueing techniques and demonstrate an ability to lead the group and connect with the participants. We encourage each applicant to bring students, friends, and family along to support them during the Fitness Idol Contest. These individuals can follow you on the ground in a simulated class while you teach from the stage!  We can help you with your music and your equipment.
If special equipment is required just let us know. If it is a unique product that is not currently available at MANIA®, please bring your own. Lastly, if you are unable to apply online, all walk-ins are welcome.
Here are a few tips for taking the next step in your career, from Idol Winner, Tricia Silverman:
Apply for fitness idol.
Put fitness idol and the other things you want in your life and career on a vision board. Set goals and take inspired action to reach your vision.
Get your best material together that you can do in 3 minutes, focusing on innovative moves or tips, and try out at idol.
Get mentors and coaches to help you along your journey.
Next SCW Fitness Idol at Boston MANIA®, December 13-15 at The Westin Boston Waterfront.
Hear from some previous SCW Fitness Idol Winners!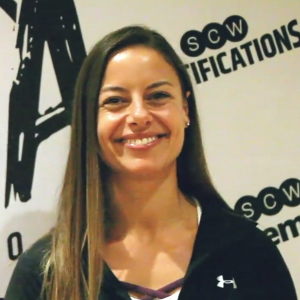 "I'm super excited! I have met some pretty incredible people here because I showed up here by myself. And now I have 6 ladies that were incredibly supportive during this process."
–Caitlin Kessay, MANIA® Fitness Idol Winner
"Dream it. Believe it. Achieve it. Inspire others to join you. Winning SCW Fitness Idol has been a game changer for me and my program, Weigh2Dance! I'll never forget the moment Sara Kooperman called my name as the winner for 2018 Atlanta MANIA® Fitness Idol. I am not only a better presenter now, but Fitness Idol has given me the confidence to keep going on my journey and share my passion with others. I am so grateful!"
–Rachel Lauria, MANIA® Fitness Idol Winner
"The life you choose could be a masterpiece if you muster courage and get out of your own way to success. I had attended Midwest Manias for many years as a Staff Assistant and became acquainted with Manual Velazquez after his sessions, we had conversations about me wanting to someday be a Presenter. He was always encouraging. In 2016, at an aqua lecture, he and Jeff Howard suggested that I leave now and go try out for Idol as a walk-on. I was the 10th and last contestant to complete, and I won being the first person to ever win Idol doing an Aqua routine. I was also the oldest person to ever win. I want to inspire anyone who is ready to take the next step to jump-start their fitness career to a rising star."
–Connie Martin, MANIA® Fitness Idol Winner
"In November 2016, I put together 3 minutes of my best material and gave Fitness Idol a shot. To my surprise, in a very surreal moment, Sara Kooperman, the CEO and brilliance behind SCW, announced I was the winner! It was a game-changing moment and has led to many amazing career opportunities that wouldn't have happened if I didn't put myself out there.  Winning SCW Idol led me to presenting at MANIA® continuously less than a year later, speaking at other fitness conferences, lead the Active Aging Nutrition Certification, (live stream December 12!) and write an Amazon best-selling book titled Healthy Dividends, Investments in Nutrition, Movement, and Healthy Habits that Pay Off. Special thanks to Sara, SCW and International Fitness & SCW Icon Lawrence Biscontini for the impact they made on my life, book and career."
–Tricia Silverman, RD, MANIA® Fitness Idol Winner