Improved Success with Online Marketing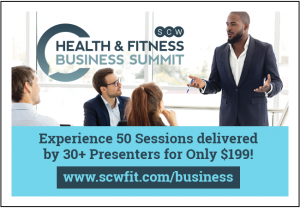 One of our perennial favorite presenters, Billy Polson asks a very important question. Is your online marketing getting you measurable and profitable results? He showed attendees how to use their website, SEO, social media and online reviews to identify current strengths and opportunities for growth. Essential marketing elements used by our industry's most successful brands and fine-tune your marketing to attract ideal clients, understand their goals and convince them to buy we discussed among many other exciting topics.
---
---
About Billy
Billy Polson, is a nationally recognized fitness entrepreneur, presenter, and business consultant. In 2004, looking to build an unparalleled training facility and a community of the Bay Area's leading independent coaches, Billy founded DIAKADI Fitness, awarded San Francisco's 'Top Trainers/Gym' for 13 straight years. Three successful fitness brands later, he launched The Business Movement, a fitness entrepreneur education program, which has assisted hundreds of fitness business owners with developing powerful brands and maximizing their success. Learn more at www.diakadi.life.