Website Clicks That Get Clients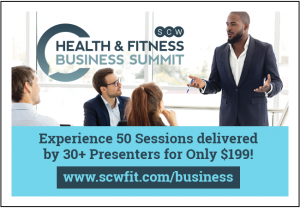 Dave guides it through some of the most important aspects of your business, your website. Does your website work? Sure, it's online, but is it doing its job? Most website owners think, "If it's pretty, it's good." But, your site should be doing a LOT more than just looking good. Participants learned many valuable points including, how your website can help you recruit new clients 24/7.
---
---
About Dave
Dave Smith is an online health coach who was chosen as "Canada's Top Fitness Professional" in 2013 for pioneering the world of online fitness coaching. He is the founder of the Online Trainers Federation, which focuses on helping fitness professionals grow their brands and online businesses. In addition, Dave hosts two popular podcasts, wrote his first book called "Can't Lose" and does speaking engagements at numerous fitness and business conferences each year. Find Dave's book here www.makeyourbodywork.com.