Join the MANIA® in CA, FL, GA, TX, PA, IL, MA & DC
MANIA® is more than just a Fitness Pro Convention; it's the place where the fitness community goes to be educated, inspired and recharged! As the largest global provider of Fitness Conferences in the world, earn up to 24 CECs in a single weekend, running up to 19 sessions every hour, featuring 70+ presenters. Our 8 MANIA® Conventions in CA, FL, GA, TX, PA, IL, MA and DC attract world-renowned fitness educators leading over 35 Certifications and 250 sessions. For all the MANIA® locations and dates visit scwfit.com/mania.
Experience It All Under One Roof At One Event!
19 Sessions per hour with over 250 sessions on such topics as:
● Group Fitness
● Personal Training
● Functional Training
● HIIT/Boot Camp
● Foam Rolling
● Active Aging
● Meditation
● Yoga
● Pilates
● Recovery
● Barre
● Nutrition
● Cycling
● Rowing
● Dance
● Aqua
● Leadership
● And Much More!
20 Continuing Education Credits/Units (Cecs/Ceus) In 1 Weekend
MANIA® Conventions supply you with up to 20 Continuing Education Credits/Units during the 3-day convention including the Keynote speech and evening sessions! SCW, AFAA, ACE, NASM, AEA, ACSM, NFPT and other providers accept MANIA® CECs/CEUs. We are happy to help you secure Physical Therapy or other CEUs! SCW is committed to excellence and utilizes only presenters that are certified or carry a fitness-related graduate or undergraduate degree. Please check with your individual certification organization to determine the exact number of CECs/CEUs required for credential maintenance. All courses are subject to CEC/CEU approval by your corresponding educational organization.
Michael Scott Scudder Scholarship
To honor the life and professional career of Michael Scott Scudder SCW offers a MANIA® Convention FREE attendance to a worthy budding instructor, trainer or club owner, manager or director. This scholarship is open to those who reflect the passion, high-standards and desire to succeed in the fitness industry set forth by Michael Scott Scudder while demonstrating financial need. To apply for a scholarship, please visit: scwfit.com/scudder
NEW!  3-Day CLUB INDUSTRY Business Summit for only $199
This Newest Addition to the 250+ Educational Workshops that MANIA® offers, provides 44 Business Sessions focusing on Social Media, Management, Programming, Sales, Retention, Technology, Finances and Trends!  Attend the MANIA® Fitness Convention; affordably priced at $199. Add in the Club Industry Business Summit to your MANIA® registration for only $20 more. Conveniently build your business and career in your own backyard! (Look for the shaded blue/grey box throughout the course descriptions and pull-out chart which indicate the Club Industry Business Summit sessions.) Learn more at www.scwfit.com/CLUB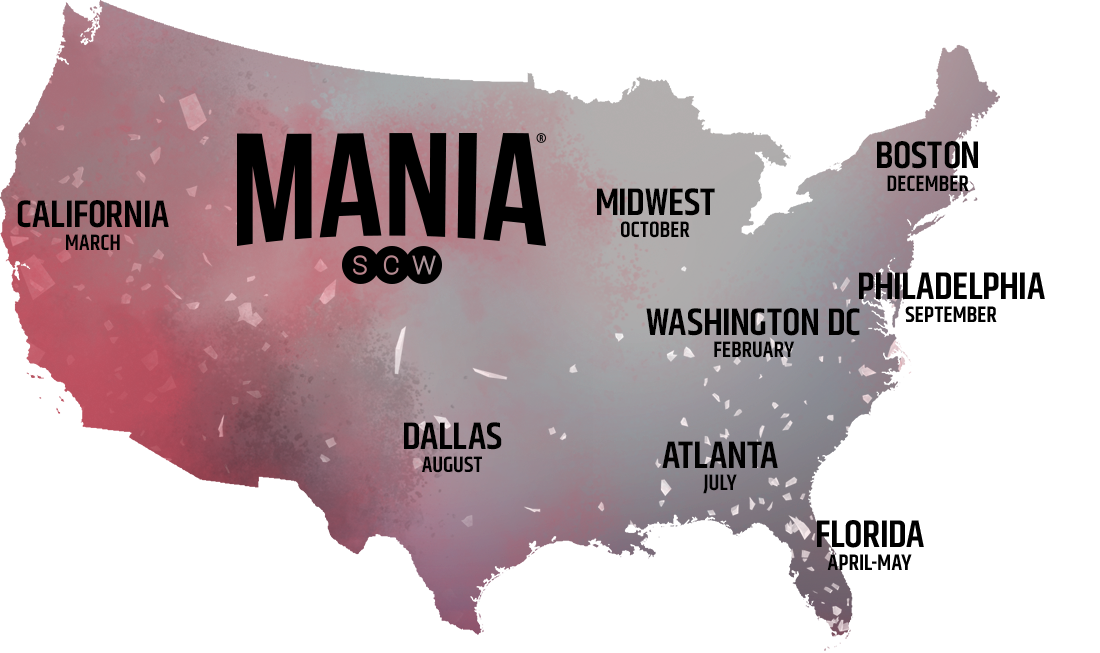 MANIA® IS NATIONWIDE
FIND YOURS
---
---