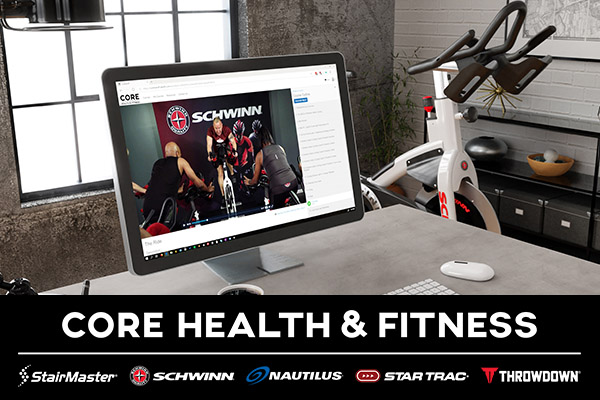 Online Education From Core Health & Fitness
At Core Health & Fitness we believe that knowledge is power and educating instructors is key to success! Schwinn Discounts: $25 off Cert, $10 off Workshops, $20 off HIIT Cert by StairMaster and $20 off Courses by Nautilus.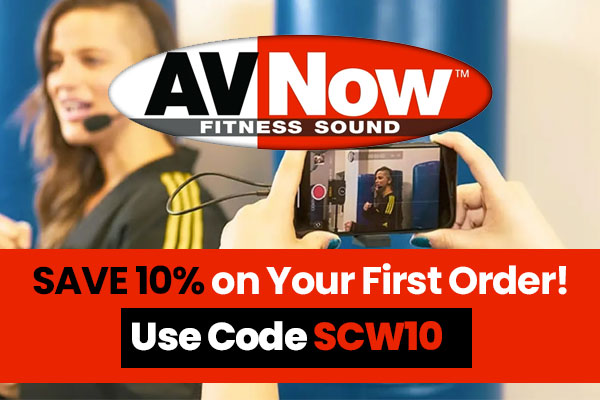 AV Now Save 10% On Your First Order
AV Now is your one-stop shop for virtual fitness instruction products! Save 10% on your first order at www.avnow.com. Use code SCW10. (Cannot be combined with other coupons)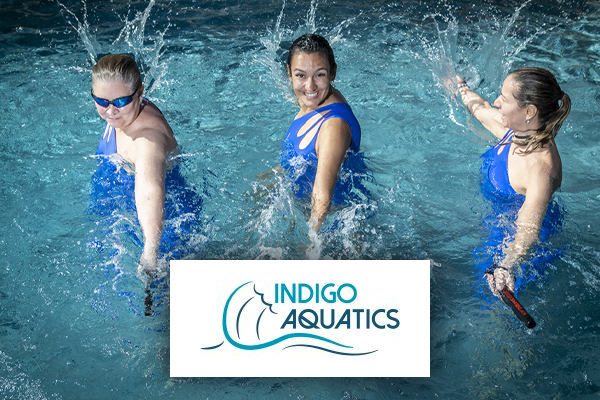 Indigo Aquatics 10% OFF Offer
Indigo Aquatics specializes in providing equipment and training for aquatic fitness. Our methods cover safe & proper usage using a range of equipment from Acquapole®, SAF Aqua Drums Vibes® and Liquid Gym™ product lines. 10% OFF stock inventory (excludes outlet) and online learning with code: MANIA10.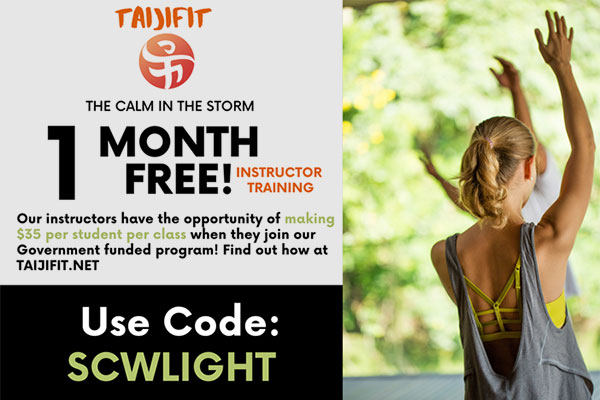 TaijiFit – 1 Month FREE Instructor Training
TaijiFit is Tai Chi and Yoga the way you want it to be – easy, fun and leaving you wanting more. From reducing anxiety, increasing balance, and increasing blood flow, TaijiFit is a proven, effective workout. TaijiFit is also the approved certification for the Veterans Affairs Community Care program – free classes for Veterans, extraordinary pay for you.www.taijifit.net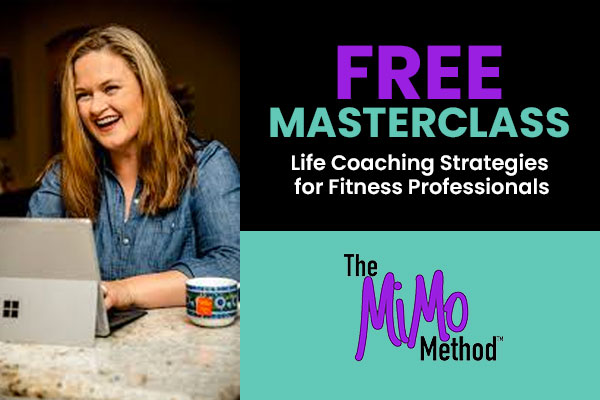 The MiMo Method – FREE Masterclass!
Ditch the diet and exercise hamster wheel. True change happens when you put your MInd into MOtion! Receive a FREE masterclass – Life Coaching Strategies for Fitness Professionals: Register Here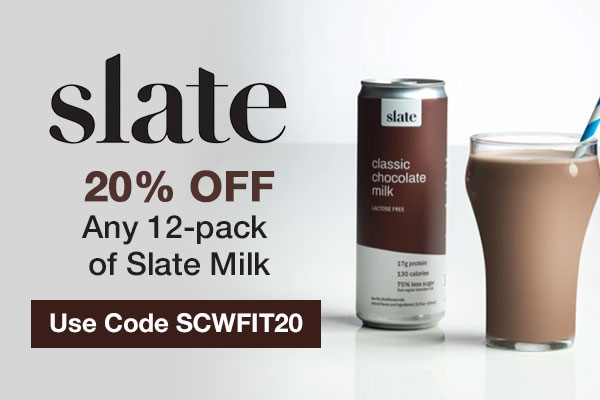 Slate Milk – 20% OFF Any 12-Pack
Slate is a line of lower sugar, higher protein, lactose free chocolate milks for those who are trying to be a lil' healthier, but never stopped craving their favorite childhood drink. Use code SCWFIT20 for 20% off any 12-pack of Slate Milk.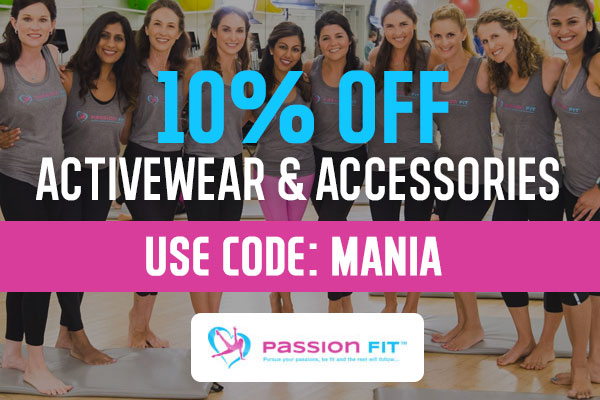 Passion Fit™ – 10% OFF the Online Store
MANIA® attendees can shop the Passion Fit™ online boutique for stylish, comfortable, affordable and high-quality activewear and accessories and receive 10% off until 12/31/21! Enter the promo code: MANIA at checkout when you shop at passionfit.com/shop.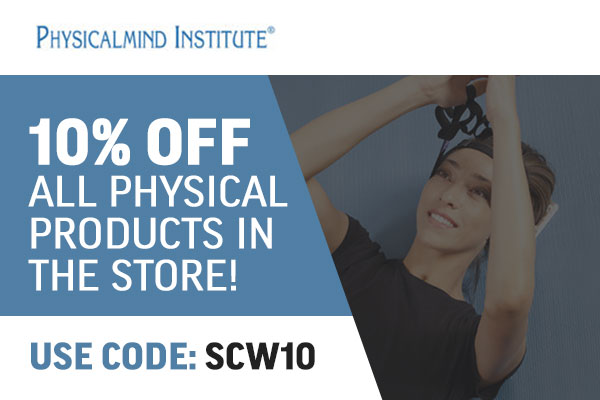 Physicalmind Institute – 10% Physical Products
Professionals and consumers worldwide benefit from these patented, portable, and lightweight products such as Tye4®, Parasetter®, Head Floater® and more. These are the future of fitness. Save 10% off with code SCW10.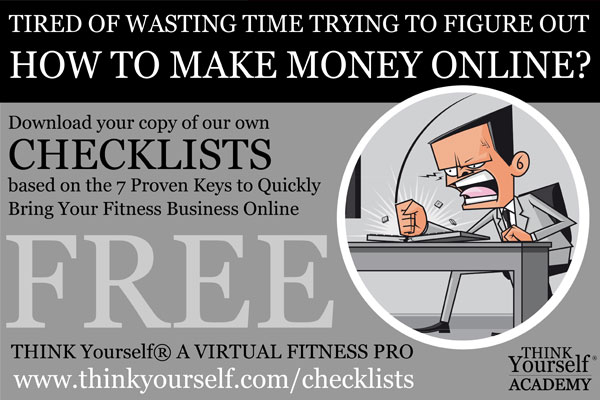 You want your team to give their 100%? Nathalie uses neuroscience and the proven D.N.A. System she shared in her 8 International No.1 Bestsellers to empower your employees to work at their full potential, which can exponentially increase the company profits.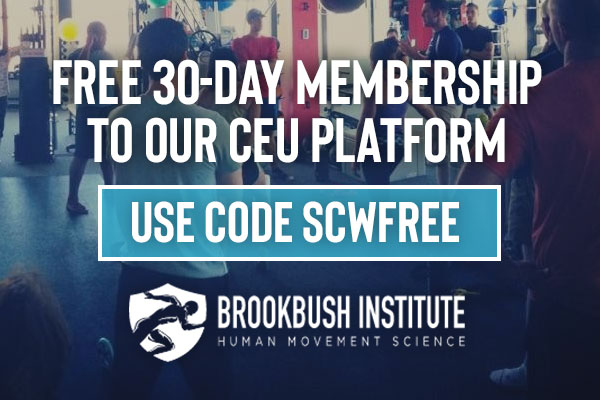 For one low monthly price, gain unlimited access to our complete library (similar to Netflix) of short courses and exams that can easily fit into a busy schedule. Access our educational database on your desktop or mobile, and complete various courses that can be applied toward certification and are approved for CECs. Use code SCWfree for a FREE 30-day membership to our CEU platform.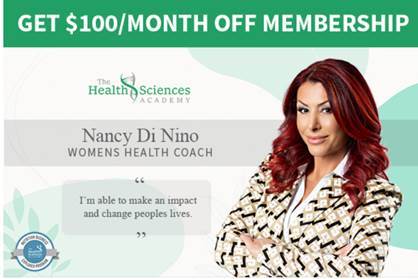 The Health Sciences Academy
The Health Sciences Academy® helps working, and aspiring nutrition professionals like you transform their careers with 10+ Accredited Certifications and 60+ Continuing Education courses in nutrition sciences. Get $100 off per month with code: MANIAFEB2021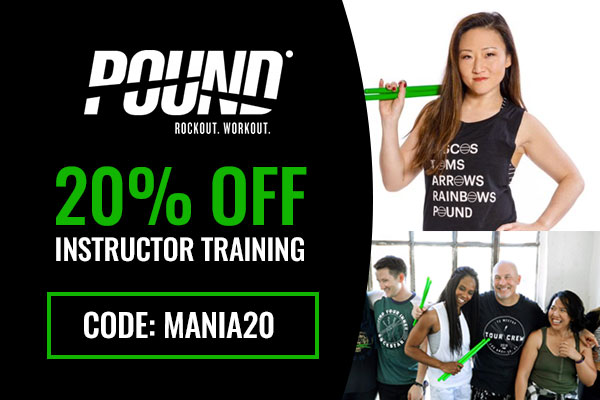 POUND® – 20% OFF Instructor Training
POUND® is a 45-minute cardio jam session, inspired by drumming. Technically speaking, it's cardio and conditioning curated within a noise-making, soul-bearing experience, carefully calibrated with high-intensity interval peaks and extended fat burning sequences. Use code MANIA20 for 20% OFF instructor trainings.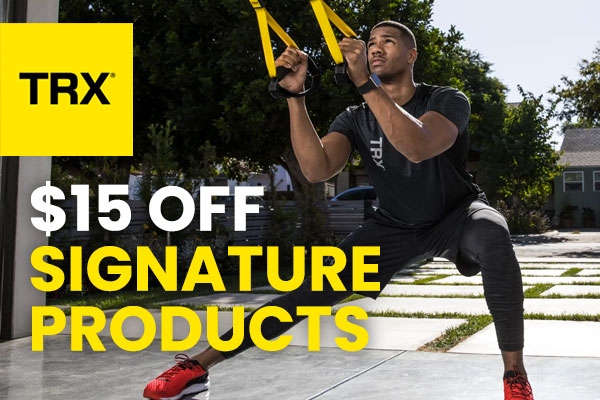 TRX is your complete fitness solution offering full-body training tools for workouts at home, outdoors or on the go. Take advantage of $15 OFF signature products such as the TRX HOME2 System or TRX PRO4.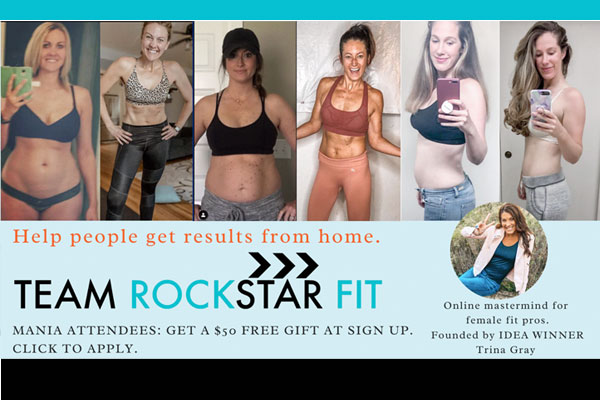 Come see behind the scenes of one of the country's top online coaching teams. See their tips, tools and methods for getting people fit from home. Learn to earn an income in fitness with more freedom and flexibility. In partnership with Team Beachbody. Online fitness is exploding. Get on board.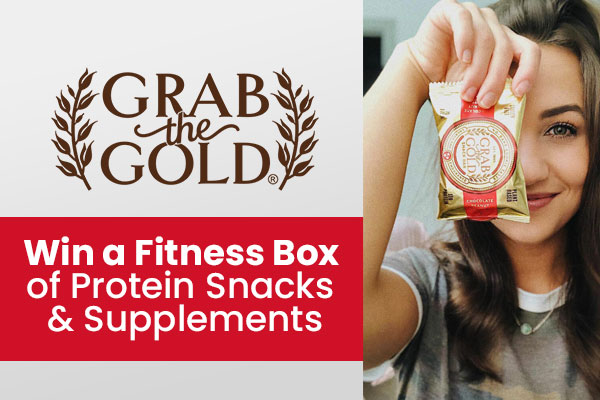 For the past 30 years, we've helped millions Grab The Gold with products that are made from simple, honest ingredients — because you have more important things to worry about. Win Fitness Box of Protein Snacks & Supplements Enter to Win Here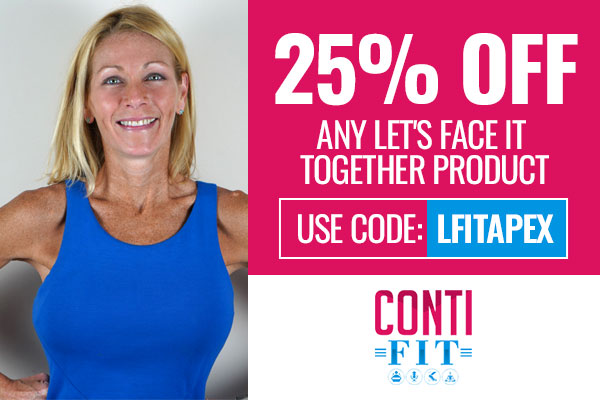 Let's FACE It Together™ (LFIT) is a facial exercise and rehabilitation program to improve facial expression, confidence and fight the signs of aging in a natural way. Use code LFITAPEX for 25% OFF.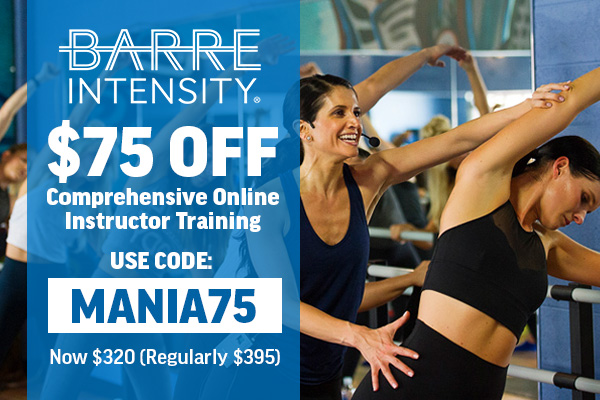 Barre Instensity – $75 OFF Training
Our master trainers will cover each page of our 170 page instructor training manual, just as they would during a live training. Once purchased, this content will remain yours: no expiration even after completion. There are 58 video modules totaling about 10 hours of content. You should factor in about 16 hours of work to complete this course which includes the online quiz at the end to fully complete your training with us. This course has been approved for 12 AFAA CEU's, 1.4 ACE CEC's and 14 ACSM CEC's.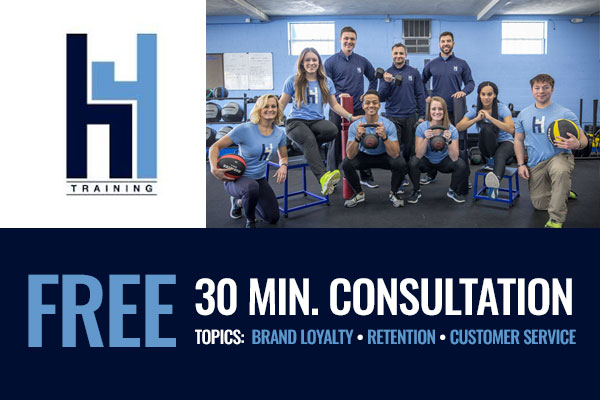 H4 Training – FREE 30 MIN. Consultation
Does your business lack client loyalty? If so, let me help you boost loyalty and improve retention with customer service and a free consultation. Email hank@h4-training.com to redeem!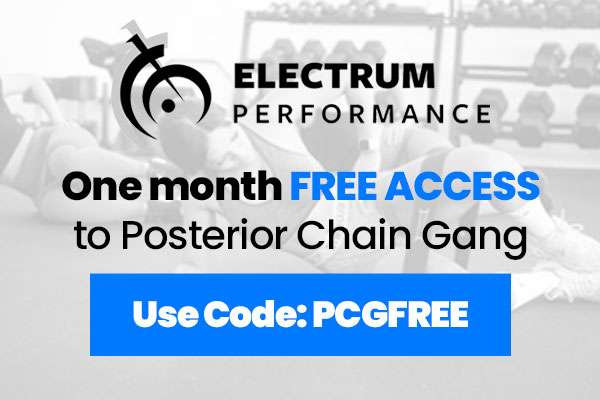 Electrum Performance – One Month FREE
Take your training to the next level and improve your physique in as little as 3 hours per week! Build your hamstrings, back, and glutes from anywhere! One month FREE access to Posterior Chain Gang with code PCGFREE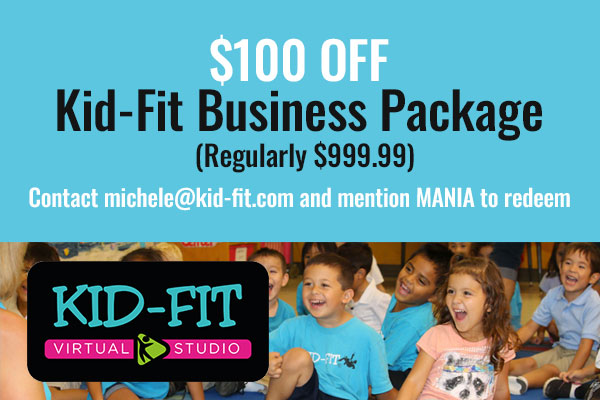 $100 off a Kid-Fit Business Package (regularly $999.99) – please contact Michele at michele@kid-fit.org and mention MANIA to redeem.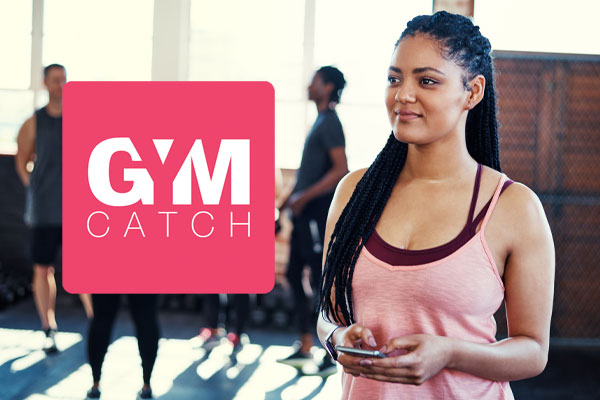 GYMCATCH: 3 Months FREE + 20% OFF
Gymcatch is a booking, payment and client administration platform for the fitness and wellness industry. We provide all the specialist tools to give you and your clients a slick, efficient and convenient experience at unbeatable value, from just $10 a month. Get 3 months free, then 20% off your first 12 paid months with code: SCWGC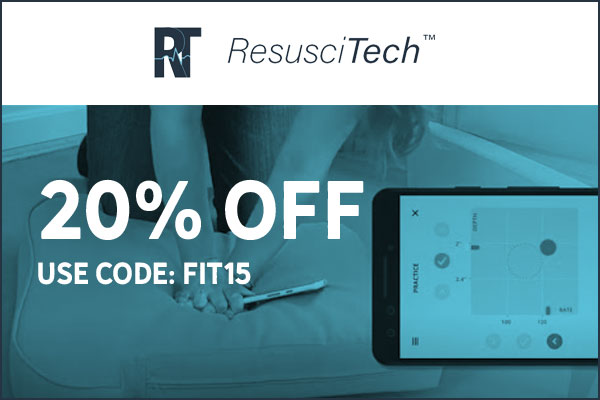 Resusitech – 20% OFF Virtual CPR Training
ResusciTech's Smart Certification™ app brings first aid and CPR training and certification to Android and iOS platforms, no extra equipment needed!
WATERinMOTION®, the premier aquatic exercise program sweeping the nation, led by an internationally-recognized team with over 100 years of combined teaching experience. Fresh moves, music, and choreography every quarter guarantee your members a safe, structured, and creative class, EVERY class!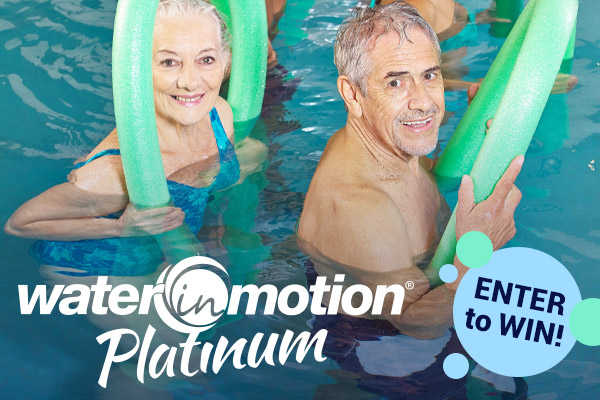 WATERinMOTION® Platinum caters to the growing segment of the U.S. population that won't settle for second best. It supplies safe, effective and fun classes that are guaranteed to bring excitement back into your pool by offering a system that understands and addresses the specific needs of your 65+ and/or deconditioned client.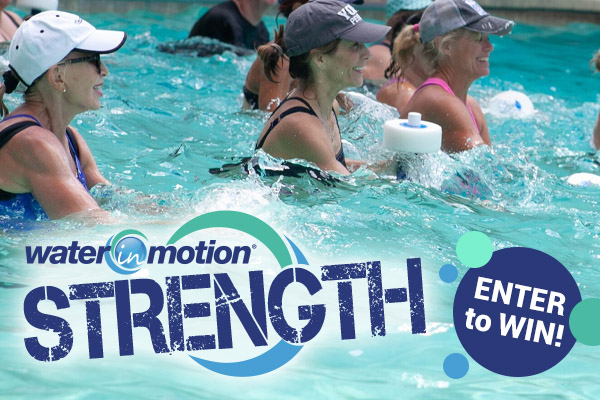 WATERinMOTION® Strength takes advantage of the aqua environment to build muscular endurance, power and overall tone in a 45 minute workout using aqua dumbbells. Learn to use the unique properties of water to build lean muscle through the creative use of drag, resistance, and buoyancy.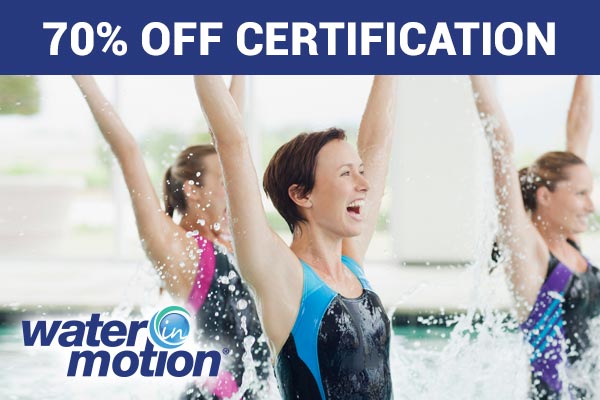 WATERinMOTION® 70% OFF Certification
This comprehensive training includes an effective online course addressing the principles of water exercise, the WATERinMOTION® RIPPLE teaching method, verbal and visual cueing techniques, deck teaching skills, and active aging principles. Certifies you in WATERinMOTION® Original, Platinum & Strength. (Was $199 Now only $59!).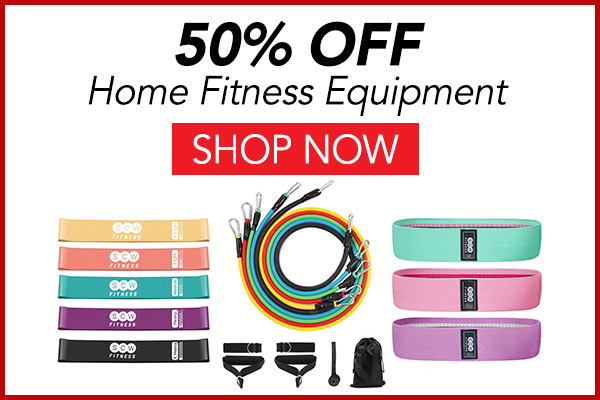 50% OFF Home Fitness Equipment
SCW is currently offering home fitness equipment shipped to your door. Many of our products are 50% OFF for a limited time to keep you affordably equipped for this conference and for your own personal and professional use.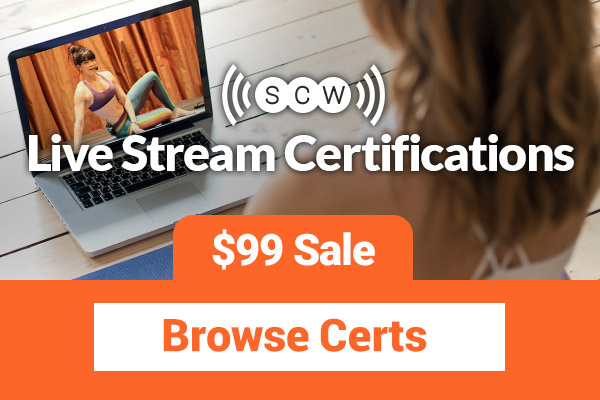 SCW Live Streaming Certifications – $100 OFF
SCW Live Streaming Certifications brought to you in real-time from our expert presenters to your living room! CECs/CEUs from SCW, AFAA, NASM, ACE, AEA & More! (Was $199, Now Only $99).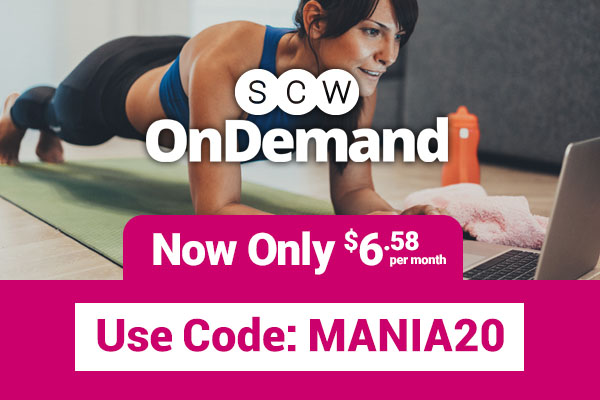 SCW OnDemand: 500+ Streaming Videos

SCW Fitness OnDemand is a premium video subscription that gives you instant access to 500+ unique seminars & workouts right at your fingertips. Enjoy UNLIMITED STREAMING of your favorite presenters demonstrating the best of Group Ex, PT, Barre, Active Aging, Yoga, Aqua, Pilates and more!
$50 OFF SCW Online Certifications
Was $199, Now only $149! Choose from 36 nationally recognized & accredited SCW Certifications online. Take them in your own time (Includes Live Course FREE!). CECs/CEUs from SCW, AFAA, NASM, ACE, AEA & More.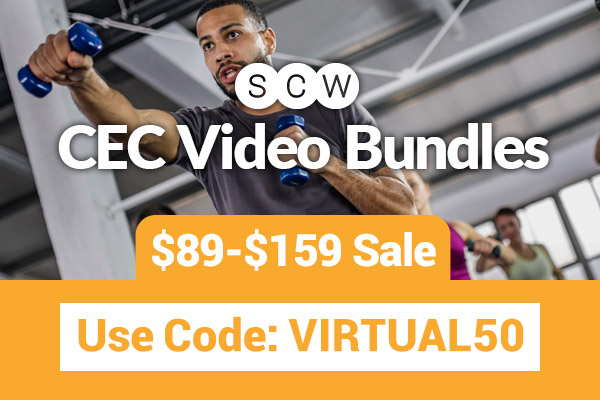 $50 OFF 20 CEC Video Course Bundles
SCW Video CEC Bundles are hand-picked CEC/CEU video bundles from the most popular MANIA® sessions. Each course includes video, course outline, exam & certificate of completion.
(Was $139, Now $89) or (Was $209, Now $159).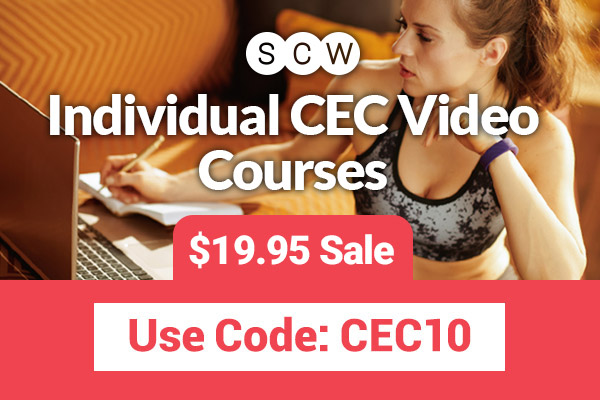 SCW Online CEC Courses $10 OFF
Choose from over 100 SCW CEC Online Video Courses to keep you stocked with the CECs you need from the organizations you trust. Each course includes video, course outline, exam & certificate of completion. (Was $29.95, Now Only $19.95).