Health and Fitness Business Summit:
Coast to Coast
Whether you are a first-time fitness facility owner or the CEO of a multi-million-dollar club chain, SCW Fitness offers business education across the nation for every level of management. From DC to California, learn invaluable information from top level leaders guaranteed to change and improve your protocols and bottom line.
The Health and Fitness Business Summit is proud to bring in individuals such as Elizabeth Clark, MS, CEO of IHRSA, Brent Darden, Chair of REX Roundtables, and Bill McBride, Co-founder, President, and CEO of Active Wellness along with a handful of incredibly knowledgeable business owners to DC MANIA® & California MANIA®.
Take a seat in panels, such as "The Future of Fitness" or "Fitness & Wellness Advocacy", featuring Sara Kooperman, JD, Liz Clark, Amber Toole, Diva Richards, Bill McBride, and Brent Darden as they discuss the landscape of health club chains, independent clubs, boutiques, and not-for-profits, along with learning how building partnerships and coalitions to nurture and grow public awareness, embracing exercise as an essential service.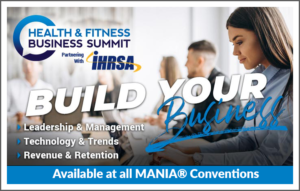 To add to the profound presenter line-up, California MANIA® introduces Chris Stevenson, the founder of The Empower Group, and his unique approach to management and marketing, including building your brand and offering hybrid programming. The California Fitness Alliance, featuring CEO, Francesca Schuler, MBA, also supports this not to miss summit.  Look for detailed sessions on social media and email marketing. Once again, the numerous panels and sales strategies for both group activities and personal training are invaluable tools.
DC MANIA® & California MANIA®, are just two of seven, 3-day conventions held across the country, with 16 business sessions focusing on social media, management, programming, sales, retention, technology, finances, and trends. Registration begins at $239 (reg. $299) with special discounts available for specific organizations.  Please visit www.scwfit.com/discount. Take the time to build your business and career with opportunities awaiting coast-to-coast from SCW Fitness Education.
If you need financial assistance to attend, reach out an apply for a scholarship at www.scwfit.com/scudder.