---

SCW Spotlite: Issue 23
April 17, 2020
Enjoy this biweekly buzz about all things fitness. Fitness Pros are always on the go, so we'll leave the "Lite" on!
SCW Brings MANIA® To Your Home | SCW's Live Stream Brings the Best in Education Direct to You | Exercising Stress Management in Uncertain Times | Make Your Own Hand Sanitizer & Wipes
---

A Brand-New SCW MANIA® Experience at Your Fingertips
by SCW Fitness
With the health and safety of loyal MANIAcs in the forefront of our hearts and minds, SCW has made the difficult decision to cancel Florida MANIA® convention, due to COVID-19. Instead of just letting the conference fall by the wayside, we would like to announce a brand addition to our education family, launching the exciting Live Stream MANIA®. This experience allows participants to get the full MANIA® experience and all the CECs they need, from the safety and comfort of their own home.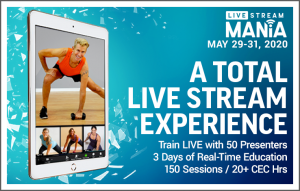 The first ever LIVE STREAM MANIA® Convention provides over 150 workshops with 10 sessions every hour, led by over 50 top industry presenters. The expected 2,000 Florida MANIA® and California MANIA® attendees can find a new home for their continuing education, dedication and motivation (along with 20+ CECs).
WHAT IS LIVE STREAM MANIA®?
Live Stream MANIA® is an action-packed weekend of inspiring and informative sessions and direct interaction with top MANIA® presenters, streaming LIVE in the convenience and safety of your home via Zoom. This first-ever Live Stream MANIA® Convention offers workshops on HIIT, Personal Training, Group Exercise, Active Aging, Recovery Programs, Yoga, Barre, Pilates, Cycle, Aqua & Nutrition. Also included are top business sessions focusing on, marketing, management, leadership, social media, sales & retention, and customer service.
TOTAL FREEDOM TO CHOOSE
SCW is bringing 50+ top fitness industry presenters over 3 days of LIVE real-time, education directly to your living room. With 150 sessions offered, 10 every hour, participants can earn 20 CECs/CEUs from SCW, AFAA, ACE, NASM, ACSM & AEA over the 3-day weekend! Save $100 on the convention now and pay just $159 (was$259) at www.scwfit.com/LiveStreamMANIA.
Each hour and fifteen-minute time block includes SEVEN Zoom rooms of LIVE streaming classes. Unlike the typical in-person MANIA® conventions where classes are limited by room size, our streaming rooms have no limits—you don't have to commit to a class schedule, or worry about rooms filling up! You can change your mind, try different classes, even move between classes in the middle of a session. Make your MANIA® experience exactly how you want with the complete freedom of Live Stream MANIA®.
To make it even easier to train on your own time, also included are two full rooms of pre-recorded sessions. Pre-recorded sessions can be watched any time, at your own pace—giving you the freedom to start later, end earlier, take additional breaks, and access saved materials in the event your connection is interrupted, all without affecting the number of CEC/CEU hours available to you. YOU make your schedule with Live Stream MAINA®!
---
---
---

SCW's FREE Webinar Series Brings Expert Knowledge Direct to You
SCW Fitness
We are quickly getting used to this virtual world we are being forced to live in. Handshakes and hugs replaced by keyboards and monitors. In our profession, as fitness educators, it is challenging to keep up with the do's and don'ts of this current situation. No need to worry, SCW Fitness Education has you covered. We are proud to offer the certifications you love plus a new series of free webinars straight to your living room to help you survive the challenges being faced in this screen-filled arena.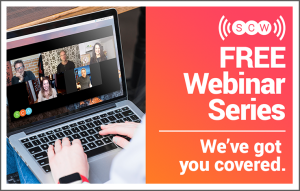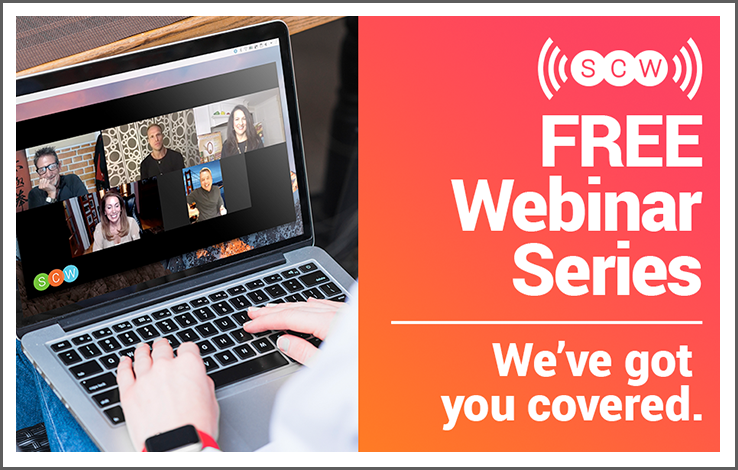 It's more important now than ever that we as fitness pros are there to guide our clients during this time of uncertainty in the world. SCW has been a pioneer in fitness education for the past 35 years and that won't be changing anytime soon. "We believe that now more than ever we need to be the guiding light. Fitness Pros have serious questions that deserve serious answers and we are absolutely in a place to be able to answer them." said Sara Kooperman, JD, CEO of SCW Fitness Education.
That's why SCW has instituted a brand-new weekly series of absolutely free webinars at www.scwfit.com/livestream so those very important questions can get the answers they need right away. Topics focused on fitness niches like personal training and aquatics, all the way to securing forgivable loans from the government through the CARES Act, are brought to you by SCW's vast network of the top fitness experts in the industry directly to your home. "We're talking about what fitness pros want to know right now. They want to know what the next few weeks will look like, they want to know what the "new normal" will be, and they want to know what they should do financially. Those are questions we can answer and will." stated Kooperman.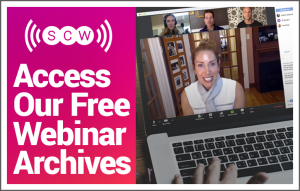 Live Streaming has very quickly become an every-day term in our lives in the past few weeks. SCW has been on the forefront of this new method of education even before the current crisis escalated it to a daily necessity for fitness pros. SCW began live streaming their certifications back in 2019 and have been able to continue to provide this service even during this period of social isolation.
It's more important than ever for fitness pros to stay focused and hone their crafts. These are difficult and challenging times for all of us. In a world where we're constantly surrounded by distractions and negative feelings, remember that this may be the only point in time during our careers that we've been given the gift of time. Time to focus on ourselves, our careers and our path after this is all said and done.
With that thought in mind SCW has cut all of our Live Stream Certifications by 50% to just $99 (was $199) so you, the fitness pro, can take this time of isolation and use it to grow your career. Have you ever had a desire to add meditation into your offerings as a trainer or thought about going deeper into nutrition coaching? Maybe you're a group ex instructor and want to move into personal training. SCW has the certifications you want, now available in the most affordable, health and safest way yet, live streamed directly to you. The same great instructors that certify at MANIA® are bringing those certifications to you in the comfort of your own home. These live and interactive certifications will help you broaden you career and make you the best fitness pro you can be when we return to normal, and your clients will thank you for it.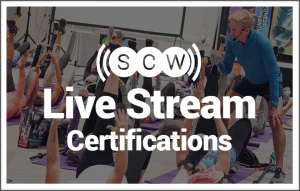 You can always check www.scwfit.com/Online to stay up-to-date with all the upcoming and newly added certifications & free webinars. If you missed any of the previous webinars or would like to rewatch one a form is available at the bottom of the page to access the entire library of SCW's previous webinars absolutely free of charge.
It's easy during this time of social isolation to fall backwards, instead SCW wants to remind you that now, more than ever, it's important for you to be an even stronger fitness pro. When we're all back to normal (which WILL happen!) our clients will need us more than ever, so join a webinar, get certified in something new and most importantly come back as the best fitness pro you've ever been!
We send a heartfelt thank you to these incredible presenters who generously donate their time & talent to these free webinars.
---
---
---
Exercising Stress Management In Uncertain Times
By Tricia Paterakos
Our world has been hit by the Coronavirus (COVID-19), a devastating pandemic that has swept nations claiming thousands of lives along the way. Whether we are directly impacted or not, we have all begun to lose sleep worrying about the health of our family, friends and communities.
In the past few weeks, sacrifices have been made to prevent the virus' spread. Everyday routines have drastically shifted, causing many of us to feel overwhelmed in crammed homes full of energetic kids and distressed spouses.
During a time when the media seems to target our deepest uncertainties and fears, staying physically and mentally strong is of utmost importance. Although we can't change the events that are unfolding, we can control our mindset. Reducing our stress is imperative and there are ways we can do it, yes, even stuck at home!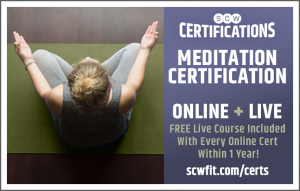 To determine the most effective stress management techniques, we sought the advice of Gina Guddat, Licensed Mental Health Therapist and Physical Fitness Expert. She provided some helpful tips to channel that anxious energy into healthier, more productive outlets.
First and foremost, it's important to move around and get your heart rate up. "We don't realize, as fitness professionals, how dependent we become on exercise as our coping technique," Guddat says. "When you remove fitness from people's lives it's extremely detrimental to their emotional health."
With gyms and recreation centers closing, many of us aren't able to maintain our everyday workout routine. Thankfully, modern-day technology gives us the incredible capability to do our favorite exercises in our own homes.
In fact, SCW's online resources allow you to follow along with our videos in the comfort of your own home. Utilize our certifications and live streaming options at your convenience, knowing you're getting top-notch guidance from expert professionals. Whether it be a morning yoga session or quick HIIT class, boosting your endorphins is absolutely essential.
However, an at-home workout isn't for everyone — perhaps you don't have the space or you'd rather avoid bugging your neighbors in a compact apartment. Guddat acknowledges that some people's living arrangements are not conducive for exercise, so if you find yourself in this situation, don't worry! There are alternative ways of managing your stress, they may just require a shift in focus.
She explains that our body has two operating systems: sympathetic and parasympathetic. Working out stimulates our sympathetic system, or "fight or flight" response. Our parasympathetic system is what allows us to relax and "rest and digest."
We're all quite familiar with employing our sympathetic system, but we must engage our parasympathetic as well. To do this we should try stimulating our senses, because what we hear, smell, see, touch and taste can have drastic effects on our well-being.
• For sound, music can be a powerful mood-booster. Guddat cites "smooth jazz, classical, or even a fun 1980s track" as anxiety-reducing tunes.
• To satisfy our sense of smell, candles, essential oils and even lotions go a long way. Relaxing scents such as vanilla and caramel or citrusy flavors like orange, mango and pineapple tend to lift our spirits.
• For sight, light is essential, so try to get out into the sun. Step out onto a balcony or venture into the backyard to get some Vitamin D. If this isn't possible, open the blinds and allow some natural light to come in.
• As for touch, keep to warm temperatures, some examples being fireplaces, bubble baths, hot tub saunas and weighted blankets.
• Lastly, for taste, go ahead and indulge in that square of chocolate. "Comfort foods build serotonin in your brain," Guddat stresses, "and now is not the time to go on a diet." So if you find your strict diet is falling by the wayside, don't be too hard on yourself.
Above all, talk to your friends and family — we all need social interaction, especially during times like these. It's easy to get creative with the video capabilities in today's world, and if Skype or phone calls are not an option, write a letter!
Now is the time to focus on yourself and do things you always dreamed of but couldn't because of the usual excuses: I don't have the time, or something more pressing always comes up. We must stay positive, strong and uplift those around us. We will conquer these tough times, apart yet together, and we will be stronger by it.
Fitness pros are always locked into their class schedules, so why not take this time to expand your career and get certified in something new? SCW's Live Stream Certifications are perfect for that, because you can get certified in the comfort of your own home. Or check out their Online Certifications in Meditation or T'ai Chi and put that new skill into practice right away in your own home or connect with your clients in a live stream of your own. Everyone could use a little extra centering right about now.
We wish you safe, healthy and happy times ahead, and we thank you for your continued support of SCW Fitness Education.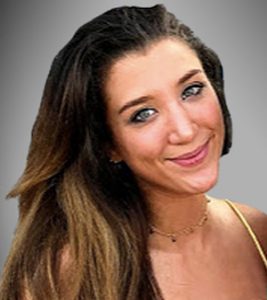 About the Author, Tricia Paterakos

Tricia Paterakos is a recent graduate of Indiana University with a Bachelors in Advertising and minor in Psychology. Growing up as a tennis player and dancer, she is passionate about staying fit and healthy. In her free time, Tricia likes to run, write and spend time with her family.
About Gina Guddat

Gina Guddat is a Licensed Mental Health Therapist and sought after Couples Counselor based in Seattle, WA. She is also a certified personal trainer and group fitness instructor. Her mission is to help individuals and couples pursue healthy, happy lives both physically and emotionally. During these tough times, Gina has graciously provided all of her fitness videos for free, which can be found at http://ginaguddat.com/shop.html.
---
---
---

How to Make Your Own Hand Sanitizer & Wipes
Wired Magazine
Properly scrubbing your hands is one of the best ways to stop the spread of germs and viruses, and to ensure you don't get sick yourself. But if you don't have access to soap and clean water, or if you're out and about and nowhere near a sink, you should carry hand sanitizer to protect your health.
As you're no doubt aware, bottles of hand sanitizer (Purell, Wet Ones, and the like) sell out quickly during public health crises. But don't worry—making your own hand sanitizer is remarkably easy. You just have to be careful you don't mess it up. Make sure that the tools you use for mixing are properly sanitized; otherwise you could contaminate the whole thing. Also, the World Health Organization recommends letting your concoction sit for a minimum of 72 hours after you're done. That way the sanitizer has time to kill any bacteria that might have been introduced during the mixing process.
(Note: To reiterate, nothing beats washing your hands. Hand sanitizer—even the real, professionally made stuff—should always be a last resort.)
We actually have two recipes for you, and links to find the ingredients. The first is one you can make with stuff you likely already have in your cabinets and under the sink, so it's effective in emergency situations. The second recipe is more complex, but easy to make if you have the opportunity to do some shopping and planning ahead of time.
Potency Matters
You're going to need some alcohol. According to the Centers for Disease Control and Prevention, your sanitizer mix must be at least 60 percent alcohol to be effective. But it's better to get way above that. A bottle of 99 percent isopropyl alcohol is the best thing to use. Your regular vodka and whiskey are too wimpy and won't cut it.
The Quick (Gel) Recipe
99% Isopropyl alcohol
Aloe vera gel
Tea tree oil
Mix 3 parts isopropyl alcohol to 1 part aloe vera gel. Add a few drops of tea tree oil to give it a pleasant scent and to align your chakras.
The Better (Spray) Recipe and Sanitizing Wipe Base
The aloe mixture gets the job done, but aloe also leaves your skin annoyingly sticky. So, here's a recipe that's less sticky and more potent, based on the mix recommended by the WHO.
Mix 1 ⅔ cups alcohol with 2 teaspoons of glycerol. You can buy jugs of glycerol online, and it's an important ingredient because it keeps the alcohol from drying out your hands. If you can't find glycerol, proceed with the rest of the recipe anyway and just remember to moisturize your hands after applying the sanitizer.
Mix in 1 tablespoon of hydrogen peroxide, then another ¼ cup of distilled or boiled water. (If you're working with a lower-concentration solution of rubbing alcohol, use far less water; remember, at least ⅔ of your final mixture has to be alcohol.)
Load the solution into spray bottles—this isn't a gel, it's a spray. You can wet a paper towel with it as well and use that as a wipe.
To make sanitizing wipes simple tear off a half a roll of paper towels, place them in a plastic tupperwear containers and pour this mixture over them and let it all soak in. Then just take as you need.
If you must, you can add in a splash of essential oil to your concoction to make it smell nice. Just don't use lavender. Everyone else uses lavender, and your sanitizer is superior.
---
Give us your feedback on what interests you, and maybe YOU will make it in the SCW Spotlite!
Share Your Thoughts >>