---

SCW Spotlite: Issue 24
May 4, 2020
Enjoy this biweekly buzz about all things fitness. Fitness Pros are always on the go, so we'll leave the "Lite" on!
A Word From Sara | A Scholarship to Honor a Legend | Coaching in Times of the Coronavirus | Sleep on It: Why Sleep has Never Been More Important | Quick & Easy Spaghetti Squash
---

A Word From Sara: This Journey Towards the New Normal
by Sara Kooperman, JD
In looking ahead to the "New Normal", I must look back and be thankful.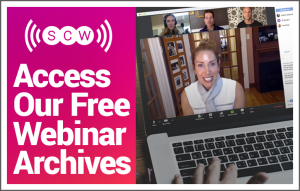 The social, physical and emotional distancing has not been easy for anyone in the fitness industry. But I am awed every single day, by the outpouring of support SCW has received from Sponsors, Presenters, Staff and most importantly, YOU, our loyal and dedicated clients! I greatly appreciate the commitment you have shown to SCW Fitness and WATERinMOTION®.
SCW has been fortunate enough to have led the way with Live Streaming Certifications and Webinars. We started live streaming in early October of last year so this transition into Zooming has been a relatively easy one for our SCW team. SCW has even bridged the uncomfortable gap for conferences by forging ahead into this brand-new technological territory with our Live Stream MANIA®. We are jumping into complicated and difficult new opportunities with vigor and excitement – 150 sessions lead by 60 presenters, with 9 sessions to choose from each hour, over a 3-day period.
As we prepare to Zoom on a grand scale, hours and hours of training seminars have been held with our presenters and staff, both as groups and as individuals. SCW has made countless mistakes and corrected each one meticulously and with gratitude for the learning experience. We have generously shared these "learnings" with our entire Fitness Community through free webinars and handouts, so that we all may come back stronger after this physical distancing lifts.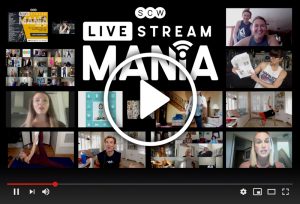 And although I am forever thankful for all the time, talent and energy my team has shared with all levels of our SCW family, we must still plan ahead during these financially challenging times. Having canceled two conventions, we have had to refund hundreds of thousands of dollars, and yet we continue to survive.
We remain forever steadfast in our resolve to look ahead with grace and hope that our summer events will, in fact, happen. Please join us and know that should we take a turn as this pandemic lifts, SCW resolves to always do what is right, providing credits, transfers and of course refunds.
We continue to be laser-focused in our approach to ensure that we remain a viable and even stronger Company as we move towards a society that is so different from the way life "used to be".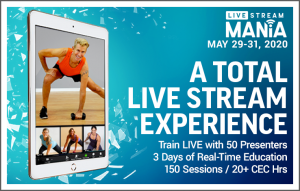 Our strength lies in our ability to adapt to this ever-changing landscape and not be afraid to pioneer change now but also move forward for both the foreseeable future and for many years to come. This will ensure that our fitness family is one that continues to serve health & wellness professionals and the like to really make a difference in this world. Please continue to provide me with creative ideas and solutions, so that we can continue to make strides in generating and enhancing fitness education. It is our steadfast pledge to take care of our customers and provide exemplary service. If we take care of you, and you take care of your clubs and clients, we all win.
I am confident that with our continued partnership, work ethic and efforts, we will make it through the challenges laid out in front of us and become an even stronger Fitness Family with new ideas and thoughtful changes on the horizon.
---
---
---

Scholarship to Honor a Legend
by SCW Fitness
These past few months have been a struggle for many of us, not only mentally and socially, but financially. Many fitness professionals either aren't working or have had their hours cut which affected basic daily responsibilities, lifestyles and paying bills. As certified Group Ex Instructors and Personal trainers, we need to keep up on our continuing education. As Club Managers and owners, we must constantly review sales, retention, media and marketing. Unfortunately, many of us have had to put this much-needed education on the back burner due to financial restraints. SCW offers the Michael Scott Scudder (MSS) Scholarship that encourages education during this time of need.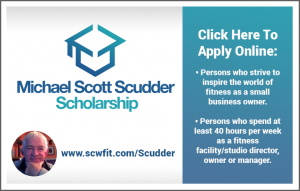 As we all know, SCW Fitness Education is one of the top continuing education companies, providing certifications and workshops both online and in person.  Our in-person education is offered through our eight MANIA® Fitness Conventions. Our online education is available both Live Stream and Pre-recorded in several formats including videos, certifications and our newly released Live Stream MANIA®.
Almost three years ago, the fitness world lost an industry icon. SCW decided to start a scholarship in the memory of Michael Scott Scudder who sadly passed away due to complications with a hip replacement surgery.  He was the CEO of MSS Network and had four decades of experience in the fitness and wellness industries including achievements as a "Top 100 Club," selection of the Top Ten Health Club Managers in the U.S. and inclusion in the "Who's Who in International Fitness." Michael was also a mentor to the small business owner and a friend to everyone he came in contact with.
He was known as the "Soothsayer of Today" and his priceless insights into tomorrow involved surveys and leaps of faith based on personal experience and professional evaluations. He was very trusted, and everyone loved him. Michael listened to all opinions, disagreeing with some, but listening in order to make a fair assessment. He did not pin his positions on prejudice or the past, he looked beyond and carefully evaluated all angles of history and predictions and did his best to integrate a quickly evolving landscape based upon fact. He never wished to hurt; he was always there to help, and we all knew that Michael lived and worked with his greatest trait – his heart.  He was passionate about everything he did.  It was this passion that made, and forced, people to listen and respect him as a professional and a person.
Michael shared his wisdom at all eight of SCW Fitness Education's MANIA® Conferences over a five-year period. We are grateful for the knowledge, wit and passion he brought to MANIA® and the lasting impressions he made on our faculty and attendees.  He was truly one of a kind.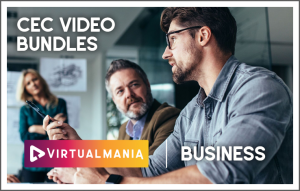 This scholarship was established to honor his life and professional career and provide assistance, in the form of a FREE MANIA® Convention, to a worthy budding instructor, trainer or club owner, manager or director. It is open to those who reflect the passion, high-standards and desire to succeed in the fitness industry set forth by Michael Scott Scudder while demonstrating financial need. To apply for a scholarship, please visit: www.scwfit.com/scudder.
Over the years we have had many scholarship recipients. Their professions range from Housecleaner turned Instructor to Student Fitness Technology Researcher to Holistic Healer to small-town all-inclusive private Studio Owners and many more.  All you need is a passion, big heart, dedication to learn and desire to share. Our winners shared their raw emotion in their applications allowing SCW to really understand who they are and why they feel they deserve a Scudder Scholarship.
Michael was a strong individual who was kind and thoughtful.  He was generous with his insights and his opinions.  He helped shape our fitness world of today and will be truly missed for decades to come. If you feel you have what it takes to earn this generous award, don't hesitate, just apply. To be eligible you must be a person who strives to inspire the world of fitness.
Let's all congratulate a few of our winners and see how they proved to SCW the reason to be chosen as a Scudder Scholarship recipient.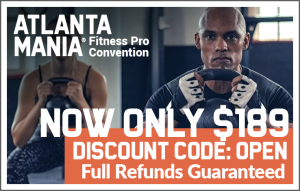 Maria Viana cleans houses to support her three children. She became certified to be a Fitness Instructor and started working at a local gym. Her desire to learn more to become a better instructor wasn't able to pay college bills, so she applied and won a Scudder Scholarship. Now she will be able to help others and still provide higher education to her daughters as well.
Desiree Gibbs, a recipient from a small town in West Virginia, is a small business owner. Her facility is based around personal training and small group classes. She is committed to helping her community reach their wellness goals, after it received the title of Fattest City in the US.
John & Tammy Wright have faced many challenges over the years, from financial to keeping their home, but they still managed to keep persevere and be a positive role model in their community.  They are both retired military veterans and learned many lessons during their tenure. John & Tammy not only own a fitness center to help their community stay healthy, but they also educate the youth against the dangers of tobacco, vaping and e-cigs.  They have presented to over 3,000 kids. By receiving the Scudder Scholarship, they can continue to share their knowledge, expertise and passion with their clients, community and family.
To apply for the Scudder Scholarship, please visit: www.scwfit.com/scudder. Make sure you fill out all the appropriate areas in the application. We wish you the best of luck and we look forward to seeing you and having you participate at an upcoming SCW MANIA® (www.scwfit.com/MANIA) or Live Stream MANIA® (www.scwfit.com/LiveStreamMANIA).
---
---
---

Coaching In Times Of The Coronavirus
CORE Health & Fitness
As a personal trainer in these challenging times, staying afloat financially and maintaining some sense of normalcy is vitally important. There are many difficulties; whether that's being up to speed with technology, having a fast enough internet, working in a room with less than optimal lighting or simply having elderly clients with even worse technology. One of the main challenges, is in the coaching itself. As a trainer/instructor, there are three main ways to communicate: verbal, visual and kinesthetic. For this article, you will find some clarity with all of these challenges.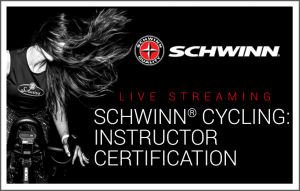 Some of the solutions are within your own control. For example; lighting. Your space may not be very bright, or not bright enough to be seen clearly in Zoom classes or on FaceTime with your phone or computer. Plenty of reasonably priced ring-lights can be found online… problem solved! Now you'll have a bright space to teach in. What you wear is also very important in this new normal. Brightly colored tights and tops can be very helpful, it makes you far more visible. This is especially important when working with elderly clients whose vision may be poor.
One of the first things trainers need to get up to speed in is technology. Finding a fix for using music while teaching Zoom classes is imperative for many different class styles. The best solution is to wear Bluetooth earbuds, connect them to the computer, play the music from the laptop and share the sound. Each piece of streaming software is unique and will bring with it a different set of complications, but the best solution is to just practice and then practice some more. Call up a friend and test out your teaching style on them. They'll be extra forgiving and you'll also be able to touch base with someone you may not be able to see regularly at the moment!
While there's not a lot to be done about your internet connection on the fly while teaching virtual classes or courses, it is essential to make sure none of your other devices are connected to your WiFi. If at all possible, a hardwired ethernet connection directly to your router is the best option and will give you the most stable connection, while also removing all WiFi variables from the connection equation. Another internet related issue trainers may face is not one that is in their control at all, the internet connection of their clients. If you can't see your client you have no way to visually coach that person! Being that it was a virtual session there was also no hands-on coaching as well. Even the best plans will sometimes end up in failure. Everyone is much more forgiving in this new virtual world, try and restart your connection with your client, sometimes that is effective and you'll be back in action. Other times you may just need to chalk it up as a loss and try again another time. We can try and control as much as possible, but we just need to be ok with it not working out.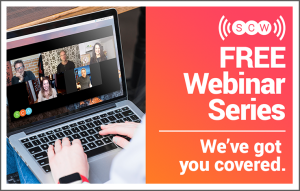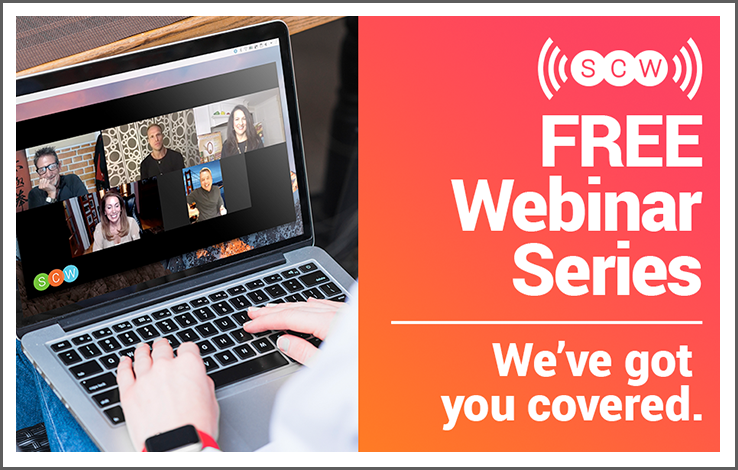 Maybe one of the most important skills to focus on in this new normal is verbal coaching. This type of cueing tends to be done poorly or is undervalued.  In this virtual world this skill is put under a microscope. Typically, in group classes instructors rely almost entirely on visual teaching. A little less so in personal training, but none the less, trainers still rely heavily on demonstration and hands-on correction. Now, basically the only tools we have are verbal coaching and observation. Online coaching requires some succinct and precise cues.
Instead of telling your clients where to 'squeeze', tell them how, when and where to move to and from. It's more of an external focus, so rather than say "squeeze your glutes" when coaching a bridge, try instead to cue them to "drive your heels into the floor as you point your tailbone slightly towards the ceiling and press your hips upwards". This gives them some precise direction on how and where to move to and from. Once you've given the 'to and from', coach the feeling. With the same example of a hip bridge, after the external cues, you could then say, "As you continue this movement for a total of 15 repetitions, you'll feel your glutes and hamstrings contracting. Can you feel that?"
While this might seem like a minor detail, try practicing it and what you'll see is your client's movement quality and precision improve. It not only provides clarity, but it's a more intelligent and thoughtful way to coach. Try it in your next coaching session, you'll definitely see a difference!
---
---
---

Sleep On It: Why Sleep Has Never Been More Important
by Tricia Paterakos
Currently, the days of running around town for errands, getting coffee with friends and picking our kids up from school are gone.  We've traded dining out for ordering in and cocktails at the bar for Zoom happy hours. Social distancing has become the new norm, and though we may miss getting out and about, this is a unique period. We have more time than ever before – time we can devote to productive, healthy outlets.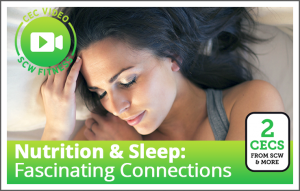 Sleep is often overlooked in our daily lives, especially when more important tasks seem to take precedence. Maybe we're overwhelmed with housework or find ourselves binging Netflix later than we'd like. Even when we take the time to rest, many of us experience difficulty falling asleep, staying asleep, or both.
These are all issues studied by Matt Walker, sleep scientist, professor and author of Why We Sleep. During a virtual conversation with Chris Anderson, the current head of TED Talks, Walker uncovers why sleep is so important – especially during times like these. 
In fact, sleep is connected to nearly every organ system in our body and many of our brain's processes. It aids our ability to grasp new information and boosts creativity nearly 3-fold. Sleep even provides what Walker calls "overnight therapy," renewing our mental state and making us more emotionally resilient the following day.
But what is perhaps most relevant in today's world is a study that tested the effect of sleep on our body's immune health. Insufficient sleep the week prior to getting a vaccine was linked to a decreased production of antibodies against the virus, making the vaccine significantly less effective. One day there will be a vaccine for COVID-19, and if we're not getting the necessary sleep prior to receiving it, our bodies may be less adept at fighting it off.
So, How Much Sleep Do We Really Need?
Based on the most up-to-date research, the average adult should get about 7-9 hours a night. However, it isn't one size fits all and there are certainly outliers. Some people feel rested after 5 hours of sleep while others may need 9 hours to feel completely rejuvenated.
Sleep & Exercise
Walker claims there is a bi-directional relationship between sleep and physical activity. The two positively influence each other – physical activity during the day can drastically improve sleep quality while a good night's sleep promotes more effective workouts the following day. So, if you can, get a little exercise in!
Dieting? Keep This in Mind
Two hormones involved in the sleep cycle are ghrelin and leptin, which regulate hunger. Ghrelin stimulates our appetite while leptin lowers it. However, the amount of sleep we get affects the release of these hormones. When we don't get enough rest, our body releases more ghrelin and less leptin, thereby increasing our appetite.
When we are sleep deprived, we not only tend to eat more, consuming 200-400 extra calories per day, but our food preferences also shift. We tend to prefer foods with higher fats and carbohydrates, which may explain why we reach for breads over veggies after lack of sleep.
"The Enemy of Sleep"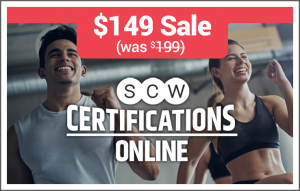 A lot of us may be tempted to reach for a glass of wine before bed, especially if we're having trouble falling asleep. But we must be wary, as alcohol sedates us and makes us feel more tired – but sedation is not the same as sleep. And when we are sedated, we experience more sleep fragmentation or disrupted sleep. Our quantity of sleep may be the same, but our sleep quality is significantly worse, so we won't feel as restored the next morning. Alcohol also blocks our REM (Rapid Eye Movement) cycle, a sleep process critical for memory formation and mental health, among other things. For these reasons, Walker calls alcohol "the enemy of sleep" and warns against using it as a sleep remedy.
Considering Trying Supplements?
Many of you may be wondering how dietary supplements impact our sleep cycle. Perhaps the most well-known is Melatonin, a hormone produced naturally in our bodies that decreases as we age. Therefore, when used as a supplement, it's more beneficial to older adults than the young and healthy.
Though evidence of the relationship between supplements and sleep remains inconclusive, some people swear by it. So, if you feel you must use it, Walker says less is more. Choose a product that has 0.5 mg of melatonin or less.
Set Down the Phone
Technology has taken over nearly every aspect of our lives, so it's not surprising it affects sleep as well. Many of us are aware of the blue light devices give off, which delays the brain's release of melatonin and makes falling asleep more difficult. However, technology also promotes what Walker calls "sleep procrastination," which is when we put off sleep to focus on other things, like refreshing our Instagram feed or updating our Facebook status.
Even the first few minutes of our day are affected by screens, and Walker claims many of us have "anticipatory anxiety" immediately upon waking up. This anxiety is caused by the knowledge that there will be countless tasks on our phone that require our attention. He recommends we refrain from checking our phone for at least 5 minutes after waking up.
Having Trouble Sleeping? Here Are Some Tips:
Resist the urge to sleep in. Our body thrives on regularity, so when we sleep past our normal time, we throw off our internal clock and feel more tired.
Don't go to bed significantly earlier the next night. Often when we lose sleep one night, we go to bed much earlier the following night. But when we try to force our body to sleep before it is ready, we often end up tossing and turning.
Try not to nap! Unless napping is part of your daily routine, avoid it. Naps decrease your sleep "appetite" and may make it harder to fall asleep later on.
If You're Still Struggling…
Take a break. Many of us have experienced nights lying awake, anxiously awaiting the lull of sleep. It may sound counterintuitive but getting up and away from bed until you feel your body is ready can be incredibly beneficial.
Develop a "wind down" routine. Allowing your body time to prepare for rest can do wonders for your ability to fall asleep. Try taking a hot bath or meditation.
Remove all clock faces from your room. Clocks not only give off light but also remind us of each sleepless moment that passes.
If none of these tips are working and you're still struggling to fall or stay asleep, Walker cautions there may be something more serious going on. If you think you may have an underlying sleep disorder, consult your doctor.
The Takeaway
Overall, Walker reminds us to be kind and thoughtful to ourselves. When we're having trouble falling asleep, we should give ourselves a break and step away. It's important to establish confidence in our bed as a place that provides healthy rest. After all, sleep is an investment in our physical and mental health, and it should be treated as such.
Interested in learning more?  Click here to view the full Ted Talk.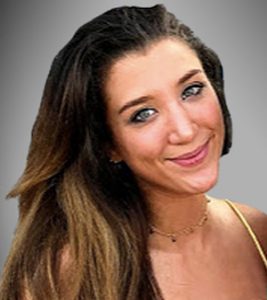 About the Author, Tricia Paterakos

Tricia Paterakos is a recent graduate of Indiana University with a Bachelors in Advertising and minor in Psychology. Growing up as a tennis player and dancer, she is passionate about staying fit and healthy. In her free time, Tricia likes to run, write and spend time with her family.
---
---
---

Quick & Easy Spaghetti Squash
by Tricia Silverman, RD, LDN, MBA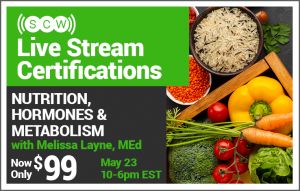 Many of us are limiting our shopping trips to help limit our exposure to Covid-19. To make the most of your shopping trip, it's helpful to make a menu for the week ahead, and then to create a shopping list from the menu. Plan for fresh fruits and vegetables that will last throughout the week and beyond. Winter squashes such as acorn, butternut, and spaghetti squash are helpful because you can store them for several weeks on your counter before you cook them and enjoy their nutritious gifts! Using antiviral spices and herbs such as basil, oregano, peppermint, ginger, garlic, turmeric, and rosemary can wake up the flavor in your food with added health benefits. Using fresh herbs is an excellent way to give your food "restaurant-quality" taste.
Spaghetti Squash is a low-calorie yummy vegetable that can be used as a lower-carb pasta. Some noteworthy nutrients in spaghetti squash are Vitamin A, B vitamins, and fiber. Before use, spaghetti squash can be stored outside of the refrigerator for up to 3 months. It can be stored in the refrigerator for 1-2 weeks before cooking. A squash around 3 pounds yields around 5 cups of edible "spaghetti."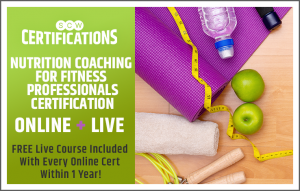 Comparison:
Spaghetti Squash, per cup: 40 calories, 10 grams of carbs
Pasta, per cup: 220 calories, 43 grams of carbs
Steps for quick yummy spaghetti squash:
1. Rinse well. Pierce spaghetti squash in several places throughout squash. Place on a microwave-safe dish. Cook in the microwave for 5 – 10 minutes (the larger the squash is, the more time it will take), rotate, then cook in the microwave for another 5 – 10 minutes until tender.
2. Cut straight through lengthwise (shown at left).
3. Scoop out seeds and fibrous strands and discard.
4. Take a fork and scrape the spaghetti strands into a bowl. Squash should be tender and easy to scrape…if not add a little water to one half, place the other half back on top, and cook for a few more minutes in the microwave until tender.
5. One of my favorite quick toppings per cup of spaghetti squash is 1 tsp extra virgin olive oil, 1 tsp of Pecorino Romano cheese (I love Trader Joe's brand) and a sprinkle of the following: basil, garlic powder, onion powder, and oregano.
Calories per cup: 95. You can also top with your favorite sauce and a sprinkle of cheese. Add beans such as kidney beans or cannellini beans to make it more of a meal.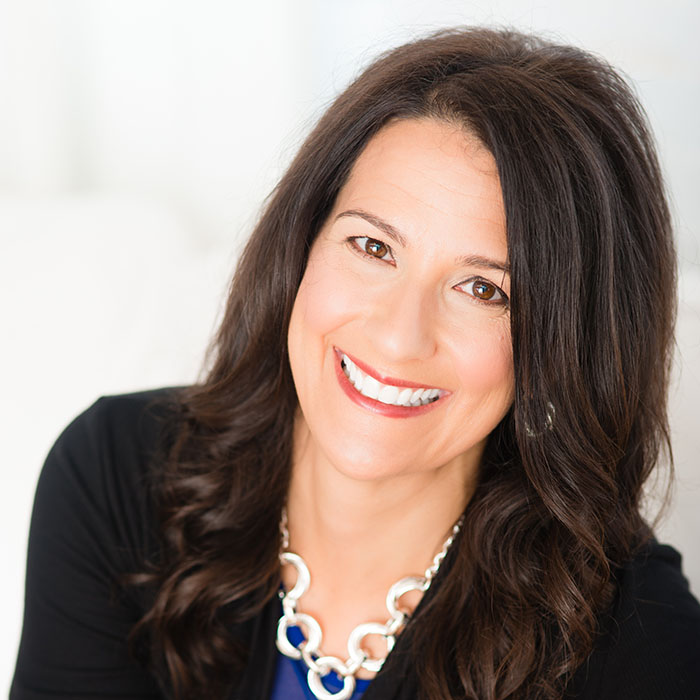 About the Author, Tricia Silverman, RD, LDN, MBA

Tricia is a registered dietitian, SCW MANIA® Boston Idol Winner, and a SCW Florida Mania® Presenter of the Year. As an SCW Faculty Member, she created and leads the SCW Nutrition for Active Aging Certification. She specializes in employee/group presentations. She's a Wellcoaches-certified wellness coach, an AFAA-certified group fitness instructor, an ACE-certified personal trainer, and is Barre-certified by SCW and Barre Above™. Tricia has an MBA and is a lecturer at Northeastern University.
---
---
---

We're always looking for great content highlighting the newest things in the world of fitness. Please submit your article directly to [email protected] for immediate consideration!
Give us your feedback on what interests you, and maybe YOU will make it in the SCW Spotlite!
Share Your Thoughts >>