---

SCW Spotlite: Issue 25
June 12, 2020
Enjoy this biweekly buzz about all things fitness. Fitness Pros are always on the go, so we'll leave the "Lite" on!
Prepare, Ready, Liftoff… Success! | Reopening Stronger Together | Fitness Education Across All Platforms | The Renegade Row | Clarity In Chaos | Alcohol: How Much is Too Much
---

Prepare, Ready, Liftoff… Success!
by Robin Taylor
As history was being made in late May with the first orbital human spaceflight to launch from the U.S. since 2011, SCW Fitness Education was making its own history. SCW connected, via Zoom, with 1,125 Fitness Professionals in their first-ever Live Stream MANIA®. This online education accomplishment was an astounding success and over the course of three days, Personal Trainers, Group Exercise Instructors, Gym and Studio Owners, Fitness Managers and many more gathered to learn the latest in Group Exercise, Active Aging, Body/Mind, Cycle, Aqua, Nutrition and Business.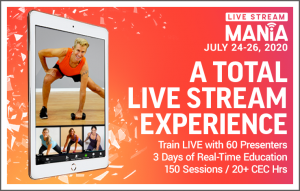 The Live Stream MANIA® boosters ignited on Thursday, May 28th with eight fully accredited Certifications provided by SCW and their sponsors that certified nearly 300 people in one day! The certifications included SCW Functional Pilates, SCW Active Aging, SCW Aqua Barre, SCW Foam Rolling, SCW Pilates Matwork, SCW T'ai Chi, SCHWINN® Indoor Cycling and MASHUP® MindBody, Agility & Strength, HIIT. The top-notch Certification Leaders were only a handful of the 60+ recognized presenters who participated in the rest of the Live Stream MANIA® weekend. Presenters like Abbie Appel, Jeff Howard, Len Kravitz, and Melissa Layne, wowed their crowds with mind-blowing information.
As the altitude of excitement rose, the next three days of workshops continued to exceed expectations. Nine meeting rooms, on the Zoom platform, housed hundreds of participants, with some averaging over 200. Participants had 150 activity and lecture sessions to choose from, most live and some pre-recorded. Attendees had the option to pick their own sessions and go in and out of meeting rooms as they wished. These exuberant fitness professionals jumped, lifted, push-uped, sit-uped, cycled, splashed (on land), trained and focused out of the comfort of their own personal spaces. By the end of the third day, needless to say, they were happily exhausted.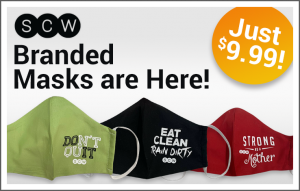 SCW Founder and CEO, Sara Kooperman, JD, presented both practical and lecture workshops, ranging from Active Aging to Yoga to Business. The feedback from viewers made Live Stream MANIA® soar higher.
"I love the workshops! It feels like a party!"
—Denise Talley
"The sessions are FANTASTIC! Keeping me sane and feeling connected. LOVE them! Thank you!"
—Elisa Terry
"I love this online MANIA! Less stress and much easier! This is great!"
—Bonnie Bonnette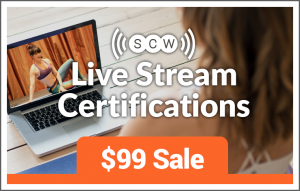 Overall feedback was beyond the stars. Many of the Live Stream MANIA® attendees had been to previous in-person MANIA® Conventions, some more than 10 shows. They were very pleased with the total quality, selections, presenters and variety of workshops and plan on attending another MANIA® (in person or streaming) in the future. The cost was quite affordable at $159, and the return was three days of live meetings, six days of pre-recorded videos and 20 CECs/CEUs, from nationally recognized providers like AFAA, ACE, NASM, AEA and more.
Attendees found the overall use of Zoom and the registration for Live Stream MANIA® quite easy to navigate. SCW supported attendees every step of the way to make the transition to an online event as seamless as possible. Full event live chat, phone & email support made connecting with everyone a breeze.
According to the post-event survey over 99% said they would recommend Live Stream MANIA® to a friend. That's a soaring success! They learned new things, earned CECs/CEUs, said hello to old friends, made new friends, gained confidence and most of all HAD FUN!
As everyone knows, all things must come to an end. But do they? Not for SCW. We hope you can join us at our next Live Stream MANIA®, July 24-26 which will be even bigger & better with all new workshops & presenters! Registration is open now for the low price of only $159!
---
---
---

Reopening Stronger Together – Stronger Than Ever!
by Ann Gilbert
On Friday, March 20th, Shapes Fitness for Women surrendered to the Florida Governor's mandate to close all fitness clubs. We felt like it was "hands up, now take it all away" time, literally. We walked the club that evening turning off fans, lights and overhead music. Time seemed frozen as we prepped to lock the doors, not knowing when a reopening would return. Then, in the back of the club, we spotted a member who had been in the sauna, as she was each Friday at that time. She literally fell to the floor in prayer. Asking for the club to be blessed, for it was her home, her community, her lifestyle. At that moment we knew Smiles would not be canceled, Classes would not be canceled, Dance would not be canceled, and Camaraderie would not and could not be canceled. A step by step plan would be implemented to keep members empowered and staff motivated.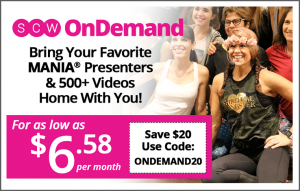 We immediately called our first Zoom meeting, gathering the leadership teams from the two locations. Facing a crisis meant we would need a Task Force determined to move aggressively towards a new mission, a joint vision; duplicating the in-house Shapes experience for all to have while at home. Our team of instructors and trainers filmed 14 classes in a 2-day period, loaded up the virtual schedule on YouTube and got the word out on the club's private Facebook groups. The virtual class schedule was filmed in the club setting, with the branded background. The coaches lined up entering the club one at a time to maintain social distancing guidelines.
A full week's worth of classes could be viewed starting within 48 hours of the club's closing complete with disclaimers, headshots and certifications of all the staff involved. Weekly filming continued for the next nine weeks, as well as five live classes offered weekly and member parties/social hours. We filmed weekly "Dump the Diet" messages directly from the Task Force with tips on healthy habits and encouragement. Within weeks views jumped to over 1000 for the for live events.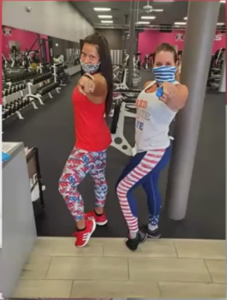 Next, the Task Force jumped in to communicate openly with each staff member on their team. From daycare to group fitness/personal training to customer service, all were told of the club's challenge. We spoke honestly about how the plan was to keep members engaged and asked for their support all while protocols for applying for unemployment were discussed. For those employees we were able to keep, they would see changes in job descriptions never to have been imagined just a few weeks earlier. Handwritten notes to active agers and old school mass mailings kept our staff stuffing snail mail envelopes, not to mention the numerous calls to members celebrating birthdays. Daily posts on Facebook became blogs and a Shapes Instagram Influencer was hired to focus on self-care for women. Social media promotions were stopped and replaced with a branded message saying movement is essential for a boosted immune system.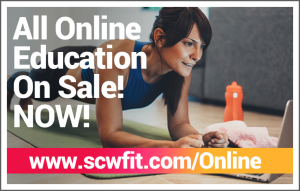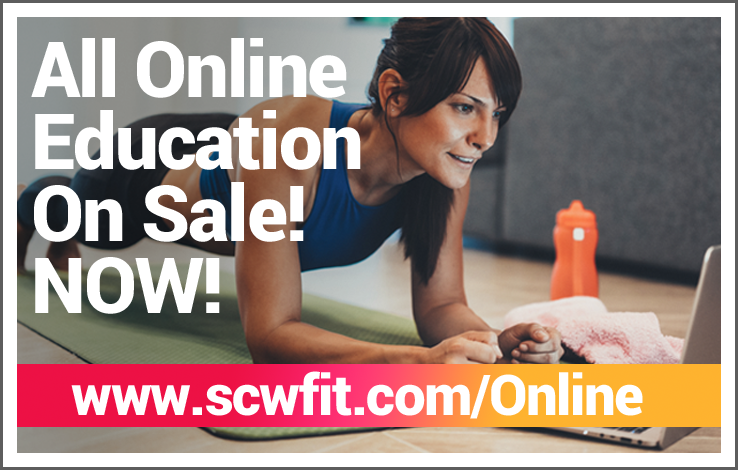 We knew that we would not and would never return to what we were just a few short weeks ago. We were not to be victims of a pandemic, but instead opportunists in the new world of fitness. We would take advantage of worldwide educators, established business professionals, and financial experts. The word webinar was always on the tip of our tongues as we pledged to be involved daily. While others were adapting, we felt as though we were emerging.
CDC guidelines and names of cleaning products were always on the Zoom agenda. We budgeted for logoed stickers for the group fitness floor, for new flags for our outdoor look and for personalized name tags for all uniformed staff.
Negotiating for assistance would now become a forte. We reached to all, from landlords, to bankers, to lawyers, realizing that it would take an external team as well as an internal team, to succeed.
Member engagement strategies continued with the addition of a weekly Zoom conversation each Saturday morning to discuss the plan for reopening, and what to expect on day one. Email blasts were sent weekly to assure member to staff connections remained strong. Texts campaigns, TV appearances and public service announcements were scattered through local neighbors and social media. We offered Zoom meetings and fitness tips to all local chambers and put together a weekly meeting to feature master trainers and their "fit while at home" insights. Virtual one to one training flourished, and we expect many to continue with the option indefinitely.
As we got closer to month's end, we knew we needed to monetize programming options, open an online pro-shop and formulate new pricing options for those who might have a need to cancel or freeze agreements and/or sessions. The need for staff retraining was evident and plans were put into place. Job descriptions, employee manuals and procedural addendums were created.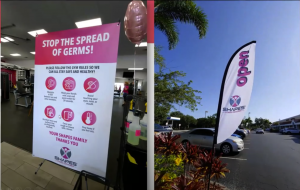 Our "clean sweep" deep cleaning teams, were created three weeks prior to opening. We were able to negotiate with our landlord for a new group fitness floor and a new sprinkler system during closure. Pictures were posted weekly showing the progress of the upgrades for our members and prospects.
On Friday, May 15, the Task Force took a much-needed break from addressing envelopes to listen to the Governor of Florida announce that gyms would reopen the following Monday. Phase One would begin with classes of limited size, outdoors only. Cardio would be minimized, and reservations mandatory. We did not open for business until we had advertised a two-day open house where our valued members were welcomed and allowed to view the clubs distancing efforts, cleaning stations and club-wide policies. During the open house, all were to be greeted by an ambassador who would assist the member in navigating through the new fitness experience.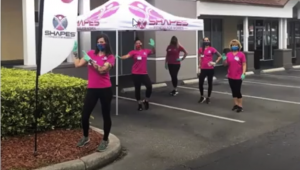 As we continue to plunge ahead the new norm, or rather, design for the new future continues. The 2020 COVID-19 pandemic hurt fitness, it hurt incomes, it hurt revenues, it hurt our souls. I know now what is meant in the saying, "what doesn't kill you makes you stronger". If you are waiting to reopen your facility, we hope these strategies will be the push you need to prepare and promote now. Do not wait for 2020 to get "great". It's up to you; You're Strength, You're Determination, You're Will-Power and You're Desire to become even more than you ever were.
To learn more about Ann and how she views the future of Fitness Clubs and Boutique Studios, join her at the next SCW Live Stream MANIA®, July 24-26, in her session "Vision Plan 2021". Or check out SCW Online for all of Ann Gilbert's digital videos, SCW OnDemand & CEC video courses right here.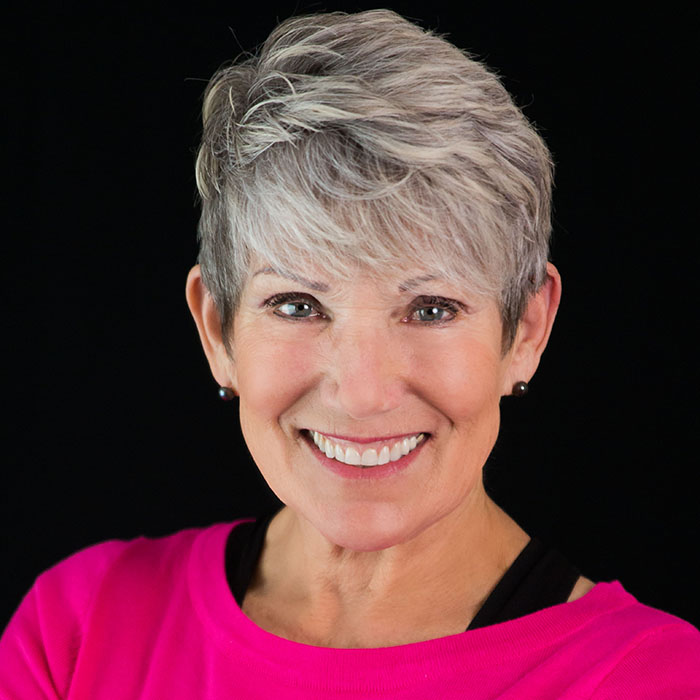 About the Author, Ann Gilbert

Ann Gilbert is an owner and operator of two Shapes Fitness for Women franchises in the Tampa Bay area. Ann oversees the operations of over 50 Group Fitness professionals and 25 certified Personal Trainers, and coordinates fee-based group personal training programs. Ann is a faculty member of The Shapes Fitness Academy, leading Educational workshops for the Franchise chain nationwide. Ann teaches the popular Launch Program, designed to mentor new trainers into the growing business of Personal Training. Ann was awarded ACE / IHRSA Personal Trainer of the Year and has been a popular speaker at Club Industry, SCW MANIA, IAFC and IHRSA Conventions for decades. Ann has written for Fitness magazines, Club Success, Club Solutions, and AKWA, and has been viewed as Tampa's Fitness Expert, on Fox 13's, Good Day Tampa Bay, bi-weekly for the past 5 years. Ann acts as an educational expert for SCW Fitness Education by teaching the following Certifications: Active Aging, The Fundamentals of Aquatic Fitness, The Fundamentals of Group Fitness, and WATERinMOTION.
---
---
---

Fitness Education Across All Platforms
by Tricia Paterkos
Over the last several months, SCW has taken the online lead in CEC Education. Most recently, they completed the first-ever Live Stream MANIA® with 1,125 attendees over the three-day online event. Needless to say, it was very successful. A second Live Stream MANIA® will take place July 24-26. SCW offers Live Stream SCW Certifications, CEC video courses, SCW OnDemand, and FREE weekly informational webinars.  These webinars focus on the most timely and pertinent topics relating to the health and fitness industry and will always be completely free.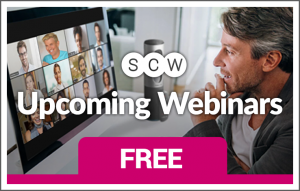 Over the next several Spotlite issues, we will be reviewing SCW Webinars and compiling valuable information for you, our readers, to either refresh your mind or inform you for the first time.  If you wish to watch a previous webinar they are available in our webinar archives. This edition will cover Team Communication, Nutrition and Mind/Body.
COMMUNICATING WITH YOUR TEAM & MEMBERS
SCW originally offered this Hot Topic Tuesday on May 12th, led by SCW CEO, Sara Kooperman, JD. The panel included an expert team of presenters from around the globe including Chris Stevenson, Blair McHaney, Emma Barry and Bill McBride. These business-savvy experts bring insight to gym and studio owners on how to build strong communication streams during these difficult times.
Many of us that are leading a team through the current situation are well aware of how difficult it is. We might be asking ourselves; What do I say to my employees? How do I express confidence in my words when I'm anything but confident? How do I explain the plan going forward? 
Here are a few helpful tips covered in this webinar: 
Put out the expectation of continuous communication.

It's important to provide stability to your team and members, especially when everything seems so up in the air. Figure out what type of communication (email, call, text, etc.) best suits each situation and be sure to diversify how you convey information.

Be honest and authentic.

Good leaders exude confidence, optimism and vulnerability. Don't feel like you need to have all the answers and be open when you don't. A good guide is to be natural but prepared.

Plan, plan, plan!

Club owners, Managers and Instructors must develop a comprehensive strategy for how to tackle the process of reopening as we approach our "new normal." That said, there's only so much you can control — so be ready to pivot at times.

Find value in your staff's opinions and include them in decision-making.

You may be surprised by their insights, as they often have a clearer view of the business from a consumer standpoint. 
This information-packed webinar includes so much more, including the proper marketing signage, utilizing digital communication and producing eye-catching content! View the full webinar here.
NUTRITION: BEFORE, DURING & AFTER THE COVID-19 PANDEMIC
This webinar previously aired as a Hot Topic Tuesday on April 14th. SCW's esteemed Nutrition Panel, Sohailla Digsby, RDN, LD, CPT, Dr. Candice Seti and Tricia Silverman, RD, LDN, MBA, moderated by Sara Kooperman, JD, woke us up to smart eating and food decisions for the topsy-turvy time we are in.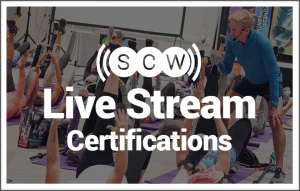 Are you spending more time in the kitchen than you like? Are you or your clients mindlessly eating because of not knowing what to do with the extra time? Don't worry, you're not alone. In this anxious arena, many of us turn to high-carb or sugary foods when dealing with stress and worry. This webinar explains how not to get discouraged. Right now, it is the time to look forward, rather than back, to help clients and peers in the best possible. 
Keep reading to learn how to lead others to use smarter nutrition habits.
Connection is key!

It's more important than ever to be present and in touch with your clients. Try creating a Facebook group and inviting people from your classes to join. People need each other to stay motivated, and it always helps to receive support from people with similar goals.
Read dietary guidelines to form the basis of your recommendations.

If you're hosting a presentation, have fun with it! Be creative and visual when demonstrating the importance of a healthy, well-balanced diet. Use information from recognized nutrition websites, like,

www.nutrition.gov

and

www.myplate.gov

. Silverman suggests using props to show what you are trying to explain, like the amount of sugar in our favorite coffees and sodas, then offer healthier alternatives.
Reach for fiber-rich foods, produce and proteins. Include lots of colorful foods in your diet! Lean meats, nuts, seeds and beans are great sources of protein.  Food is fuel, so don't forget its huge impact on emotional and physical health.

Maintain a sense of normalcy.

Regardless of the many changes taking place, your nutritional and fitness-related goals don't have to change. Give yourself some structure, and if it's possible, follow the same meal schedule every day.

Know your clients.

You must remember each person requires individual guidance. Don't make generalizations about what diet is best for everyone. Take the time to make sure each person is comfortable and understands what is best for them.

Utilize SCW certifications!

We offer many certifications focused on Nutrition. Here are just a few to get started;

Active Aging Nutrition

,

Nutrition Coaching for Fitness Professionals

and

Nutrition, Hormones and Metabolism

. These certifications give you incredible guidance into the different aspects of nutrition.
Take the time to watch the full video here and learn more about the experts' take on intermittent fasting, boosting your immune system and current dietary trends!
LEADING THE MIND/BODY CONNECTION DURING UNCERTAIN TIMES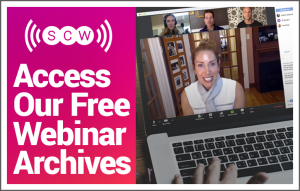 As fitness junkies, we seem to have a laser focus on our physical health. However, as most of us are aware, emotional health is just as important. In fact, the two are intertwined — and we must properly invest in both in order to become our best selves. 
On March 27th, in the weekly SCW Faculty Friday, Tricia Silverman, RD, LDN, MBA, Manuel Velazquez, Yury Rockit, David-Dorian Ross and Sara Kooperman, JD, gathered on Zoom to discuss the connection between the mind and the body. So, if you're finding yourself getting bogged down by devastating news or the negativity of those around you, check out Leading the Mind/Body Connection During Uncertain Times. 
Experts come together to discuss the ways to keep negative thoughts at bay and maintain a positive well-being. With advice from our panel, you'll leave with various methods of optimizing your mental health.
Meditation
One way to get a break from the struggles of everyday life is through meditation. Spend some time looking into your mind and acknowledging your thoughts. For beginners, Rockit suggests starting at two minutes. Once you feel comfortable with that, you can slowly increase your time. Remember, don't beat yourself up if you have trouble with it. This is an extremely difficult practice, so manage your expectations and be easy on yourself.
Investing in Relationships
Feed your emotional needs. Some people may isolate in times of crisis, but as human beings, we need other people. We often forget to prioritize our relationships to others. So, continue to connect with your friends. In fact, try reaching out to old friends you haven't spoken to in a while. You'll be glad you did.
Shifting Your Mindset
No matter how arduous things may seem, remember there is always a way to see the other side. Look for the silver lining in everything. As much as we wish we could control the events in our lives, we can't — the only thing we can control is ourselves and the way we respond. Rather than seeing yourself in the lens of your job or socioeconomic status, view yourself as a human. After all, we are all interconnected, we should treat ourselves and each other with respect and love.
Interested in learning more on how to form a strong connection between your mind and body? Check out the full webinar here for more information.
In fact, SCW offers a Meditation certification that provides theory and practical techniques to give you a deeper sense of self and consciousness. Allow yourself to learn mindfulness skills providing the mental resilience to overcome anything. 
We hope you were able to take away some vital information from the first of many, in this new series of articles reviewing SCW Webinars.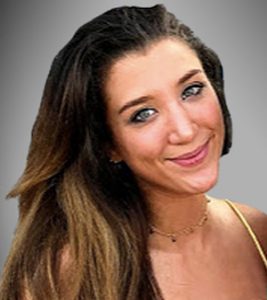 About the Author, Tricia Paterakos

Tricia Paterakos is a recent graduate of Indiana University with a Bachelors in Advertising and minor in Psychology. Growing up as a tennis player and dancer, she is passionate about staying fit and healthy. In her free time, Tricia likes to run, write and spend time with her family.
---
---
---

The Back and Core Exercise You Never Knew You Were Doing Wrong
by Brook Benten Jimenez
Many of us have been exercising for most of our lives (thanks Title IX). But sometimes, seemingly obvious moves need a tune-up. Over the next several issues, we'll dive into a series of moves that you never knew you were doing wrong. This edition covers the Renegade Row.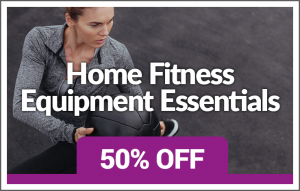 Renegade Rows, also known as Plank Rows or prone iso-ab + back, are seemingly straightforward exercises that are often performed improperly. By "seemingly straightforward," I mean that it's a plank hold with a row to the low ribcage. Easy, right? Not really. Many of us perform plank rows, focusing solely on the row and ignoring the hips. As fitness professionals, we need to be aware of clients who shift the hips from sagittal to transverse planes while performing this exercise. Core stability is common sense with this exercise, but it's not common practice.
Simply put, your "core muscles" are all of the structures that support your spine and pelvis. Because you have a core, your upper and lower body can move independently of one another. For instance, your upper body can rotate while your lower body stays still- and visa versa! Fitness experts should have their clients doing some "anti-rotation" exercises to train a stronger, more stable core. This means in moves where the hips want to rotate because the upper body is flexing/extending/rotating, trainers should coach their clients to keep their hips stationary. It takes mind-body awareness to do this because your hips and shoulders prefer to work in tandem.
Renegade rows are very challenging to perform as an anti-rotation exercise. Let's face it, your body is horizontal, so when you lift a balance point (your hand as you row to your ribcage), it is a legit balancing test to keep your hips from moving, too. This is why you have to recruit mental focus along with core strength and stability. Most likely, you will get a teeny bit of movement in the hips as you row, and the heavier the weight used for the row, the harder the shift will be to control. For that reason, you should start performing renegade rows with no weight and work on eliminating the rotation at the hips. Once the movement is performed with no rotation, it is time to progress to a light weight in hand. Eventually, add a heavy weight, but do so in a quadruped position (on all 4's) so you can keep the hips still. With patience, time, training, and effort, you will eventually be able to engage that powerhouse core and perform Renegade Rows with heavy load and with very little movement in the hips.
Step 1:
Place your hands underneath your shoulders and your feet hip-width apart, belly facing down. Tighten your abdominals and clench your glutes. Hold steady "high plank."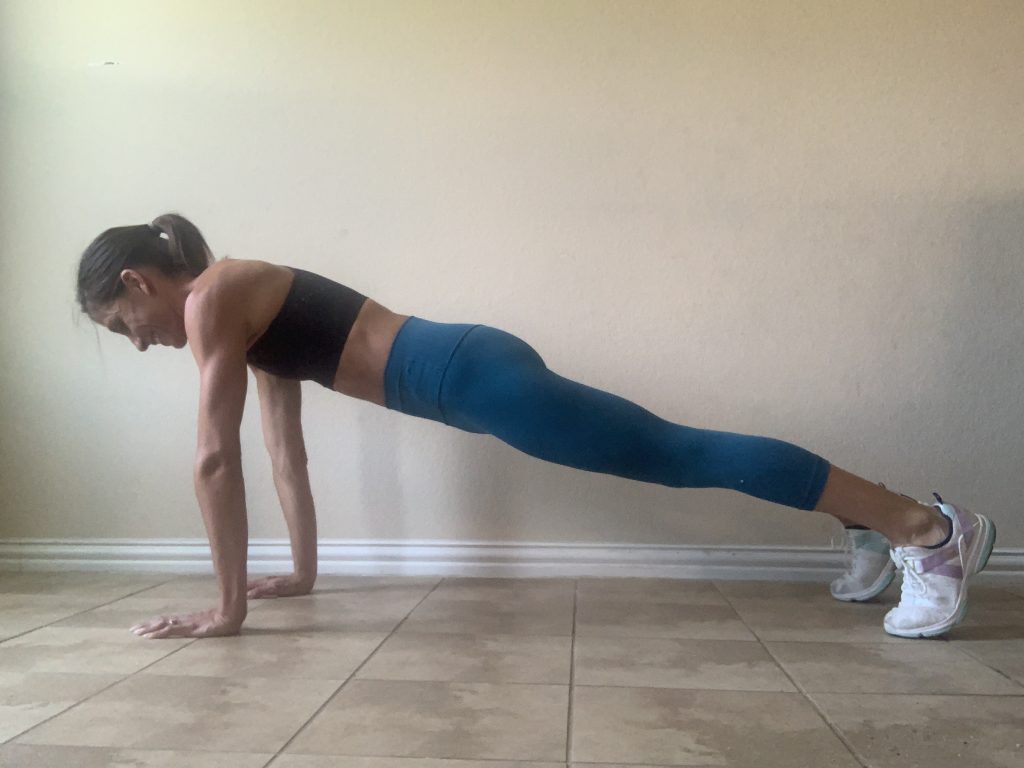 Step 2:
Maintain the posture described in Step 1, but lift one hand from the ground and pull the hand to the bottom of your ribcage. Try to minimize or eliminate shifts in the hips.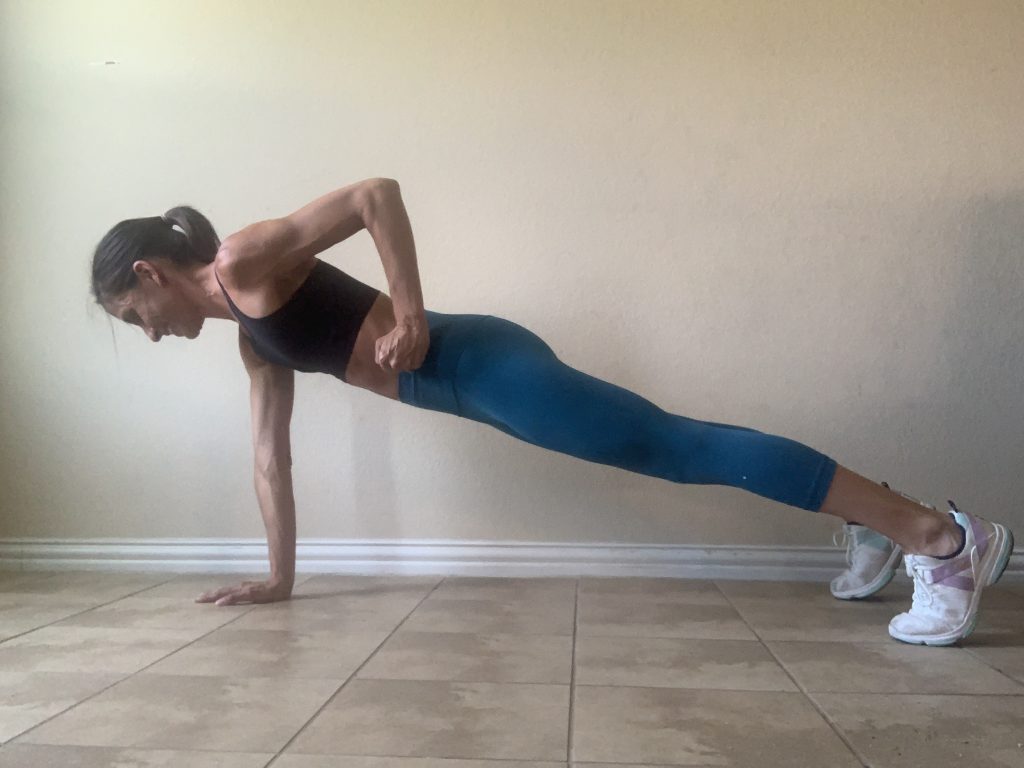 Return to Step 1, then perform Step 2 with the other hand.
To help understand how the exercise should be performed, take a quick peek at this video! Now that you know the problem, you can start making strides to fix "The back and core exercise you never knew you were doing wrong!"
---
---
---

20 Seconds of Hand Washing & 2 Minutes of Mind Cleansing
by Yury Rockit
#clarityinchaos
Life has been changing rapidly for many of us globally during these few months. Our intentions and mindfulness have been put to a test as we all are experiencing a great deal of insecurity and uncertainty. In times when we are encouraged to stay physically distanced, we have to make a conscious choice to stay socially connected in order to keep our emotional togetherness.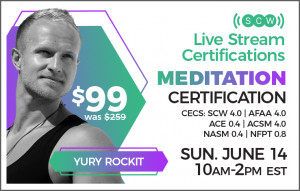 Interestingly, we are keeping physical distance to prevent potential spreading of the virus that might or might not be affecting us personally, but have you considered your emotional and mental state having a contagious factor? Before we consider to connect socially with others, I invite us to use aviation terminology, "put an oxygen mask first." This comes from the standard flight attendant safety pre-flight suggestion to put on one's own mask first before attempting to help others because one has to be well before being able to assist others; we must check-in with ourselves, our health, our feelings, and dig into our own resources.
This time might actually turn out to be this perfect opportunity for us to get to know ourselves more, to explore overdue urges of our hearts and neglected inspirations of our minds. No wonder in the Tibetan language the word "meditation" translates as "to get to know our mind."
Now, more than ever, the practice of mindfulness comes as a way to mitigate our collective feelings of the fear of the unknown and dreary overwhelming sensations we get by watching the news. Just like our global health community is strategizing how to counteract the effect of this pandemic on the world's population, I encourage each of us to take even greater responsibility for mindfulness and positivity towards life around us.
I was honored to discuss this situation with industry-leading mind/body, movement and nutrition specialists during an SCW Webinar. Sara Kooperman, JD, CEO of SCW Fitness Education, suggested that a simple activity like walking outdoors with your dog can break up the dullness of daily routines and physical distancing. "Dogs are still allowed to socialize with each other, and we, their owners, can live vicariously through socializing of our dogs!" Sara said, with a smile.
David-Dorian Ross, founder of TaiChi Fit & Live Stream MANIA® sponsor, emphasized the importance of movement practice while Manuel Velázquez, lead movement specialist at Rancho La Puerto reminded us about the importance of social connection through various social media sources. Tricia Silverman spoke about the importance of humor, sharing it with people around us as well as our virtual social media community.
Similarly, to our 20-second washing hand rituals– wildly popularized and highly effective physical hygiene practices– I have been doing short 2-minute meditation for a mental and emotional dusting off. Set your timer (like Siri or Alexa or a stopwatch) for two minutes, sit in a comfortable relaxed position, close your eyes, and just pay attention to your breath. Acknowledge all simple things that you have now that make your life valuable and comfortable. For example: family, friends, your home, a meal to enjoy, clean water, electricity, a bird singing outside of your window. The "90-second rule" states that it takes short 90 seconds for a chemical process to affect our body. Since any emotion we experience awakes a hormonal response in our system, our emotional response is our choice to stay in our emotional loop. For those chemicals to totally shift and flush out of our body, it takes less than 90 seconds.
If, for some reason, mediation is not an option for you, what else can you do for a brief short 90 seconds to shift your emotional state? Here are a few other activities to consider:
Movement, dancing or moving to your favorite song
Make a cup of tea or coffee and enjoy reading a book;
Sing, chant, hum and "om;"
Do conscious breathing practices;
Learn and practice a new skill; consider www.scwfit.com/OnDemand which has a wonderful selection of lectures and movement sessions that will inspire and motivate you through this time
I'm wishing you great health and I hope we see each other soon again at one of our SCW events, with gratitude and light, Yury Rockit.
Don't forget to join Yury this Sunday, June 14th for the Live Stream Meditation Certification. It's only $99 and you earn CECs/CEUs in the comfort of your own home. Plus you can get your fill of Yury with SCW's Online offerings right here.
---
---
---

Alcohol: How Much is Too Much?
by Sohailla Digsby, RDN, LD, CPT
Most of us have a favorite way to kick back and relax. For some it is binge-watching a new series, others read a book with a cup of tea, even others might workout. But for many, a glass of their preferred wine or beer or shot of hard liquor may do the trick.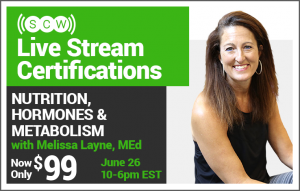 Near the start of the pandemic, around the beginning of March, overall sales in the United States for spirits increased by 55%. Toward the end of April, the spike dropped, but typical sales were still up 20%. Most were online purchases, with many stores closed. Those that remained open, since liquor stores are deemed essential, have been getting less traffic than previously. An increase in sales doesn't exactly translate to an increase in consumption, but surely for many, that has been the case.
Those who consume boozy beverages might define a serving as however full their glass is filled. Most don't know the proper measurements or the nutrition facts for alcoholic beverages since labels aren't required on wine, beer and liquor. The details aren't easy to come by. This often translates to, "Well then, what you don't know can't hurt you, right?"
The way alcohol impacts your health and weight is largely dependent on how much you drink and your overall calorie balance. Spring and summer typically pose more opportunities for celebratory occasions which tend to include more alcohol, but right now people may be drinking more in the privacy of their home to cope or to take the edge off rather than with friends at the amount consumed.
First, let's define a standard alcoholic "drink." Then, we'll look at what the labels don't tell you so you can make an informed decision as to whether the consumption of alcoholic beverages is worthwhile for you.
Alcoholic "drink" serving size:
12 ounces of beer
8 ounces of malt liquor
5 ounces of wine
1.5 ounces or a "shot" of 80-proof liquor
Though moderate alcohol intake can be part of a healthy diet, our nation's obesity level is an indication of how difficult moderation is when it comes to food and drink. Moderate drinking using the serving size above is defined as:
Up to 1 daily drink for a woman
Up to 2 for a man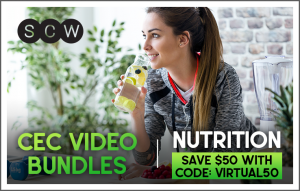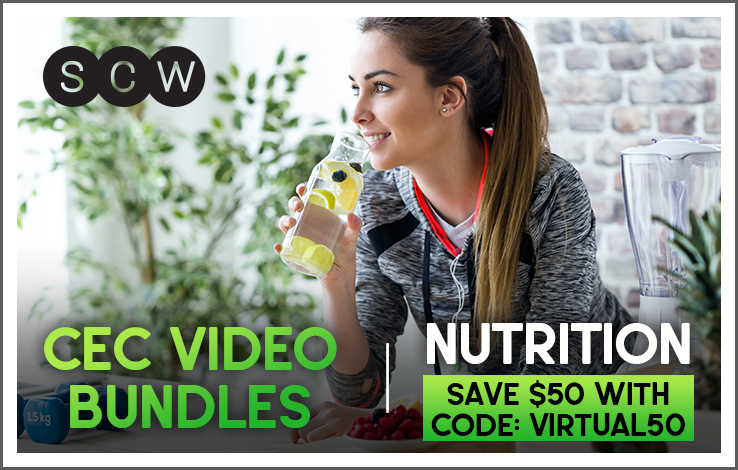 According to a recent Gallup poll, of those who consume alcohol, most report having about four drinks per week. Though this is considered moderate, keep in mind that the calories do have to be burned off or they will be stored securely on your body most typically around the waist… otherwise known as "the beer gut."
Speaking of calories, research shows that drinking even a moderate amount of alcohol impacts the amount of food you eat when you are drinking – thus more calories to burn off. The sugar content in most mixers contributes to further calories from the alcohol as well. Don't forget to also add in the calories in whatever you're mixing your alcohol with.
Consider this, if you (or one of your clients) workout 3 times this week and also have 2 glasses of wine for 3 nights (totaling 6 glasses, perhaps filled a little past the 5-ounce mark), the drinks might just end up as an even calorie swap for the workouts. Most people already have plenty of stored calories in the form of fat tissue to burn off during workouts, without adding in those weekly drinks. It's not the best news for those who enjoy an evening drink or two regularly to realize their workouts are just to burn off their bubblies, but it's important to be aware.
Cutting back or setting a specific boundary might make the difference in being the best you! If you enjoy a drink or two here and there, the question to ask yourself is, "Is it worth it?" For many of my female clients who struggle with this question, learning of the dramatically increased risk of breast cancer with 2 or more daily drinks is enough to help them to strongly consider cutting back. Other cancers that are linked to alcohol intake include esophageal cancer, colorectal cancer, and cancers of the head, neck and liver. If you have a family history of cancer, you may want to consider the aforementioned question even more carefully.
For those who are watching their waistlines, I recommend avoiding alcohol for a few weeks to see how it affects you. You may notice a big enough difference in your waistline (or possibly in your triglycerides) to motivate you to cut back. If you happen to have an unhealthy attachment to alcohol, this break from drinking will also serve to identify that.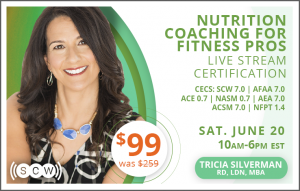 Again, "Is it worth it?" is a great question to carefully consider when consuming any indulgent beverage or food. If you decide "yes," then be sure to slowly savor every sip or bite mindfully, and make sure both general movement and purposeful exercise are part of your lifestyle as well!
If alcoholic beverage intake is a meaningful part of your life, make a decision that helps you set a reasonable boundary. Advice I often give to my clients is to choose 2 days of the week to have a drink or two, rather than what often becomes a more frequent habit. Another recommendation is to purchase your drink of choice once a week in a previously determined volume and resist running out for more when it runs out. (For example, a bottle of wine per week.)
No matter when you indulge, do so responsibly, making a plan in advance that you'll feel good about the next day. And be sure to employ the alternate rule: drink a glass of water after your drink, especially if you plan to have another.
To get back to the situation at hand, as we know America is starting to re-open. Restaurants and Bars are allowed to seat customers at their tables and bars, which means we can go out and catch up with friends and family, following social distancing guidelines. Hopefully, this will cause a return to previous alcohol sales and possibly less consumption. It will be interesting to see the data collected after the pandemic, and its impact on overall health.
If you'd like to learn more about what happens in your body when you drink a glass of wine, or have a Margarita (or a couple), click here to get all the details. In your inbox, you'll get a no-judgment, just-facts video covering the practical and technical aspects of how alcohol is processed in your body from top SCW nutrition presenters, Sohailla Digsby RDN, LD, CPT & Melissa Layne, M.Ed.
Sohailla will be presenting at the upcoming Live Stream MANIA®, July 24-26, you can also find much more from Sohailla on SCW Online by clicking here. Join her nutrition sessions covering topics such as Metabolism Reality Check, Fad Diet Update and the always popular, Nutrition Panel with Melissa Layne, M.Ed. and Tricia Silverman, RD, LDN, MBA.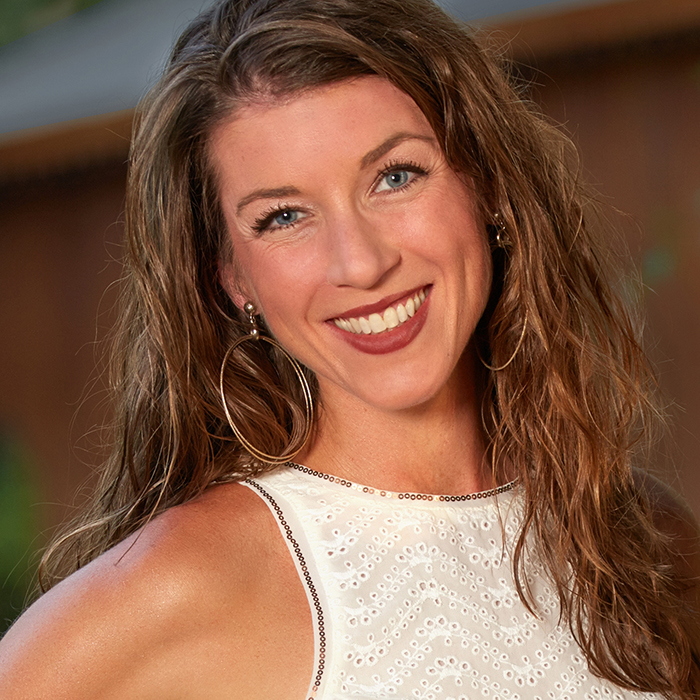 About the Author, Sohailla Digsby, RDN, LD, CPT

Sohailla Digsby is a registered dietician, author and the developer of the life-changing 52-day Best Body Countdown program for fitness professionals to bring sound nutrition and accountability to their fitness and wellness facilities. With over 20 years of experience as a fitness professional, presenter and RD, Sohailla manages an online membership-based coaching group and authored three books to help fitpros guide their clients to reach goals and maintain their Best Bodies.
---
---
---

We're always looking for great content highlighting the newest things in the world of fitness. Please submit your article directly to [email protected] for immediate consideration!
---
Give us your feedback on what interests you, and maybe YOU will make it in the SCW Spotlite!
Share Your Thoughts >>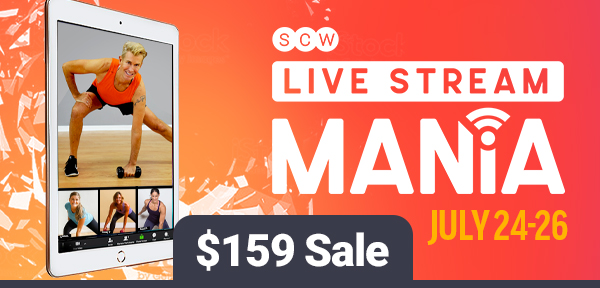 SCW Live Streaming MANIA®

$100 OFF
Join us for this innovative, action-packed weekend of 150 workshops, 9 sessions every hour, with 50 top presenters, streamed LIVE on zoom in the convenience & safety of your home.
(Was $259, Now Only $159)
---
Learn More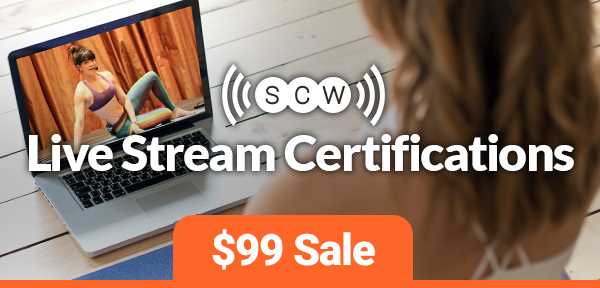 SCW Live Streaming Certifications

$100 OFF
SCW Live Streaming Certifications brought to you in real-time from our expert presenters to your living room!
(Was $199, Now Only $99)
---
Choose Your Cert Here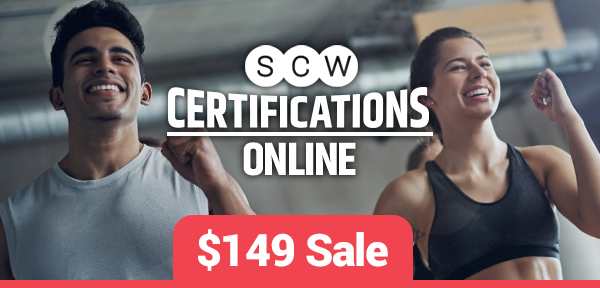 SCW Online Certifications

$50 OFF
Was $199, Now only $149! Choose from 36 nationally recognized & accredited SCW Certifications online. Take them in your own time. (Includes Live Course FREE!)
---
Choose Cert & Use Code: CERT50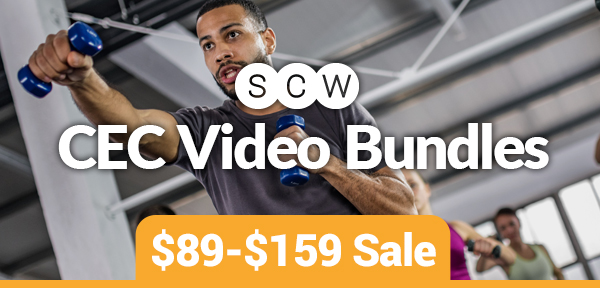 $50 OFF

 20 CEC Video Course Bundles
SCW Video CEC Bundles are hand-picked CEC/CEU video bundles from the most popular MANIA® sessions. Each course includes video, course outline, exam & certificate of completion.
(Was $139, Now $89) or (Was $209, Now $159)
---
Choose Bundle & Use Code: VIRTUAL50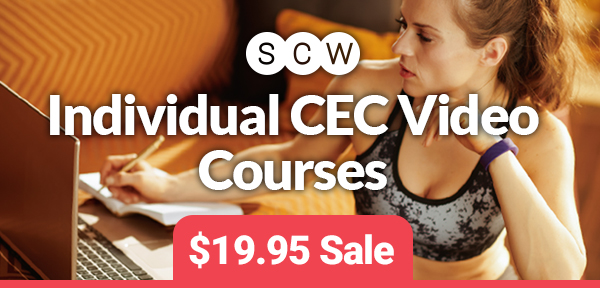 Online CEC Courses

$10 OFF
Choose from over 100 SCW CEC Online Video Courses to keep you stocked with the CECs you need from the organizations you trust. Each course includes video, course outline, exam & certificate of completion.
(Was $29.95, Now Only $19.95)
---
Choose Courses & Use Code: CEC10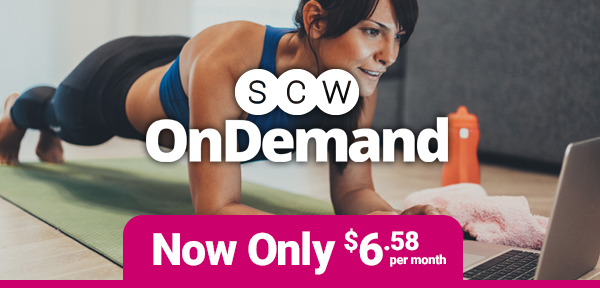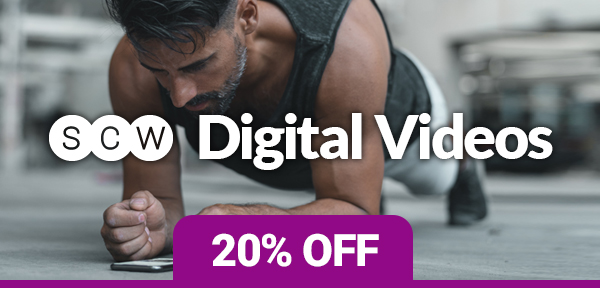 20% OFF

SCW Digital Videos
Get your hands on SCW digital videos, many of which were filmed live at MANIA®! Now at the incredible price of only $15.96 each (was $19.95)
---
Choose Videos & Use Code: VIDEO20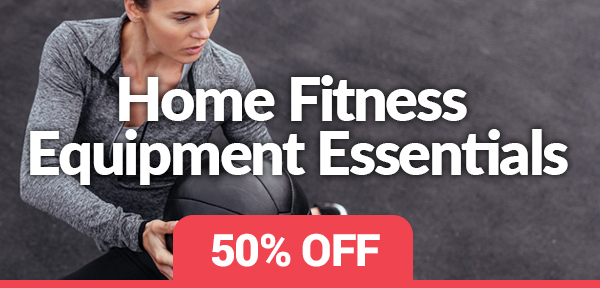 50% OFF

Home Equipment Must-Haves
Home fitness equipment essentials now 50% OFF! We ship to you! Stock up on everything you need for your home workout space.
---
Shop the 50% Sale Here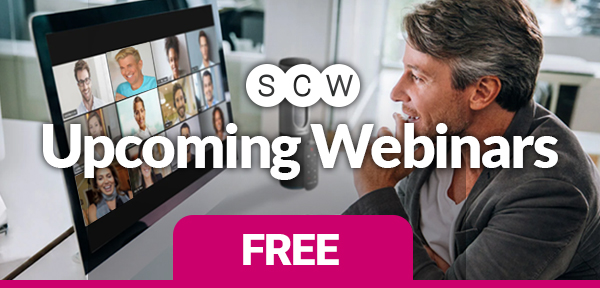 FREE Upcoming Webinars

From SCW
Join SCW for our FREE Webinars with the trusted presenters you love from our MANIA® Conventions.
---
Register FREE Here
---