---

SCW Spotlite: Issue 26
August 1, 2020
Enjoy this biweekly buzz about all things fitness. Fitness Pros are always on the go, so we'll leave the "Lite" on!
From Hands-On to Logging On | 5 Moves for Feeling Great and Staying Ageless | To Group or Not to Group: That is the Question | Covering Up to Survive |  Summer Eats: Eggplant Sandwich
---

From Hands-On to Logging On: SCW's Transition to Virtual Certifications
by A.J. Brye – FitnessTrainer Magazine
If you're a group fitness instructor like me, fitness conferences are a highlight you look forward to every year, especially the SCW MANIA® Conferences.
With seven regional shows spanning over 35 years, MANIA® Conferences are held in Washington D.C., California (San Francisco), Florida (Orlando), Atlanta, Dallas, Midwest (Chicago) and Boston, annually. Each one featuring 17 sessions running every hour on all different aspects of the fitness and wellness industry (HIIT, Functional Training, Cycling, Mind/Body, Barre, Dance, Aqua, Nutrition, Recovery, Business & Leadership). You knew you were going to complete a certification while making a handful of priceless connections. That was until COVID-19 hit earlier this year.
The pandemic has had a huge impact on SCW. They had to cancel California MANIA®, Florida MANIA®, Atlanta MANIA® and transition Dallas MANIA® to a Live Streaming event. This of course has impacted them financially and has also affected their loyal MANIA® attendees who plan on the annual educational getaways.
While I canceled hotel reservations in one click, I was able to register for a virtual Pilates certification in another click; as SCW seemingly overnight transitioned their MANIA® conference and certifications online.
"We felt strongly that people should have options and we gave it to them," said SCW Founder and CEO Sara Kooperman. "It was a huge time for transition, and a time to search your personal sense of responsibilities to your clients and staff."
SCW Fitness Education offers certifications in more than 35 different modalities. Everything from group exercise to personal training, small group training, nutrition, aqua, active aging and more are provided online, live stream and of course in person. To suddenly shift these in-person certifications to live online streaming was unheard of, and ultimately successful.
We spoke to Kooperman to wrap our heads around what goes into such a huge undertaking while maintaining the integrity of instruction and certifications, as well as where she sees group fitness heading post-pandemic.
LESSON 1:
Flexibility and Mobility
Fitness Trainer:
How has COVID-19 impacted the certifications that SCW offers?
Sara Kooperman:
We were pretty lucky that SCW Fitness has already begun offering live stream certifications back in early October of 2019. In the fall, we began streaming our live certifications from our MANIA® conventions. This helped us to transition quickly after the pandemic was announced.
Several of our presenters were quite used to live streaming already and they graciously volunteered to try to stream on their own from their homes. Our creative team is also our technical team and they were able to supervise these live stream full-day certification programs and create a professional and personal successful educational environment for our attendees. Attendees could be both seen and heard and communicate at their leisure. SCW was the first to offer live stream certifications from our presenter's homes.
We seem to be the first on many things! SCW is quite fortunate to have talented presenters like Jeff Howard, Abbie Appel, Keli Roberts and Connie Warasila (to name a few) who are incredibly flexible and quite gifted at managing both educational material as well as technology. They flew when they easily could have fallen. They tried new things over and over- new sound systems, new electronic devices for streaming, new microphones and lighting designs. They spent their own money purchasing elaborate devices and invested in their future.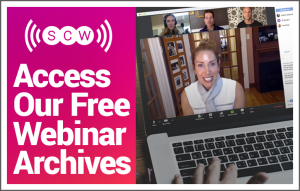 SCW was also the first company to begin to deliver regular FREE webinars three times a week. Craziness- three times a week no less! We started broadcasting five days after the shut down in Illinois and have offered more than 30 different webinars on topics varying from virtual programming to aquatic exercise to cleaning strategies for gyms. You name it, our experts spoke!
I quickly learned Zoom (and not that well, I might add.) I learned to pin videos, adjust my lighting, sound and scare my dog (and family) into silent submission for three hours a week! They knew that the minute they saw the make-up go on…watch out! I was in Zoom-mode! I now permanently keep my brush, lipstick and an alternate shirt that I throw on before each webinar. These valuable and all-too necessary items lay forever perched in my office ready to be called on at a moment's notice. Running webinars in sneakers, workout shorts and button-down tops has become second nature now. My standing desk has served me well along with some state-of-the-art ring-lights that seem to fall down upon command! Printing out large font notes teaming with insightful questions to encourage our many panels of experts, seems normal. I cannot emphasize enough that trial and error…or error and trial…is the way to go when adjusting to the pandemic! My new way of life seems to brim with a focus on fitness industry icons and their invaluable insights into our not-so-clear future.
FT:
During the initial transition, from in-person to virtual, how did instructors leading these certifications respond?
SK:
Considering that most of our professionals had already appeared on video (on DVD and VHS), they responded beautifully. They were used to being recorded for our OnDemand streaming platform and our individual educational videos that we have been creating and selling for decades. They knew how to look into a camera, they understood the nuances of music and moves, they were ready to react and perform. We were incredibly concerned that this would be difficult for them and we were surprisingly pleased to discover that they handled it with class and care.
The most difficult aspect of transitioning from live to Zoom streaming was integrating the music and the voice. However, again, SCW's creative and technical team were able to overcome this quickly and train our SCW Staff on how to accomplish this smoothly. They taught us and we taught them, and then we shared these secrets in our webinars. It is all about our wonderful fitness community and coming together.
FT:
Where have you been able to find unexpected opportunities for growth during this time?
SK:
Our unexpected opportunities for growth was found in Zoom live streaming as well as product and fitness equipment distribution.
Instructors were craving education and wanting to work out in their homes and on their own. We adjusted to the need and responded appropriately selling equipment at 50% off as well as discounted online and virtual certifications. And of course…the FREE webinars…these fabulous panels of fitness pros sharing and chatting and laughing and building a community of experience. These webinars are my favorite.
LESSON 2:
Gaining Focus Behind the Webcam
FT:
What has been the biggest challenge when managing a staff through the pandemic?
SK:
For SCW, we are very used to a virtual office setting. 75% of our staff always worked from home, so no transition was needed for them. The other 25% were able to work from home quickly and easily because most of them already worked off portable computers and devices as they were required to pick up seven times a year and travel to our conferences. Social distancing was easy. The SCW Team is a well-oiled group of communicators and proficient Skype and Zoom operators. Our communication continues and we are able to "stream along". SCW is definitely the Stream Team!
FT:
What have been the most impressive moments that you have seen in regard to your SCW staff through the pandemic?
SK:
For SCW, the most impressive moment was the five minutes when the entire SCW website crashed. This happened when 1,125 people were simultaneously trying to enter Live Stream MANIA® on a Friday morning in May.
The website went completely dead and we had to pivot faster than we ever had to pivot before. Our amazing creative and tech team was able to connect with all the participants, get them into their correct rooms, build a second site to protect from crashing again, and literally…pivot like a tornado! As they say…The show must go on! And it did! I have never been prouder of our staff then I was at that time.
FT:
Have your staff shared their professional fears with you during the pandemic?
SK:
The biggest unspoken fear from my staff is that they worry and wonder if they will have jobs the following week. We own a business that is possibly the most challenged on Earth. We run conferences, and these conferences involved heavy breathing, sweating and touching. We were the first to go during the pandemic! My staff continues to worry about their jobs, but we continue to review and revamp and somehow continue on! We communicate openly and honestly…not to mention frequently. We review things tightly, but we have been able to keep everyone on. We hope this continues this way.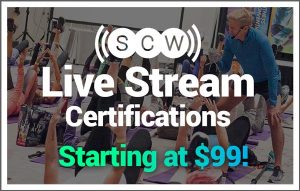 Presenters have also shared their professional and personal fears with SCW and with me. They worry that they won't have jobs to go back to, they worry that conferences will never come back to full capacity and they fear that they will never see their friends face to face again! I have had many long tearful phone calls with business associates, who are dear friends, that are terrified of technology and are worried they will be forgotten. This is an extremely stressful time that places deep demand on our leaders.
But I must add that I have been most impressed with the way our presenters have connected through social media, email and text messaging.
Health and wellness professionals are leaders in every sense of the word. They find when the world around them is spinning, they can find their balance. They can stand upright when everyone else is bending backward. They send positive messages and keep smiles on their faces when their hearts and their muscles are in pain. I've never been prouder to be a part of and at the heart of this community.
LESSON 3:
Fine Tuning for the Future
FT:
How do you see group fitness shifting and thriving after the pandemic?
SK:
I know that the fitness industry will shift after this pandemic. We will have to continue offering online and virtual streaming fitness opportunities to our clients. Our clubs will need to transition to cleaner and more sanitary systems of maintenance. I do see that the home exercise explosion will not disappear, but it will decline slightly and plateau overtime. Humans are social creatures and love connections and human contact. Personal training which is safer and more secure will continue to thrive. Small group training will also continue. Large group fitness will return, but the need for a more comfortable environment including additional space, higher quality ventilation systems and individualized equipment usage will expand.
FT:
What tips do you have for group fitness instructors from this point on?
SK:
Hang in there…Frankly, you have no choice so shove a smile on your face, turn your music on and MOVE!!! Keep laughing, pushing, pulling, jumping and stretching. Stay flexible and fluid. This too shall pass.
During these times of uncertainty, SCW Fitness is providing FREE Webinars, 50% Discounts on Certifications and Equipment and $100 off on our Live Streaming Dallas MANIA® Convention, Aug. 21-34 (w/20 hours of CEC's). For more information, please visit www.scwfit.com/Online.
Be safe and stay healthy!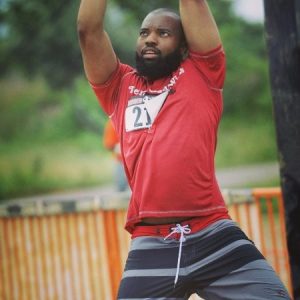 About the Author, A.J. Brye

A.J. Brye is a New York City based National Academy of Sports Medicine (NASM) Certified Personal Trainer and Fitness Nutrition Specialist with 10-plus years the fitness and athletic industry. A.J. develops fitness programs that are functional and compliment anyone's lifestyle, making daily life more enjoyable.
---
---
---

5 Moves for Feeling Great and Staying Ageless
by Leslee Bender
Ageless is not about aesthetics. Whether you're in your 30s or your 80s, you may have imposed limitations on yourself based on your current age. Maybe you focus more on how you look and not so much on how you feel.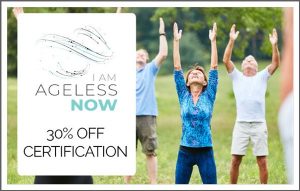 But here's the thing: You've been given the greatest present in the world, and it is YOU. What really counts is how you live your life, and how you treat yourself and others.
These five moves will help you to feel GREAT! All you need is a tennis ball and a chair!
A tennis ball is the perfect tool to massage away pain and stress in your body. If you have time to brush your teeth, you have time to massage your feet and other critical parts of your body. You can do these simple I Am Ageless Now movements in the morning or in the evening. Not only can these movements energize you for the day, they can also release muscle tension before a workout or even calm you before you go to bed at night.
This method keeps your fascia hydrated and healthy. You will want to perform the movements on both sides of your body. These movements seem so simple but are crucial to keeping your joints supple and healthy. Plus, you can do all of them in just a total of 10 minutes a day. Make sure to drink plenty of water throughout your day, too!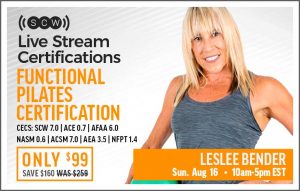 MOVE 1:
Begin with a tennis ball under your toes with your heel on the ground. Add compression by pressing your foot down lightly and flex (curl) and extend your toes ten times. You can also compress in between each toe by moving the tennis ball across the foot. Moving the ball in between each joint and the bones of the toes while adding compression, creates mobility and stability of the foot. The purpose is to stimulate and free up the fascia of the feet, especially for people who stand all day (and for women wearing high-heeled shoes). Taking deep breaths will also help you if you have sensitive feet. NOTE: Massaging the feet is not advised for women who are pregnant.
MOVE 2:
Begin by placing the ball under the arch and slowly roll from heel to toe (flossing the foot). This would be considered massaging the foot. This movement is great relief for plantar fasciitis as it allows the foot to be more flexible. Rub the ball from heel to toe ten times. For more intensity, lean forward and add a little body weight.
MOVE 3:
Begin seated, placing the ball underneath the middle of the calf, and hinge forward until you feel pressure on the calf. Flex and extend the ankle. This helps to stimulate the fascia of the calves and make them more responsive and less prone to injury. For a variation, cross your other leg over. You can also rock the calf side to side while holding light compression on the leg over the tennis ball.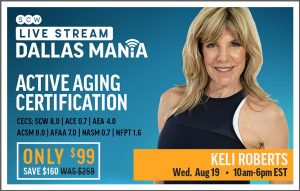 MOVE 4:
Place the ball underneath the glute. Hands can be to the side, and slowly let the knees fall to the same side where you've placed the tennis ball. This is a great movement for anyone who sits for long periods of time and experiences hip pain related to the piriformis and/or sciatica as the glutes become very dehydrated and stiff.
MOVE 5:
Sit in a chair with firm back support. Place the ball below the shoulder blade and gently lean into it. You can also rock side to side, which offers a nice shoulder massage. This is a great exercise for desk jockeys or anyone who plays rotational sports like tennis.
The time is now to be resilient, positive, active, mindful, happy — or what I like to call ageless. Start wherever you are and get up and move. If you don't see yourself as an active person, change your thoughts about that.
Everyone can choose to be ageless. Don't let life drive you. You're in the driver's seat, so take control now! –Leslee Bender
You can get certified with Leslee in Functional Pilates, Sunday August 16th from 10am-5pm, where she will go much deeper into many of the information discussed above. You can also learn more about Leslee by visiting her website, www.iamagelessnow.com.

---
---
---
To Group or Not to Group…That is the Question
by Jasmin Caviezel
Have you gone back to your gyms, wellness centers or boutique studios since re-opening to the public? If not, you're probably asking yourself, "What can I expect when my gym re-opens?" "How will I stay six feet apart from someone?" "How clean is the equipment?" The Center for Disease Control has created guidelines to cover all those questions and many more, but the bottom-line decisions are made by local government officials and gym owners.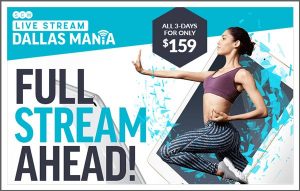 Expect to have to make a reservation before attending a group ex class. Most facilities limit their classes. Some have phased to 60% capacity as long as a six-foot separation is kept. Other gyms are still limited to 10 participants. As for wellness centers, cardio machines and strength training equipment will be separated with closure signs or yellow tape, letting users know they are unavailable. There may also be stipulations on the number of people allowed in the room at one time. If capacity has been reached, gym-goers will either have to wait until a spot opens up or return at a different time. With these restrictions in place, many will still find themselves wanting to workout at home. SCW offers many options, like videos and virtual training.
Upon entering a facility, expect a temperature check. Some gyms are even going the extra mile and asking their customers wellness questions in order to establish the safest environment for everyone. Fitness staff might also be handing out masks and gloves to you at the door. Please bring your own mask, preferably one that allows easy breathing if required to wear it while working out. SCW masks are available with your favorite sayings. Also bring your own towel and water bottle. Water fountains have been shut down and towel service may be discontinued. If you're unsure what to expect from your gym, be sure to reach out and learn what their requirements are.
We all know the gym can be a breeding ground for germs, making sanitation during the pandemic more important than ever. Fitness staff will be cleaning around the clock, but they will need your help in wiping down equipment before and after every use. There will be spray bottles and disinfectant wipes available. Showers, saunas, steam rooms, pools, lockers, and childcare areas will likely stay closed during the beginning phases of the re-opening process. If you are living in a state that allows pools to re-open, make sure you have aqua shoes and keep the required distance during your workout as well as in the locker room area to decrease germ exposure. Ideally, join a pool that operates outdoors to ensure proper air circulation. For more information about public pools re-opening, read an article titled "Take the Plunge: Re-Opening Your Pool" written by SCW CEO, Sara Kooperman, JD in the most recent Tidal Waves issue.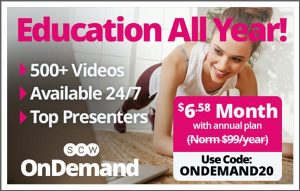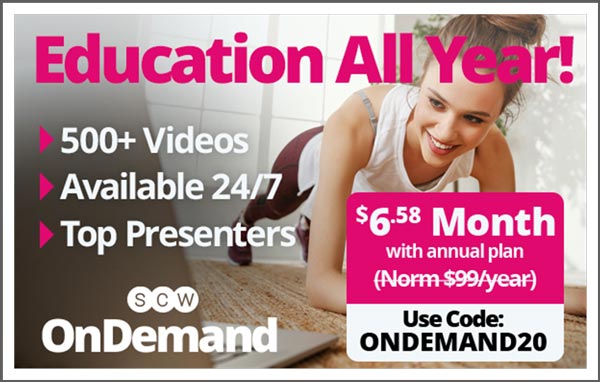 Ultimately, people will have to decide for themselves if it's in their best interest to go back to the gym. While there is a higher risk of being in contact with the virus, there are many precautions being taken to ensure that each individual feels the safest they possibly can. If we follow the rules and guidelines, we will begin moving back towards the gym experience we've all come to know and love. Be sure to reach out to your own gym and see what rules and regulations they have set. If you aren't ready to go back, gyms will continue to offer online trainings so that everyone can feel safe and happy, no matter which they decide best for themselves.
As an instructor, you have an advantage to teaching. With the gyms being closed, many of you learned how to teach in a virtual world. This gives you the opportunity to teach in person and online. Help yourself and your students, get the latest in online training and register for the upcoming Live Streaming Dallas MANIA®.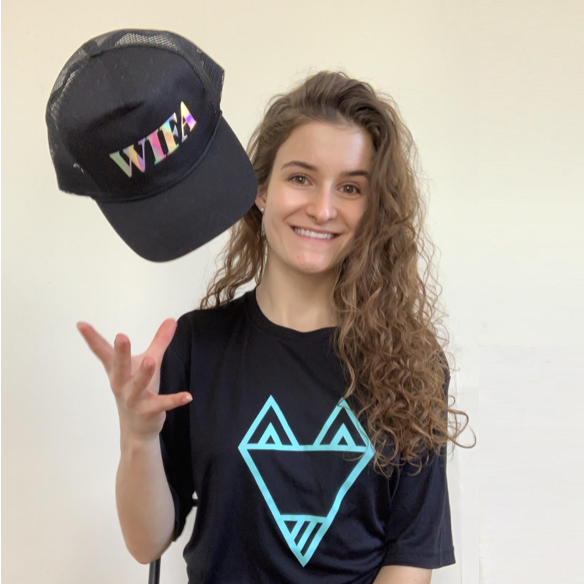 About the Author, Jasmin Caviezel

Jasmin Caviezel is a student in the Fitness and Recreation Management program at Madison College. She also graduated from a four-apprenticeship program as a Holistic Pharmacy Technician in Switzerland. She holds the ACE Group Fitness Instructor certification, the ACE Fitness Nutrition Specialist certification, as well as the SCW Fitness Nutrition, Hormones and Metabolism Certificate. She is passionate about fitness and nutrition and wants to inspire others to create a healthy sustainable lifestyle.
---
---
---

Covering Up to Survive
by Robin Taylor
Face masks are the norm nowadays. Most businesses, restaurants and public places are strongly encouraging, if not requiring masks to be worn in their establishment or on the property. With that being said, SCW would like to highlight one of their longtime MANIA® Convention exhibitors, T31 (formerly known as Tepuy Activewear). This company is among many businesses that had to make changes in order to survive. Not only did they change their focus, but their focus change helped the community and the Super Heroes in it.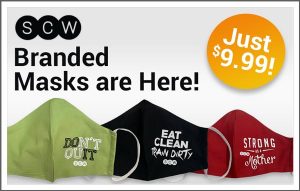 Elena Carne and Paige Greene, Owner and Business Partner of T31, knew they had to make a business decision, due to the spread of Covid-19, otherwise they might suffer like so many other companies.
"We decided this adverse situation could go one of two ways, we could choose to react, or respond and answer the call to serve and thrive. We chose faith over fear and moved forward!" says Greene.
T31 (formerly Tepuy Activewear), an already successful small, minority, woman-owned manufacturer, chose to switch gears entirely to produce personal face masks and head caps for hospitals and other emergency and medical outlets. A local hospital reached out to them after realizing they weren't capable of sewing enough masks to provide for their administrators. Carné, Greene and a team of mostly volunteers took over the process and in the beginning of April, after the first seven days of production, delivered 4,000 masks to the nearby medical facility.
"I modified their design to work in a mass production environment and through the help of donations from the local community, we have been able to purchase all of the materials to provide these masks at no cost," Carné said.
By the end of April, the company provided and delivered 6000 masks to health workers and first responders in several states including Illinois, Georgia, Florida, Michigan, Virginia and South Carolina. Currently, the T31 team has donated over 12,000 personally made masks to hospitals, nursing homes, law enforcement, clinics and even low-income areas highly affected by the pandemic. They also sell masks to the public for a low cost and use the money to purchase more supplies.
"Through generous donations and purchases made by individuals, businesses even larger corporations, we have been able to purchase much-needed resources, as well as, hire two local ladies needing jobs to support their families. This has been such a blessing, not just to us, but to others," adds Carne.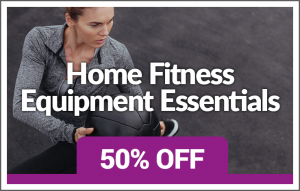 T31 is a lady's activewear company producing both handcrafted and inspiring activewear for all women. We are proud to produce a quality, made in America, vibrant and inspiring product that is affordable to everyone. Each piece is handcrafted with the client in mind to meet their needs because everyone's needs vary.
"We're excited to see what the future holds for us! We know God has big plans for T31 because His hand has directed us thru out this entire journey and we are truly blessed!" said Greene
SCW is so proud to have a working relationship with these two very special women and the company they have grown and matured to become T31. Your favorite SCW sayings are now available on faces masks made by T31 as well as MANIA® shirts.
For more information about T31, donations, or mask purchase, contact Elena or Paige through their website.
If you would like to contribute to their mission, they also have a GoFundme Mask Building Project account.
---
---
---

Webinar Series 2: Programming for Reopening & Streaming Classes for Profit
by Tricia Paterkos
Each day goes by and new issues arise as fitness professionals continue to expand their skills to successfully reach out to their clients and members. Over the last few months, SCW has been reaching out to help alleviate those problems and nip new ones in the bud. Their FREE weekly informational webinar series provides information and tips for Instructors, Personal Trainers, Gym and Boutique Owners and Managers and many others in the Fitness Industry.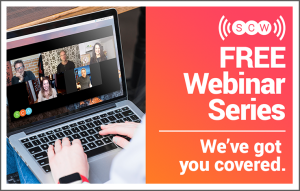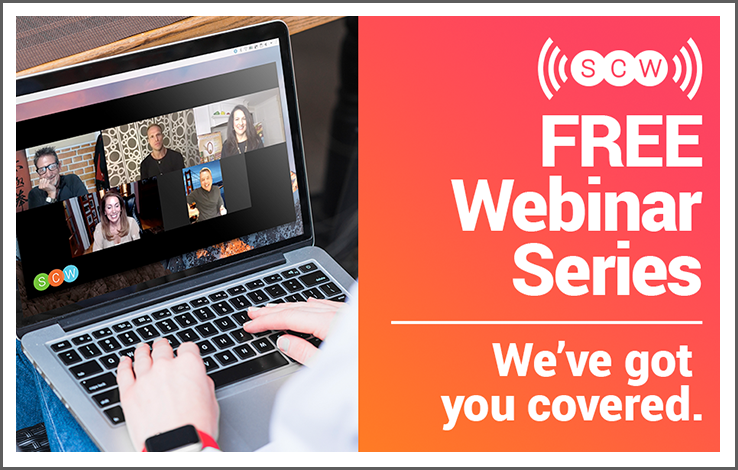 In the last issue of SCW Spotlite, we started revisiting previous weekly webinars. This publication refreshes our readers with ideas regarding Programming Options When We Re-Open and Streaming Your Classes Online For Profit. Read on to learn more about these webinars and check out our webinar archives to find all previous webinars.
PROGRAMMING OPTIONS WHEN WE RE-OPEN
Many of us may be wondering what the future of fitness looks like as gyms and studios reopen. What will the "new normal" look like? And, will we ever go back to the way things were before this brutal pandemic hit?
Though no one can say for sure, it seems unlikely. COVID-19 has drastically changed the way businesses are running and will run for years to come — and the fitness industry is no different. 
So, what should we expect upon reopening our centers? Tune in to Programming Options When We Re-Open as Sara Kooperman, JD, Jamie Zacharias, Carol Teteak, MS and Pete McCall predict the changes that will take place within our gyms short and long-term. 
The informational webinar covers a variety of changes we should expect as they pertain to:
– Membership Models
Moving forward, it appears there will be a hybrid membership model where clients can combine in-person and virtual sessions. So, start thinking about offering a hybrid model or even new membership options with add-ons, such as the ability to take online classes. 
– Leasing Equipment
Leasing out equipment will likely be a common practice in the future of fitness. Larger equipment, like bikes, can be leased out to help instructors and businesses collect on monthly fees and earn more revenue during these times.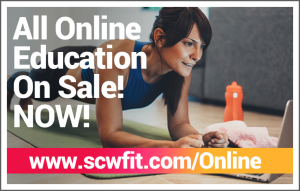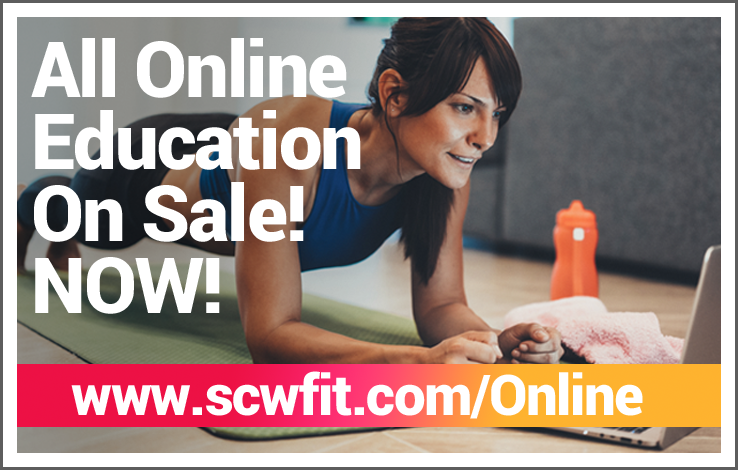 For smaller equipment, think about selling packages (including bands, mats, etc.) to avoid the spread of disease. In fact, now would be the time to get in contact with your manufacturer or distributor as programming and products continue to go on sale.
– Class Size and Equipment Layout
Keeping social distancing in mind, try physically separating your equipment. For larger machines that are difficult to move, a simple solution is to place an out of order sign on every other machine. 
As for programming, it is recommended you start out with bodyweight-only classes then slowly add in sessions that require equipment. For the foreseeable future, there will be a limit to the number of people who can attend each live class, which means each one will likely be filmed and streamed to reach more people.
With these changes in mind, you should consider having your members sign an updated consent form upon returning to your gym. See our recommended format here. Additionally, take advantage of client testimonials, and have attendees provide feedback on the cleanliness of your gym to entice others to come back in. 
In fact, we've even put together a comprehensive checklist to best prepare you for reopening! And please check out our full webinar here for even more information on what to expect when you reopen your center.
STREAMING YOUR CLASSES ONLINE FOR PROFIT
With a majority of our fitness centers closed or operating at a much smaller capacity than normal, we must figure out ways we can start to utilize online platforms for revenue. As fitness instructors, rather than simply asking for donations, we must start charging for our live and online sessions.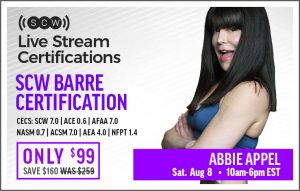 Wondering where to start? Look no further. We brought in Brett Maloley, Paddy McGill and Victoria Lovering — representatives from Burnalong, Uscreen and Punchpass, respectively. Brett, Paddy and Victoria all offer insightful guidance on how you can use each site to monetize your online content.
Burnalong partners with on-site and local gyms, studios, instructors and wellness professionals, using a variety of streaming options to connect individuals to classes. 
Uscreen assists individuals and companies in monetizing as well as distributing their videos online. 
Finally, Punchpass is a class management software that helps fitness professionals manage their customers and classes with ease to help them earn money online. 
This insightful webinar includes advice for the novice and advanced fitness pro, including:
Figure out what you're trying to accomplish.

Ask yourself, is your business trying to get more value doing what you're already doing, or are you looking to try something new? There will be different strategies for whatever goal you hope to achieve.
Build out an email list.

If you haven't done so already, this is the time to collect email addresses to continuously reach and stay in touch with people. It is imperative you capture contact information so you can build your consumer base and get a proper following.
Utilize hybrid models. Consider offering a variety of options for individuals to personalize their membership. These models could include some combination of online and in-person sessions.

Use OnDemand programming.

Though some of us may be more comfortable with in-person education, you must look into using online and live options. The fitness industry is rapidly changing, and we all must change with it. 
Though many of us may be uncertain or fearful of the road ahead, we must see the silver lining. Digital platforms offer an array of opportunities and freedom for all of us! And those who aren't technology-savvy should remember that these platforms will not detract from in-person training — in fact, online platforms will only enhance our businesses.
View our full webinar here for more information regarding online streaming options. And go check out Burnalong, Uscreen and Punchpass to figure out which platform may be best for you!
Join us in our next issue of Spotlite where we highlight two more previously released webinars from the FREE SCW Webinar Series.  Also don't forget to take a look at the other online fitness training options available through SCW, like Live Stream SCW Certifications, CEC video courses, SCW OnDemand and a brand new Live Streaming Dallas MANIA®, August 21-23.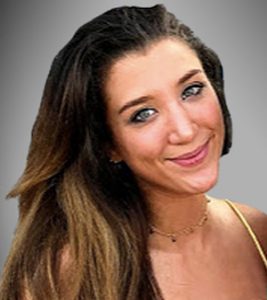 About the Author, Tricia Paterakos

Tricia Paterakos is a recent graduate of Indiana University with a Bachelors in Advertising and minor in Psychology. Growing up as a tennis player and dancer, she is passionate about staying fit and healthy. In her free time, Tricia likes to run, write and spend time with her family.
---
---
---

Summer Eats: Eggplant Sandwich
by Sohailla Digsby, RDN, LD, CPT
This was adapted from a recipe a friend of mine gave me about 10 years ago and has been one of our family favorites ever since. My kids like it best when I add thin turkey pepperoni slices to their loaded pita rounds as well. To dress this up on occasion, use crusty French bread slices in place of the pita rounds!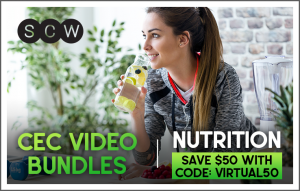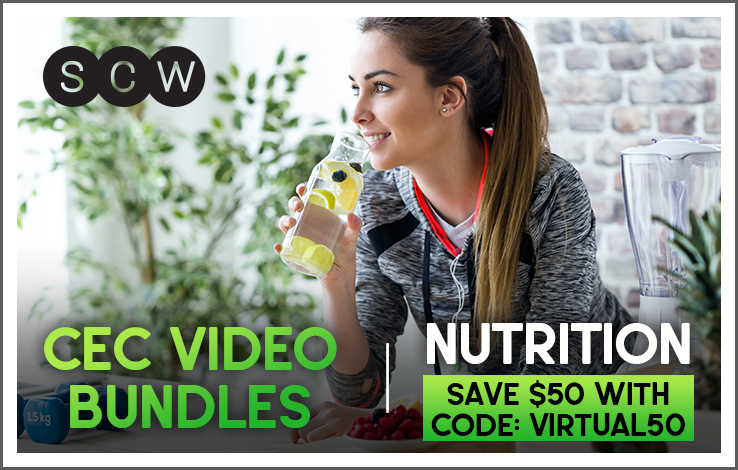 GROCERY LIST:
1 small Eggplant, peeled & cut into 1/4-inch slices (about 16)
Tomatoes (thinly sliced)
Garlic cloves (minced)
1/4 cup chopped fresh basil
2 Whole-wheat pita rounds, cut into 4 halves
1/2 cup crumbled Feta cheese
1/2 cup Canola mayonnaise (similar to light mayo)
Canola oil cooking spray
Salad fixings (suggested side)
MEAL PREP
Preheat oven to 400ºF. Lightly spray eggplant slices with cooking spray and put them in a single layer on a foil-lined baking sheet. Place the eggplant in the oven about 6 inches from the heat source. Cook for 10 minutes on each side.
In a small bowl, stir together the mayonnaise, garlic and basil.
While the eggplant cooks, lightly toast the pita in the oven, about 2 minutes.
to build the pita sandwich, place two slices of eggplant in the pita pocket, laying them against one side of the pita. Spread 1-2 tablespoons of mayonnaise mixture with two slices of tomato, then top with two more slices of eggplant. Sprinkle the feta cheese into the pita.
NUTRITION INFORMATION
Yield: 4 servings (serving size: 1 sandwich made from half of a pita round)
Nutrient Breakdown:
Calories 250
Fat 12g (1.5g saturated fat)
Carbohydrate 27g
Sodium 580mg
Fiber 7g
Protein 7g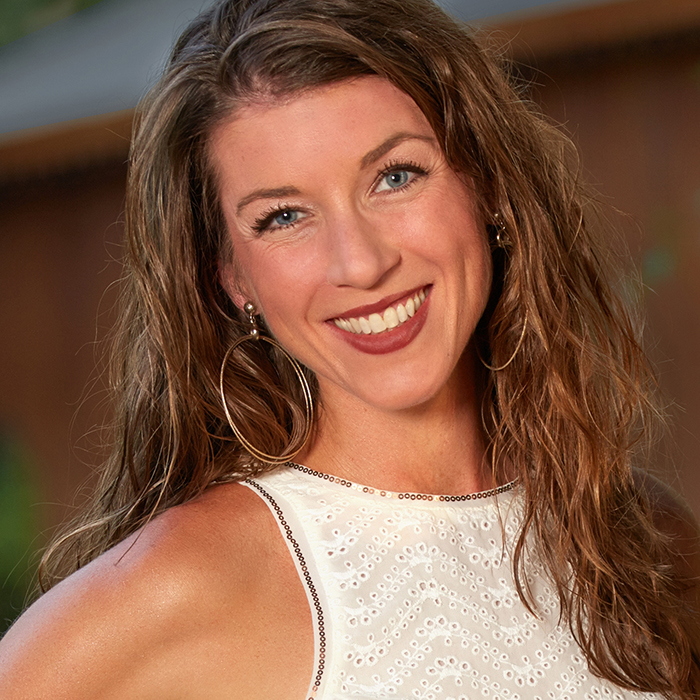 About the Author, Sohailla Digsby, RDN, LD, CPT

Sohailla Digsby is a registered dietician, author and the developer of the life-changing 52-day Best Body Countdown program for fitness professionals to bring sound nutrition and accountability to their fitness and wellness facilities. With over 20 years of experience as a fitness professional, presenter and RD, Sohailla manages an online membership-based coaching group and authored three books to help fitpros guide their clients to reach goals and maintain their Best Bodies.
---
---
---

We're always looking for great content highlighting the newest things in the world of fitness. Please submit your article directly to [email protected] for immediate consideration!
---
Give us your feedback on what interests you, and maybe YOU will make it in the SCW Spotlite!
Share Your Thoughts >>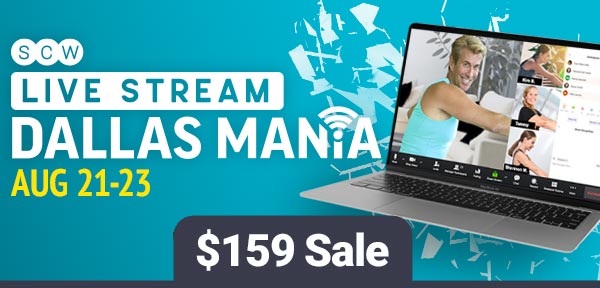 SCW Live Streaming Dallas MANIA®

$100 OFF
Join us for this innovative, action-packed weekend of 150 workshops, 9 sessions every hour, with 50 top presenters, streamed LIVE on zoom in the convenience & safety of your home.
(Was $259, Now Only $159)
---
Learn More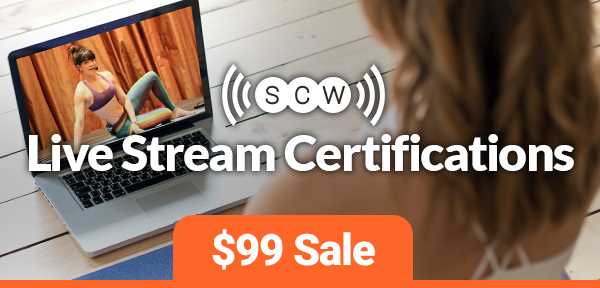 SCW Live Streaming Certifications

$100 OFF
SCW Live Streaming Certifications brought to you in real-time from our expert presenters to your living room!
(Was $199, Now Only $99)
---
Choose Your Cert Here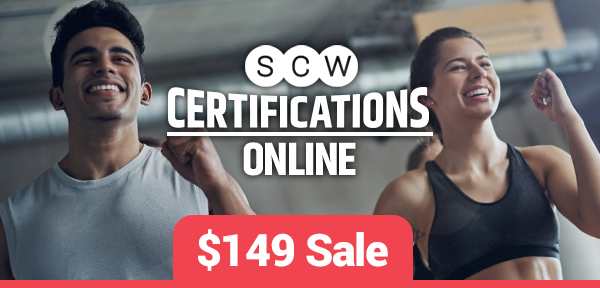 SCW Online Certifications

$50 OFF
Was $199, Now only $149! Choose from 36 nationally recognized & accredited SCW Certifications online. Take them in your own time. (Includes Live Course FREE!)
---
Choose Cert & Use Code: CERT50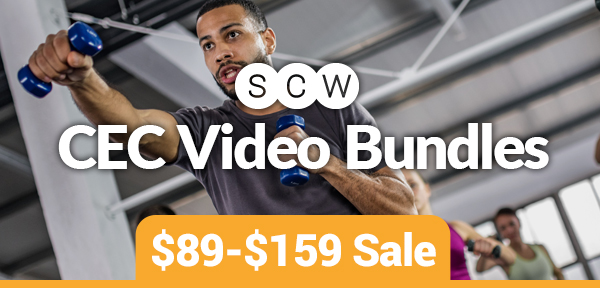 $50 OFF

 20 CEC Video Course Bundles
SCW Video CEC Bundles are hand-picked CEC/CEU video bundles from the most popular MANIA® sessions. Each course includes video, course outline, exam & certificate of completion.
(Was $139, Now $89) or (Was $209, Now $159)
---
Choose Bundle & Use Code: VIRTUAL50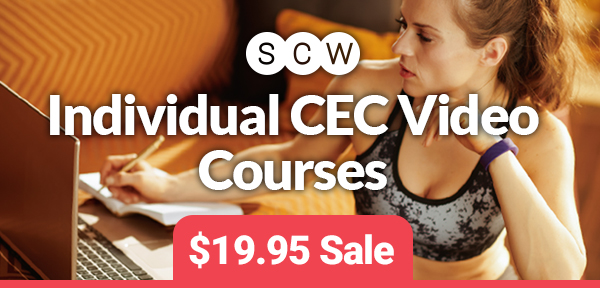 Online CEC Courses

$10 OFF
Choose from over 100 SCW CEC Online Video Courses to keep you stocked with the CECs you need from the organizations you trust. Each course includes video, course outline, exam & certificate of completion.
(Was $29.95, Now Only $19.95)
---
Choose Courses & Use Code: CEC10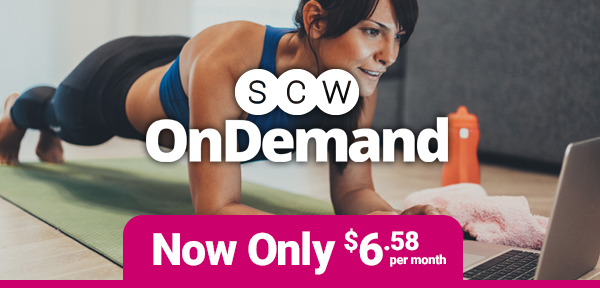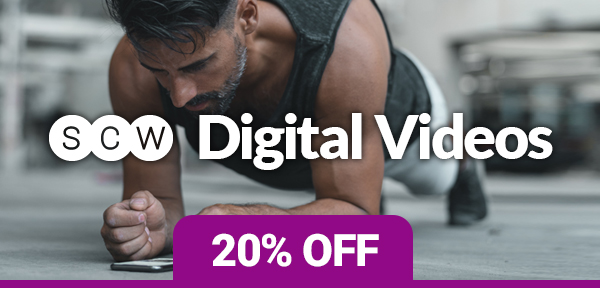 20% OFF

SCW Digital Videos
Get your hands on SCW digital videos, many of which were filmed live at MANIA®! Now at the incredible price of only $15.96 each (was $19.95)
---
Choose Videos & Use Code: VIDEO20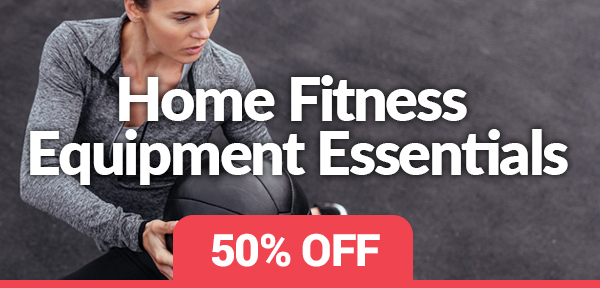 50% OFF

Home Equipment Must-Haves
Home fitness equipment essentials now 50% OFF! We ship to you! Stock up on everything you need for your home workout space.
---
Shop the 50% Sale Here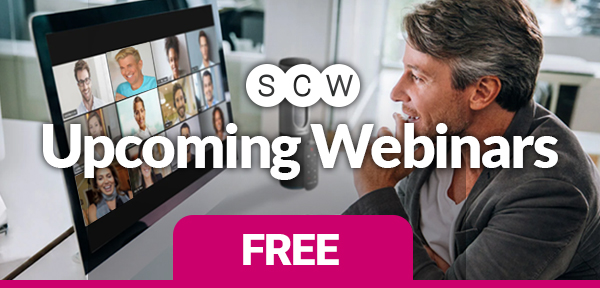 FREE Upcoming Webinars

From SCW
Join SCW for our FREE Webinars with the trusted presenters you love from our MANIA® Conventions.
---
Register FREE Here
---