---

SCW Spotlite: Issue 27
September 4, 2020
Enjoy this biweekly buzz about all things fitness. Fitness Pros are always on the go, so we'll leave the "Lite" on!
Mental Stress & Exercise: What's the Connection? | The Upper Body Exercise You Never Knew You Were Doing Wrong: Shoulder Press | Tips for Live Streaming Your Group Fitness Classes | Are Your Goals Standing in the Way of Progress? |  Meat Free General Tsos
---

Mental Stress & Exercise: What's the Connection?
by Daniel Palmer
Mental illness is a key problem in our modern society. Indeed, more and more people are now said to have a mental health condition. With that said, any solution to help combat a mental disorder is clearly important. Could regular exercise be part of the key to beating this issue?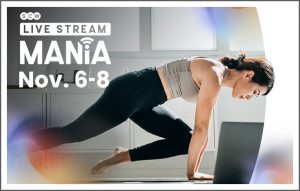 The scale of mental health concerns is massive. In fact, almost half of adults, 46.4% will experience some form of mental illness. One of the most common forms is depression and more than 16 million American adults suffer every year. Of those diagnosed with a mental health disorder, over 14% have one type and 6% percent have three or more diagnoses. Here's the kicker, less than half, 41% sought treatment from professional health care services.
What can be done to help this dilemma? Education is key, but regular exercise could be a piece of the puzzle to help those who fight with mental stress.
How Does It Work?
We all have stress in our lives. It can result from simple thoughts to something tragic. Stress is part of everyday life. For some, it is controllable and barely noticeable. For others, stress continues to brew and grow, turning more harmful each and every day but regular exercise activates the mind and the body.
Sadly, it can often be particularly hard for people suffering from a mental health condition to do so. Mental stress can leave you feeling tired and frustrated. It may also limit your enthusiasm and motivation to exercise. But, if you can overcome this hurdle, regular exercise could help to reduce the effects of mental stress. Incorporating physical movement into your daily routine is a smart way to combat issues being battled. Exercise could help you to live a happier and more relaxed lifestyle overall.
Chemical Balances
You may not have expected us to start talking about chemicals for an article about exercise and mental stress. However, chemical balances are key! Our bodies are run by a huge number of chemicals. Top of the heap to help keep ourselves in check is norepinephrine.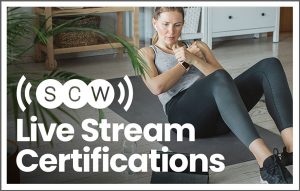 It is a challenging word to say, but not so challenging to understand. Norepinephrine (no-rep-e-nef-rin) is a chemical that moderates how the brain responds to stressful situations. It is produced in an area of the brain that controls both stress-based and emotional responses. It even works with neurotransmitters to control the symptoms of stress when they appear. When combined with endorphins, happy emotions kick in and stand up to pain. As norepinephrine increases, stress decreases.
When we exercise, our body makes more norepinephrine. Higher concentrations lower the production of cortisol—the stress hormone. In other words, when your body exercises, it will naturally get less stressed. In short, regular exercise can thus be considered a natural form of stress relief.
Better Sleep
One of the biggest problems many Americans, adults and children alike, face nowadays is a lack of sleep. The recommended amount is seven to nine hours nightly, but even with that knowledge, every individual can have different requirements. Constant stress can create restless nights. Furthermore, the continual presence of technology in our lives means our brains don't truly get a chance to calm down causing the inability to get deep and restful sleep, leaving us feeling tired and cranky.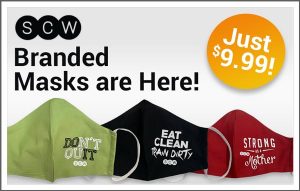 Regular exercise can be a great help for this! By moving (any type of movement will work) just 30 minutes a day, four times a week, a person can establish better sleeping habits. Having a routine will help you to get in the zone to workout. In addition, challenging your muscles regularly will hopefully allow you to fall asleep and stay asleep, creating a more solid night's sleep. Continually feeling tired can lead to other health issues, which is another reason to exercise regularly. When you're better rested, you'll naturally be calmer and less stressed.
Self-Confidence
Regular exercise is well known to be beneficial for self-confidence. Meanwhile, a lack of self-confidence can be hugely damaging to your mental health. Perhaps you're worried about the way you look or you just had an argument. Whatever the problem might be, there are few things worse for stress than self-loathing. Thus, improving your self-confidence is key!
Exercise not only makes you feel better outside, but on the inside too. The sense of brain balance can help reduce mental stress, boosting the way you feel about yourself. This, in turn, will help diminish one major cause of stress allowing relaxation.
Remember—we are all unique! Focus on what you love about yourself, and not minor "imperfections". After all, no one is perfect.
If you are struggling to find the motivation to exercise, why not start a group activity with a friend? Group exercise can be great fun and can help you to get out of the house. Taking advantage of outdoor activities is another great way to reduce our stress, so get back to nature! Mom always said, "Go play outside!" It could make a world of difference."
---
---
---

The Upper Body Exercise You Never Knew You Were Doing Wrong: Shoulder Press
by Brook Benten
Many of us have been exercising for as long as we can remember but sometimes, seemingly obvious exercises need a tune-up. Over the next several issues, we'll dive into a series of moves that you never knew you were doing wrong.
This edition covers the Shoulder Press.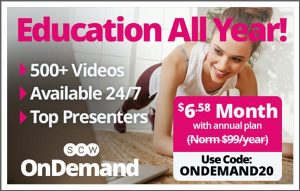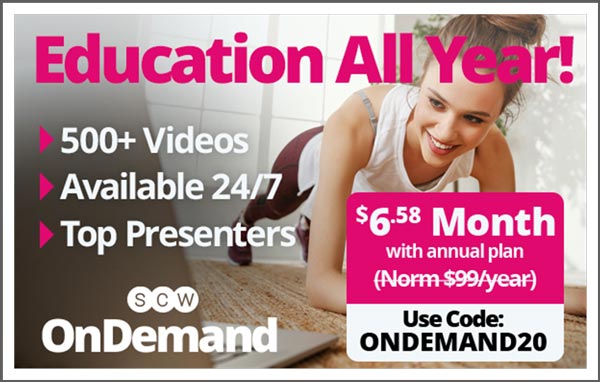 A Shoulder Press seems like the most straightforward of exercises. For Pete's sake, the title, itself, describes the move! The common mistake made among lifters is finishing the range prematurely. Let's dive in (with arms way overhead)!
Full range-of-motion for the shoulders doesn't stop when the wrists are over the elbows and shoulders overhead. Shoulders should have the flexibility to draw the arms back past the ears, but this incomplete finishing point is still a greater range than the majority of the population. Most people end an overhead press when the arms are slightly in front of the ears.
The optimal shoulder press draws the arms further back, beyond the ears! (See picture below.) This full range engages posture muscles and opens the chest while strengthening the shoulders.
There are plenty of ways to work toward achieving the optimal finish point for a shoulder press. One way to work on shoulder flexibility is by standing in a doorway with arms overhead, grabbing onto the frame, and leaning in. The stretch of the shoulder joint allows for controlled extension without hyperextension. Be sure to stop if discomfort arises. As always, consult with your doctor before exercising.
Poor posture and lack of stretching can cause shoulders to become inflexible. Many of us don't acknowledge when we have been sitting, slouching or even typing too long. We should make a concerted effort to take breaks and roll our shoulders and circle our arms. Yoga is a fantastic form of exercise to help loosen the shoulders and other joints in the body. Also, consider taking up swimming, it's a great way to build strong and limber shoulders!
Step 1:
Rack a barbell at your collar bones with wrists neutral and grip slightly wider than shoulder-width. Engage your core to stand perfectly upright with shoulders over hips over knees.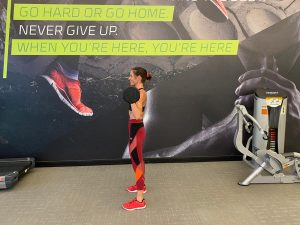 Step 2:
While avoiding any knee dip or bend in the hips (for "strict" shoulder press), press the bar overhead. Finish when the elbows are fully extended, and the wrists are slightly behind the elbows which are slightly behind the shoulders. Maintain core posture described in Step 1.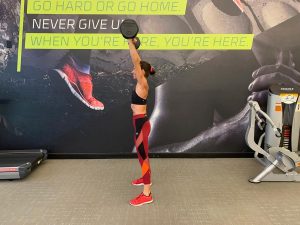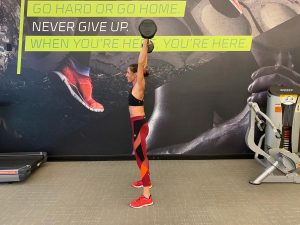 Hold for a moment, then safely return to Step 1 and repeat for the desired amount.
To help understand how the exercise should be performed, take a quick peek at this video! Now that you know the problem, you can start making strides to fix "The Upper Body Exercise You Never Knew You Were Doing Wrong".
About the Author, Brook Benten

Brook is a Texas girl who has been trailblazing fitness for two decades. She champions continuing education and has impacted the field as a campus recreation fitness director, CEC provider, fitness magazine writer, and workout DVD star. Choreographing a few kettlebell videos in 2008 when kettlebells were relatively new to the American market gave her a platform as a group fitness guru in a strength and conditioning world. She achieved RKC & SFGII KB Certifications.
---
---
---

Tips for Live Streaming Your Group Fitness Classes with Sara Kooperman
by Fitness Business Podcast
Many of you, especially Fitness Instructors and Personal Trainers, have attempted and maybe even succeeded in live streaming your group fitness classes and training sessions online. You might have accomplished this feat by trial and error or maybe even a checklist of what should be done.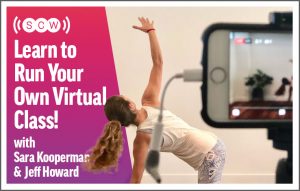 Let's check out another option, Dori Nugent from Fitness Business Podcast, recently interviewed the Founder and CEO of SCW Fitness Education, Sara Kooperman J.D. She provided over 30-minutes of enlightening, entertaining and vital information on sure-fire ways to produce a professional live stream group fitness class. Grab your notepad, pen and headphones; find a comfortable chair and take advantage of the wisdom Sara has to offer. Who knows, maybe you will become the next Live Stream Fitness Star and maybe even a presenter for an upcoming SCW Fitness Live Stream MANIA®.
Your Podcast Snapshot
What is a Live Stream Class?
Platforms to stream your on-line classes
Items needed to create a successful virtual class
Converting free classes to revenue-producing classes
Episode Timeline
0:07- Fitness Business Podcast
0:37 – A few words about our podcast partner Myzone
2:09- Introducing Sara Kooperman
3:o6- A message from our podcast partner, Myzone
5:02- Definition of Live Stream Class
5:48- Different platforms to stream your on-line classes
10:04- How to create a successful virtual class
15:36- Finding space to convert into a filming studio
18:35- Converting free classes to revenue-based classes
24:56- KeepMe Fitbizpiration
25:23- Thank you to our special guest Sara Kooperman
26:17- A message from our podcast partner, OneFitStop
26;47- Quick Fire Five with next week's guest Sherri McMillan
29:49- THROWBACK Show- #250 Four key levers for change in your fitness business
31:31- Message from our podcast partner, Active Management
Listen to the Episode Below
Download the Podcast Here
---
---
---

Are Your Goals Standing in the Way of Progress?
by Jamie Zacharias, RN, MSN, Nurse Practitioner, GFI
In an effort to find the "new" normal with COVID-19 not going away anytime soon, how many goals have you set personally and professionally? If you are like me, I feel like there are plenty I used to have, but the thought of even setting one now seems overwhelming given the environment we are in. How did this happen? Goal setting used to be simple regardless of whether the goal was actually achieved or not. Little did I know, when I made my list of goals for 2020 at the end of the last year, how many life changes we were all going to experience together as a society. If you haven't already, give yourself permission to not have it all together.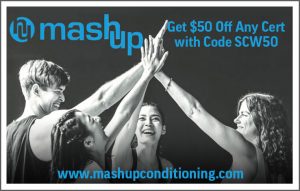 While things have happened, not according to plan, I have learned a great deal about myself and how I needed to change my approach to getting something done. I still have great aspirations this year for my family, work as an NP, and getting MASHUP® into the hands of more fitness professionals and fitness enthusiasts with our certification, live classes and app. However, I discovered if any headway was to be made on achieving my goals, I had to change my approach by focusing on creating new good habits. If I think about my goals amidst the out-of-control days and constant interruptions, I default to saying "I'll start on a certain date when I have more time" but then that goal doesn't seem as significant and it gets put on the back burner. I'm tired of getting distracted with the big picture and rationalizing my decisions to set certain goals aside because they feel unattainable and I have been defeated.
We really do like change if it means better outcomes for us.
Most of us are good at being creatures of habit. Maybe we should run with that, instead of focusing on the goal to get somewhere. Let your goal point you in a certain direction but focus on the new habits that need to occur instead. I would bet that we could almost ignore the goal and focus solely on what we should do daily and still get the same results.
For example, a live group ex instructor branches out into the virtual realm ignoring their goal of building the same size class on Zoom that they had at the gym. Instead, they focus on what new habits they need to do at each class to accommodate the virtual environment while delivering a beneficial experience for participants. Chances are their class is going to grow and the things they're doing to create the growth are more important than the goal anyway.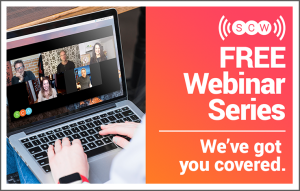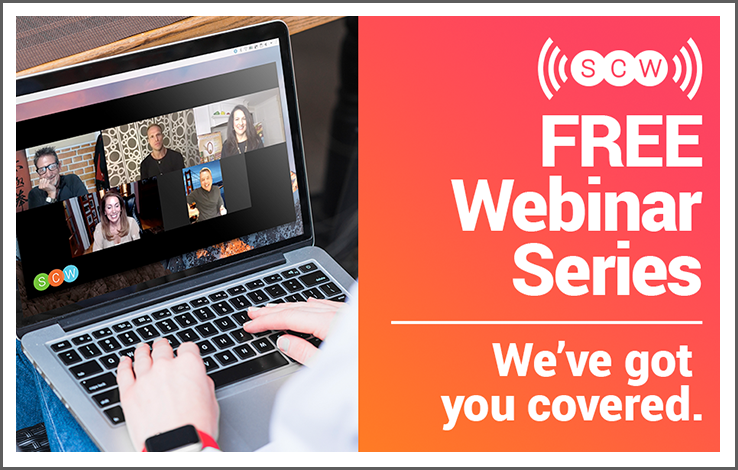 Now, changing old habits are very difficult. We find comfort in old behaviors or old ways of thinking which is tied to our identity. Instead of trying to just change old habits, we should focus on creating good ones; habits that can be a part of your identity if they are truly going to stick. The live group ex instructor has adopted a new identity: "I'm a virtual group ex instructor".
Hopefully, down the road, the old ones will fade away or get replaced. If we can focus on completing a good habit (it does not have to be a drastic one) daily, we create a sense of accomplishment. While one new habit might seem marginal, that new repetitive behavior points us in the direction we need to go while achieving success along the way. Continuing one small habit can turn into something significant. Daily success boosts confidence and motivation which is evidence that the new habit is worthwhile and that the end goal is achievable.
Reaching a goal is one moment in time whereas habits are everlasting.
Getting to your goal is admirable. What happens after that? Do we change what we are doing because we reached it? I don't know about you, but I want and need to feel successful and happy every day in order to keep my head on straight, not just when I attain my goal. Ultimately, it's the daily habits we repeat that can bring us the feeling of success and happiness and long-term progress. Most of us want to continue feeling that way. We want to win daily versus occasionally when we get to a goal. Committing to good daily habits is what really is going to make a difference in seeing progress!
Your homework.
Write down an outcome you would like to see happen personally or professionally.
Come up with one or two good habits that could contribute to the outcome that you are confident you can commit to.
Decide that these habits are something you believe in. They can become part of your identity.
Get started!

About the Author, Jamie Zacharias

Jamie Zacharias, RN, MSN, Nurse Practitioner, is a Cooper Physical Fitness Specialist and AFAA Group Fitness Instructor, TCU collegiate athlete, and co-founder of MASHUP®. Jamie has been in the health and fitness industry for 19 years and lives in the DFW area. She teaches classes at various fitness facilities, manages MASHUP® and works as a Nurse Practitioner in medical weight loss. In addition to teaching live classes, she has featured digital workouts on various platforms including the MASHUP® app. For more information about MASHUP®, check out  www.mashupconditioning.com.
---
---
---

Rolling for Improvement
by Brian Bettendorf, MSM, MA
When it comes to foam rolling there have been many discussions as to whether the improvements seen from it are the result of mechanical changes produced by the action of the roller on muscle and fascial tissue or if the improvements are the result of neurological responses. With each passing year the growing body of research continues to suggest that nervous system interactions are driving many of the results we see.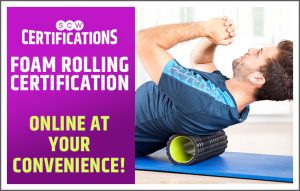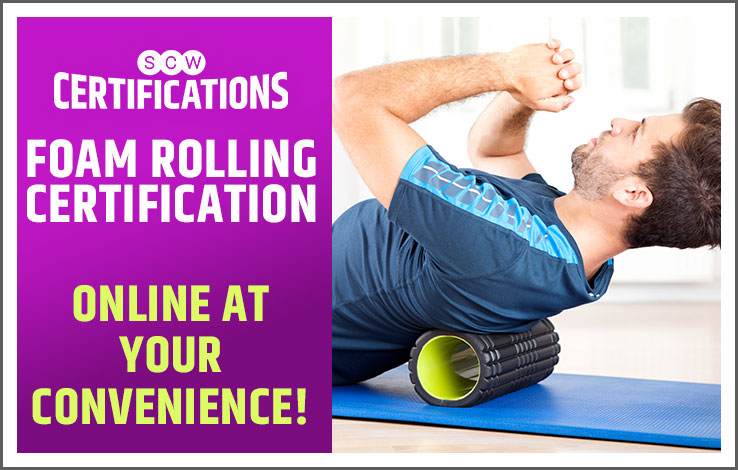 Foam rolling stimulates a series of mechanoreceptors found throughout the skin, muscles, tendons and fascia. These mechanoreceptors send sensory input back to the central nervous system. The stimulation of these mechanoreceptors from rolling can result in decreases in perceived pain in both the limb which has been rolled as well as the opposite limb. This suggests a central pain modulation through an inhibition of the nervous system in response to the discomfort produced when rolling.
One of the proposed neurological pathways through which rolling is believed to work is the reduction of spinal excitability. Manual massage has previously been shown to produce significant reductions in spinal excitability with increases in depth and pressure producing more profound effects. This is believed to be the effect of deeper mechanoreceptors being stimulated.
A study by Young et at. (2018) found similar reductions in spinal excitability in response to a rolling treatment. Both deep and moderate-intensity rolling produced significant results with the deep rolling producing greater reductions.
While the participants in the study experienced discomfort with the rolling, many of us are all familiar with discomfort from deep rolling as well. It was previously found that rolling to depths that produces discomfort was not necessary to achieve some of the range of motion (ROM) improvements that are common with rolling treatments.
In this study the treatments consisted of three 30 second bouts of rolling with 30 seconds of rest in-between, demonstrating that rolling does not require spending an hour on the roller. We often suggest shorter, more targeting rolling treatments focused on body parts that are painful or feeling stiff.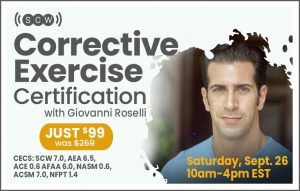 While short-duration bouts on the roller can decrease pain, that does not mean the optimal time to maximize pain reduction is 30 seconds or less. Very short duration treatments will reduce pain, but the effects last a limited time. A systematic review by Hughes and Ramer (2019) suggested a duration of 90 seconds or more for the reduction of pain in single muscle groups. This slightly longer duration of rolling resulted in longer-lasting effects with a 120-second intervention showing pain reduction as far out as 72 hours.
Interpreting the abundance of research on rolling can be a difficult and confusing process. The situation is made more complex in that every client has a unique physiology and even though the majority of the individuals you work with might respond to the best available current research recommendations, there will always be some people who need a different approach to maximize their results. We allow the research to be a guide to our recommendations but still encourage individual professionals to experiment and modify how they approach their population.
With that thought in mind, we continue to encourage people to roll better, not more. Be specific in which tissues you target to roll on any given day. Choose those body parts that are tender and sore where you need to focus on decreasing pain. Secondly, choose areas of the body that will be primarily emphasized in your workout or that were heavily used if you have completed your exercise for the day.
If you are rolling to decrease pain, try a rolling duration of approximately 90 seconds. If you are looking to increase range of motion shorter time periods of 10-60 seconds will be effective.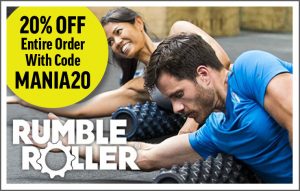 The Original Textured RumbleRoller features high-profile bumps placed with optimal space to enable you to achieve a deeper penetration and more soft tissue displacement, maximizing the effect of the rolling session. For those who are more sensitive and need a less intense intervention our RumbleRoller Gator features a unique surface pattern that allows for optimal skin contact and grip without the deeper massage nodules on our Original Textured RumbleRoller.
Want to share your love of RumbleRoller? Join our affiliate program and receive 18% commission on purchases. Sign Up Now.
About the Author, Brian Bettendorf, MSM, MA

Brian Bettendorf, MSM (Management), MA (Kinesiology) is the Head of Education for RumbleRoller and a managing partner in Drake Global Strategy, a consulting firm helping fitness and sporting goods companies develop their brand, create new products and accelerate growth. He has been in the fitness industry for over twenty years as a practitioner, operator, educator and consultant. After selling a physical therapy and fitness company he co-founded, Brian then spent time during the early years at TRX in a variety of product, marketing, education and business development roles.
---
---
---

There's a New General in Town
by Loving It Vegan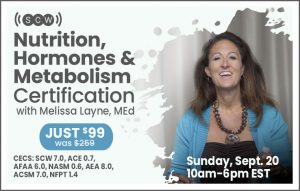 One of the all-time favorite Chinese-American favorites is back, but this time with a surprising twist. Swap out the chicken for some tasty tofu and you'll have the perfect, meat-free option that even the pickiest carnivores are sure to enjoy as well!
It's savory and sweet with the perfect amount of spice and all things nice. It's also pretty quick to make and super high in protein. So basically, you are going to love it!
GROCERY LIST:
For the Tofu:
16oz (450g) Extra Firm Tofu
1 Tbsp Sesame Oil
1 Tbsp Maple Syrup
1/8 tsp Cayenne Pepper
4 Tbsp Cornstarch
1 Tbsp Sesame Oil (for frying)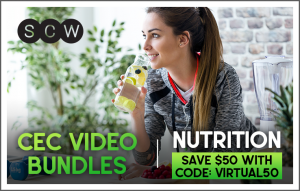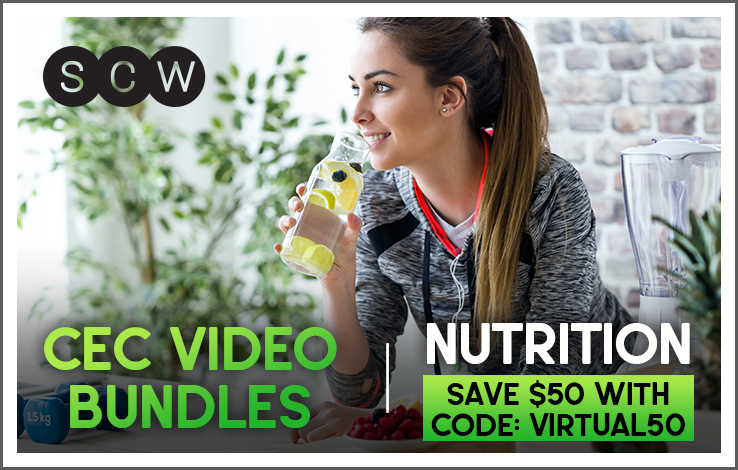 For the Garlic, Ginger & Spices:
1 Tbsp Sesame Oil
1 Tbsp Minced Ginger
1 tsp Crushed Garlic
1/4 tsp Red Chili Flakes
For the Sauce:
1 Tbsp Rice Vinegar
1 Tbsp Sesame Oil
2 Tbsp Soy Sauce
1 Tbsp Hoisin Sauce
1 tsp Onion Powder
2 Tbsp Coconut Sugar
1 Tbsp Cornstarch
1/4 cup (60ml) Vegetable Stock
MEAL PREP
Press the tofu first. The best way to do this is to use a tofu press. But if you don't have a tofu press no worries at all, just place your tofu on a plate with another plate on top of it and then place something heavy on top of that (like a heavy pot).
Let it sit for 20-30 minutes and then drain off the excess water.
Cut the tofu into cubes and place into a container that has a lid.
Add some sesame oil, maple syrup and cayenne pepper, and then seal the container and then gently rotate the container so that the tofu gets evenly covered with the oil and maple syrup and cayenne. You don't want to violently shake the container or anything, as you want those cubes of tofu to stay nicely intact.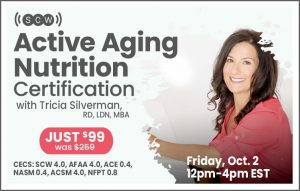 Then open the container and add in some cornstarch and repeat the rotating of the container until all that tofu (sticky from the maple syrup) is coated in cornstarch.
Then you fry the tofu in a hot pan with some sesame oil until it's golden brown and delicious. Remove the tofu from the pan and set aside.
Now add some sesame oil, crushed garlic, minced ginger and dried red chili flakes to the pan and fry those until aromatic.
Add the tofu back in.
Pour over a sauce made from rice vinegar, sesame oil, soy sauce, hoisin sauce, onion powder, coconut sugar, cornstarch and vegetable stock and flash fry for 1 minute to coat the tofu with the sauce.
TIP: Don't fry the tofu too long once the sauce is added or the batter will start to strip off the tofu, so make this really fast, you just want that sauce to go into a hot pan and flash fry quickly so that it can thicken and blend the flavors beautifully and then you're done! Serve it over some basmati rice with some chopped chives on top. If you prefer cauliflower rice you can definitely serve it over that too.
Some fresh lime is also great to serve with this.
---
---
---

We're always looking for great content highlighting the newest things in the world of fitness. Please submit your article directly to [email protected] for immediate consideration!
---
Give us your feedback on what interests you, and maybe YOU will make it in the SCW Spotlite!
Share Your Thoughts >>
Live Stream MANIA® November
$100 OFF
Join us for this innovative, action-packed weekend of 150 workshops, 9 sessions every hour, with 70 top presenters, streamed LIVE on zoom in the convenience & safety of your home.
(Was $259, Now Only $159)
---
Learn More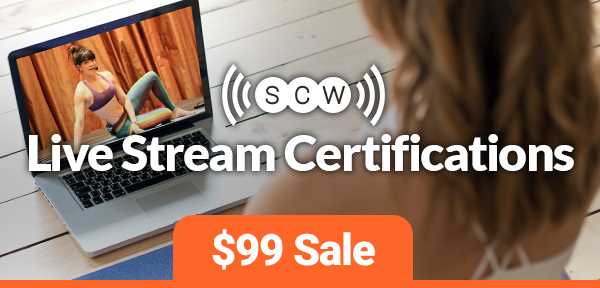 SCW Live Streaming Certifications

$100 OFF
SCW Live Streaming Certifications brought to you in real-time from our expert presenters to your living room!
(Was $199, Now Only $99)
---
Choose Your Cert Here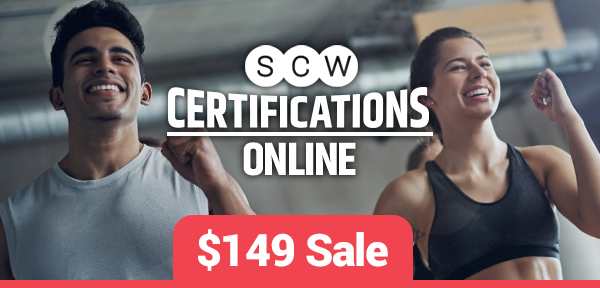 SCW Online Certifications

$50 OFF
Was $199, Now only $149! Choose from 36 nationally recognized & accredited SCW Certifications online. Take them in your own time. (Includes Live Course FREE!)
---
Choose Cert & Use Code: CERT50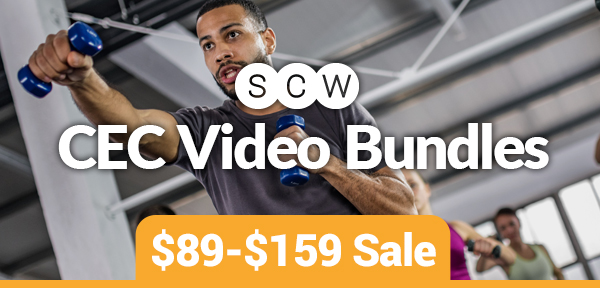 $50 OFF

 20 CEC Video Course Bundles
SCW Video CEC Bundles are hand-picked CEC/CEU video bundles from the most popular MANIA® sessions. Each course includes video, course outline, exam & certificate of completion.
(Was $139, Now $89) or (Was $209, Now $159)
---
Choose Bundle & Use Code: VIRTUAL50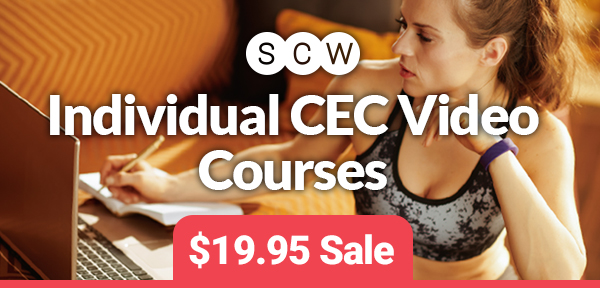 Online CEC Courses

$10 OFF
Choose from over 100 SCW CEC Online Video Courses to keep you stocked with the CECs you need from the organizations you trust. Each course includes video, course outline, exam & certificate of completion.
(Was $29.95, Now Only $19.95)
---
Choose Courses & Use Code: CEC10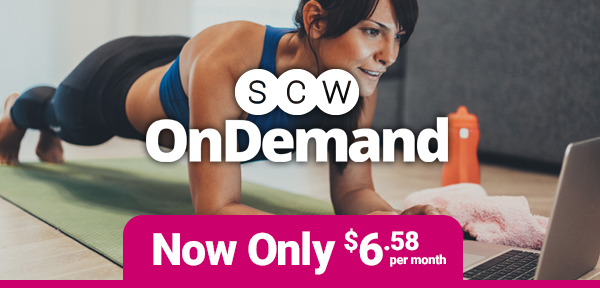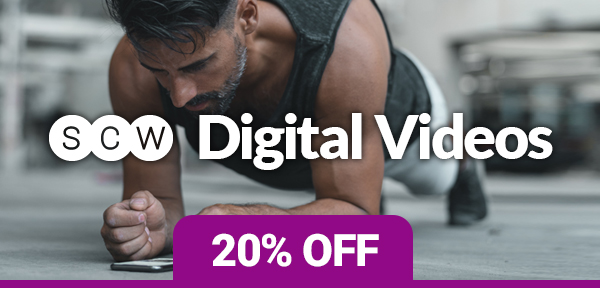 20% OFF

SCW Digital Videos
Get your hands on SCW digital videos, many of which were filmed live at MANIA®! Now at the incredible price of only $15.96 each (was $19.95)
---
Choose Videos & Use Code: VIDEO20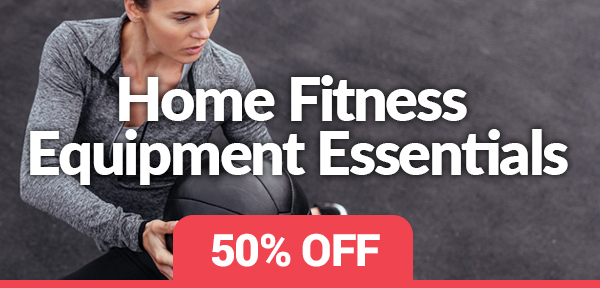 50% OFF

Home Equipment Must-Haves
Home fitness equipment essentials now 50% OFF! We ship to you! Stock up on everything you need for your home workout space.
---
Shop the 50% Sale Here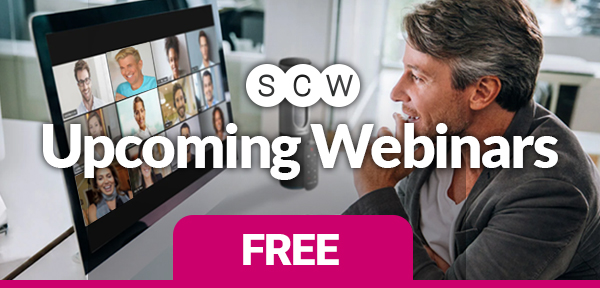 FREE Upcoming Webinars

From SCW
Join SCW for our FREE Webinars with the trusted presenters you love from our MANIA® Conventions.
---
Register FREE Here
---