---

SCW Spotlite: Issue 29
December 11, 2020
Enjoy the monthly buzz about all things fitness. Fitness Pros are always on the go, so we'll leave the "Lite" on!
Personal Trainers: The Focus is on YOU! | Make the IHRSA Active & Safe Commitment | Virtual Training: Lights, Camera, Action! | Choosing the Right Cues for Your Clients |  Teaching Outside the Fitness Box |  Soft Skills for the Group Fitness Professional: Coaching and Caring for your Post COVID Community |  Nutritional Needs for the Active Ager |  Live Stream MANIA® Winners!
---

Personal Trainers: The Focus is on YOU!
by SCW Fitness
The landscape of the fitness industry has shifted dramatically over the last 10 months and continues to change weekly, if not daily. Personal Trainers can no longer sit back and wait for clients to come to them or expect repeat business to fall in their lap. Whether you are new to training or a veteran PT, now is the time for change!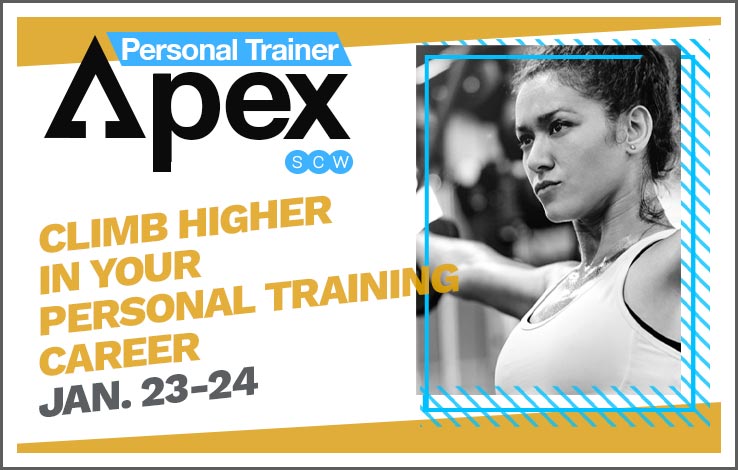 Are you in a rut for training ideas? Clientele demographics changing? Need more clients? Maybe it is time to reinforce your expertise and expand your knowledge and skills. Explore innovative and current ways to implement your best practices to establish longevity in the fitness industry.
SCW Fitness Education is providing the answers to all your personal training questions and concerns. We have devised a way for you to attain your goals and master your art in order to stand out from the others. The industry's top personal training experts are gathering over two full days to educate you on ways to motivate your clients with powerful new ideas, challenging workouts, and concrete plans for programming.
The upcoming Personal Trainer Apex Conference is the place to advance your personal training career, network with other professionals and ensure long-term success for both you and your clients! Can you think of a better way to kick off 2021 than with a new arsenal of tips, tricks, workouts and guidelines to help you reach for the stars and grab a hold on your future.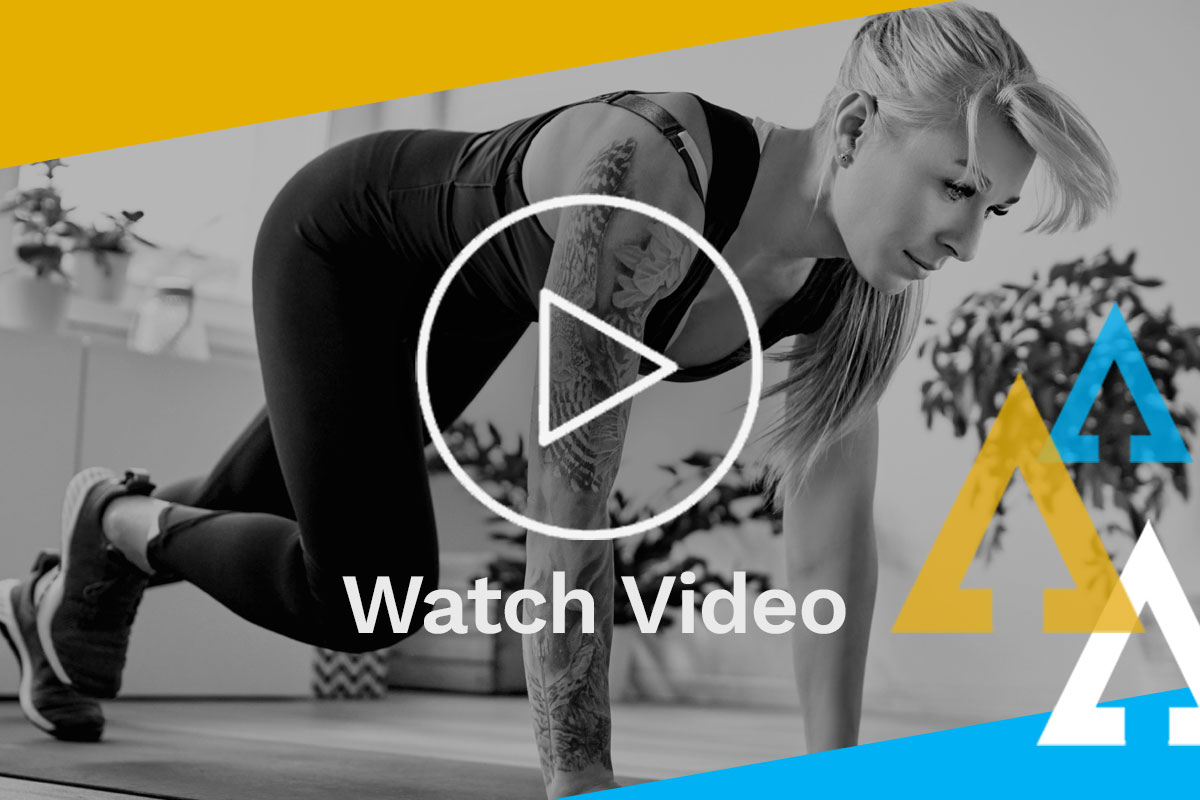 SCW Personal Trainer Apex takes place January 23-24, 2021 via Zoom. Attendees can earn up to 15 CECs based upon attending 12 sessions during the conference. More CECs are also available from the completion of various pre-conference certifications. If you are unable to participate both days, sessions will be recorded and participants who register at the All Access level ($179), will have access to over 50 recorded sessions for 30 days after the event. For those paying the standard registration price ($149), access is provided for the two-day live conference only. The $30 investment difference ($1/day for 30 days) between the two levels of access provides hours of education enjoyed at your own pace and leisure.
One of the benefits of the Personal Trainer Apex is the ability to interact with the Presenter throughout the session. Questions can be asked via the chatbox and also live interaction is available with the Presenter and other participants. Attendees receive live one-on-one feedback directly from the Presenter.
Prepare to further your knowledge and climb higher in your personal training profession with the exclusive SCW Personal Trainer Apex Conference. Navigating this new terrain takes strategy and style and Personal Trainer Apex will get you there. Register for two full days of education, inspiration, and innovation – all conveniently Live Streamed directly to your home, office, or fitness space.
---
---
---

Make the IHRSA Active & Safe Commitment
As you probably know by now, the fitness industry is in dire trouble. Our gyms and wellness centers are struggling to stay afloat, if their doors are even open due to government regulations. National fitness chains are filing for Chapter 11 and club members are not returning to their local facilities whether they are hesitant about in-person contact or just having trouble making ends meet. Now is the time for you to help save our clubs, our jobs and our health. Make the commitment and join IHRSA in their effort to save the health club industry.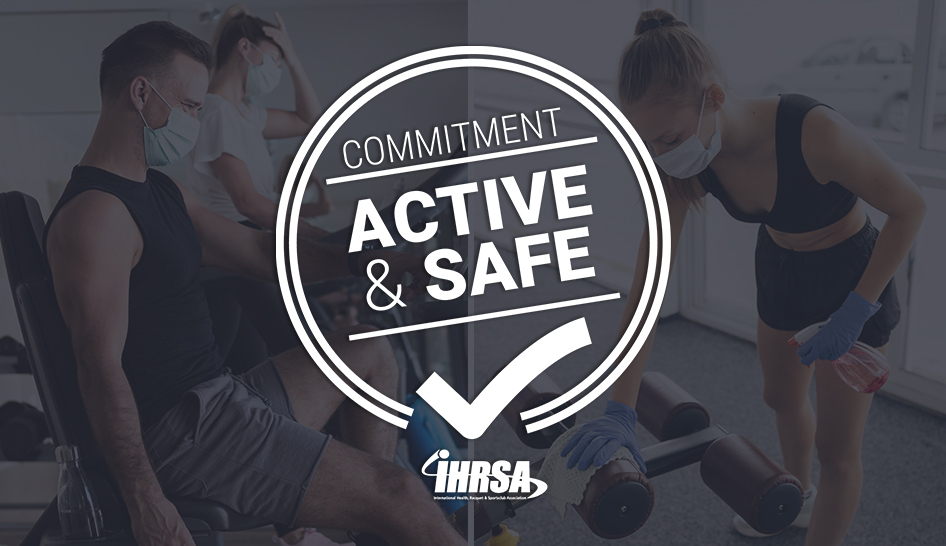 IHRSA invites you to make the Active & Safe Commitment. They have created an initiative to confirm the health club industry's firm dedication to safety when exercise has never been more important to global health. This plan was developed by industry leaders under guidance from public health experts. The purpose is to show the industry's united commitment to safety for members, guests and staff; to provide health club members and guests with peace of mind when visiting clubs and to reassure policymakers and public health officials that health clubs should remain open during the COVID-19 pandemic and should be seen as a safe environment used to help reduce the daily physical, mental and emotional stresses felt by the community.
This proposition is designed to prove that physical activity is important for the overall well-being of humans. Quality of life depends on keeping active whether through movement or by cognition. Unfortunately, COVID-19 and government restrictions have blocked our ability to achieve a satisfying quality of life by reducing our opportunity to physically move in an enclosed environment, like gyms and wellness centers, causing the health status of millions to decline across the globe.
By making this pledge to the IHRSA Active & Safe Commitment, you as a health club operator, are promising to follow industry best practices in four categories: physical distancing, employee/member safety protocols, cleaning, sanitizing and disinfecting and lastly contact tracing.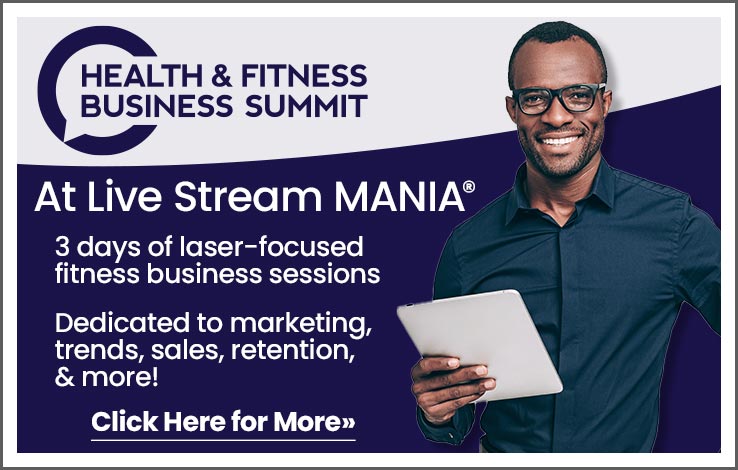 "The Active & Safe Commitment is a public expression of our highest values as an industry," says Brent Darden, interim president & CEO of IHRSA. "I strongly encourage every health club operator to sign the commitment, boldly stand united with fellow operators across the industry, and confidently proclaim health clubs as vital community resources during these challenging times."
Do your part to help the fitness industry revive and grow stronger and safer. Prove to your government officials that gyms, boutique clubs and wellness centers are and will remain safe, clean and healthy environments for their members, staff and guests so they can all resume a happy and satisfying safe daily routine.
Click Here to make the commitment.
---
---
---

Virtual Training: Lights, Camera, Action!
by Robin Taylor
Group Exercise Instructors are in a bit of a jam. Many of them have either lost their positions due to clubs and gyms closing or have had their classes cut due to COVID. Some may have decided to retire from teaching, while others are just unsure of their next step. All everyone knows change is needed in order to survive in the fitness industry.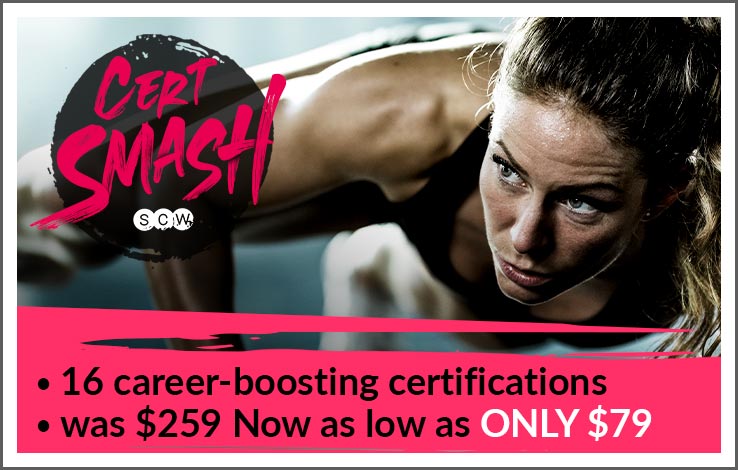 For those of you who have decided to tackle the virtual world and are uncertain of how to get started, SCW is here to help. We have created an intensive certification providing information and education to teach you how to engage with your virtual audience. You will learn everything from sign-ups to send offs. Understand how to work with lighting, cameras, music and much more. This training blends theoretical and practical learning to ensure you walk away with the ability to teach your classes virtually in order to build your business, increase your customer base, improve your profitability and ultimately reach more clients to make this world a healthier place.
There are nine variables discussed in this must-have certification. We are providing you with an excerpt from the exclusive, unique SCW Virtual Training: Lights, Camera, Action! Certification manual.
LIGHTING
As the cliché goes, "lights, camera, action". In order for your participants to have a great experience, your lighting must be exemplary, and all students must be able to clearly see you at all times.
Keep lighting in front of you. Do not have any light behind you either from a lamp or windows since this will create a silhouette and make it difficult for the participants to see you.

Light it right and keep in mind that you have two options. One is to find a location that will cast soft lighting on your face such as in front of a large window with sheer curtains to diffuse the light. No such window? Create ideal lighting conditions with two USB ring lights – position one on each side and slightly above your webcam.

Ideally, you can purchase a ring light for your classes or have any type of soft but bright light source in front of you.

Here is an inexpensive option for a Ring Light:

Inexpensive Light

Here is a more expensive option for a Ring Light:

More Expensive Right Light

You will also need to check color contrast when determining, which lighting works best in your environment.

If you are moving to the floor during your class, a secondary light to light area around the floor is highly recommended.

Do not forget that extension cords may be required based upon your lighting set-up.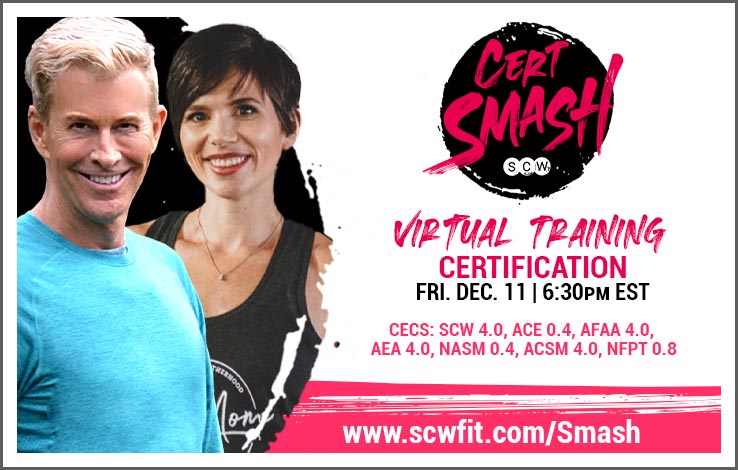 Lighting is just one of the valuable segments involved in producing a successful virtual class. Professionalism and appearance are tremendously important since your first meeting could make or break the connection you have with your participants. Other extremely vital factors to accomplishing the virtual world include space, music, sound and camera. This certification reviews the ins and outs of everything involved including tips and websites to provide where to purchase equipment and what your legal rights are.
Your next opportunity to take the SCW Virtual Training: Lights, Camera, Action! as a live stream certification is during the upcoming Certification Smash, December 11-13. For more information about SCW Fitness and our online education, go to www.scwfit.com. SCW has been offering continuing education credits to instructors and trainers around the world for over 35 years. We have continued to grow and pivot in order to remain successful in this forever changing world.
---
---
---

Choosing the Right Cues for Your Clients
by Giovanni Roselli
Everything matters.
Everything we do matters. The choices we make dictate the life we live.
Everything we eat matters. What you put into your body will have a direct effect on your quality of life.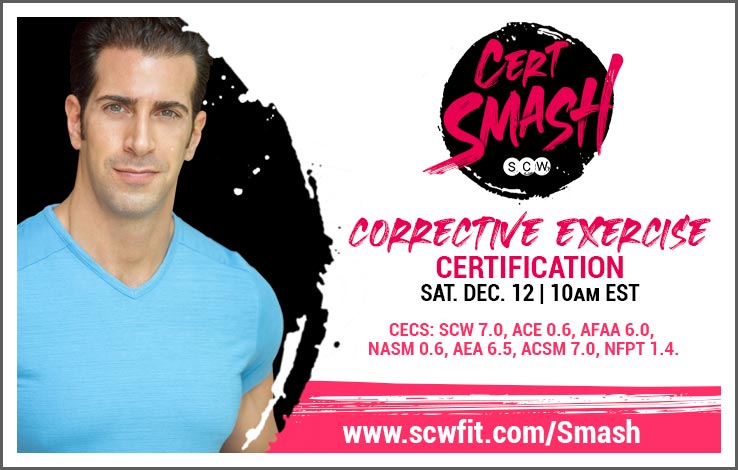 And everything we SAY matters: the words we say, the phrases we choose, and the expressions that we convey. This is very important to the coach/client fitness relationship. A great cue or two can make the light bulb go off. On the other hand, over cueing or cues that could potentially confuse the client, won't produce the desired outcome of the drill.
Types of Cues
There are three main ways we can cue clients— internal, external, and analogy.
An internal focus directs the client's attention to their own body movements. An external focus is one that directs the client's attention away from their body and toward the effects of their movement on the environment. Director of Training Systems and Education for EXOS, Nick Winkelman, adds a third cueing option: an analogy. This cue focuses on the client's attention to visualizing the exercise on a different level.
Imagine a client performing a basic squat with a flexed spine. Let's look at an example cue for each category.
Internal—"Keep your back flat."
External—"Stretch the front of your shirt."
Analogy—"From head to hip imagine your body as a nail, and don't bend the nail."
Using another example of the squat, let's take a look at some cues if there is a weight shift.
Internal—"Keep your hips centered between your knees."
External—"Squat down until you touch the center of the box."
Analogy—"Imagine you were wearing a big belt buckle and keep that belt buckle centered between your heels."
Each one of these cues can provide important information to the client. Each one of these cues can make the client relate to the exercise, and each has its place.
Which One Works Best?
So now the obvious question becomes, which one of these three cues do I choose to ensure the greatest chance of success?
If you're specifically looking to run faster, jump higher, or throw harder or farther, external cues seem to be the consensus as the best bet. An external focus of attention is optimal for improving the objective performance of the movement (i.e., greater jumping distance or height, greater power output, etc.), while an internal focus leads to reductions in objective performance but may lead to better form, as measured by differences in joint angles. In regards to analogy cueing, Winkelman believes that this form of cueing provides the impactful form of communication.
Winkelman goes on to give these suggestions:
Say the most with the least
Use language that is memorable/emotional for the client
Use language that is relevant to the prioritized errors
Use external cues that depict distance, direction, or description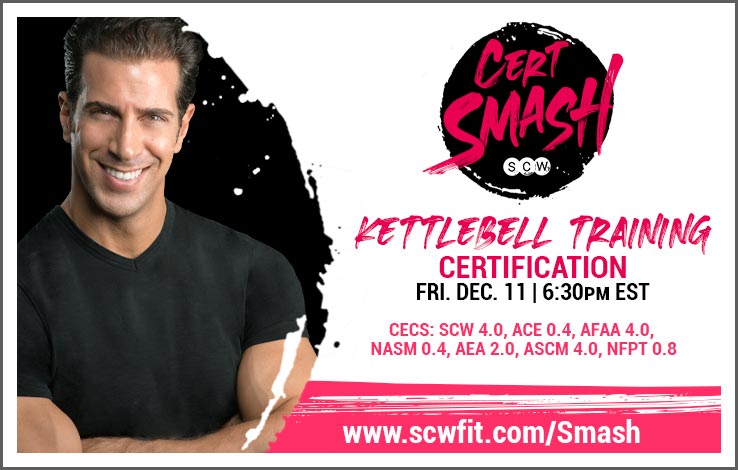 Eric Cressey, president of the highly successful Cressey Performance facilities in Massachusetts and Florida, comments, "If you had to put me on the spot, I'd say that external focus cues are better and definitely a good place to start. I don't think we should throw the baby out with the bathwater, though; internal cues definitely should always have a place in your coaching toolbox."
Cressey uses internal focus cues (usually with tactile facilitate, or touching the region in question) every day to get better positional awareness and recruitment patterns, particularly with our arm care drills.
To Cressey's point, what happens when there is a deviant movement? If we just tell a client with very limited hip extension to "push the ground away" when he sprints, isn't he just going to continue to put his lower back into excessive extension? The better long-term strategy is to get the hip extensors to do the job.
Choose Wisely
This is not just fitness advice, this is for life— choose your words wisely. That cliché we usually hear of "less is more" is still a good rule to live by.
Knowing which type of cue to use in a particular situation for a particular client is a learned art form. Think about how much power your words truly possess if you have the ability to make someone run faster, jump higher, or fix a dysfunctional exercise pattern. Depending on your client's goals as well as how they react to different cues, choose your words wisely. The right cue can make all the difference.
For more tips and education about corrective exercise from Giovanni, join him during the Certification Smash, Dec 11-13 for the SCW Corrective Exercise Certification.
About the Author, Giovanni Roselli

Giovanni was recently voted SCW Fitness' 2020 August Live Stream MANIA® Best Male Presenter. As a highly sought-after personal trainer and group fitness instructor, he is also a Master Instructor for both the Institute Of Motion and ViPR PRO. He has a long history creating content for companies such as Nike, 24 Hour Fitness, and Equinox where he won the Educational Excellence By A Trainer Award and was nominated for Group Fitness Program Of The Year. As a man of many talents, this former WWE Superstar has also professionally acted alongside some of the world's top actors.
---
---
---

Teaching Outside the Fitness Box
by Elizabeth Mooney
It is easy to find yourself in a "rut" as a fitness instructor. Your certifications can land you many jobs at local gyms and fitness centers, however you can only earn so much money at these types of facilities. In addition, if you live in a small, rural community, traditional options may be limited.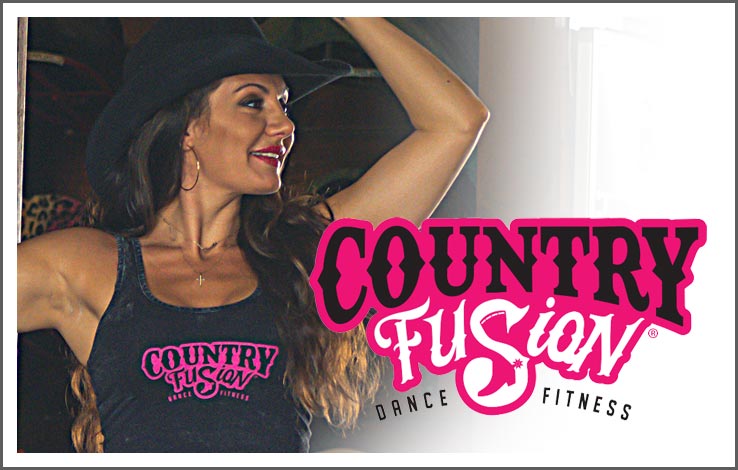 It's time to think outside the fitness box. Do you like country music? Do you like line dancing? Enter Country Fusion®, a new fitness workout that incorporates the twang of country music and steps of line dance to create a kickin' experience of fun for all levels. Country Fusion® creates a whole new lifestyle and all kinds of new opportunities for its participants, members and instructors.
No need to fear if you lack any dance skills, most of Country Fusion® choreography is actual line dances. Not only can these dances that get your heart pumping at the fitness studio, but many are recognizable in the Honky Tonks. Country Fusion® capitalizes on this unique aspect in a way many fitness instructors see as a lifestyle which helps when they go to learn it.
Opportunities are endless, which leads to earning more money. "Star Instructors" can be hired to teach line dancing at private parties for birthdays, holidays, showers, or even run dances at schools and host after school programs for students and staff. Country Fusion® Pros can get involved in charity events with a country band or have a country theme. Some instructors have participated in events at breweries, wineries, liquor tastings, and at stores that sell country wares. More income can be found at corporate parties and wellness programs which are eager to include workouts like Country Fusion® for their employees.
Country Fusion recognizes the interests and needs of its members. Senior living homes hold fitness events with Country Fusion and instructors modify their line dances for the senior population. Many members want to practice and build their confidence with line dancing before coming to class, so I created an online tutorial Country Fusion program available for a monthly subscription.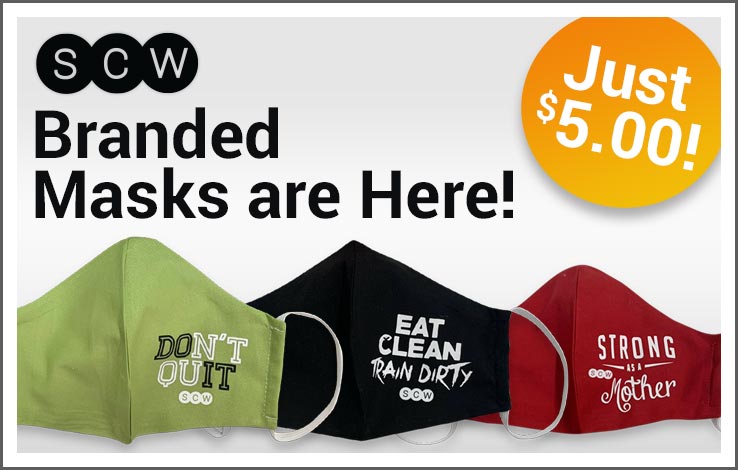 The most common way that Country Fusion makes money is at bars and restaurants. Instructors establish themselves at a local fitness center then encourage those same clients to attend a nightlife event. Sneakers are traded for cowboy boots! The instructor teaches a few dances and plays songs that participants know from attending fitness classes. Being visible at these nightlife venues brings new people into the gyms to take County Fusion once they see how fun it is!
Country Fusion has become the leading example of how instructors can get out of the gym and take a workout to new clients. The brand has set itself apart by being both a day out at the gym with your sneakers and a night at the Honky Tonks with your cowboy boots!
About the Author, Elizabeth Mooney
Country Fusion® is created by Elizabeth Mooney. Elizabeth has been a dancer since the age of 2 and has taught fitness for over 10 years. Past experience includes directing her own off-Broadway show in NYC, America's Got Talent Season 6, and Mercedes Benz fashion week. Elizabeth's personal achievements include being a finalist in the Miss Italia competition, Elite Model Management competition, Bikini USA, and in Miss Hawaiian Tropic. Being an accomplished actress, dancer, choreographer and model, Ms. Mooney has appeared in many television roles, including HBO's "Boardwalk Empire", and roles on USA's "Royal Pains". Her most recent film and television appearances have been as a featured dancer on the Stars network show "Power". Certifications include AFAA Personal Trainer, Pole Dance, Barre Assets, and training in BOSU and Bootcamp.
---
---
---
Soft Skills for the Group Fitness Professional: Coaching and Caring for your Post COVID Community
by Kelly Schur & Ally Ponte
During this unprecedented time, fitness industry professionals are experiencing new and unique opportunities and challenges as they return back to "face to face" classroom instruction. This brings about both professional and personal navigation as well as adaptation to new circumstances in old surroundings. ​While it is impossible to control what is happening around us, we, as fitness professionals, have an incredible opportunity and responsibility to aid not only in the physical but in the mental healing process.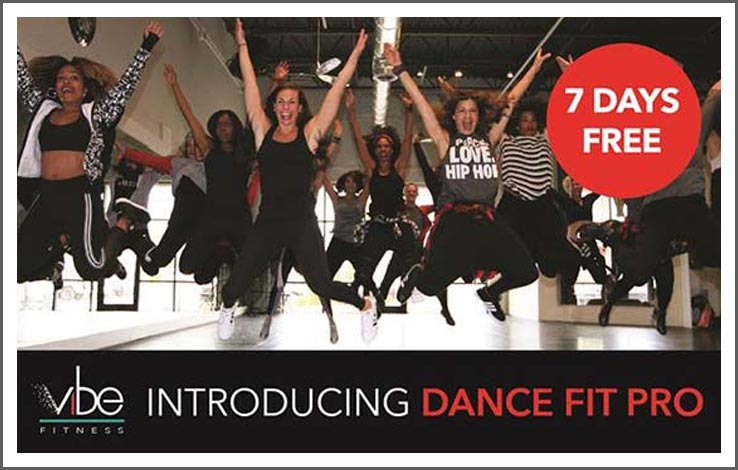 As the global pandemic ​continues to interrupt and impact our daily lifestyles, our class participants and members are faced with a wide range of emotions. ​Some may be grieving the loss of physical strength, or lifestyle normalcy, others may be grieving the loss of a loved one. Given this collective state of grief, it is important to be aware of, care for, and coach to these needs in order to help heal through movement. ​How exactly can we assist safely and responsibly with both personal and professional preparation?
The role of the group fitness professional is to aid in wellness and healing through physical/mental movement connection while partnering with their individual facility/studio execution of tactical operations, safety procedures and protocols. In this article, you will read about each of the five phases of "Coach to Care", as specific and strategic instructor teaching examples.
PHASE 1 | RESPONSE
The landscape of group fitness has changed. The member experience has changed. Communicating this change is paramount to winning back the trust of your class participants. It is vital they have the most accurate up to date information as some things will stay the same, some will be different, some will stop, and some will be better. When plans/procedures are in place, understood and communicated (whether temporary or permanently) this allows for a carefully planned response, rather than an uncomfortable reaction.
Personality types will process a response in different ways. Prepare for both positive and negative responses and emotions including discomfort, sadness, anger and denial. Consider researching and learning about how various personality types correlate to patterns of thinking, feeling and behaving. This will allow for a greater understanding of others needs and expectations.
Teaching Strategy: During your class introduction, take a moment before the class begins to communicate a few of the current procedures and/or changes to calm and comfort your anxious attendees. " I know you might be thinking or wondering about……" or "Here are the safety steps we are taking for…." Your openness and adaptation will allow you to better provide support to all your participants. After class, thank them for trusting you with their time and presence. Continue to allocate time before and after class for sharing or set up individual Zoom meetings for those that need a private setting or safe place to share.
PHASE 2 | RE-ESTABLISH
Lean In. Your participants are experiencing varying levels of grief from personal and professional loss of normal routine, special moments, financial security, health, physical endurance, emotional anguish, as well as large scale trauma. It is not the time to be cavalier or judgmental about national or societal viewpoints, policies, politics, or the like.
Put empathy first. Recognize and show sincere care for individual circumstances with kindness and compassion careful to avoid assumptions or grand generalizations while respecting private decisions and information. ​Be observant, present in the moment, and practice active listening (without interruption and/or crafting your immediate response).
Teaching Strategy: Show care by considering new physical readiness levels and watchfulness for special populations. Pay extra attention to form/technique. "I am going to face the mirror instead of facing you so we are all breathing in the same direction." Let their needs and social cues guide you in the journey to heal through movement. Meet participants where they are on both physical and emotional levels. Consider that your "regular/usual" coaching techniques may be less effective in the short term due to personal stress, anxiety and/or circumstances beyond control. Exercise caution in your passion and focus on a positive mindset.
PHASE 3 | REBUILD
Loneliness, disconnection and isolation may aggravate the negative effects of the pandemic. Research suggests that the necessary physical measures such as physical distancing, social distancing, and quarantining have affected the emotional health of our society. Resuming "normal" activities will help aid in the connection to the relational parts of our respective communities. However, full restoration lies in being part of a ​trusted ​community.
This stage begins with setting realistic time expectations and goals to regain trust. Both a noun and a verb, the word TRUST involves an actionable combination of elements in order to be earned and achieved. Demonstrating grace and patience alongside the process of building a valued foundation of communication, dependability, consistency, positivity, integrity and compassion will ultimately create the evolution of a trustworthy experience.
Teaching Strategy: Take a mindful approach in comfort coaching. Be aware of your tone and inflection. Your positive words could be the difference in strengthening and rebuilding the bond of trust. Not sure what to say? Here are a few valuable ways to show praise.
You are important to me. I am grateful for you. You are not alone. I'm here for you. Let's do this together. We are all in this together. We are stronger together. Thank you for taking the time to take care of yourself today. Thank you for taking the time to talk to me today.
PHASE 4 | RESTORE
According to an article from ACE Fitness in 2016, people attend group fitness classes for many reasons including, accountability, expert guidance, creative movement ideas, the fun factor and social support. Each of these reasons are critical in the restore phase of your class or studio. Shifting societal norms and perspectives may be out of your control, but you can control how you show up and show care.
The ability to demonstrate care though connection is the key to maintaining professional integrity. It requires consistency, patience, reliability and creativity. Be approachable. Dedicate time to thinking outside the box in order to find safe opportunities to help others re-engage and meet their need for connection to your community.
Teaching Strategy: ​Ask class participants for their comfort level and their permission to video a small portion of class, or perhaps for a volunteer to offer a quick testimonial after class with their thoughts on safety and comfort. Consider partnering with other instructors or business and share helpful resources, tips and strategies.
PHASE 5 | REPEAT
During these extraordinary times, the opportunity to be proactive and transformational leaders is an incredible gift bestowed on us as group fitness professionals. We have the ability to make a positive and powerful ​impact on lives at a very critical time of uncertainty. ​As circumstances and situations continue to evolve, the ability to help our participants adapt to these changes and add motion to emotion will ultimately foster a community of wellness.
Teaching Strategy: As​ master motivators, coaches and natural cheerleaders of others, it is important to assess and acknowledge your own personal inner strength. This checkpoint is viable in the process of practicing self-care to lend help to others. ​There are many resources to go to if you need support. References for Wellness Professionals and Coaches available upon request.
Community inspired fitness, where good vibes change lives!
Established in 2014, Vibe Fitness, Inc® provides fitness education, instruction and programming to serve and elevate the professional and consumer communities. We are proud to debut DANCE FIT PRO, an innovative program providing professional instructor tools, without branded format rules. A creative and flexible alternative uniquely designed for EVERY dance fitness professional. Visit us for more info www.experiencevibefitness.com/vibe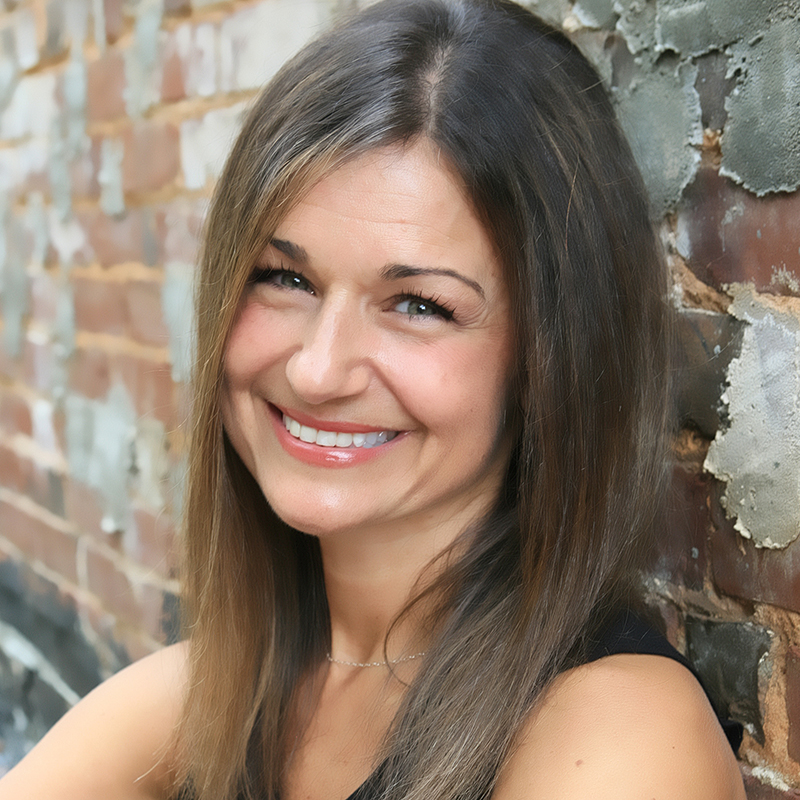 About the Authors, Ally Ponte
Allyson "Ally" Ponte is the Founder and Chief Executive Officer of Vibe Fitness, Inc, and the creator and Master Trainer for Club Vibe® and various Vibe Fitness® formats. She is the Founder and President of Studio 13 Fitness, a mobile dance fitness studio. In 2015, Ally received the Up and Coming Female Presenter of the Year award for SCW Boston Mania, a fitness pro convention. With over 25 years of experience, her background includes: award winning national fitness presenter, instructor trainer, choreographer, personal trainer, and group fitness instructor. She is a continuing education provider for ACE, AFAA and SCW and teaches multiple weekly classes in Atlanta, Georgia.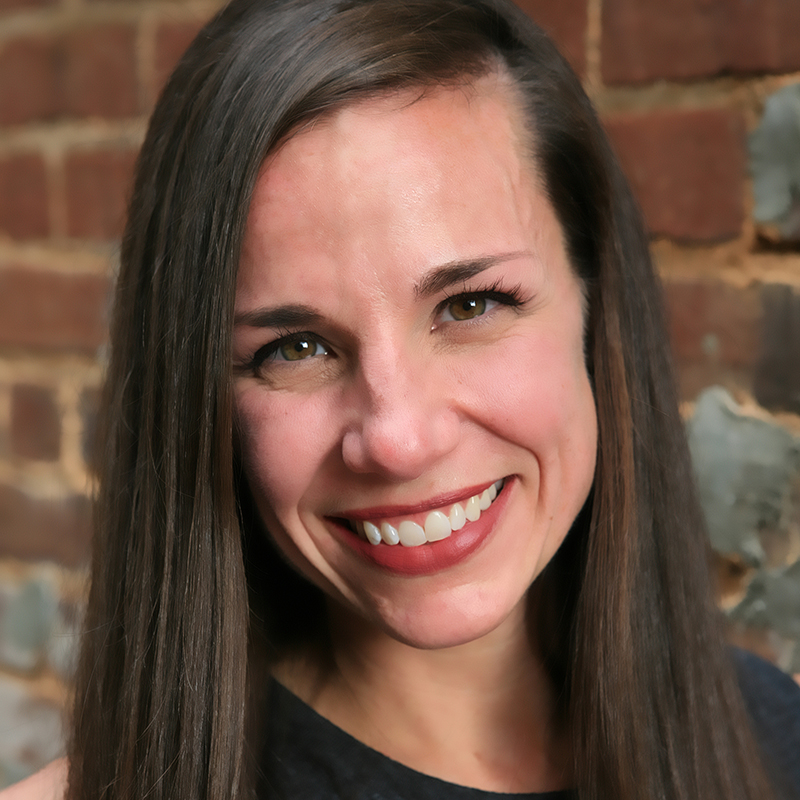 Kelly Schur
Kelly Schur is the Chief Operations Officer of Vibe Fitness, Inc, as well as a Master Trainer and program developer for the Vibe Fitness® formats. She is the co-creator of Lil' Vibe™ and Vibe DanceBARRE™. Kelly is an award winning national fitness presenter receiving the 2015 Up and Coming Female Presenter of the Year for SCW Boston Mania. In addition, Kelly is an AFAA certified professional group fitness instructor with an extensive studio dance background and training in multiple dance genres and formats. She is part of the Studio 13 Fitness Master Instructor Team and teaches multiple weekly classes in Atlanta, Georgia.
---
---
---

Nutritional Needs for the Active Ager
by Melissa Layne, MEd
Mom always said, "Eat your veggies so you grow nice and strong." That statement is extremely important for the growing body, but how about with the aging body?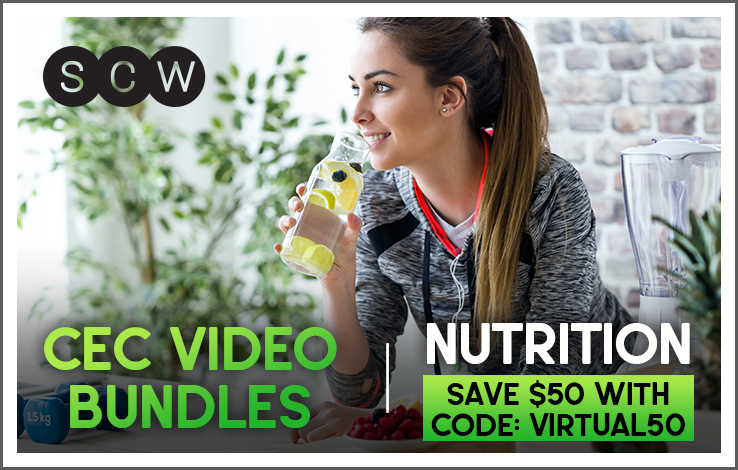 Although the nutritional needs of a growing body disappear with age, the challenge in the older years is to maintain the aging body, preserve its function, and avoid disease. Getting older means that there are now special or different nutritional needs and issues. Proper nutrition and structured activity go hand in hand to build a healthy individual no matter what the age of the exercise participant. Good nutrition and exercise benefit older adults in a multitude of ways: delaying the onset of disease, managing current disease states, minimizing lengths of illnesses and possible hospital stays as well as improving the social, emotional and psychological dimensions of wellness.
As fitness professionals, it is imperative to have a basic understanding of nutrition in order to guide older adults to healthier eating habits. Nutrient needs become more individualized as aging occurs since older adults vary in health status among themselves more than any other age-group.  Fitness professionals. We can still guide participants in the right direction and, if needed, assist in finding a licensed dietetics professional who can customize a food plan that enhances health and well-being.
Weight loss may be one of the numerous goals for many older adult fitness enthusiasts; the proper knowledge and encouragement given to participants can assist them in altering eating habits to maximize the weight loss progress.  With over two-thirds of the country being either overweight or obese, Americans spend billions of dollars annually on weight control. Weight management resources and products represent a never-ending supply of opinions, marketing angles, and often scams, so it is imperative that fitness professionals can sort fact from fiction when helping an active aging participant with nutritional matters. Older adults, this population is are often easy prey for those selling weight loss scam programs as some older people are unconsciously looking for eternal life or even youth. Therefore, they are frequently susceptible to the sales of food faddists who seek to profit from ignorance. This money could be more effectively spent on nutrient-dense foods that would cost considerably less.
It is important to stress that as fitness professionals, not registered dieticians, we are not trained to prescribe diets, write meal plans or give nutrition information outside of what is available to the general public either in a book or on the internet. Fitness professionals should also recognize that each participant has a unique set of nutritional needs and that what works for one older adult may not work for another for various reasons. Unless one holds a license of a  registered dietician, a fitness professional cannot prescribe an eating plan. It is also outside the scope of practice to make specific recommendations or programming for nutritional intake, or specialty diets.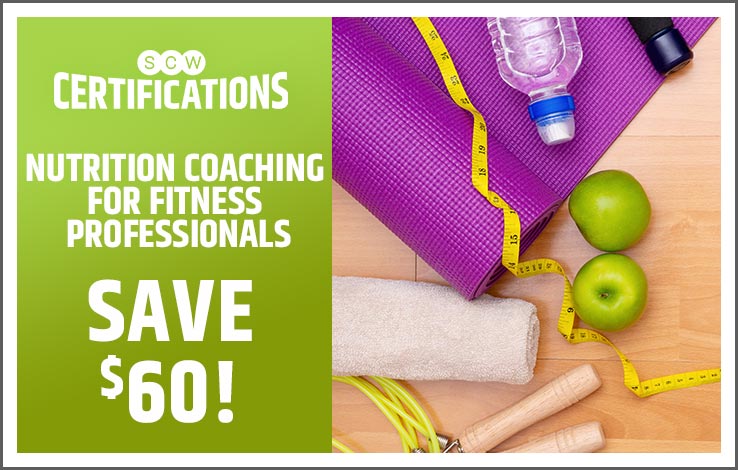 However, it is within the scope of practice of a fitness professional to teach clients how to use readily-available documents to help improve eating habits.  If your club has nutritional software, incorporating that technology program is also within the scope of practice as long as certain foods are not prescribed in the programming of a diet.  You may educate clients to current dietary guidelines, educate on the role of macronutrients in the body, and provide fluid guidelines. Here is a list of some online tools which may help guide nutritional education.
Online Nutrition Tools for the Fitness Professional
General government nutrition information;
https://www.nutrition.gov/subject/weight-management/interactive-tools
Meal planning using the food plate;
https://www.choosemyplate.gov/myplateplan
Proper food portions;
https://www.nhlbi.nih.gov/health/educational/wecan/eat-right/portion-distortion.htm
The Mediterranean Diet food pyramid;
http://www.mediterraneandietforall.com/the-mediterranean-diet-food-pyramid/
The Glycemic Index for carbohydrates;
http://www.glycemicindex.com/
Food database for caloric intake;
https://www.calorieking.com/
There are also some very simple hints to help the active ager get the quality and quantity of nutrients needed to support quality work out. Many times, we just need the active aging of this young at heart community to feel good about eating again. Aas the taste buds decrease in sensitivity as we age with age, food doesn't look or smell as appealing either since the eyesight and the sense of smell also decrease as we age. too.  Let's take a look at easy ways to help our Golden Year Grads.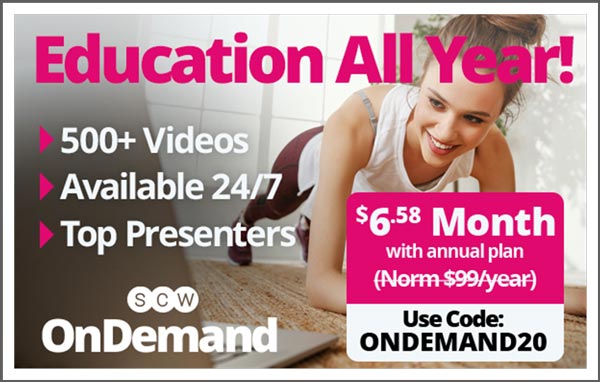 8 Simple Guidelines for Healthy Eating in the Later Years
Use fresh nutrient-dense foods as a basis for smaller, more frequent meals.

Try new fruits, vegetables, and seasonings that are easy to prepare.

Eat in a well-lit or sunny area, while serving food attractively.

Arrange kitchen areas so that preparation is easy and use labor-saving devices.

Eat with friends, relatives and share cooking responsibilities with neighbors.

Use community resources for help in shopping.

Chop, grind, or blend hard to eat foods or ask a relative to chop foods ahead of time.

Keep fried, processed foods and alcohol consumption to a minimum. 
The senses of taste and smell aren't the only physiological changes that occur as we age.  The following chart details other changes and gives some suggestions for behavior modifications when it comes to nutrition details.
Physical Changes of Aging That Affect Nutritional Habits with Suggestions for Change
Digestive tract

Intestines lose muscle strength slowing digestion, secretions diminish which increase GI tract inflammation, slowed immune response to making antibodies in GI tract

Eat smaller meals more often to minimize stress on GI tract

Hormones

Changes in pancreatic hormones cause abnormal glucose regulation and changes in satiety hormones cause appetite changes

Eat smaller meals more often to help regulate glucose

Mouth/Teeth/Gums

Tooth loss, gum disease and less saliva impede chewing and increase fear of choking 

Experiment with various textures, be sure dentures fit properly, try grating, chopping, stewing or grinding for preparation. 

Cardiovascular function

Function decreases due to normal wear and tear and possible buildup of plaque in arteries

Stay active, maintain proper body composition, keep blood triglycerides and blood pressure within acceptable ranges

Kidney function 

Function decreases due to normal wear and tear or possible previous stresses of excessive meds or animal protein

Choose lean proteins and drink plenty of water

Immune function

Decreases in WBCs white blood counts may occur due to certain medications

Stay active, meet nutrient needs of protein, vitamin E, B6 and zinc

Mental function

Decreases due to normal cognitive losses

Stay active, consume seafood and meet needs for vitamins E, C, B6, folate and B12

Fat stores 

Increase due to decreased metabolic rate and decreased activity

Stay active, avoid overeating, perform regular scheduled physical exercise

Bone mass

Decrease in bone cells and a decrease in weight-bearing activity if sedentary 

Avoid unneeded weight gain or loss, do weight-bearing exercises, meet nutrient needs for calcium and vitamin D

Lean tissue decreases

Appetite decreases and not enough nutrient-dense foods are eaten to sustain healthy body composition

Meet nutrient needs for protein and vitamin D, perform regular physical activity including strength training

Sensory organs

        Vision

Less home-cooking, fear of using a stove, cannot read instructions, recipes or labels, or prices at the grocery store.

Organize kitchen shelves so that objects used more often are easily accessible,

consume plant vitamin A (beta carotenes), vitamins C and E and zinc

        Hearing

Less eating out, or not asking questions of food server at restaurant or clerk at supermarket.

Purchase produce in season at a farmer's market where noise in minimal

        Smell 

Diminished sense of smell may reduce appetite

Add flavor to food with low-sodium seasonings

        Taste

Changes in sense of taste may affect food preferences.

Avoid cooking foods until mushy or otherwise overcooked. 
So now, maybe those veggies mom wanted you to eat, really weren't so bad after all.  The nutritional needs our body has craved and continues to crave just benefit our active agers in different ways.  Just don't forget (getting proper nutrition should help) we only have one body and we need to take care of it in order to continue living a long and healthy life.
About the Author, Melissa Layne, MEd

Melissa is a Kinesiology Department faculty member at the University of North Georgia. She has 30 years of experience and a master's degree in Exercise Physiology. She taught elementary PE and coordinated fitness programs for Royal Caribbean, Home Depot and orthopedic surgeons. Melissa is the author of WATER EXERCISE (Human Kinetics 2015), a member of the educational faculty and a DVD presenter for SCW. She is well versed at taking complicated material and breaking it down into easily understood pieces.
---
---
---

Live Stream MANIA Winners!
SCW recently completed a successful 4th Live Stream MANIA® event, educating over 500 fitness professionals from around the world. These participants had the opportunity to watch over 200 sessions, a mixture of lecture and activity workshops, led by  over 100 presenters, from not only the US, but Australia, Canada and the United Kingdom, too! The response to Live Stream MANIA® was overwhelming, with 100% of post-event survey respondents indicating they would return to the event and recommend to a fellow Fitness Instructor or Personal Trainer. 
This event was made possible by our outstanding sponsors. Over 28 companies partnered with SCW, offering virtual education and special offers and discounts on equipment and services. They also gave away over $3000 in prizes to 16 lucky winners!
| | | |
| --- | --- | --- |
| Valerie DeNick | Barre Intensity Certification | Barre Intensity |
| Dianne Estes | Free Trampoline | Jumpsport |
| Rainier Flores | Online Instructor Certification | Country Fusion |
| Connie Franklin | Core Confidence Specialist Certification | Pelvienne Wellness |
| Jeanne Brown-Johnson | Free Recorded "Grow Your Ecosystem" workshop | Fit Pros Connect |
| Mia Benson | Free Teacher Training Course | Fit Pro Ed |
| Jeannia Terry | iRestore Fitness Certification | iRestore |
| Stephanie Gonzalez | Classic Indoor Cycling Certification | Schwinn |
| Alessandra Sanchez | HIIT Certification by Stairmaster | Stairmaster |
| Liza Allen | Strength Trainer Specialist Course by Nautilus | Nautilus |
| Susie Mark | Performance & Periodization Workshop | Schwinn |
| Tricia Garrett | Polga Certification | Polga |
| Walter Holmberg | Live Stream MANIA all access pass for LSM-Feb | SCW |
| Athena Abysalh | On-Demand 1-year subscription | SCW |
| Kelley Blalack | Active Aging Certification | SCW  |
| Jan Zientara | WIM Certification | WATERINMOTION |
Even though the live event has come to a close, SCW is offering recorded sessions from the most recent Live Stream MANIA®. For anyone who wants to relive the excitement of the sessions or wants to view them for the first time, MANIA® NOW is available for only $199 
SCW would like to congratulate all the winners and we thank you for your support and look forward to having you join us at an upcoming SCW Fitness event. Look for more information about Certification Smash, Dec. 11-13, Trainer APEX, Jan. 23-23, and the next Live Stream MANIA® Feb. 26-28, 2021.
---
---
---

We're always looking for great content highlighting the newest things in the world of fitness. Please submit your article directly to [email protected] for immediate consideration!
---
Give us your feedback on what interests you, and maybe YOU will make it in the SCW Spotlite!
Share Your Thoughts >>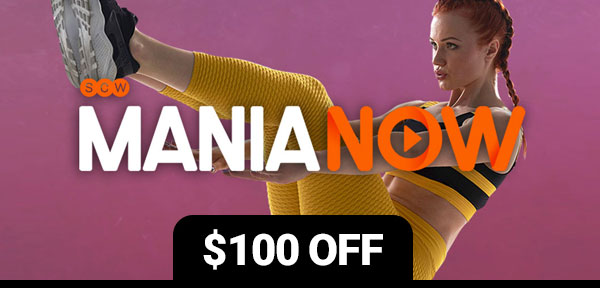 MANIA NOW

$100 OFF
Was $299, Now only $199! Enjoy instant and unlimited access to 200 session RECORDINGS from our very latest Live Stream MANIA® for a full 30 days! Earn 20 CECs from SCW, ACE, AFAA, NASM, AEA, ACSM & NFPT when it's convenient for you.
---
Get MANIA NOW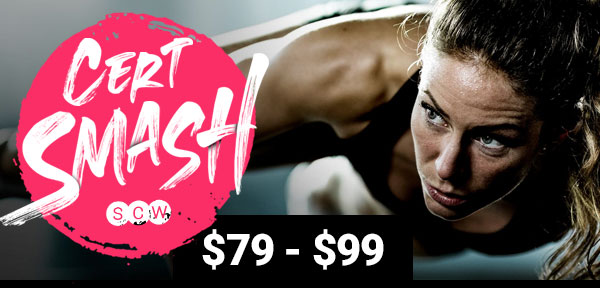 Cert Smash

$180 OFF Certs
SCW's Cert Smash is a weekend event of Certifications to crush your past and reinvent your future. Grow your career, expand your options and rise up to a new beginning! 16 Certifications at Cert Smash Dec 11-13 for as low as $79 (That's $180 OFF!)
---
Smash Your Goals Here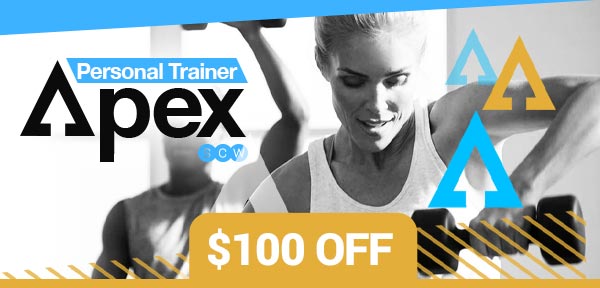 Personal Trainer Apex

$100 OFF
Prepare to further your knowledge and climb higher in your personal training profession with our exclusive Personal Trainer APEX Conference. Registration starts at just $149! (That's $100 OFF!)
---
Learn More Here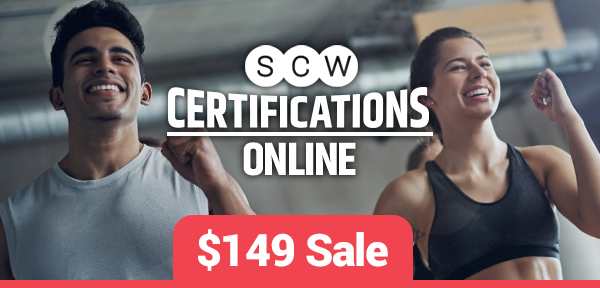 SCW Online Certifications

$50 OFF
Was $199, Now only $149! Choose from 36 nationally recognized & accredited SCW Certifications online. Take them in your own time. (Includes Live Course FREE!)
---
Choose Cert & Use Code: CERT50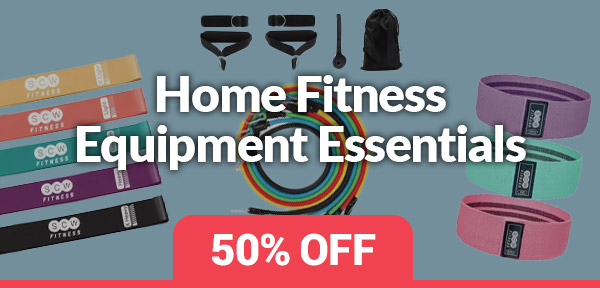 50% OFF

Home Equipment Must-Haves
Home fitness equipment essentials now 50% OFF! We ship to you! Stock up on everything you need for your home workout space.
---
Shop the 50% Sale Here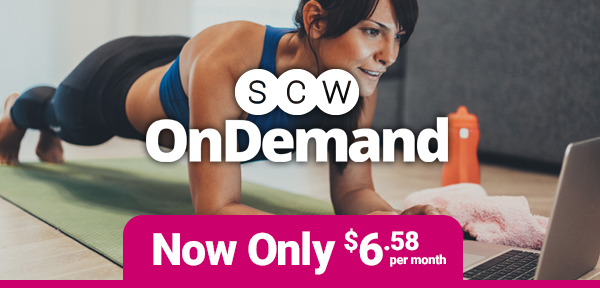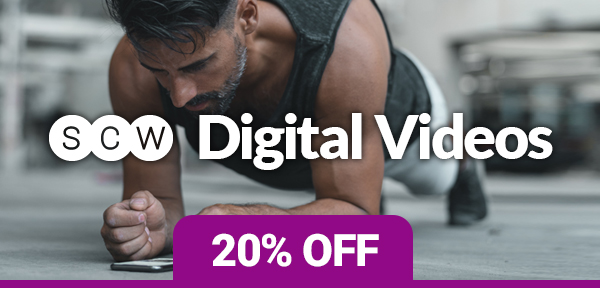 20% OFF

SCW Digital Videos
Get your hands on SCW digital videos, many of which were filmed live at MANIA®! Now at the incredible price of only $15.96 each (was $19.95)
---
Choose Videos & Use Code: VIDEO20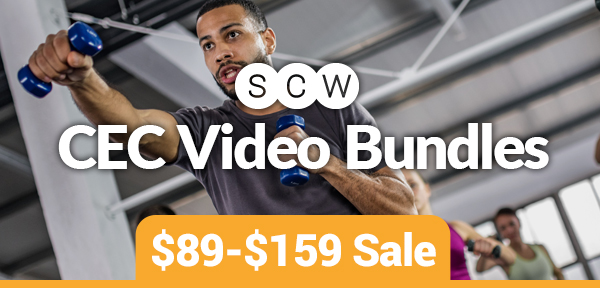 $50 OFF

 20 CEC Video Course Bundles
SCW Video CEC Bundles are hand-picked CEC/CEU video bundles from the most popular MANIA® sessions. Each course includes video, course outline, exam & certificate of completion.
(Was $139, Now $89) or (Was $209, Now $159)
---
Choose Bundle & Use Code: VIRTUAL50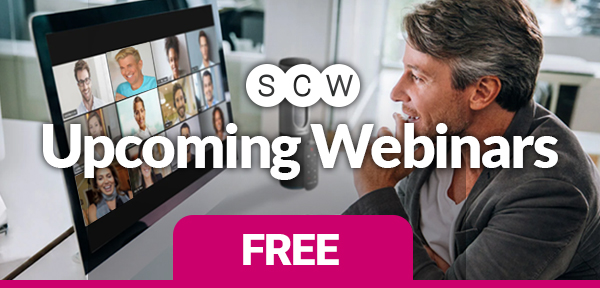 FREE Upcoming Webinars

From SCW
Join SCW for our FREE Webinars with the trusted presenters you love from our MANIA® Conventions.
---
Register FREE Here
---