SCW Spotlite: Issue 36
July 10, 2021
Enjoy the monthly buzz about all things fitness. Fitness Pros are always on the go, so we'll leave the "Lite" on!

Reach or Curl? Functional Training vs. Strength Training
by Robin Taylor
As Fitness Professionals, we have clients who want to build muscle while others desire to get fit. What's the difference? Does building muscle mean strength train must occur? Does getting fit include getting stronger or just being able to function? Let's take a look at similarities, differences and how they can even be merged together for a complete package.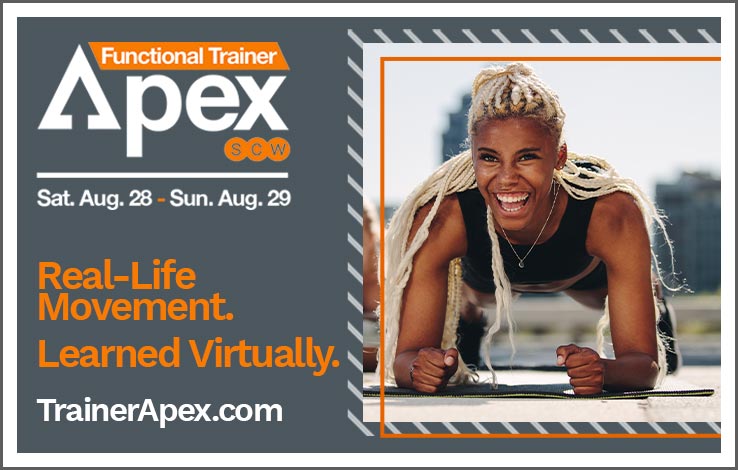 Let's start by defining our terms. To strength train, we focus on building power and endurance in one muscle group at a time. On the other hand, functional training encompasses large body movements using specific muscles, whether stabilizing or moving, in order to perform daily life activities. So, ponder this. Do you need to focus on a muscle group or move large body parts to perform better? How about to just climb stairs or reach for a can in the cabinet? Maybe it depends on your purpose, but for those of us who aren't professional body builders, maybe combining both methods are the answer to living a healthy, comfortable and mobile life.
To break these down even more, strength training consists mainly of weight training, typically with dumbbells, barbells, resistance bands and machines. Inside the gym, a typical picture might be men and women curling and pressing in front of a mirror or with a personal trainer. Their focus is on one muscle or body part to strengthen the muscle fibers. What if they added functional movement into their strength training routine? Would it help or hinder their performance?
What is functional training? These movements use muscles that are included in activities of daily living. For example, we reach to put something away overhead, pull and push to move an object in front or behind, lift bags and boxes and squat to perform personal tasks. Most functional training is done with no extra equipment, basically we are talking body weight. In some cases, dumbbells, bands and other weighted equipment can be added, but that depends on the individual who is training. In general, the more we move our large muscle groups, the more agile and limber we stay. Would incorporating strength training help our active moments? Could it assist us in other ways?
There are benefits of merging both strength training and functional training. Take a look at athletes. They typically use weighted equipment to focus on the body part they want to train. The idea of centering on one muscle group at a time helps develop the performance of that single area, but if functional training, specifically performing movements that simulate actions for a specific sport were added to their weekly workout schedule, performance levels would improve and who knows, maybe even break some personal records. Now, for those of us who aren't on the field, court or in the pool, we might benefit from combining both types of training as well. Actual added weight, like dumbbells and machines, help the bones stay strong. Women, particularly age 50+, need to include some form of loadbearing activites to help prevent bone breaks and fractures. It is only a myth that our muscles will turn into hulking masses, so there should be no worry about that. As for functional training, using full body as the training equipment, not only activates the arms and legs, but the core as well. Balance and mobility improve with exercises that incorporate hips and legs. Movements like squats, twists, linear/lateral steps and climbing help prevent falls and missteps.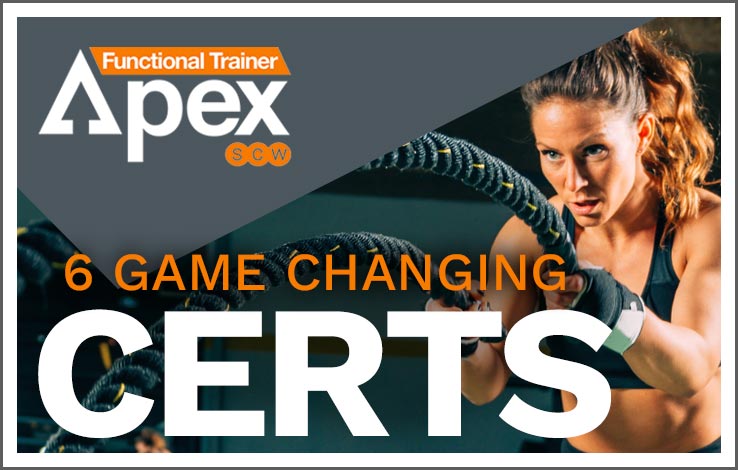 If you looking to enhance your instructional portfolio with specific methods of practical daily movements then why not register for the upcoming Functional Trainer Apex Conference? This 2-day virtual event, August 28-29, is designed for fitness professionals to incorporate real-life activity into client training programming. Group Ex Instructors and Personal Trainers can benefit from the 60 workshops, specifically focused on movement and education to increase stability, mobility and function. Topics include sessions targeting Strength, Stretch & Circuits; Aging, Programming & Assessments; Core, Glutes & More; Coaching, Performance & Media; and pre-recorded classes about Function & Beyond. The 30 industry elite functional and personal training faculty include Chris Stevenson, Kevin Mullins, Keli Roberts, Frazier Quelch, Pete McCall, Sara Kooperman and many more. Single-day and weekend registration options begin at only $99 (norm $199) to allow for professionals with time restraints or those fulfilling a small amount of CEC/CEU requirements. The All-Access Pass includes two days of live-stream sessions, 30 days of recordings and up to 19 CECs/CEUs for only $179 (was $279), that's the best value available.
SCW Functional Trainer Apex is a must attend for all trainers and instructors looking for a way to rise above the competition. The landscape of the fitness industry has shifted dramatically and this new terrain provides fresh opportunities, including business, referrals and income. This is YOU time. Grab the ropes, med balls or better yet, your mind and body to take the next step to advance your career.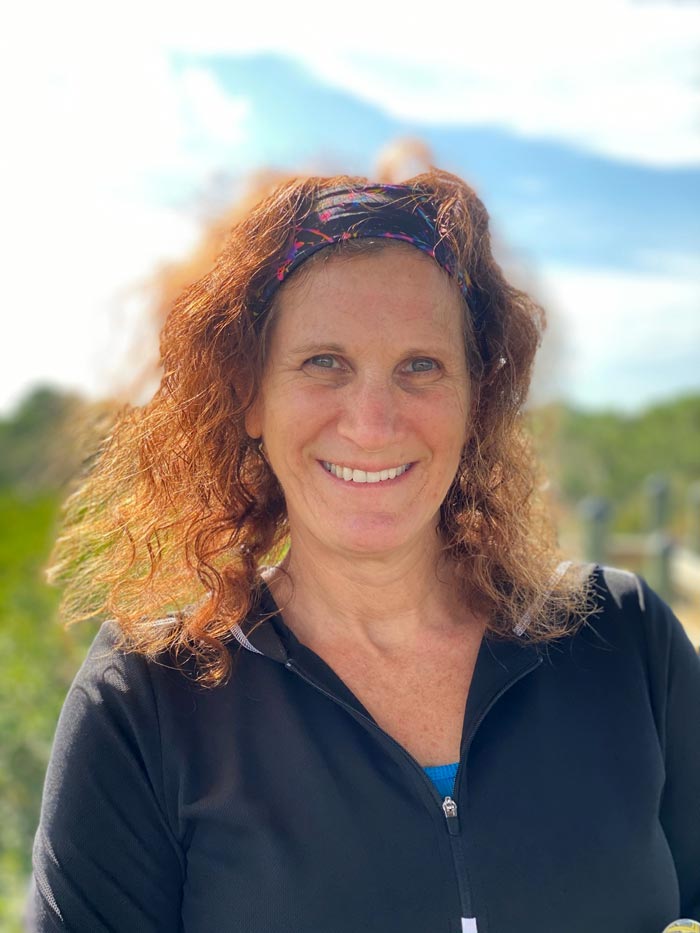 About the Author, Robin Taylor

Robin is the SCW Editor for Spotlite, Tidal Waves and Weekly Work-UP, as well as Assistant Product Manager for MANIA® Fitness Conventions and Team Manager for WATERinMOTION®. Having taught Aquatic Fitness for over 15 years, Robin is AEA and AFAA certified and a WATERinMOTION® Champion. She has participated in several WIM educational videos, as both a pool participant and on-deck presenter. Robin has been an employee of SCW for almost five years. She is married and has two adult daughters and has a bachelor's degree in journalism from the University of Florida.

The Fitness Connection
by Kelly Scott
Editor's Note: This personal story was shared with us by a loyal MANIA® attendee who participated yearly with her beloved Aunt. We hope you sense the pride and joy she received from their relationship and the powerful connection they experienced together to be remembered forever.
As a child, many of us are lucky to grow up with Aunts and Uncles, but as life goes on and we move away from our family nucleus, it is sometimes hard to keep those relationships close. I am one of those people to have a wonderful relationship with my Aunt Georgia. She is my mother's sister and even though we were separated by 25 years, she was my best friend and confidant. Aunt Georgia was the family member everyone wishes they had and when that person is gone, you are left wondering how to take that next step.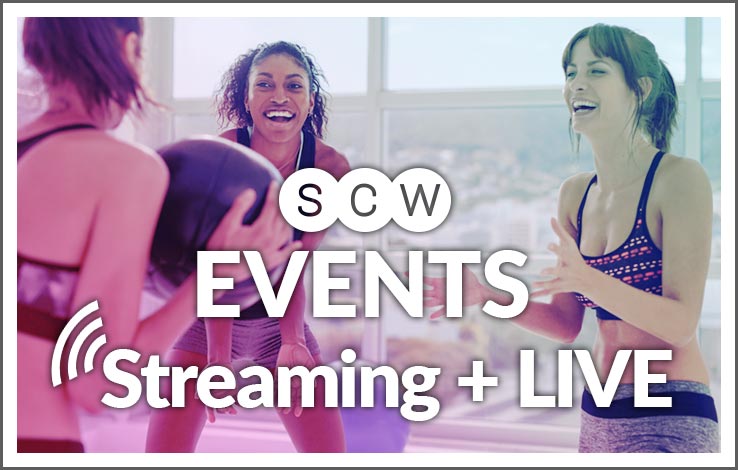 Unfortunately, I just lost my aunt this past May to a very rare disease, Progressive Supranuclear Palsy. This fast moving, uncommon brain disorder causes serious problems with walking, balance and eye movements. It results from deterioration of brain cells that control body movement, coordination, thinking and other functions. There is no cause or cure. She was diagnosed 5 years ago and within two months her stability and walking had declined. Her passing devastated my family and me, but instead of dwelling on the sadness, I'd like to tell you of our happy times and a bond I will always cherish thanks to SCW Fitness and Philadelphia MANIA®.
My Aunt Georgia has always been an important part of my life. She took me under her wing and we spend every summer together from childhood to college, even taking vacations to Cancun and the Dominican Republic. After college, my responsibilities increased. We lived nine hours apart (she was in Erie, PA and I was in Connecticut) and our time together became limited, but we did have one compelling connection, we were both Group Ex Instructors. About 15 years ago, Georgia had the idea to meet up at Philadelphia MANIA®. This not only provided us the opportunity to catch-up, but also strengthen our dedication to fitness and fulfill our required continuing education requirements. We made this our yearly get together and were able to meet for 10 subsequent years at Philly MANIA®.
This special time with Georgia took me back to my childhood. It was our weekend to bond, reminisce and learn. For as much as we had in common, our teaching skills were quite different. Georgia specialized in strength training, Silver Sneakers and her favorite, Pilates. I, on the other hand, taught a variety of classes, such as TRX, spin and yoga, but absolutely no Pilates. We would arrive on Thursday, check-in at registration to get our welcome packet and then head back to the room to make a session game plan. We rarely left the hotel and I even remember it snowing the whole weekend, only bringing our connection even closer knowing we had everything we needed inside. Most of our workshops pertained to our particular teaching skills, but we always chose one class to attend together. We looked forward to the breaks to go back to our room for a snack and rest. By the end of the day, even though we were both exhausted, we would each take turns reliving the day by acting out exercises learned on the hotel room floor.
When it came to favorite presenters, we agreed to disagree. I love Mindy Mylrea and her gliding discs. Gliders are my favorite piece of equipment even to this day. At home my class participants may groan when I say it's "Glider Day," but secretly I know they love it. Georgia loved Mindy's sessions as well and would take the games she learned back home to share with her grandkids. They are now in college and still talk about the "Bubblegum Game" she used to play with them. Among my other favorites was Sara Kooperman's yoga classes, and Georgia would attend any and all Pilates classes, especially those led by Leslie Bender.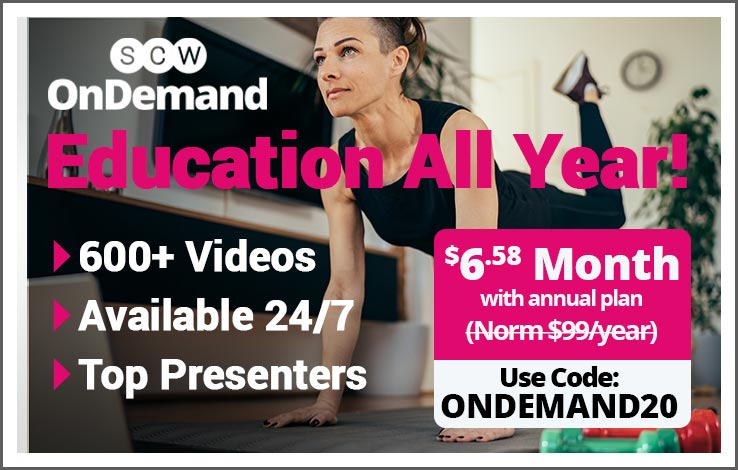 We made a lot of memories at Philly MANIA®. It didn't matter how tired we were after a full day of sessions, we always looked forward to the 6PM specialty class. We wanted to take advantage of every minute of instruction available and loved learning and using the latest equipment. During our free time, when we weren't reviewing past sessions, we would walk through the expo to check out all the vendors and new gear. Our all-time favorite part of the weekend was the silent auction. Georgia and I would go from booth to booth and bid on the items that we wanted to win, waiting and watching as the clock ticked to the end of the auction. We always walked away with five to six exciting prizes.
After she was diagnosed, I would go visit her in Erie. Unfortunately, her physical abilities continued to decline because of the disease. After a few years, I attended Philly MANIA® with my best friend and fitness enthusiast, Nikki. We participated in a lot of the same activities that I shared with my Aunt, but it just wasn't the same without her. I am planning to return to MANIA® once the pandemic is over. Since Nikki lives in North Carolina, we are going to choose a new location to try together. SCW Fitness Education is just an incredible company and I am grateful for the memories Georgia and I Created there. I will always remember sweating, learning and laughing alongside my Aunt Georgia in Philadelphia at MANIA®.
For more information about Progressive Supranuclear Palsy and how you can make a difference please visit, www.psp.org. To learn more about SCW MANIA® Fitness Conventions, go to www.scwfit.com/events.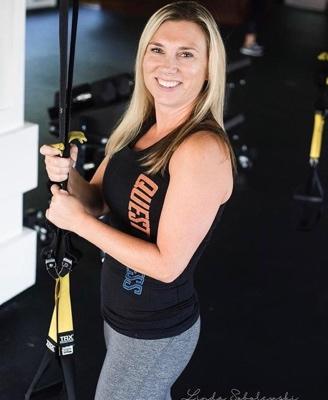 About the Author, Kelly Scott

Kelly Scott has been teaching fitness classes for 22 years. She went to her first step class with her Mother at age 19 and decided she wanted to help motivate and strengthen other's though fitness. Kelly has taught step, kickboxing, boot camp, TRX, spin, kids fitness and yoga. She enjoys running, hiking with her dog and spending time with her two children. Kelly has a love for the outdoors and is passionate about living a healthy and active lifestyle. Currently she is teaching TRX at Quest Fitness and Boot Camp at the YMCA in Connecticut. Kelly believes working out is not just about looking good on the outside but more about feeling great on the inside!

Turn Your Gym into a Health and Wellness Facility
by Debbie Bellenger
The year 2020 came and went and the results crushed our fitness industry. Gyms and studios closed their doors, staff were furloughed or fired and delivery models changed overnight. Instead of looking back on the past 14 months, let's look to the future.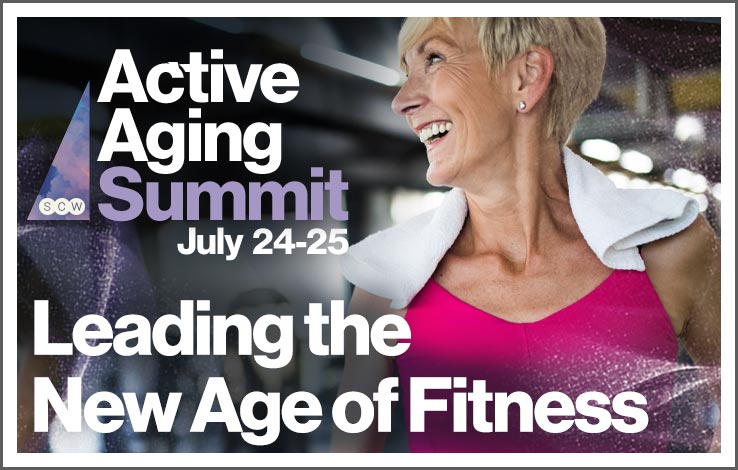 The pandemic actually created OPPORTUNITY with an increased awareness of the value of good health and the importance of exercise. Much of the COVID research posted clearly showed that the sickest were at the highest risk and those who were mostly healthy fared much better when diagnosed.
The Centers for Disease Controls (CDC) reported that those who fell into the overweight/obese weight category (almost 75% of adult Americans) faired very poorly from COVID-19. Obesity increased the risk of severe illness, including impaired immune function and decreased lung capacity, and tripled the likelihood of being hospitalized.
So, here's some questions to ask yourself, "How do we go forward as business owners to capitalize on a perfect storm of individuals now realizing and valuing their health as an asset? How do we create comfortable, yet serious environments for new and de-conditioned exercisers, COVID recoverees, and those deciding to exercise for the first time?"
The American Psychological Association reported adults placed their physical health on hold since the start the pandemic. It was reported that 47% delayed or canceled health care services and that 53% have been less active than they wanted.
Let's take a look at how we can fill the gap to provide services and welcome all demographics, fitness abilities, and body types into our facilities. Here are tips and ideas to capitalize this business opportunity and support those who need us most in order to regain their health.
Offer health and wellness programs to non-members. This brings communities together and provides education and prevention. Here are a few examples.
30 days to reset your health
• 8 week weight loss programs/challenges
• Diabetes prevention classes
• Cardiovascular wellness programs
• Stress management & Sleep lecturesAny wellness issue can be made into an educational program. Maybe offer a survey to your members of potential lectures or workshops to be offered.
These programs may or may not have a nominal fee attached to them. Facility membership shouldn't be required for the duration of the program but offer a discounted sign-on fee to convert them to members at the completion. Maybe even a "friends and family" rate to enroll. That way your current members are involved as well. 
Incentives are a helpful way to gain attendees and members but be sure they understand the value add of your expertise and the experience available at the facility. The "let them try before they buy" approach can be useful. Offer intro level and specialized group ex classes that drive like-minded individuals together with common goals.
Personal training and small group programs could be the perfect match for your members and your bottom line. Measure pre and post health metrics to show improvement to help boost participant confidence. It also demonstrates appreciation of the value of the services they pay for. Members can then take their accomplishments and share them with their primary care providers. Hopefully the doctors will refer other patients to you as a credible source for those who needs exercise.
Nutrition is a huge factor to getting healthy and losing weight. Make sure snack machines and juice bars offer healthier food and beverage choices and incorporate nutrition education as part of your centers' offerings. Consider adding a Dietitian to your team.
Partner with local health departments, health care systems to host health checks to promote good health awareness and to get more foot traffic into your center.
THINK A GYM WITHOUT WALLS AND OFFER WELLNESS TO ALL! Become the health hub of your community! It makes good business sense for all.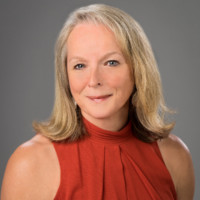 About the Author, Debbie Bellenger
Debbie Bellenger is a health and wellness expert who specializes in medical and corporate wellness programming. She has extensive presenting experience with MFA, ACSM, TRX and Reebok. She has also presented at an SCW MANIA® Convention. Debbie was the 2017 IDEA Program Director of the Year award winner and the 2014 Medical Fitness Association Director of the Year award winner. She is currently working full time as a Health and Wellness Consultant for Pinnacle Health Management and a TRX Master Trainer.

Exercise Should Be Prescribed for Depression
by Lynne & Victor Brick
The US is facing a mental health crisis like never before. Since 1999, suicide rates have increased 35 percent; approximately 8 million deaths each year are attributable to mental disorders; and at any given time, 18% of adults in the U.S. are living with mental illness. Mental health issues skyrocketed among the general public during the pandemic. In addition to the staggering numbers, access to mental health care is limited, and almost exclusively focused on medication, psychotherapy, and hospitalization. The John W. Brick Mental Health Foundation was established to expand our approaches to mental and emotional well-being, including exercise, nutrition and mind-body practices. But is there an evidence-base for these approaches?
Move Your Mental Health™ (https://www.johnwbrickfoundation.org/move-your-mental-health-report/), written by the JWB Foundation science team, answers this question with a resounding yes, particularly where exercise is concerned. The report and accompanying online interactive data visualization synthesize thirty years of scientific studies linking physical activity to mental well-being and provides recommendations on how to incorporate these results into a well-rounded treatment plan. Most importantly, the report recommends that for people with depression, exercise should be prescribed and monitored for the first 12 weeks, just as physical therapy would be for an injury.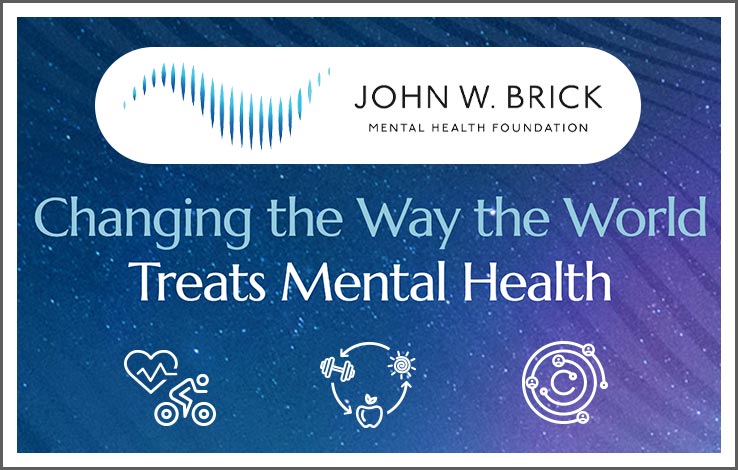 This user-friendly report summarizes data from over 1,100 studies, reviewing over 20 types of physical activities in relation to different mental health outcomes. Twenty different exercises are presented, from yoga to running, describing how each influences a variety of mental health issues, such as depression, anxiety, mood, and schizophrenia. The practical and easy-to-understand report concludes with recommendations, everyday applications, trends to watch, and suggestions for further research, providing a clear road map for healthcare professionals, educators, clinic directors, policy makers, patients and families.
Dr. Richard Carmona, 17th Surgeon General of the United States, said: "The Brick Foundation has done a tremendous job of synthesizing the science of exercise and mental health. Essential reading for mental health professionals and everyone in the wellness industry." Dr. Mimi Guarneri, President of the Academy of Integrative Health and Medicine, said: "The JWB Mental Health Foundation has made a groundbreaking contribution to expanding our approaches to mental healthcare and makes 30 years of research on movement and mental health accessible to guide families and professionals in incorporating physical activity into fostering mental and emotional wellbeing."
Victor and Lynne Brick, who own over 75 Planet Fitness health clubs, founded the organization in honor of Victor's brother, who suffered from and eventually died from complications of schizophrenia. Through research, programs and collaboration, the John W. Brick Foundation aims to give individuals struggling with mental health issues the possibility of enjoying a better life.
More people are talking about their mental health journeys than ever before. Accompanying this reduced stigma, exercise, nutrition and mind-body disciplines are empowering people with a broad array of evidence-based approaches to support their mental and emotional well-being.
To learn more about the John W. Brick Mental Health Foundation, visit their website and find out how you can make a difference in someone's life and help change the way the world treats mental health.
About the Author, C. Victor Brick, M.Ed.
C. Victor Brick, M.Ed., is the co-founder/CEO of Planet Fitness Growth Partners, which owns and operates 80 health clubs in the United States and Australia. He is the founder of the John W. Brick Mental Health Foundation, whose mission is to change the way the world treats mental health. Victor sits on the Advisory Board of the Global Wellness Summit and, along with his wife, Lynne, was the 2020 recipient of the Debra Simon Award for Leadership in Furthering Mental Wellness.
About the Author, Lynne Brick, BS.R.N.
Lynne Brick, BS.R.N., is an international health and fitness presenter, consultant and author. She has been featured in a dozen exercise videos and is the 1990 IDEA International Instructor of theYear. She's also the co-owner, with her husband, Victor, of Brick Bodies and Planet Fitness Growth Partners, totaling 80 clubs in the US and Australia. She is also the co-founder of the John W. Brick Mental Health Foundation and the 2020 recipient of the Global Wellness Summit Debra Simon Leadership in Mental Wellness Award.

8 Underestimated Strategies for Growing Your Fitness Business
by Jordana Schelberg
Launching a business can be overwhelming. For many of you who went from working in a studio or a gym pre-pandemic, venturing out on your own requires you to think way more holistically than before. That being said, the experience of building something all yours on your own terms can be game-changing. When it comes to attracting clients and steadily growing your business, don't overthink it. It all boils down to three words; Awareness, Acquisition and Retention. The simplest of strategies for achieving these goals can make the biggest difference. Don't believe us? Read on for a list of actions you can implement right away with SPACES, our business management platform to help secure a big pay-off.
a href="https://get.thetalenthack.com/scwmania/" target="_blank" rel="noopener">
1. Give your first-timers some extra love: Awareness & Acquisition
Provide deals to your first timers by offering them special attention. New clients are way more likely to pop into class when there's no financial risk. The ball is in your court to dazzle them and keep them coming back. Maybe try a follow-up specials, like a discount on their first class pack.
Talent Hack SPACES feature highlight: Use promo codes to lower the barrier to entry and maybe even consider a "first-class for free" option. After class, target new clients with a follow-up welcome email using our automatic email system… set it once and it'll fire automatically to welcome all new customers. Want a little more? Let our team build an optimized intro-class pack to make sure that newbies keep coming back enough times to get hooked.
2. Provide payment options to capture more leads: Acquisition
Just as promo codes can help lower the barrier of entry for new clients, providing offerings across all price-points helps you remain accessible and build a steady client acquisition funnel. Capturing clients at the low end of the scale with flexible, "pay what you want" pricing allows you to grant a no-pressure point of entry for those with budget constraints or who are exploring their options. On the flip side, you can create value for different demographic groups with packages, on-demand and memberships. The more they commit up front the bigger the discount.
Talent Hack SPACES feature highlight: "Flexible Pricing," allows you to set a recommended price but ultimately your clients can choose however much they want to pay, from $0 or to $100, it's up to them. This can be a great tool to gauge average price sensitivity of your clients and set your standard classes accordingly. You can even decide to set a floor so there's a minimum they must pay.
3. Upsell class participants to personal training: Retention
Though it might seem like revenue from group classes could trump revenue from personal training, a healthy mix of both is key in your business strategy and can largely impact your bottom line. Upsell your class participants and encourage them to come to you for personal training. They already see your value and are coming to you for a reason. So make it easy for them to join you in a more personalized way.
Talent Hack SPACES feature highlight: Clients can purchase a personal training session (or package) easily and even schedule directly through the platform. It might just take a reminder from you, so maybe end your classes with that encouragement or work in that "call to action" in your next email.
4. Build your offerings around accountability: Retention
Meet pre-commits, it's our secret weapon feature and strategy built to keep your clients coming back. While you can choose to offer packs and unlimited memberships, pre-commits get our gold star for retaining clients. They are recurring memberships that are very similar to unlimited memberships, but with one key difference; clients are auto-booked into all classes for the month. Think of it more like a monthly program, where you set the course.
Pre-commits work for three reasons. First of all, they help clients reach their goals faster and see real results due to the commitment. Secondly, pre-commits remove decision fatigue and position you as the expert. Lastly, they turn your clients into a community which helps them feel more connected to each other and most importantly, you.
Talent Hack SPACES feature highlight: Pre-commits are your best friend when it comes to retention. Selling upfront will not only guarantee revenue for you, but also build in accountability and commitment from your clients. Additionally, for clients who seem to be churning, we've got you covered with a re-engagement email sent through our automatic email system.
5. Grow with referrals: Awareness & Acquisition
Do you know the number one source of gaining new clients? Existing clients. Leverage the clients who are already gushing about your classes to their friends over brunch by empowering them to take an actionable step to get them to join in. The key: making it incredibly easy for them to do so.
Talent Hack SPACES feature highlight: Referral programs are unlikely to help you grow in a big way without a seamless solution, so we built it into SPACES. Each client gets their own unique link to easily share and credit accrues directly in their account. Couldn't be more seamless.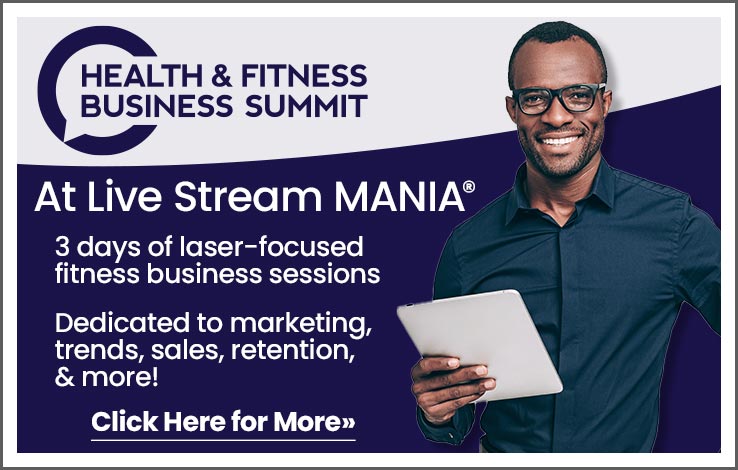 6. Create and stick to a consistent schedule: Acquisition & Retention
Consistency is crucial for building habits and reaching goals, so it should come as no surprise that your clients aren't any different. They rely on you and make their schedules around your workout times. If that changes every week, you'll likely lose a few clients. Ultimately, consistency on your part will lead to more consistency in your clients and more business. How? Plan your schedule out in advance. Make sure any adjustments made are worth upsetting the schedule and possibly your clients. Add your classes by using the Spaces recurring scheduling feature and encourage clients to buy packages and sign up for classes in advance. Lastly and most importantly, make sure you stick to it! Use our automations like auto-record, auto-upload and auto-share to add an on-demand component to your live offerings.
Talent Hack SPACES feature highlight: When you create your schedule, be sure to set the regular classes to recurring and for how long. That way you don't have to worry about uploading your classes week after week and your clients can sign up and pay for months in advance. Also utilize our automation features to minimize your administrative work and increase your chances of sticking to a regular schedule.
7. Make it as easy as possible for your clients: Retention
This one is certainly not rocket science but can not be overstated. People like EASY! Even the most seemingly simple tasks, like plugging in your credit card can be enough to abandon checkout. Think about it: how many times have you started to make a purchase, realize you didn't have your credit card available and think to yourself, "I'll come back to this…" Don't let it happen to your business!
Talent Hack SPACES feature highlight: Remove that barrier with the SPACES client dashboard. All it requires is a one-time credit card entry, two clicks to sign up for class, view the pricing options and checkout. There is even an option to add a subscribe button. K.I.S.S.- Keep it simple, silly! Your whole schedule, including on-demand, can even embed right into your website or use your SPACE to drive sign-ups if you don't have one.
8. Increase your Exposure Through a Larger Network: Awareness
As this article should have reminded you, you are in control over growing your business. However, one crucial piece that most trainers feel is mostly out of their control is their exposure. At a given time, there's only so much access you have to potential clients, and in the game of growth, it's all about the eye-balls.
How can you introduce yourself to new audiences of potential clients and get in front of as many eye-balls as possible? Find a partner. Talent Hack was built to help propel the trainers in our network farther, faster. Everything we create has the added component of our Talent Hack effect — whether that's through paid ads, targeted email campaigns we send on your behalf, our partnership with Gympass, or even our CEO taking your class and blasting it to her entire personal network. We launched Branded Spaces, with the goal of partnering you with like-minded brands and gaining access to new clients, all while getting you paid. Want to be considered? Let us know here.
Curious about this SPACES thing and how it can power your business? Learn more here. Ready to create your Space and start implementing your learnings? We love a fitpro with a plan. Create your account here, and head to "Control Center" to start setting up your SPACE.
Talent Hack is a proud sponsor of SCW Fitness Education. Join them at the upcoming in-person MANIA® Fitness Conventions returning this fall at Midwest (Chicago), Dallas and Boston.
About the Author, Jordana Schelberg
Jordana runs Brand Marketing at Talent Hack, overseeing brand strategy, communications and content for the brand. She has coached hundreds of fitness talent through Talent Hack's education accelerators to develop their own personal brands and reframe their businesses to work smarter, think bigger, and start attracting dream clients. She's passionate about empowering fitness professionals to stop hustling and start building strategic, sustainable businesses. Prior to Talent Hack, Jordana worked as a brand strategist on fortune 500 CPG brands like Dove, Kiehl's, Vaseline, Nutella, and Samsung at Publicis Groupe.

Catch-Up with Talks & Takes: Fitness Industry Trends & Hot Topics
by Robin Taylor
As a regular SCW Spotlite reader, you know we try and provide the latest news and education trending in the fitness industry. In addition to the FREE SCW weekly webinars, one such panelist collaboration that we consider worth setting aside time to listen and watch is Talks & Takes on the IHRSA site and sponsored by ABC Fitness Solutions. SCW's very own Sara Kooperman is a regular contender along with Brent Darden, Bill McBride and Blair McHaney on this monthly talk show. These four incredibly smart, savvy and business-minded health and wellness experts talk about current events, industry news and hot topics.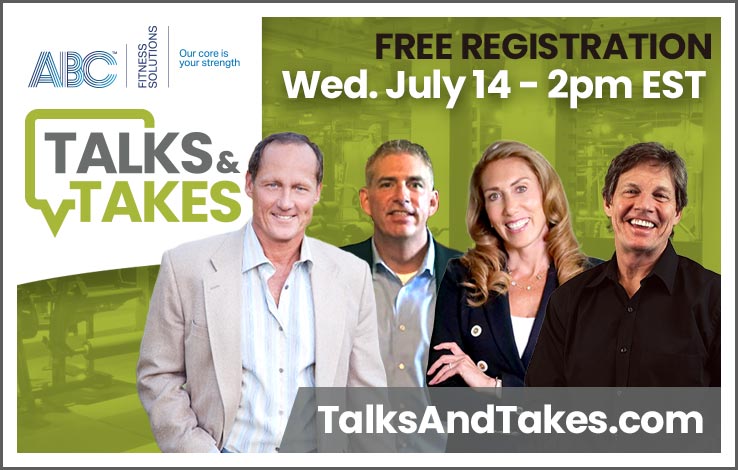 Sometimes we don't always have the luxury to sit and listen or watch a 45 minute webinar panel or podcast. Talks & Takes began in February of this year with the hopes of addressing owners, managers and other professionals in the fitness spectrum. They have since recorded five episodes each discussing valuable trends occurring each month. Here is a quick rundown of some of the subjects making headlines.
February
The GYMS Act, holistic trends and post-COVID training

March
How to Elevate Women in the Industry, Nine Keys to Becoming Future-Ready and Five Economic Trends to Watch
April
Social Fitness Apps, Remote Work Relocation and Gyms, and Name Trends
May
Celebrities As the Face of Fitness, Update on the GYMS Act and the So-Called "Labor Shortage" (Allison Flatley steps in for Sara Kooperman)
June
Is Fitness a Lifestyle?, Basement Burnout and Club Pricing & Discounts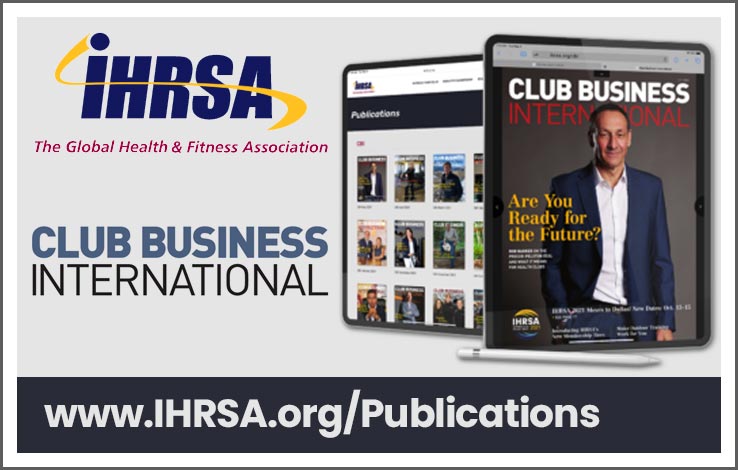 Feedback from viewers has been incredible and gracious.
"I enjoy the level of expertise everyone at the table brings, especially Sara, I strive to be her!"
–Brett Ashley Davis, University Athletic Management, Lawrenceville, NJ
"Panel presented timely topics and timely suggestions that could work, depending on your situation."
–Andre Watson, AMMC Wellness Center, Paragould, AR
"Well worth my time, very valuable content and well -presented."
–Lisa Gorsline, Corpus Christi Athletic Club, Corpus Christi, TX
You can listen and watch these highly informational, possibly controversial and sometimes comical webinars at www.talksandtakes.com.
The next intriguing and captivating episode of Talks & Takes occurs on Wednesday, July 14, 2021, from 2 p.m.- 3:15 p. m. EDT. Click here to REGISTER. We look forward to having you join in.

Meet the Winners of Over $4,000 in Free Fitness Prizes
SCW Live Stream MANIA® in May was a huge success with hundreds of attendees. Our generous Live Stream MANIA® sponsors provided several thousands of dollars in prizes for an online Enter-to-Win contest. Giveaways include certifications, subscriptions, trainings, educational courses, masterclasses and mentorship packages.
CONGRATULATIONS to the 18 lucky attendees from our recent Live Stream MANIA® Enter to Win
| | | |
| --- | --- | --- |
| Raeshelle | Sharpnack | BEATBOSS – FREE Tuition to BeatBoss™ Certification Weekend |
| Sandra | Taylor | BEATBOSS – 1 Month OnDemend Subscription |
| Noreen | McLaughlin | BODY HARMONICS – FREE Annual On-Demand Subscription |
| Deborah | Oneal | CHAIR ONE FITNESS – Free Chair One Fitness Training |
| Cheryl | Moore | CONSCIOUS COUNSEL – FREE Legal Course: Operating Your Fitness Business |
| Alicia | Weinkrantz | CONTIFIT – Let's FACE It Together™ Certification |
| Stephanie | Hoffman | CORE Health & Fitness – Nautilus Strength Course |
| Lisa | Shuwal | CORE Health & Fitness – Star Trac Cardio Coach Certification |
| Belinda | Lambert | CORE Health & Fitness – Schwinn Cycling Certification |
| JoAnn | Lawson | CORE Health & Fitness – Stairmaster HIIT Certification |
| Nicole | Gordon | GXunited – Mentorship Pack: 60-minute Mentor Chat + 3-months access to GXunited.TV |
| Denel | Bingel | MiMo Method – FREE masterclass – Life Coaching Strategies |
| Liz | Estabrook-Hatfield | SH1FT – FREE Training & Certification in any SH1FT Format |
| Sophia | Burrell | TALENT HACK – Six Steps to Six Figures Accelerator Course, Business Strategy Consulting Call & 3 Months of SPACES Premium |
| Debbie | Key | WATERINMOTION – WATERinMOTION® Certification |
| Ashleigh | Herndon | Nutrition Coaching Summit All-Access Pass: June 19, 2021 |
| Emily | OConnor | 500+ OnDemand Video Subscription |
| Christina | Chapan | SCW Active Aging Certification |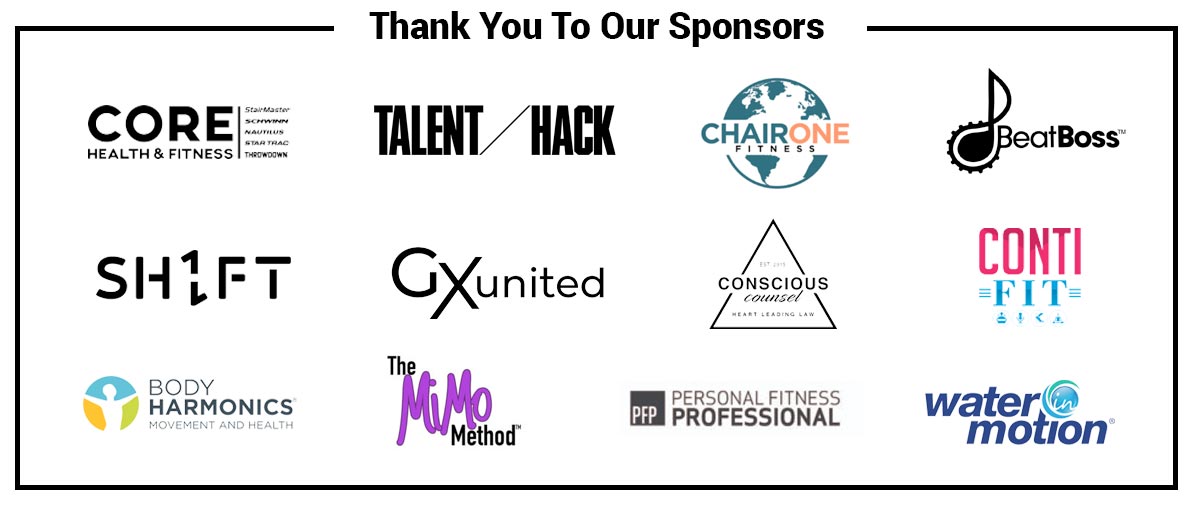 Thank you so much for joining us for our May Live Stream MANIA® convention. Congratulations again to all of our winners! We thank you for your support and look forward to seeing you LIVE and IN-PERSON at Midwest MANIA® (Oct 1-3), Dallas MANIA® (Nov 5-7) and Boston MANIA® (Dec 10-12).
Be sure register for our upcoming events, Active Aging Summit (July 24-25) and Functional Trainer Apex (August 28-29) with dozens of new and exciting specially designed sessions and top globally recognized expert trainers and presenters.

Food Intake from 1970 through 2019
by Sara Kooperman, JD
Growing up over the past 50 years or so, we were always told to eat everything on our plates, after all, there were starving children somewhere, or "if you take it, you MUST eat it or you won't grow." We've all heard the nutrition information mantra, "you are what you eat. " The food pyramid had us piling our plates with proteins, carbs, veggies and fats multiple times a day to get the recommended daily servings. Does that still apply today? Let's take a look at the latest research and see how the U.S. population has altered their viewpoint on food and how the recommendations may have changed.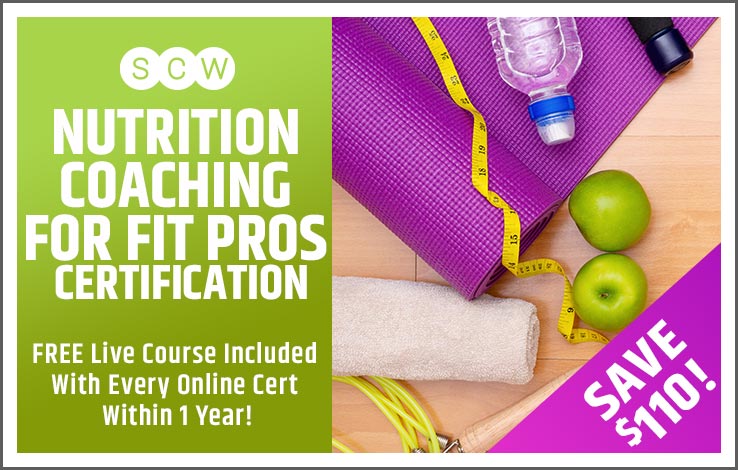 Looking at the statistics between 1970 and 2019, we see an increase in healthy choices. Nathan Yau, a PhD in Statistics from UCLA and a writer for FlowingData, compiled some interesting information on how the American public seems to be making better choices. Of course, there is still room for improvement, but we have begun to see a slow and steady increase in change for the better!
Proteins
Beef continues to decrease, whereas chicken continues to increase. Chicken took away the top spot from beef in 2004 and has reigned supreme ever since.
Vegetables
Fresh vegetables have increased (as opposed to canned or frozen). Potatoes made up about 50% of all fresh vegetables in 1970. In 2019, that rate was about half, while overall vegetable consumption increased and spread out through more varieties.
Fruits
Among fresh fruit, apple consumption did not change much, but bananas appear to have gained some popularity. Strawberries, grapes, and avocados were the low hanging fruit but are now higher in the ranks. Orange sales are down significantly.
Juice
While fresh apples dipped a little, apple juice continues a steady climb. Grapefruit juice indulgence continues to decline as well as its whole counterpart and the same goes for orange juice.
Dairy
Whole milk used to be the most common dairy beverage by a substantial amount, but volume is more evenly split between whole, two percent, one percent, and skim. On the other hand, dairy food consumption is up, namely cheese and yogurt, which probably explains the wide variety at the grocery store.
Grains
Flour based food products are up almost across the board. Corn flour, corn meal, corn hominy and grits have also increased in popularity.
Added Fats
There is a decrease in demand for margarine and a bump for butter.
It seems, we are making healthier choices as information becomes more and more available to the general public. With the increase in fruit and vegetable variety substantiated, "we are what we eat" still reigns true. As professionals, it is important that we continue to spread the word on health and wellness in both fitness and food!
About the Author, Sara Kooperman, JD

Sara, CEO of SCW Fitness Education and WATERinMOTION®, is a visionary leader that has transformed the fitness education community. A successful business owner and advisor, she is a keynote speaker, published author, podcast presenter and sought-after industry trail-blazer. Sara has a unique ability to share her passion and devotion towards fitness education through her humor, enthusiasm and her effervescent no-nonsense personality. She serves on the Gold's Gym Think Tank, was on the Women in Fitness Association Board of Directors and is a proud inductee into the National Fitness Hall of Fame. Sara currently serves on IHRSA's Headlight Committees for Facility Standards and has left an indelible mark on the fitness industry as a whole.

We're always looking for great content highlighting the newest things in the world of fitness. Please submit your article directly to
[email protected]
for immediate consideration!
Give us your feedback on what interests you, and maybe YOU will make it in the SCW Spotlite!