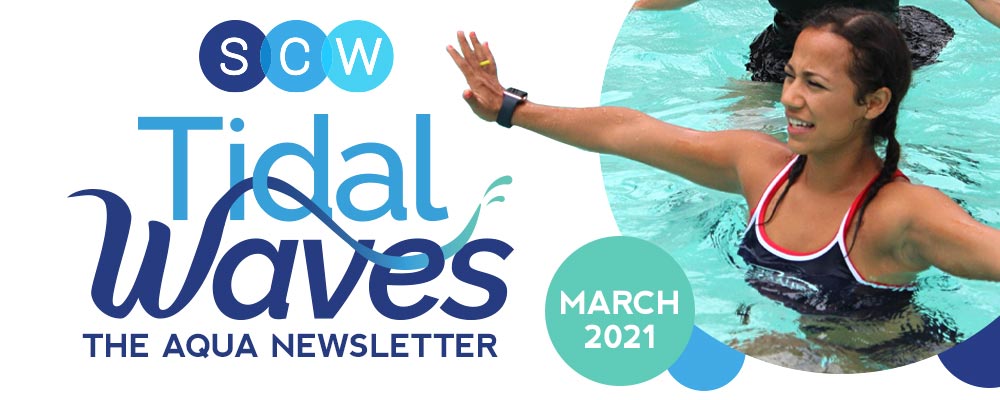 Tidal Waves
March 2021
The Aqua Newsletter from SCW
The Roaring 20s Will Not be Dry Again!| Aqua Pool Party | Dry or Wet, That is the Question | Neuroplasticity: Training the Brain While Training the Body | Muscular Strength and Endurance in Water Fitness | Simple Quinoa with Spinach, Tomatoes & Walnut
---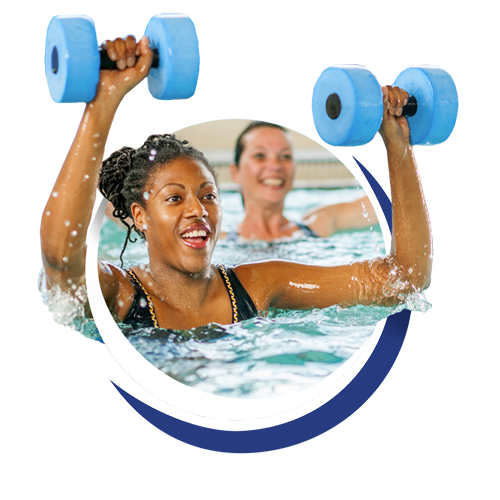 The Roaring 20s Will Not Be Dry Again!
by Cheri Kulp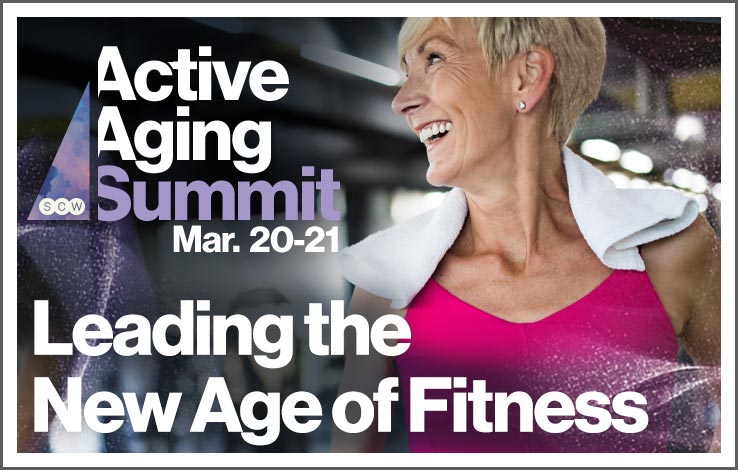 The 1920s, known for Flappers dancing to popular jazz, the Great Depression, the 19th Amendment and of course moonshine. Fast forward 100 years. We could have never predicted the long list of unprecedented events, like fitness center & gym shutdowns, employee furloughs, guidelines and restrictions and various forms of COVID-19 mandates including wearing a face mask and social distancing. All of these restrictions and many more may have left you feeling like the world has returned to the days of prohibition. Gone are the huge group ex classes filled with chatter, hugs and high-fives. Gone are social outings with friends and workout partners, replaced with Zoom, YouTube and Facebook workouts behind closed bedroom doors where links and codes are necessary to gain entrance. While those of us in the fitness industry are indeed grateful that technology has allowed us to continue teaching in some capacity, most of us are definitely ready to return to the world of in-person interactions and connections and especially smiles we can see.
Even with all the restrictions that bar us from enjoying some of the ways we like to work out, it has been determined that the pool, the most expensive piece of equipment in a gym, is the safest place to exercise. With the assurance of the CDC's (Center for Disease Control) findings, COVID-19 cannot be spread through the water. They determined that pool chemicals have 6-times the strength to kill the coronavirus. Many pools are re-opening their doors and aquatic members are more than ready to jump back into group exercise, not only to get stronger but to leave last year's trials in the past and take on new challenges in their favorite environment. The POOL.
The American College of Sports Medicine and the American Heart Association recommends strength training on at least two non-consecutive days for a minimum of 8-12 repetitions (10-15 reps for older or frail individuals) be included for health and well-being. Those of us who work with individuals in the water on a regular basis know that many of our participants would rather do, pretty much anything except lift weights out on the gym floor. Whether participants have serious physical limitations, such as arthritis, fibromyalgia or balance issues that make lifting uncomfortable or even painful or are self-conscious about their weight, these members avoid strength training at all costs. The reality is, we all need some type of strength training to maintain our overall health. This becomes even more important as we age.
The professionals from WATERinMOTION® have created just the solution to meet this need. A new year brings a new outlook, new releases and best of all a brand new format, WATERinMOTION® Strength! This innovative, muscular strength and endurance-focused workout utilizing aqua dumbbells, brings yet another dimension of exercise to an already well-established, branded pool program.
Strength training can be defined as any type of physical exercise specializing in the use of resistance to induce muscular contraction against an external force which builds power, anaerobic endurance, size of skeletal muscles and bone density. Considering the density of water, approximately 800 percent denser than air and 12 times more resistant, just entering the pool allows resistance to occur, creating muscle contractions that are needed when training to get stronger.
WATERinMOTION® Strength was devised with all of this in mind. For those individuals who need the incredibly forgiving properties of the water, as well as those looking to change up their routine, whether to cross-train or try something new with minimal stress to their bodies, will find success and enjoyment in this type of muscular training. Aqua dumbbells allow for a variety of positions, speeds and forces. Participants will see improvement in overall body toning, core stability, balance and muscle endurance. As a WATERinMOTION® format, certified instructors on Wautoship, receive new music, choreography, notes and education every three months which allows their participants to experience different ways to challenge their muscles with each new release.
This one-of-a-kind program is structured similarly to WATERinMOTION® Original and Platinum.
The WATERinMOTION® Strength format offers a 45-minute class format that includes 8 songs each focusing on a specific area of the body.
TRACK 1: WARM-UP
The first song motivates the body and brain to awaken with large, simple cardio moves that gradually prepare the muscles and mind for what is to come.
TRACK 2: LOWER BODY 1
Now that the body is loosened up, lets dedicate the legs to an increase in range of motion and slowly elevate the heart rate by introducing aqua dumbbells in order to enhance cardiovascular and balance challenges through increased resistance.
TRACK 3: UPPER BODY 1
Continuing into the next song, we shift the focus to the upper body muscles and incorporate exercises that include rebound, neutral or flotation.
TRACK 4: CORE 1
Last, but certainly not least, the last concentration is the abdominal and back muscles, commonly referred to as the core.
We've made it half-way through this spectacular workout, so it's time to push a little more and repeat each muscle group a second time.
TRACK 5: LOWER BODY 2
Returning to the lower body, we keep the resistance with creative use of the aqua dumbbells in order to increase the heart rate and core temperature again, creating high intensity with low impact movements.
TRACK 6: UPPER BODY 2
For round two of the upper body, we continue to strengthen, tone, and gain endurance in the muscles of the back, biceps, triceps, chest, and shoulders, using one or both aqua dumbbells.
TRACK 7: CORE 2
Our core muscles keep us standing tall, so a repeat use of these muscles keeps us coming back!
TRACK 8: FLEXIBILITY
Our last music track is a celebration of our fantastic efforts while bringing back focus on mobility and flexibility in the entire body. What an awesome finale!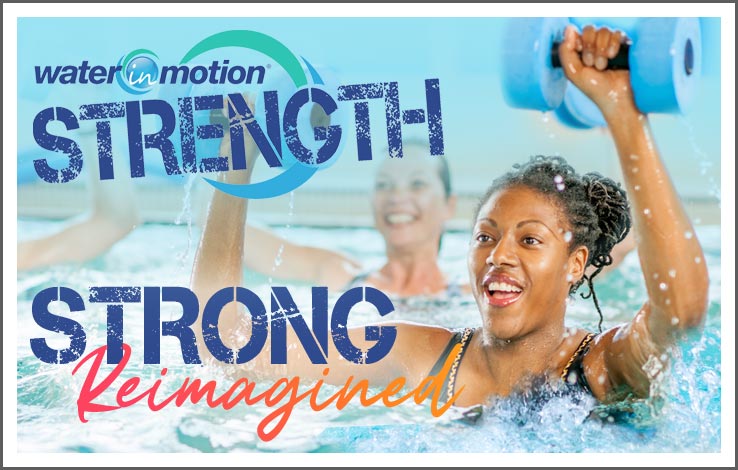 As with both the WATERinMOTION® Original and Platinum programs, the music and choreography structure will contain a verse, chorus and bridge repeated three times to coach for Move, Muscle, Motivation. Exercisers should be taught to understand the moves, then engage the particular muscle group and then work towards power and fatigue to build both strength and muscular endurance.
On March 1, 2021, the next round of all three WATERinMOTION® programs were released, Original, Platinum and Strength. All WATERinMOTION® instructors, who teach at a licensed facility and on Watoship will have access to them and future releases.
WATERinMOTION® Strength was created to bring in another element of training to the water, particularly those individuals who want to enhance their cardio workouts by building lean muscle and muscular endurance for activities of daily living. However, the program can be adapted for most individuals. Participants should be encouraged to create big white water movements, working to fatigue for each set of exercises. The language used by the instructors should be concise and energetic and more athletic compared to Original and Platinum formats.
The usage of aqua dumbbells requires a fair amount of scapular retraction and postural control and for this reason, participants will need to be educated on choosing the correct size dumbbell, finding the proper water depth to remain in control while moving the dumbbells and knowing the difference between fatigue and overtraining. Members with shoulder or wrist issues may need to start by just pushing the hands in the water and using the dumbbells during flotation tracks until they get stronger or a doctor's release.
This unique program is easy to learn and follows the same choreographed mapping as Original and Platinum. Each of the tracks have a set focus, motivating music and purpose. Movements vary from rebound, to neutral, to flotation. The one big difference is that the choreography has been formatted to be straight-forward, simple to follow, and very athletic.
For a taste of the new and exciting WATERinMOTION® Strength, check out the upcoming SCW Aqua Exercise Summit, May 1, 2021. If you aren't familiar with the Original and Platinum programs, they are also on the schedule. We are so very excited to introduce this energizing format. We know you, your members and management are going to love the new splash in the pool. Let's get stronger together, one wave at a time!
---
---
---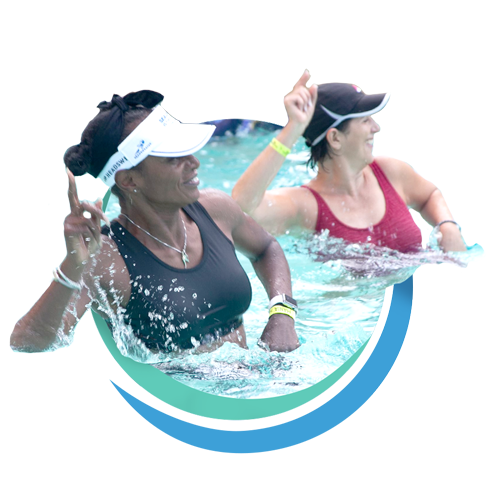 Aqua Pool Party
by Dominic Gili
What's a party without music? We all love music, whether it's disco or classical, rock-n-roll or hip hop. Music has the capacity to elicit an emotional and physiological response. When we combine popular music with simple choreography in our aqua fitness classes, we can create fun and challenging workouts that energize bodies, engage minds and entertain clients of all ages and abilities.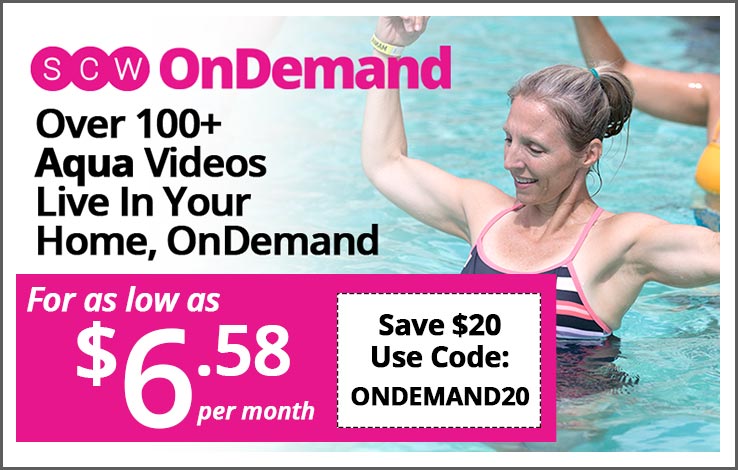 Music and Exercise
Two of the most important qualities of workout music are tempo and what psychologists call rhythm response, which is how much a song makes you want to move. Most people have an instinct to synchronize their movements with music – to nod their heads, tap their toes or hit the dance floor.
A wide body of research on the benefits of music and exercise has helped psychologists refine their ideas about why exercise and music are such an effective pairing.
The science tells us that listening to your favorite playlist causes the brain to release the 'feel good' chemical dopamine and reduces the stress hormone cortisol. It has the potential to distract people from pain and fatigue, sharpen focus, increase endurance and reduce perceived effort. Helping people to run farther, bike longer and swim faster than usual, often without realizing. Synchrony even helps the body use energy more efficiently. In a 2012 study, participants who cycled in time to music required 7 percent less oxygen to do the same work as cyclists who did not synchronize their movements with background music.
Movement and Choreography
Aqua fitness provides a great opportunity for clients to hone their movement and coordination skills through easy-to-follow choreographed routines. Research suggests that dancing and similar choreography-based activity can have a positive impact on the mental health of elderly individuals. Dancing offers protection against dementia, as it requires rapid-fire decision making when learning new choreography within a routine, which sparks the brain into action.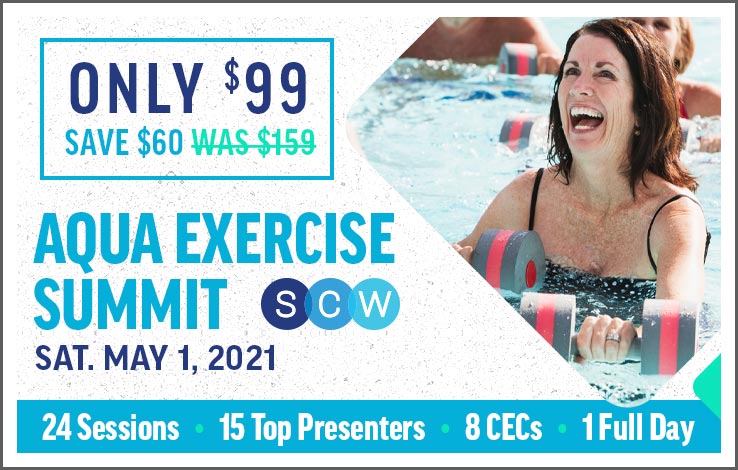 Song Selection
Choosing the right music is the key to ensure an enjoyable experience for clients. Select music that is well-known to your group and will resonate with them. If you're unsure of your client's likes and dislikes, then ask them for song requests. My clients are enthusiastic with song suggestions and always appreciate being asked.
Research suggests that listening to familiar music is a positive indicator for enhanced focus. Unfamiliar music causes people to lose focus as they try to take in the new sounds and once your clients lose focus, they are likely to start talking.
When considering songs for your 'aqua pool party' playlist consider the following musical traits:
Songs with well-known choreography – YMCA, Greased Lightnin', Macarena, Conga, Zorba, Can Can
Songs with sing-a-long lyrics – Hey Baby, Sweet Caroline
Lyrics that suggest moves – Let's Twist Again, Jump
Using a playlist full of popular and uplifting music helps to immerse people in the rhythm and also take their minds off the workout. As instructors, this presents us with a unique opportunity to create an enjoyable and memorable workout which leaves clients looking forward to your next class.
---
About the Author, Dominic Gili

Dominic Gili is an award-winning Aqua Fitness Specialist from Sydney Australia with a reputation for offering innovative, engaging, and challenging water workouts. Dom is the founder of AquaFitnessOnline.com which offers online training videos and resources. He has shared his passion for Aqua Fitness at conferences in the USA, UK, New Zealand, and Australia.
---
---
---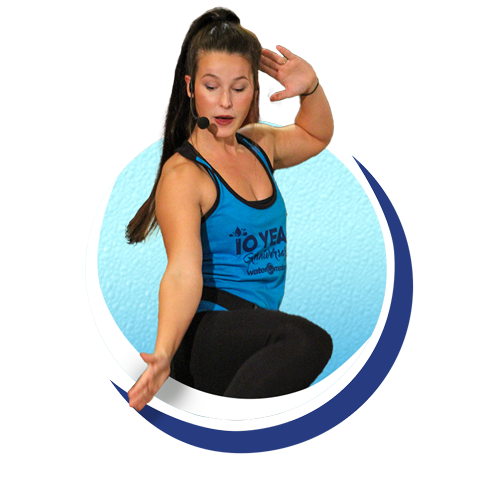 Dry or Wet, That is the Question
by Robin Taylor
Fitness Instructors, especially those who teach aqua, are often asked what the difference between walking in the water is and walking on land. The general consensus agrees that walking in the water places less stress on the body's joints, but no research exists to prove any medical benefits, until now. Recently, two studies were conducted on older adults to help understand the effects of aerobic fitness and body composition between these two variations. Before we examine the findings, it is important to note the health and safety of walking in the water versus on land. According to the CDC (Centers for Disease Control), pool chemicals have six times the strength to kill the coronavirus. This makes for a very safe environment as long as six-foot social distancing is maintained. Additionally, ventilation and air circulation are typically much better in pool areas than other areas of a fitness facility.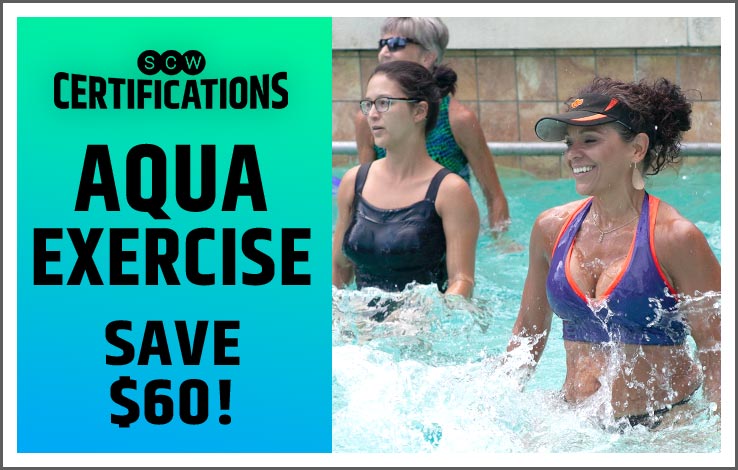 The first of these studies, titled "Land-walking vs. water-walking interventions in older adults: Effects on aerobic fitness", focused on the effects of changes in aerobic fitness. (Andrew Haynes et al., Land-walking vs. water-walking interventions in older adults: Effects on aerobic fitness, Journal of Sport and Health Science (2020)) The purpose of the study was to look at ways to increase cardiovascular health via walking. As already known, exercising in the water decreases the chance of falling and musculoskeletal injury, but it was unknown if water-walking improves aerobic fitness when compared to land walking.
Researchers divided 72 participants, consisting of older sedentary adults, into three groups: no-exercise control group (CG), land-walking (LW) and water-walking (WW) and focused on the results of oxygen intake through walking in water and on land. Through a six-month period, the two exercise groups participated in equally matched intensity sessions 3x a week for 150 minutes for 24 weeks, followed by another 24 weeks of no activity. Exercise assessments to test oxygen consumption were performed on a treadmill prior to starting the study, at the end of the first 24 weeks and at 48 weeks (the end of the study.)
The study concluded that both exercise groups showed an increase in oxygen consumption. The LW group showed their exhaustion levels improved, but at the completion of the study, any increase in oxygen intake levels in both exercise groups returned close to the baseline. Due to the age of this population, water-walking is superior for older adults due to the decreased stress placed on joints and the decline in fall risks associated with water-walking.
The second study, "Land-versus water-walking interventions in older adults: Effects on body composition", was conducted similarly to the first study. (Louise H. Haylor et al., Land-versus water-walking interventions in older adults: Effects on body composition, Journal of Sport and Health Science (2020)) The purpose was to compare body composition, specifically muscle mass, between two groups of inactive older adults after walking for a set length of time. Researchers questioned whether water-based walking has as much of an impact as land-based, knowing that increasing physical activity is extremely important for the aging population, whether it is done on land or in the water.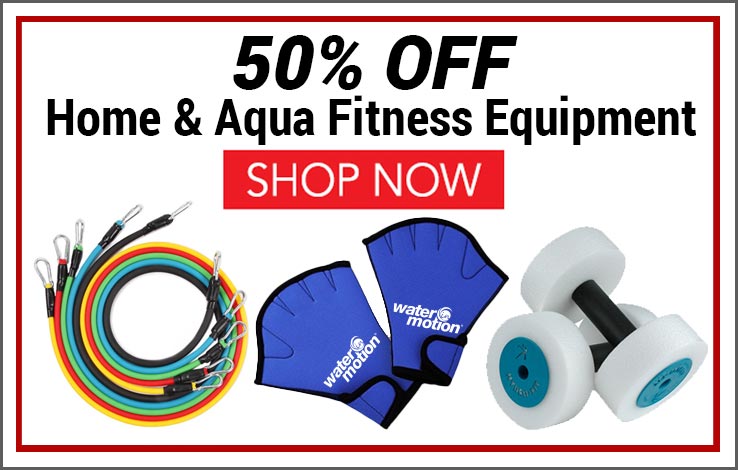 Similar to the previous study, 72 participants with an average age of around 62 years old, were observed for 24 weeks. They were randomly put into three groups: land-walking (LW), water-walking (WW) and a non-exercise control group. Those in the activity groups exercised 3x/week at the same levels. All three groups had body composition (height, weight, body mass index, waist and hip) measurements taken and an x-ray measuring fat and lean tissue mass was also used. Assessments were completed before and after the study.
The results were interesting. No significant changes to body mass or BMI were noted in either of the exercising groups. However, body fat was reduced in both the water-walking and land-walking groups. It was noted that the WW participants had an increase in lower limb lean mass, due to the properties of the water. To conclude, walking as exercise is beneficial, but not for measuring weight or body mass. For the active aging population, water-walking is recommended for older adults, not only for changes in body composition but due to decreased stress placed on joints and the decline in fall risks.
While land and water walking both shows positive benefits, the most important factor when deciding on an exercise program is consistency. Exercising regularly, no matter if done on land or in water, benefits the entire body; from head to toe, both inside and out. So, slip on your favorite pair of running or water shoes, grab your water, and take in some vitamin D, whether you're strutting your stuff on the treadmill or in the pool!
---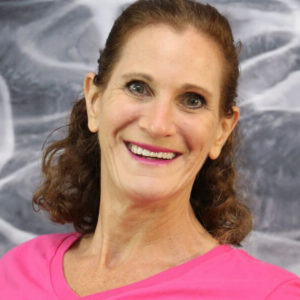 About the Author, Robin Taylor

Robin is the SCW Editor for Spotlite, Tidal Waves and Weekly Work-UP as well as the Assistant Product Manager for WATERinMOTION and MANIA. Having taught Aquatic Fitness for over 15 years, Robin is AEA and AFAA certified and a WATERinMOTION Champion. She has participated in several WIM filmings, as both a pool participant and on-deck presenter. Robin has been an employee of SCW for almost five years. She is married and has two adult daughters and has a Bachelor's degree in Journalism from the University of Florida.
---
---
---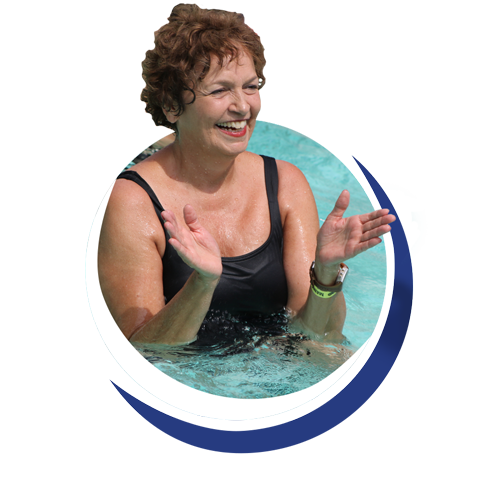 Neuroplasticity: Training the Brain While Training the Body
Adapted from the SCW Fitness Education's Active Aging Certification written by Lawrence Biscontini, Edited by Connie Warasila and Amy Weisenmiller
When considering our "active aging" population, it is so essential to consider more than just the physicality of the body. Of course, we want to focus on activities of daily living, a healthy body composition and movements that keep us young and active, but what we also must consider is the mind body connection and the topic of neuroplasticity. As we age our brain begins to deteriorate as well, resulting in potentially permanent impairment, functional disability, and even personality changes. Given this information, it is our duty as coaches for this population to find ways to "retrain" the brain and allow our participants to achieve not only physical goals but also enhance their lives through brain training.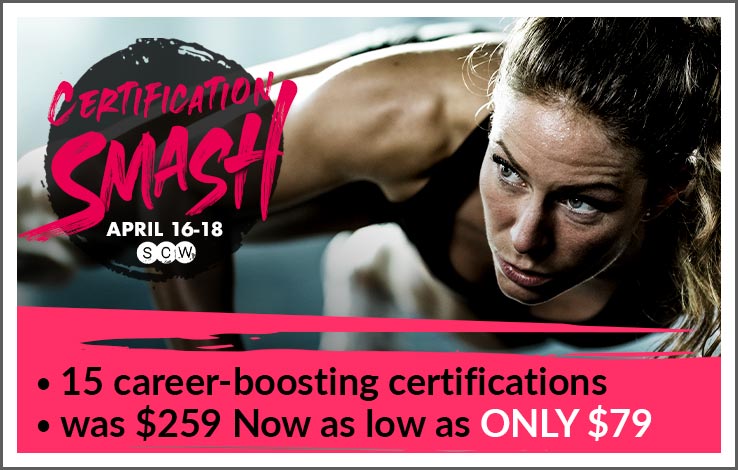 The original term "plasticity" regarding brain training dates back to William James in his Principles of Psychology in 1890, and lately it has evolved to the full term "neuroplasticity," referring to training the brain as if it were a muscle while applying similar fitness concepts of adaptation, sets, repetitions, timed performance, and specificity (Ferris). Today, recent research tells us about the importance of neuroplasticity training combined with physical movement skills to strengthen, improve, and even change some brain regions (Adams, Reynolds). Furthermore, research reveals how training the brain's different capacities can help manage anger, fear, and depression (Begley), and serve as a viable complement and sometimes alternative to interventional brain medication (Doidge).
Neuroplasticity Training Implementation: The Body Must Move!
An approach of right-and-left-brain training draws upon mental tasks that require different sides of the brain to function in an undulating format combined with simultaneous physical tasks. To be considered neuroplastic training, the mental tasks need to occur during simultaneous physical tasks as well (Fleshner). To be sure, the body's movement does not have to be intense, but must involve some form of coordinated movement.
Neuroplasticity General Guidelines
Neuroplasticity occurs with movement.
Drills work best when done in one's strongest language.
Most games come with timed suggestions, so try to follow those closely. For example, counting from 1 to 50 in increments of 7 digits may prove easy but having to reach the number 50 in 20 seconds or less or on the beat of music adds an additional layer of difficulty.
When using amounts of objects, the research agrees that the most desired number is 7 (Glazener).
Common Examples
Conversation Example: "What did you have for dinner last night?" seems an innocuous question between friends. The answer depends on one's ability to use a certain amount of memory, but this does not constitute neuroplasticity training. However, asking each other to list in reverse order what he or she ate for dinner the previous night while walking their pets during an evening stroll constitutes neuroplasticity training for two reasons. First, the task requires the mind to work simultaneously with the body engaged in a movement skill. Secondly, and more specifically, the memory-recall and spatial skills of reverse order come from left-brain tasks.
Lunge Example: Another common example could include the more traditional fitness training movement of alternating fitness forward lunges. Try to make a list alternating between fruits and vegetables while doing alternating forward lunges. Lunging forward with the left leg, say "broccoli," for example, and then, when lunging forward with the right leg, say "pineapple." Continue this process of making a list of vegetables with the left leg and a list of fruits with the right leg. This constitutes neuroplasticity training because the mind works while the body engages in physical activity. The problem-solving (making two simultaneous-yet alternating-lists while alternating between fruits and vegetables without stopping) taxes the brain with right-brain tasks and the physical movement coordination is a left-brain task.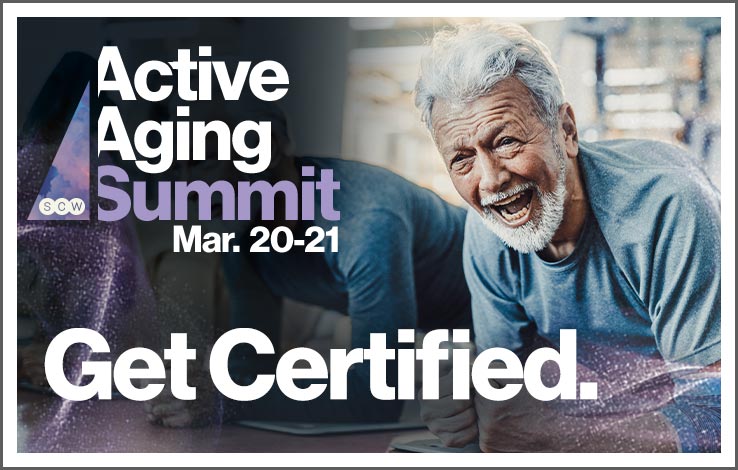 Individual Neuroplasticity Skills & Drills Examples
Incorporate the following into the skills above as participants become familiar with the moves needing minimal cueing.
Spell your first name forwards (short term memory, problem solving skills)
Spell your first name backwards (spatial skills)
Say the days of the month backwards starting with December skipping one month each time (December, October, August…)
Count down from 100 by 3s (math, problem solving)
Teach them any word in any other language and repeat and spell it 7 times (language skills)
Say out loud (all together) your first memory, your first birthday party, your first kiss, how you met your first friend (long term memory)
Recite the digits of your area code
Recite the digits backwards
Add up the digits, two at a time, and sum a grand total
Spell each digit forwards
Spell each digit backwards
Coordination Skills & Drills Examples
Pretend to pinch your nose with your right hand. Simultaneously pretend to pinch the cartilage of your right ear with your left hand. When the AAMC coach says "switch," change positions, you will pretend to pinch your nose
Take the L arm overhead and down by your left side. Repeat this pattern slowly but consistently. When the L arm is at your side, take the R arm overhead and then take it out to the side (perpendicular to the body) as the L arm goes overhead. Repeat this movement several times so the L arm's movement remains the same and the R arm's movement remains the same. After a minute, change sides.
Pat the top of the head gently with the R hand while rubbing the abdominal core area with the L hand for 30 seconds. Now, gently pat the abdominal core area with the L hand and make small circles with the R hand on the top of the head for 30 seconds. (Try NOT to make circles when you pat the abdominal area). Now, switch hand assignments.
Neuroplasticity drills are important for all for everyone, from child to older adult. It helps maintain brain health with the use of thought and action done at the same time. The WATERinMOTION® Platinum program incorporates neuroplasticity drills into the format to help the participants stay ahead of deterioration, disease and disability. Providing these measures, allows our Mature Youngsters to share more about our youngsters with the hopes they will carry forward their knowledge and education.
To learn more about neuroplasticity and other topics pertaining to older adult training, register for the SCW Active Aging Summit, March 20-21. With 50 focused sessions and 30 elite specialized presenters, learning the latest research for training Seniors is at your fingertips. Earn 15 CECs over two full days in the comfort of your own home for only $149 (normally $249) go to www.activeagingsummit.com for more information.
---
About the Author, Lawrence Biscontini

Lawrence Biscontini, MA, has made fitness history as a Mindful Movement Specialist winning awards from ACE, IDEA & Inner IDEA, Can Fit Pro, and ECA. Lawrence is an SCW Faculty Member and industry Author, Presenter, Keynoter, and Course Development Specialist for various companies, and he serves on the Advisory Board for the ICAA, Power Music®, and People of iSPA. Lawrence also teaches and has experience with multiple certifications.
---
---
---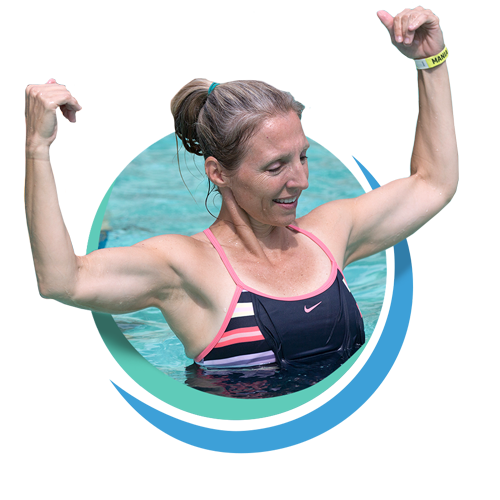 Muscular Strength and Endurance in Water Fitness
by Connie Warasila & Ron Anderson
Water exercise poses an extremely low risk of injury while providing an opportunity to improve cardiovascular endurance, muscular strength and endurance, body composition and flexibility. These are the five components of fitness which should be included in our training regimen. Since water supports and cushions the joints, participants can run, jump, and stretch without the impact that land exercise causes. Water also provides a natural resistance twelve to fourteen times greater than that of air. Therefore, normal movements require the muscles to work harder than they would on land. These are beneficial reasons why more people are becoming involved in water fitness. Let's dive in.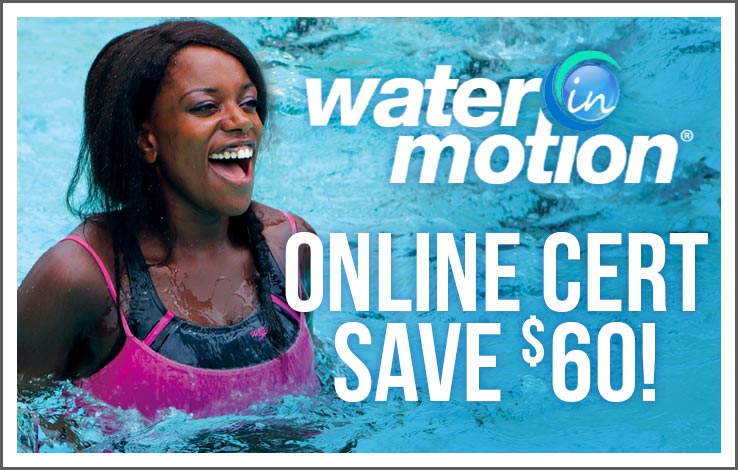 As water instructors, we know that time constraints and the fear of pain are the main reasons people do not exercise, so we must ensure that we maximize the efficiency of the participants' workouts in a pain-free environment. The best way to do this is to design a class that focuses on conditioning the participants' bodies in multiple components of fitness.
Gains in muscular strength and endurance are powerful benefits of aquatic exercise. Muscular strength is the ability to lift a certain amount of weight at one time, often known as one repetition max. Muscular endurance is the ability to lift a weight repeatedly. Our muscles are responsible for holding our skeleton in place. Without them, we would literally be a bag of bones instead of an upright creature. Different types of muscles do different types of movements in our body. Anaerobic fast twitch muscle fibers are used to develop muscular strength while aerobic slow twitch muscle fibers are used to develop endurance. For example, doing an explosive leg push away from the side of the pool would develop strength while repeatedly pushing water in a breaststroke would develop muscular endurance.
Depending on the fitness level and genetic makeup of the participants, both muscular strength and muscular endurance can be improved in the pool environment. The resistance of water can mimic the same stress response the body gets from weight training with isotonic concentric contractions, as long as the move is performed properly. The concentric phase occurs when the muscle actively shortens against a load. For example, the pulling of a chamber kick into the midline of our body shortens the hip flexor group against the resistance of the water. Muscles can also work isometrically, which means they stabilize the body. Our core muscles are often stabilizers and the majority of our core muscles are slow twitch fibers because our core muscles must hold us upright during our waking hours.
The water's resistance is dynamic in that it offers more opposition when more force is applied. When instructing, it is important that the participants are educated about effective usage of pushing through the water. Most movements in water fitness classes are performed against a sub-maximal resistance, which is of a lower intensity which causes the slow twitch muscle fibers to contract repeatedly. An example would be a 32 count phrase of abduction and adduction of the hip joint in a pendulum (ticktock). This would improve muscular endurance. Being able to lift objects, sometimes repeatedly, are important to our everyday activities but using your muscles regularly and activating fast twitch fibers are responsible for the hypertrophy of our muscle fibers.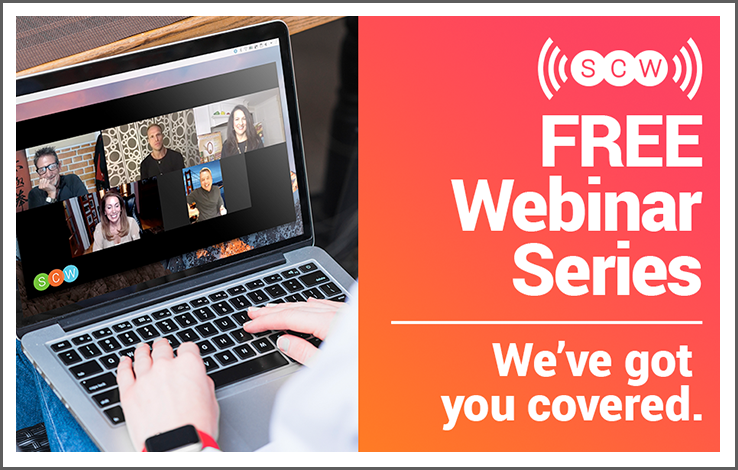 When we train anaerobically, we cause more destruction to the muscle fibril which causes it to repair itself with more sarcomeres, making the muscle stronger and bigger. Aerobic slow twitch muscle fibers do not hypertrophy (grow in size) as readily as fast twitch. Due to the buoyancy of the water, it is more difficult to train fast twitch fibers in the vertical position in the pool, but not impossible. This explains why we don't see a great deal of muscle bound females in our water classes, if that is their prime mode of exercise.
If the participants do not see the value of muscular training as part of their workout, muscles will decrease in size, known as atrophy. Less muscle mass means a lower metabolic rate due to the decrease of energy requirements from the tissue. The adult who loses five pounds of muscle, which is average, will also see a steady decline in his or her resting metabolic rate. Regular progressive strength training is necessary to combat this loss. It will increase lean mass, thereby increasing the energy requirements of the body which leads to a higher resting metabolic rate.
Muscle balance is a vital component to injury prevention. Whether you chose to lift weights or use water resistance to maintain muscular strength and endurance, you need to focus on muscle balance. The major muscles work in pairs and those muscle pairs need to be balanced in terms of strength and flexibility. For example, if we are going to contract the biceps group, such as when doing a biceps curl, the triceps group must be willing to stretch to allow the elbow to fully bend. The strength of the two muscles must also be relatively equal or the tendons and ligaments will pull on the bones causing joint pain, inflammation and other symptoms. A muscle imbalance may also affect the surrounding muscles and joints when we compensate for a weaker muscle.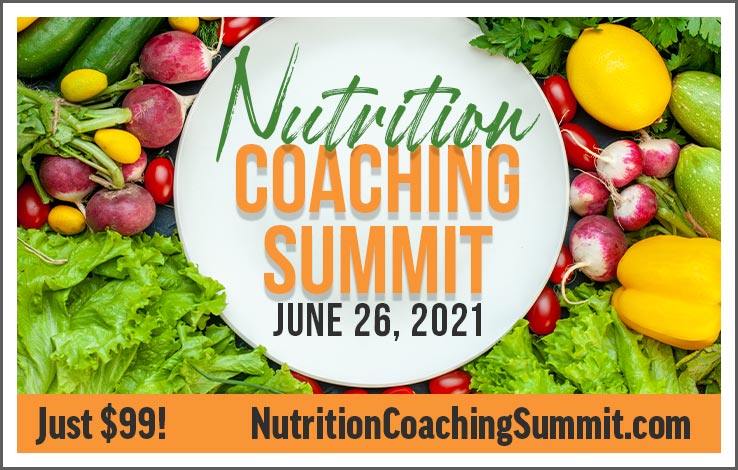 This is often seen in people with tight hamstrings who have changed their walking gait and the hip flexors are extremely weak due to the change of posture. As instructors, we must focus on delivering choreography that works not only the front and the back of the body but also the medial and lateral muscles. Not doing so could result in acute or chronic injuries. Being able to carry on tasks of daily living without the potential for injury is a great benefit of increased strength and endurance.
As participants get stronger, new overloading techniques will need to be used in order to expect continued strength and endurance gains. This is known as the Principle of Diminishing Returns. This fitness principle states that as the athlete gets stronger and fit, he or she must work harder to see results. This is when it becomes essential to use periodization which is the process of varying a training program in order to build optimal gains.
It is important to choose beneficial aqua movements in order to maximize the opportunity for building strength, as well as deciding on the number of repetitions, sets, workout frequency and progressions to determine the effectiveness of the program. In a group water fitness class, it is appropriate to choose specific exercises to overload particular muscle groups and inform the participants of the muscles being targeted. An example would be a plank pushup utilizing a noodle. Exercises which may mimic activities of daily life will improve muscular endurance. Be sure to instruct the class to repeat the exercise with both appropriate acceleration and deceleration for the pre-determined repetitions and sets.
Water exercise is a wonderful addition to any workout program, not only because of the buoyancy and low impact characteristics, but because of the resistance created by the cohesion of water droplets forming the pool. The results the participants see depend on the type of moves that are performed during the workout. As instructors, we can focus on explosive fast twitch moves, as well as endurance based slow twitch moves. Both are important for the overall well-being of our skeletal system.
---
About the Author, Connie Warasila

Connie is the choreographer for WATERinMOTION®, faculty member of SCW Fitness Education, and certified by ACE, AEA, AFAA, Balanced Body, The Braining Center, Yoga Fit, Schwinn®, Reebok Cycle, and Moms in Motion. Awarded the Aquatic Exercise Association Fitness Professional of the Year, Connie has over 30 years of teaching experience in the USA and abroad. She enjoys traveling around the world presenting new and creative workshops to make fitness more accessible, professional, and fun.
---
---
---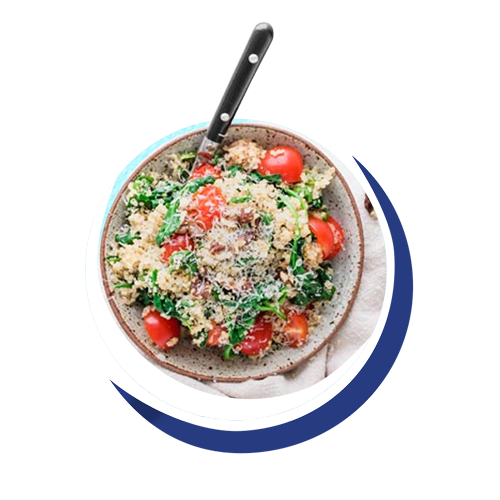 Simple Quinoa with Spinach, Tomatoes and Walnut
by Stacey Antine, MS, RD and HealthBarn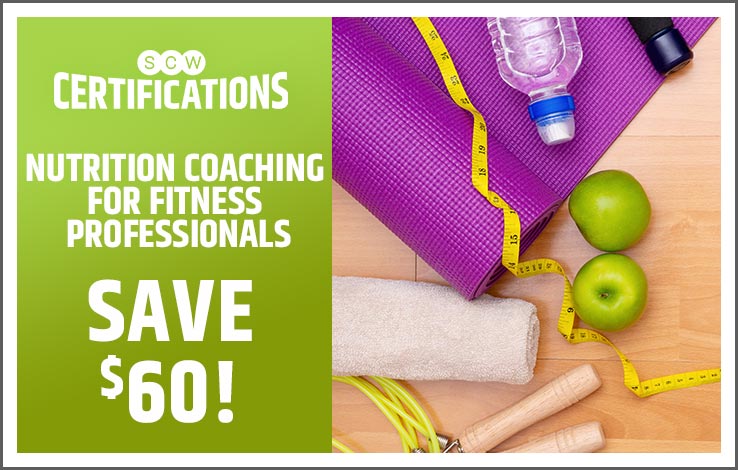 Quinoa is the perfect food; it contains all essential amino acids our body needs for good nutrition. It is also simple to make and a great replacement for rice. It can be mixed with any vegetable and can even be eaten for breakfast on a cold day. Please enjoy this recipe from EatRight.com.
Ingredients
1 cup quinoa
2 tablespoons extra virgin olive oil
1 garlic clove, minced
2 cups water (or use low sodium vegetable or chicken broth)
6 ounces fresh baby spinach
1 cup grape tomatoes
½ cup walnut pieces, raw
½ cup Parmigiano-Reggiano cheese, freshly grated
Torn fresh basil leaves (optional garnish)
Directions
Before you begin: Wash your hands.
Place quinoa in a small bowl, add water to cover, and swish to rinse. Pour into a fine-mesh strainer and drain well (it's important to rinse quinoa).
Heat oil in medium skillet. Add quinoa. Toast, stirring, over medium heat until golden, about 10 minutes. Add garlic and cook, constantly stirring for 1 minute. Add water and heat to a boil. Cover over medium heat and let cook until water is absorbed about 15 minutes.
When quinoa is cooked, add spinach and tomatoes directly to skillet. Stir-fry over medium heat until spinach is almost wilted and tomatoes are warmed, about 1 minute. Stir in walnuts and cheese. Garnish with basil leaves. Serve warm.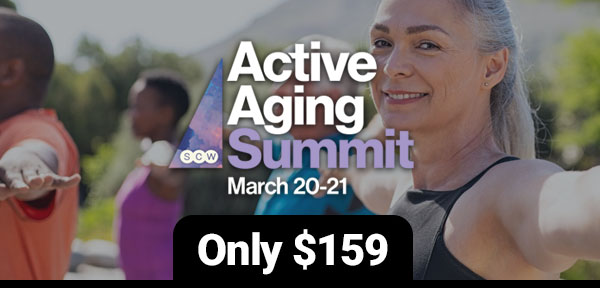 SCW Active Aging Summit

$100 OFF
Was $249, Now only $149! Elevate your skills for leading active older adult trainings and senior group fitness sessions with SCW Fitness Education's exclusive Active Aging Summit which is Live Streaming via Zoom.
---
Learn More & Register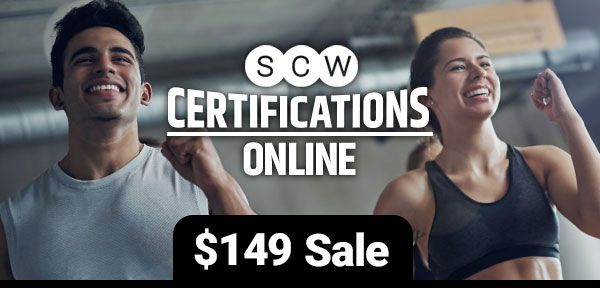 SCW Online Certifications

$110 OFF
Was $259, Now only $149! Choose from 36 nationally recognized & accredited SCW Certifications online. Take them in your own time (Includes Live Course FREE!). CECs/CEUs from SCW, AFAA, NASM, ACE, AEA & More
---
Choose Your Cert Here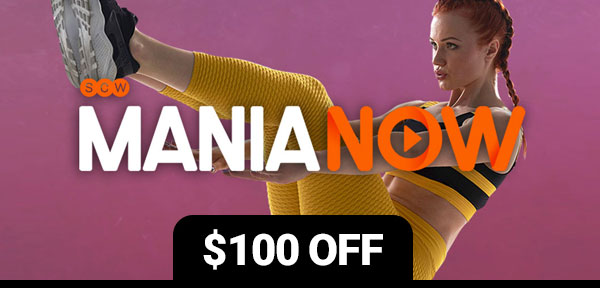 MANIA NOW

$100 OFF
Was $299, Now only $199! Enjoy instant and unlimited access to 200 session RECORDINGS from our very latest Live Stream MANIA® for a full 30 days! Earn 20 CECs from SCW, ACE, AFAA, NASM, AEA, ACSM & NFPT when it's convenient for you.
---
Get MANIA NOW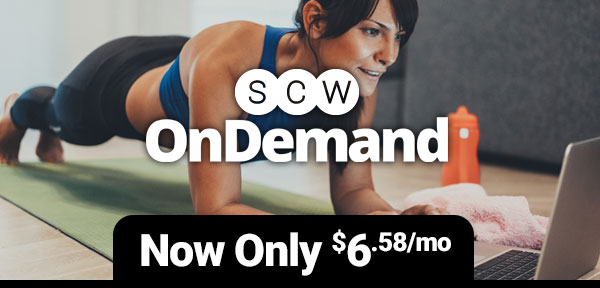 Save $20


SCW OnDemand
Video Subscription

Get unlimited access to over 500 videos filmed LIVE at MANIA® with our annual plan.
(Normally $8.25/mo).
---
Subscribe & Use Code: ONDEMAND20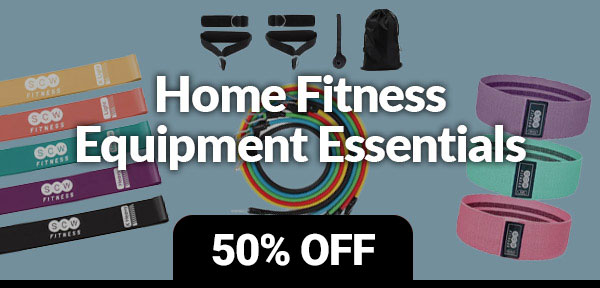 50% OFF

Home Equipment Must-Haves

Home fitness equipment essentials now 50% OFF! We ship to you! Stock up on everything you need for your home workout space.
---
Shop the 50% Sale Here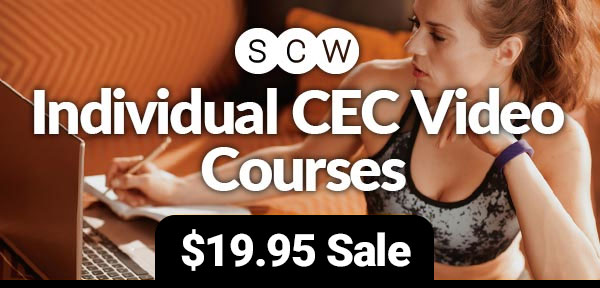 Online CEC Courses

$10 OFF
Choose from over 100 SCW CEC Online Video Courses to keep you stocked with the CECs you need from the organizations you trust. Each course includes video, course outline, exam & certificate of completion.
(Was $29.95, Now Only $19.95)
---
Choose Courses & Use Code: CEC10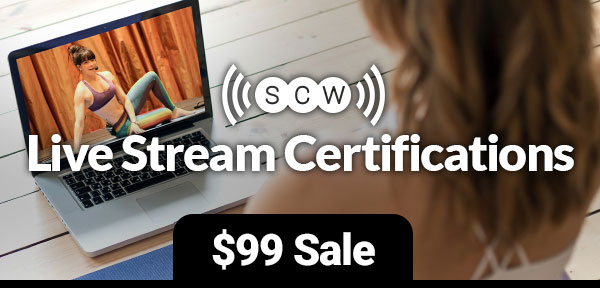 SCW Live Streaming Certifications
$100 OFF
SCW Live Streaming Certifications brought to you in real-time from our expert presenters to your living room! CECs/CEUs from SCW, AFAA, NASM, ACE, AEA & More
(Was $199, Now Only $99)
---
Choose Your Cert Here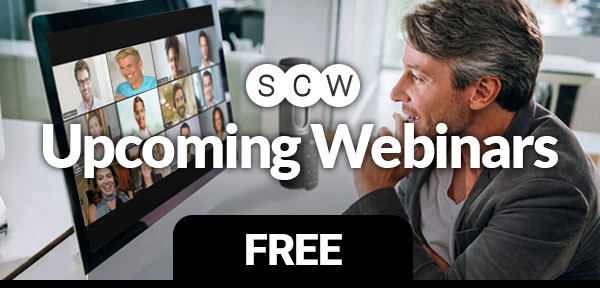 FREE Upcoming Webinars


From SCW

Join SCW for our FREE Webinars with the trusted presenters you love from our MANIA® Conventions.
---
Register FREE Here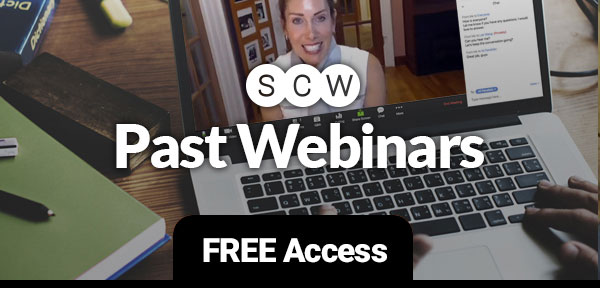 FREE Past Webinar


Recordings

Catch up on valuable information you missed the first time around.
---
View Them Here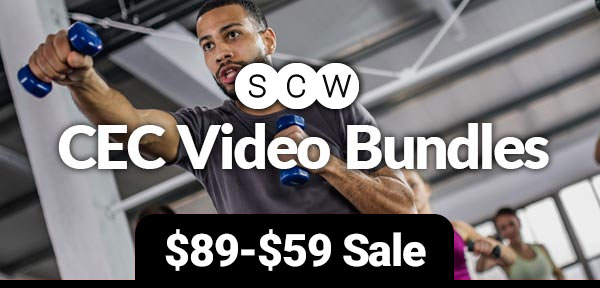 $50 OFF

 20 CEC Video Course Bundles

SCW Video CEC Bundles are hand-picked CEC/CEU video bundles from the most popular MANIA® sessions. Each course includes video, course outline, exam & certificate of completion.

(Was $139, Now $89) or (Was $209, Now $159)
---
Choose Bundle & Use Code: VIRTUAL50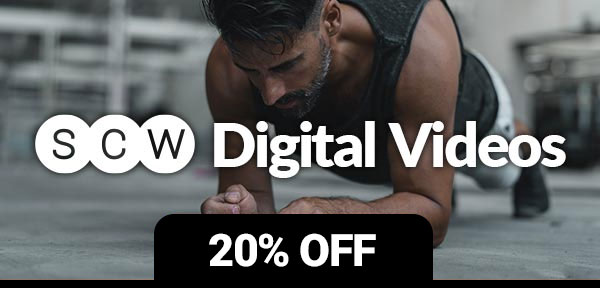 20% OFF

SCW Digital Videos

Get your hands on SCW digital videos, many of which were filmed live at MANIA®! Now at the incredible price of only $15.96 each (was $19.95)
---
Choose Videos & Use Code: VIDEO20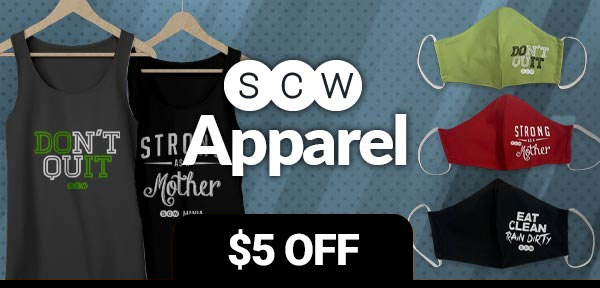 $5 OFF

SCW Apparel

Stand out from the crowds with some great new apparel options from SCW. With styles and sizes for everyone, you're sure to find the perfect choice.
(Was $29.95, Now Only $19.95)
---
Shop the Apparel Sale Here