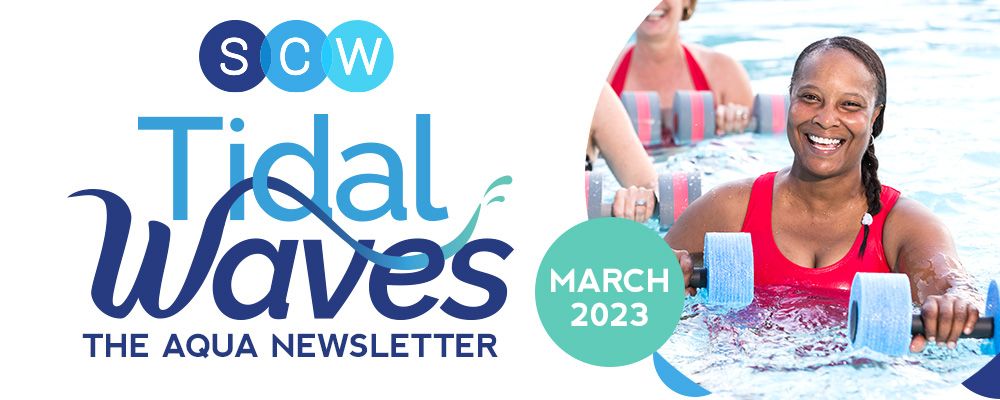 by Sara Kooperman, JD

Almost everyone is familiar with the K.I.S.S.S. Principle, Keep It Simple Stupid and Short. That mentality also applies when it comes to teaching Group Ex classes, specifically when introducing a new format. 
All programs are designed with a purpose and participants expect results as they progress.  SCW has several choreographed programs, S.E.A.T. (Supported Exercise for Ageless Training) and WATERinMOTION®, which has three different specifically focused goals.
When these programs were created, their design teams sat down and derived a fool-proof method to not only teach the classes, but to introduce them to the students and simplify advertising and marketing.  The method is referred to as S.I.M.P.L.E. and due to the simple breakdown, both S.E.A.T. and WATERinMOTION® are wildly popular and are taught around the world.
Let's take a look and breakdown the S.I.M.P.L.E. Launch.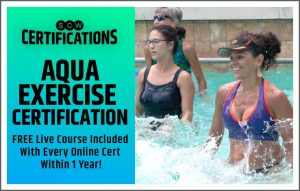 SET GOALS –
WATERinMOTION® is an aqua-based, choreographed, group exercise class that changes the music, choreography, and marketing every 12 weeks. It has three formats, Original, Platinum, and Strength and each one is designed for different purposes, but in the end, all have the same goal; help the participant gain the confidence needed to live a healthy and happy life. 
WATERinMOTION® is a licensed program that is taught in public and private pools across the globe. What makes it unique is that a student can go to Japan and receive the same workout as they would in Chicago.   When new choreography is being introduced in a facility, the event is called a Launch.  This friendly workout encourages participants to bring their non-member friends, family, and colleagues to the Launch class. The goal is to have a full-blown party, or simple master class every twelve weeks to encourage client involvement and attendance growth. It is also to have loyal clients bring referrals to grow the classes and expand the facility's membership. Set goals for this Launch… Try to get at least 10 new clients to come with their friends and have at least five of them "Sign-Up Today"! To encourage this, offer a one-day-only discount or an enroll-now promotion.
INFLUENCERS –
Every program has Influencers, and in order to succeed, they need to be engaged. These leaders – the instructors, facility managers, front desk staff, physical therapy (PT) clients, members, and of course, participants must be on the ground level to promote the Launch and attract as many new people as possible.  Now-a-days, everyone has some type of social media account, and each account has a different group of followers.  Each Influencer needs to post information on the Launch and tag facilities, friends, and clients. 
MARKETING KITS –
As mentioned, WATERinMOTION® offers what's called a Launch Kit and there are over 20 kits available (view kits www.waterinmotion.com/marketing).  They are based on seasons and holidays, and each one can be personalized per facility and class. These are specially designed marketing kits which include Adobe-writable spaces to fill in the specific information for the Launch. Within the kit are Mini-Posters, some are generic, and others focus on a holiday or time of year.  They can be posted on doors, in bathrooms, and even at local businesses – doctor's offices, PT clinics, and community centers.  Don't forget the local coffee shop, as that is a great source for finding new participants.  Another Launch Kit gift is a class punch card which offers 10 or 20 class options. This  makes it easier to track those who just want to attend WATERinMOTION® versus the other classes.  If you don't charge, they can be used to simply encourage participation and attendance through prizes. Enter in an expiration date and once a student fills their card, they would be entered into a drawing to win a prize, maybe discounted personal training sessions or a gift certificate to a local restaurant.
PLAN –
The quote by Ben Franklin says, "If you fail to plan, you are planning to fail."  You must have a detailed outline of what your participants can expect on your Launch Day. Everyone loves a party, so add on a luncheon or evening gathering.  Your members can bring food or prizes.  They love to contribute and socialize.  Your plan should include the who, what, where, when, and how of the event. And be prepared to sign people up there and then.  Use a large typeface on your signs so your clients can easily read them. Be sure to have your business cards and large QR code ready for your attendees to join by going straight to your method of payment, such as Zelle, Square, Venmo, or PayPal.
LET PEOPLE KNOW –
The best way to get people to your Launch is by getting the word out. Use the marketing kits. Announce, announce, and announce again in your classes, throughout the weeks before the Launch. Pass out event flyers at every turn and hand out FREE class passes. Tape them to the inside of the bathroom stalls and on the bathroom mirrors. Display them proudly at the front desk. Check with your local newspapers and radio stations to announce the events. Many of them will do this free of charge or add them to the community calendar if you only take the time and make the effort.
ENJOY –
Last, but not least, don't forget to have fun! Make it a party, the place to be. Get excited and spread the word! Enjoyment is the name of the game, and no one wants to have FOMO!
For more information about WATERinMOTION® go to www.waterinmotion.com or S.E.A.T. visit www.seatfitness.com.  It's time to join the PARTY!
About the Author, Sara Kooperman, JD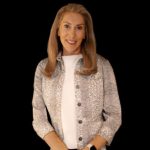 Sara Kooperman, JD, CEO of SCW Fitness Education, WATERinMOTION®, and S.E.A.T. Fitness sits on the Gold's Gym Think Tank and the canfitpro Advisory Panel and was a founding board member for the Women In Fitness Association (WIFA). Recently nominated for the IDEA Fitness Leader of the Year Award, Kooperman won the 2022 Most Innovating Fitness Pro by Fitness Industry Technology Council. She is also an inductee into the National Fitness Hall of Fame, an Illinois State Businesswoman of the Year, and an esteemed panelist for IHRSA's Talks & Takes Monthly Talk Show.
A YMCA in Ann Arbor, Mich., is the first in the country to use artificial intelligence in the monitoring of its aquatics center. 
The new technology at Ann Arbor YMCA is integrated to prevent drownings, assist in water safety and improve rescue response times. 
Officials at the YMCA told A4 the technology, which is developed by Lynxight, is a proactive effort to improve safety. 
"We have integrated advanced AI with existing CCTV camera technology to deliver the next level of pool safety to swimming pools everywhere," CEO of Lynxight Omer Bar-Ilan said in a statement. "The existing cameras are instantly elevated in their capabilities to see above and below the water to attain complete scene understanding."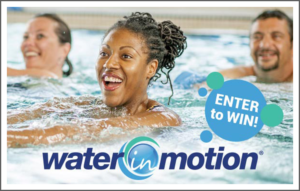 The technology uses the facility's CCTV cameras to detect and analyze swimmers in the pools. Machine learning can determine whether swimmers are in high-risk areas, in distress or have entered the pool by accident. Lifeguards are then alerted by smartwatch which location to respond to. 
"We're extremely excited to bring this technology to our downtown Ann Arbor Y membership branch," vice president of membership and marketing James Highsmith said in a release. "The tool is not meant to be, and never will be a replacement for human lifeguards, but the technology is a proactive effort by our organization to improve upon the aquatic experience at the Y. The Y has a commitment to continue to work towards making our water activities as safe as possible.
Who needs Disney or Universal Studios when you have the Caribe Royale Orlando? Check into this beautiful location and register for Florida MANIA®, April 14-16.  Your favorite instructors like Manuel Velazquez and Ann Gilbert are back, but let's welcome Rosie Malaghan and Tani Haggard to the deck, to bring us the latest in aquatic fitness.  Join in 3 days of fun, education, shopping, and networking starting at $119 (reg. $159), and the resort will even shuttle you to say hi to the Mouse.
Diabetes – Can Aqua Exercise Make a Difference?
by Bret Svites
The prevalence of diabetes is a critical epidemic in the United States. Over 100 million U.S. adults are living with diabetes or prediabetes, according to the CDC. That is about a third of the population and it is steadily growing. The most common form, type 2 diabetes (NISSK 2016), is caused by several factors with the two most influential being genetics and lifestyle.
This is where exercise, especially water-based exercises, can play a vital role in limiting the effects and prevalence of this troubling disease. The effects of regular exercise, combined with the added benefits of the aquatic environment, has been proven to be a perfect prescription.
Diabetes occurs when blood sugar levels are higher than normal, known as hyperglycemia (NIDDK 2016). Normal blood sugar levels are less than 100 mg/dL. Individuals diagnosed with prediabetes sit at 140-200 mg/dL. Those with diabetes have blood sugar levels of 200 mg/dL and higher. This can result from the body not making adequate insulin or using insulin efficiently.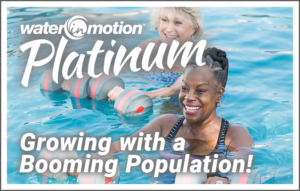 Insulin is a hormone that helps cells obtain glucose so it can be used for energy. Without insulin, cells are unable to perform their jobs and start malfunctioning. Extra glucose not utilized is converted and stored as fat, leading to weight gain. This may not seem like a big problem, but chronic hyperglycemia can result in other health problems such as cardiovascular disease, nerve damage and diabetic neuropathy (NIDDK 2016; Mayo Clinic 2018). 
There are different types of diabetes.  The most common types are type 1 and type 2 (NIDDK 2016). Type 1 is a form of diabetes where the body does not produce insulin. Usually diagnosed in children and young adults, this requires the individual to take insulin injections. Type 2 occurs when the body does not use insulin efficiently or does not produce an adequate amount of insulin.
The likelihood of developing type 2 diabetes increases for individuals who are middle aged or older, physically inactive, overweight, have high blood pressure, and/or have a family history of diabetes (ADA 2019). Though this is the most common form, it is also the most preventable. In addition to exercising regularly, losing weight, and eating healthy foods has been proven to prevent or reduce the risk of developing type 2 diabetes (NIDDK 2016).
Although there is no cure for diabetes, people suffering from both types can benefit tremendously from exercise.  The benefits of exercise are much more than reducing body fat and increasing muscle mass. Exercise has been proven to reduce heart disease, strengthen muscles and bones, improve sleep, improve mental health, and most relatable to this article, help manage blood sugar and insulin levels (Medline 2019).
Glucose is the body's primary energy source during exercise. With physical activity, muscle glycogen (the stored glucose in your muscles) starts to deplete. The muscles increase the demand for glucose in order to continue performing the activity. This increased demand makes muscles more insulin sensitive, so the muscle cells are more efficient at using any available insulin to take up glucose (ADA 2019). Also, when the muscles are continuously contracting, cells start to take up glucose and use it for energy without the help of insulin because of the increased demand (ADA 2019). This is extremely beneficial to people who are hyperglycemic, most notably because it allows them to lower their blood sugar on a regular basis.
An individual who can manage blood sugar more efficiently is able to reduce the need for insulin injections and manage other health complications related to diabetes (ADA 2019). Reducing the need for insulin injections alleviates some of the financial burden associated with this disease. People who are diagnosed with diabetes have an average medical expenditure of $13,700 per year; $7,900 is attributed directly to the diabetes (CDC 2018). Alleviating these medical bills through regular exercise can reduce stress and increase a person's quality of life.
Now, let's consider the specific benefits of the aquatic environment.  Individuals with type 2 diabetes often suffer from other common chronic illnesses such as arthritis, obesity, or high blood pressure. Also, since this population is generally older, they may lack the mobility, strength, or balance to exercise effectively or safely on land. This is where the water becomes the perfect "one stop shop" for enjoyable and efficient training.  Aquatic programs can be catered to the needs of the target population as well as each individual through high intensity workouts, mobility-focused activities, or anywhere in between.
Aquatic exercise has been proven to:
Improve glucose and insulin responses (Jones 2009; Rahimi 2011)
Decrease arthritis pain and improve the use of affected joints (CDC 2016)
Reduce blood pressure (Chen 2010)
Improve mental health (CDC 2010)
As fitness professionals, it is our responsibility to work towards decreasing the prevalence and severity of diseases through exercise. Exercise is the best medicine for virtually all health complications, especially diabetes.  Aquatic exercise, in particular, can improve the long list of negative outcomes related to diabetes.
About the Author, Bret Svites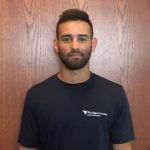 Bret Svites, BS, is a West Virginia University graduate who studied exercise physiology with an emphasis in aquatic therapy. He is an ACE Certified Personal Trainer and AEA Aquatic Fitness Professional and takes pleasure in helping his clients reach their fitness goals on land and water. Diabetes has impacted multiple family members; thus, Bret has a strong interest to educate others of the value of exercise.
Article reprinted from Akwa magazine with permission from the Aquatic Exercise Association.
For more information on AEA www.aeawave.org
Splash & Smash Your Goals!
Aquatic Personal Training
You asked for it and we answered! SCW Fitness is proud to announce the release of their brand new Aquatic Personal Training Certification, May 19-21, during the 3-day live-stream Certification Smash weekend.  Boost your career starting as low as $99 (was $259) with access to world-renowned faculty trainers and 23 reliable, respected, & recognized certifications. Register today for 1, 2, or 3 full days of education and build that portfolio.
Looking to Hire? FREE Job Board
Fitness Specialist
Brooksby Village – Peabody, MA
Create an appropriate exercise program, unique to the clients abilities and goals for both 1-1 and group personal training.
Knowledge of basic water chemistry testing for aquatic center and/or teaching aquatic classes.
Developing exciting group exercise classes in a safe and engaging environment.
Fitness Coordinator
Georgia Southern University – Statesboro, GA
This position develops and supervises a comprehensive group fitness program, to include small group training, and related special events.
Assistant Director, Fitness
Leonard J. Kaplan Center for Wellness – UNC Greensboro
The Assistant Director, Fitness is responsible for the overall design, management, and implementation of a comprehensive fitness program for the students, faculty, staff and UNC Greensboro community. This includes leadership of two professional positions and a graduate assistant as well as student employees.
Club Leader 
Element3 Health – Chicago Heights, IL
Element 3 Health is looking for a skilled club leader to lead a club for older adults. Theses clubs include fitness, yoga, dance, and arts and crafts. This, is a unique opportunity to teach an in-person session, to actively train older adults and be responsible for your own club.
In Need of Teachers, Trainers, Directors, or Managers? SCW's new FREE JOB BOARD is supporting the industry's need for qualified fitness pros.
Best of all there is NO COST to you. We will post your openings in all three of our monthly e-newsletters: Spotlite, Health & Fitness Business News, and Tidal Waves which are emailed out to tens of thousands of fitness professionals teaching and training in all formats along with managers and directors at all fitness facilities: big box, gyms, boutique, studios, not for profits and independent centers. 
We're always looking for great content highlighting the newest things in the world of aquatic fitness. Please submit your article directly to [email protected] for immediate consideration!
Give us your feedback on what interests you, and maybe YOU will make it in the SCW Tidal Waves!