Why Certification Matters
by Katy Coffey

Imagine for a moment walking into your local gym to take a yoga class. You enter the studio, grab your mat, find a spot, and see the instructor walk in a few minutes later. He walks to the front of the room and introduces himself, "Good morning, I am your instructor and will be subbing yoga class today. I am a personal trainer and was asked to cover for your instructor while she is away. Grab your yoga mat and let's prepare for our class today starting with full body burpees."
Would this scenario fly at your local gym? Of course not! To have the responsibility of teaching a yoga class, instructors must take hundreds of hours of specified training and only certified individuals would be able to fill the spot. Since this would never be accepted during standard group exercise formats, then why is this an accepted practice at pools all over the country?  The scene above is a true story that happened to me, but instead of yoga, it was a stand up aqua fitness class. You heard me correctly. A personal trainer was asked to sub and thought that burpees would be the perfect warm up for our class.
For some reason it has become the norm at many pools to hire anyone who is willing to show up. It doesn't take much to find social media accounts from "fitness pros" teaching aquatic fitness who are clearly not trained or certified.  These "leaders" might be the front row student who started as a sub in an emergency, the Lifeguard who knows all the ladies by name and gives it a "good old college try", or the land fitness instructor who doesn't think it's a big deal since they pack a class in their studio all the time. Though I empathize with the manager who is desperate to find anyone to teach the class, this "service" is actually a disservice to our members (and perhaps even negligence) by offering a class from an untrained instructor.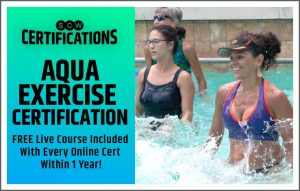 As in any fitness format, certification, continuing education, and in-service trainings are essential for aquatic fitness instructors. Being that the format also includes outside factors like water, temperature, air quality, and chemicals, I might even argue that it is THE MOST IMPORTANT format to ensure the safety of our members. Being certified will make certain that your instructors know how to use equipment properly, understand how the body moves in water, and build effective programming through dynamic classes.
What is the difference between a Licensed Program and a Certification and does it matter?
A Certification comes from a nationally accredited company. Education and training involves extensive study about basic fitness principles, whether it is aqua or land training. When becoming an Aquatic Instructor, the participant will work through lessons focused on the benefits of aqua exercise, the pool environment, principles of water, general anatomy and kinesiology, water depth, appropriate movement plans, and how the muscles are trained differently through the four categories of equipment most often used. Many certifications will offer a full day practical component to help put big fitness principles into practice and acclimate students to the properties of water. After significant preparation a certification test is offered through a proctor. Upon completion of certification, the instructor will need to meet specific education requirements (in the form of continuing education credits or CECs) to remain certified.
A Licensed Program comes from fitness companies who offer a specific branded formula of instruction. They specialize in a format built around a piece of equipment (for example vertical pole, stand up fitness floats, or bikes) or branded style of instruction (often pre-choreographed for the instructor to replicate). Training is typically a 1 or 2-day training workshop where you learn how to teach the brand and represent that format the best way possible. Upon completion of the workshop, the company will have specific guidelines to follow to remain licensed, giving you the ability to use their brand name.
If you are teaching any standard form of aquatic fitness, then certification should be non- negotiable. Understanding laws of motion and why they apply to the pool, being able to differentiate between land & water tempo, as well as understanding how to safely take care of your body through cueing and visual aids when teaching from the deck, are just a few examples of key takeaways through certification. Licensed Programming is a great way to expand your resume and will undoubtedly make you a well-rounded instructor. Please understand that the two are not interchangeable. By that I mean, a certified instructor in aquatic fitness is not given the green light to teach a licensed, formatted dance class and use the branded name. The same goes for the licensed instructor. They are not given the pass to take their license for teaching Aqua Cycle and sub for a deep-water boot camp class.  Just as it would not be ok for a licensed Pilates instructor to teach a cycle class, without the proper training.
Aquatic education is on the rebound here in the United States and EVERY POOL (and, I do mean every pool) is desperate to hire more water fitness instructors. Online certification, 1-day workshops and weekends at an SCW MANIA® are back in full swing, each giving unique opportunities to expand your education and learn from amazing trainers from around the world. Whether you have been teaching for years and let your cert lapse, been a super sub without the education, or looking to spread your wings into the magical world of aquatic fitness; get your education to back your passion.
About the Author, Katy Coffey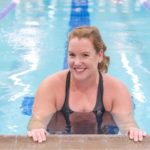 Katy Coffey is an AFAA Certified Group Exercise Instructor, an AEA Aquatic Training Specialist, Master Trainer with Aqua Body Strong & S'WET ™ and holds a collective 20 additional Fitness & Safety Certifications for both land and aquatic fitness training. She has worked in aquatics management since 2002, spending 10+ as the Senior Director of Aquatics for multiple YMCAs in Massachusetts. With more than 20 years of aquatic management experience, she is passionate about innovative programming and design.
We're always looking for great content highlighting the newest things in the world of aquatic fitness. Please submit your article directly to [email protected] for immediate consideration!
Give us your feedback on what interests you, and maybe YOU will make it in the SCW Tidal Waves!