How to share your WATERinMOTION® Marketing Kit on Facebook
STEP 1:
Click here to browse WATERinMOTION® Marketing Kits in PDF format. Choose a kit and click to download. Example:

Make sure to save your PDF file in a memorable place, such as your desktop.
STEP 2:
Click here to open the online PDF-to-image conversion tool. Drag your PDF file from Step 1 onto the yellow box, or click "Choose File" to browse your computer. Example:

STEP 3:
2 options will pop up to the right. Click "Convert entire pages" and then click "Choose option." Example:

STEP 4:
Wait patiently for your files to convert. This may take several minutes depending on your internet connection. Once the conversion is complete, you'll be directed to a page like this: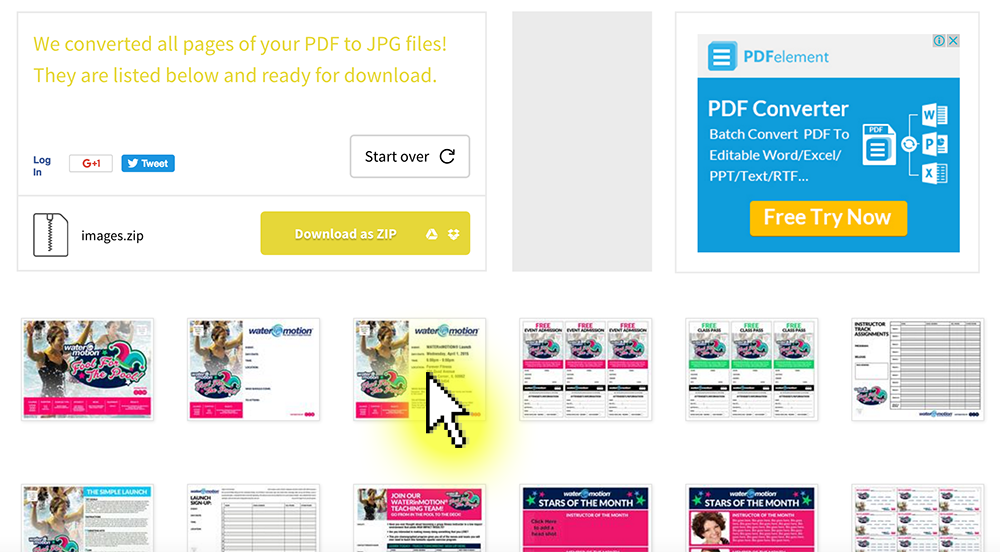 All of the marketing kit pages are now available as images. You can choose which ones to click and save.
STEP 5:
Once you've saved the images, you can upload them to Facebook like you would any photo! Please refer to Facebook's photo upload instructions if you need assistance with this.