The business of fitness is both dynamic and revolutionary, and it continues to change and grow in order to find more ways to get and keep people engaged in healthy lifestyles. The history of the fitness industry is filled with the inception and evolution of many trends, but one seems to gain momentum year after year – Functional Training.
According to ACSM's Worldwide Survey of 2017 Fitness Trends, functional fitness still rates in the top 20 along with its affiliates; bodyweight training (#2) and high-intensity interval training or HIIT (#3). Functional movements also are predominant in group training (#6) programs. What started out as a way for personal trainers to vary client programming in private sessions has turned into a widespread demand for wide-open spaces.
The evolution began when more and more personal trainers started to leave big box gyms filled with traditional equipment to start their own open-concept training studios. Less expensive and expansive cardio and strength training equipment left more space for trainers to get creative with functional movement training concepts.
The next phase began with the rise in popularity of outdoor group fitness classes and boot camps featuring bodyweight and suspension training as well as exercises that use a variety of fitness accessories, both practical (kettlebells, medicine balls) and impractical (battle ropes, tires, sledgehammers). A new fitness buzzword soon would follow – HIIT training. Similar to functional training, high-intensity interval training is not a new concept per se, however; the two started to become synonymous and more mainstream among fitness enthusiasts.
The third phase in the evolution of functional fitness began with the construction of fitness rigs or functional training stations (FTS), which were described as an "adult playground" of sorts. Soon to follow was another buzzworthy fitness acronym – SGT or Small Group Training.
Now we are seeing a shift in the evolution of functional fitness as it is no longer exclusive to the niche of personal training sessions held in small studios. Functional movement training is becoming more mainstream as both the big-box health clubs and the high-volume, low-cost chains are clearing out the large-footprint, traditional machines to keep up with demand. The benefits far outweigh the costs of the out-with-the-old andin-with-the-new approach as the health club industry shifts to create open-concept "functional training spaces." More space means more room to showcase the latest functional training accessories and programming.
Perhaps, most importantly, providing an open-area for functional training programs can add to your bottom line by creating an exclusive environment , apart from the group fitness studio , to host revenue-based SGT classes.
Though it still might be considered a "trend," it seems functional training is here to stay as it covers a wide range of movement and strength training. Functional fitness programming continues to evolve with the demand of its followers and the need to provide new and dynamic fitness equipment. While kettlebells and medicine balls have been used for centuries, they are considered staples for functional training workouts. Now the traditional designs of battle ropes, weighted bags and sledgehammers are being updated with features that make them must-haves for functional training zones.
Echoing the demand of the industry, functional and small group training are two of the fastest growing categories of equipment here at Power Systems. If you are considering building out more space in your facility to supply the demand, check out our previous blog: Create a New Revenue Room with Functional Training. If you are looking for some new functional exercise and programming ideas – check out this video with our Brand Ambassador, Bennie Wylie.
Experience the Power Systems equipment LIVE at any of our eight MANIA® Conferences in 2017. www.scwfit.com/MANIA.
Will you be at NYC MANIA®? Check out Foolproof Fitness Consultation and Successful Group Personal Training with Shannon Fable. On Saturday, Fitness Program Comprehension and Creation and Project Steel with PJ Stahl. And, on Sunday, get even more from Power Systems with ESP HIIT Circuits and Foam Rolling: Recover, Rejuvenate and Revitalize with Irene Lewis-McCormick
NEW YORK CITY: www.scwfit.com/nyc
CALIFORNIA: www.scwfit.com/california
FLORIDA: www.scwfit.com/florida
Successful fitness professionals are always on the lookout for cutting-edge ways to change and improve their clients' fitness levels and get results. When clients are offered new cardio and strength options that deviate from their predictable routines, like indoor rowing, fitness professionals must offer a compelling argument as to why they should do it, what will it do for them and will it really change their workout game? The answer is yes on so many levels. This article provides professionals like yourselves with all the answers to encourage your clients to hop on a rower – the same tool Olympians from many disciplines use to get maximum cardio exertion and strength. It also is the go-to option for most Physiotherapists as well. Let us persuade you to introduce rowing to your clients with these seven reasons:
Get with the times! Simply put, indoor rowing is here. In
do-Row, Orange Theory, ShockWave, Cross-Fit, City Row all feature indoor rowing. These programs are in thousands of gyms and studios bringing indoor rowing to the forefront of fitness. There's no gimmick with indoor rowing. Rowing as a sport and activity for all ages has been around for centuries. It's not new, and its benefits are numerous and scientifically proven. However, it wasn't until recently that it blossomed within fitness programs thanks to the press uncovering why die-hards have had such success with indoor rowing as the ultimate low-impact, total-body toner. Today, indoor rowing's popularity is so strong that even someone as busy as Frank Underwood in Netflix's House of Cards rows his way to power in Washington D.C.!
Work over nine major muscle groups and 80% of your muscle mass with every stroke. When Indo-Row (our 50 minute group rowing program) started, we knew we had an amazing marketing tool with this data point. Where else can you find an exercise that could deliver low-impact cardio and strength conditioning to the quads, hamstrings, glutes, lats, core, shoulders, triceps, back and biceps all at the same time?
The Antidote to Office Hunch. The rowing movement is quite the opposite of sitting in front of a computer all day long and can counteract the habits modern technology can create and the damage it can cause. Each stroke mimics a leg press, hip hinge and scapular retraction (opening the shoulders) in one integrated movement. It takes the body through a dynamic range of motion that can increase lower back, hamstring and shoulder mobility. This is an ultimate cross training tool to improve posture for functional living.
It's a calorie crusher. In the average Indo-Row class, people burn between 400-800 calories in a little less than an hour and that's with a few built-in breaks. The big "aha" here isn't the number, however; but that we can crush those calories at a lower rate of perceived exertion compared to many other activities thatelicit that calorie burn rate. In other words, if you wanted to burn 400-800 calories on a treadmill, you'd have to run and take the pounding. For those who are a little deconditioned, overweight or going through physical rehab, rowing is magic!
Give your joints a break. Rowing is fantastic for injury prevention, rehab, weight loss and cross-training because it's a low-impact alternative to other activities. For all of us (especially those clients carrying a few extra pounds), the sliding seat displaces weight reducing stress on the joints. You can build strength and conditioning for a smooth transition to other activities that require impact. For runners, occasionally taking interval work onto the rower can save the knees/ankles/back from pounding while increasing upper body strength and lung power. Want an extra bonus? Rowing can produce dynamic flexibility in the hip flexors.
No experience? No worries. Compared to learning a new cardio component like swimming or new cardio dance moves in a Group Fitness class, indoor rowing is very easy to pick up. Follow the learn-to-row formula Jay Blahnik and Josh Crosby created, called "The 3×3." Order, Power and Timing (the major components of The 3×3) is all you need to know to start reaping the benefits of rowing. The key takeaway is to initiate the stroke with the legs, not the arms, and find rest as you come forward for another stroke. Check out The 3×3 tutorial video offered on www.ShockWaveWorkout.com to get anyone up and rowing in just a couple of minutes.
Sometimes it's nice for your clients to just escape and get lost in a cardio workout. For many years, fan/air-based rowers were the only option in the gym. The WaterRower GX machine, however; has changed the game. This rower uses water as the resistance, which provides an authentic, smooth feel and the motivating sound of being out on the lake pulling with the crew. Simply put, the harder you push and pull, the more resistance you feel. You can get lost in the rhythm as you cruise at a nice steady pace or totally obliterate yourself as you race for the finish line.
Thanks to the press and fitness professionals worldwide, more individuals are tapping into the benefits of indoor rowing and transforming gym floors and fitness studios big and small. The days of the underutilized rowing machine in the corner are gone. You even can encourage your clients to row at home or while on the road. WaterRowerGX.com provides access to DVDs or downloadable indoor rowing videos.
Rowing can transform the body, increase heart and lung function and improve flexibility and posture while giving the mind a much-needed distraction from the onslaught of day-to-day life. Give your clients this "secret weapon" for their journey to health!
Come experience Indo-Row and ShockWave classes with World Champion rower and Indo-Row co-creator Josh Crosby and Waterrower GX Program Director, Doris Thews at a MANIA® Conference near you – www.scwfit.com/MANIA.
Stop by the Waterrower GX booth to receive hands on coaching tips from the WaterRower team.
Experience WaterrowerGX LIVE at a MANIA® near you: www.scwfit.com/MANIA.
Come Try: Shockwave, Indo-Row®: Perfect Calorie Burn, and Indo-Row® Skills, Drills & Thrills.
NEW YORK CITY: www.scwfit.com/nyc
CALIFORNIA: www.scwfit.com/california
FLORIDA: www.scwfit.com/florida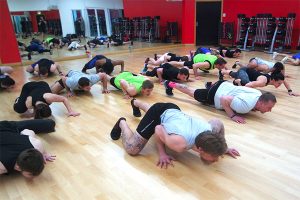 ZUU is a registered bodyweight training modality created by Nathan Helberg who started in elite sports and the armed forces. Over the years, ZUU has become an integral part of these sectors for preseason training, game-specific conditioning, rehabilitation, confined-space training, remote-location training and frontline troop training in which equipment is unavailable or inaccessible.
Besides being available for ALL sporting-code coaches and military PTIs, ZUU has become accessible to the commercial world of fitness. With our heritage in the elite world where ALL training is scrutinized, we pride ourselves on increasing performance across the board.
Through the ZUU education platform, ZUU is teaching Personal Trainers all over the world, either face to face or online, the value of movements and programming found inside the space of ZUU.
ZUU Culture is powerful because it's based on ZUU philosophy, which addresses the basic needs of human health and wellness along with fitness and that of belonging and being supported.
As seen in this picture posted by one of our affiliates, people are drawn to authenticity, something sorely lacking in the fitness industry.
Be sure to check out The ZUU at NYC MANIA® www.scwfit.com/NYC. Register NOW for session FR1C or SU1C and "Take the ZUU Challenge"!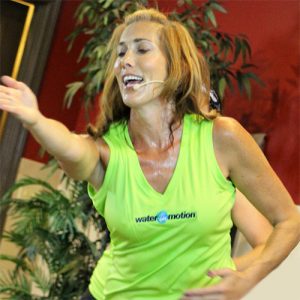 WATERinMOTION® is the premier Aquatic Exercise Program sweeping the nation. WATERinMOTION® reaches over 16,000 aquatic exercisers daily through 400 certified fitness professionals in over 200 aquatic facilities. Our solid seven-year business model continues to grow and receive accolades through our nationally recognized leadership team. Our team of professionals, which has won the Aquatic Exercise Associations Global award for Contribution to the Aquatic Industry and Instructor of the Year award, lives on the forefront of exercise programming.
Setting the standard for water fitness programming.
Refreshing the member experience every three months through our Wautoship program, WATERinMOTION® provides new choreography, new music and new marketing to inspire this growing fitness community. WATERinMOTION® is a licensed aqua exercise program featuring:
Comprehensive online certification with an optional 8-hour live program
Current choreography video
Companion educational lecture (each 14-20 minutes in length, similar to TED talks formatting)
55 minutes of energizing and customized music
Extensive choreography booklets, flash cards and quick guides
Short educational exam guaranteeing a safe, effective and creative class EVERY class.
WATERinMOTION® sets the standard for water fitness programming and revitalizes the face of aquatic exercise. To learn more, please visit our BRAND NEW WEBSITE at www.waterinmotion.com
To check out the program and download a FREE KIT – please CLICK HERE
Check out WATERinMOTION® LIVE at a MANIA® near you: www.scwfit.com/MANIA
At each 2017 MANIA® we will have WATERinMOTION® Original and WATERinMOTION® Platinum running!
NEW YORK CITY: www.scwfit.com/nyc
CALIFORNIA: www.scwfit.com/california
FLORIDA: www.scwfit.com/florida

You might have noticed over the course of the last year that a little symbol has snuck its way into our branding: a lightning bolt. The simple definition of lightning is a collision of elements that create an electric charge. Native Americans believed the lightning bolt symbolized honesty, truth and morality. The Greeks held lightning as a symbol of intuition, strength and spiritual illumination while the Celts saw lightning as a metaphor for human emotions. They believed that these bolts of energy could potentially tap your most primal, basic emotions igniting a deeper understanding of self.
At POUND®, we believe that movement, music and primal rhythms can spark change, evolve minds and elevate communities. We believe that although we are not all the same, as independent elements, we can join together, create a spark and ignite movement in the world. As many of you know, a POUND® class isn't just a fitness class. Something magical happens when you sink into the first beat drop, begin moving with the humans around you and truly connect with your inner rock star.
This year is about that. This year is about not only standing for something but creating action. This year is about taking our support for each other to another level. This year is about being LOVING, ELECTRIC and LOUD.
As we look back at 2016, nothing makes us prouder than the community we have become and when we look to 2017, we find ourselves brimming with excitement. Let's spend the year standing against the "after" picture and focus on the process, the journey, the dreams and what ultimately makes us who we are when we hit the finish line. As individuals, we will have moments of weakness, stress and self-doubt, but as a community we will rise, remain strong, never let each other down and be the flash that lights up the entire year.
Before you embark on your 2017 journey, remember that your body is magic and your journey through life is one for which to be grateful. Take time to find and celebrate the people, places and things that ignite you, spark you and move you.
Cheers to an ELECTRIC year. Peace, Love & Ripstix!
Check out POUND® LIVE at a MANIA® near you: www.scwfit.com/MANIA
At each MANIA® in 2017, we will have POUND® Rockout Workout featured LIVE!
NEW YORK CITY: www.scwfit.com/nyc
CALIFORNIA: www.scwfit.com/california
FLORIDA: www.scwfit.com/florida

Popular FXP Hula Hoop Fitness Classes Trending Nationwide as 2017 Named Year of the Hula Hoop
LOS ANGELES – January 13, 2017 – SCW Fitness Education, the internationally recognized education body that provides certifications, continuing education courses and conventions for fitness industry professionals, has awarded FXP Hula Hoop Fitness the prestigious SCW MANIA "Program of the Year" award. As the largest fitness conference leader and continuing education provider in the world, the SCW MANIA® award was announced during the Boston MANIA convention.
Hooping has become an increasingly popular fitness trend that is being integrated into Pilates, yoga and dance studios nationwide. The FXP Hula Hoop® System is a holistic exercise program that blends cardio hooping and strength training with high intensity interval training based on elements of pilates, ballet barre, and yoga. The FXP Hula Hoop is precisely sized and weighted to help users shed pounds, lose inches from their waistline and sculpt their entire body. The FXP hoop breaks down into six pieces and goes into an easy carry bag for business travel or vacation. An hour of hula hooping can burn up to 800 calories, which is about the same as step aerobics or cardio kickboxing.
"With the evolution of hooping over recent years to become a nationwide exercise trend, we felt it was important to evaluate hooping's efficacy as a regular fitness regimen component," says American Council on Exercise (ACE) Chief Science Officer, Cedric X. Bryant, Ph.D.
"The findings from our commissioned study indicate that hooping delivers a total-body workout that can improve flexibility and balance while strengthening the back, abdominal, arm and leg muscles. Not only can hooping workouts result in improved cardiovascular health, muscle conditioning, flexibility and balance, but hoopers may also enjoy a fun, relaxing and potentially meditative effect due to the activity's rhythmic nature," Bryant adds.
"We're excited to see FXP introduce hula hoop fitness to the industry and their recent Program of the Year Award is a clear indication that the industry agrees! While previous winners have included nationally-recognized programs such as Zumba and Bodyshred, it's always great to see new programs recognized for world class workouts."
"Our mission is to change the way people think and feel about exercise," said Kristin Benton, President of FXP Fitness. "Through a holistic and integrated approach, we believe you can look and feel good when fitness is fun and enjoyable."
About FXP Fitness
FXP Fitness features the world's first weighted, portable, branded Hula Hoop.  A scientifically designed piece of workout equipment; the system includes a proven workout methodology, diet and nutritional line. FXP Fitness was born from the belief that fitness should be an enjoyable experience that yields great results. FXP creates effective fitness programs that help individuals of all ages and stages, from newbies to ninjas, achieve the results they desire and connect with a community that motivates! For more information, visit: www.fxpfitness.com.
Check out FXP Fitness LIVE at a MANIA® near you: www.scwfit.com/MANIA
At each 2017 MANIA® you will have the opportunity for to experience, in person, both:
FXP Hula Hoop®: Core Flow
FXP Hula Hoop®: Total Body Sculpt
NEW YORK CITY: www.scwfit.com/nyc
CALIFORNIA: www.scwfit.com/california
FLORIDA: www.scwfit.com/florida

We all know that vegetables are good for us and that we should eat more fresh veggies to increase the fiber and vitamin content of our diets, but the truth is that most veggie side dishes don't taste good enough to entice the whole family to dive in. This recipe is the answer. Broccoli and cauliflower are roasted in an outrageously tasty way that's simple, quick and full of nutrition.
Serve this delicious veggie side dish with a piece of lean meat for a well-balanced, fitness-approved meal.
Servings: 4
Ingredients
1 bunch broccoli
1 bunch cauliflower
1 Tablespoon olive oil
Dash of sea salt
Dash of pepper
4 garlic cloves, minced
Juice from 1 lemon
Preheat oven to 425 degrees. Lightly grease a large baking sheet with olive oil.
Wash the broccoli and cauliflower heads and pat dry. It's important to dry thoroughly for proper roasting. Cut into small florets.
In a medium bowl, combine the florets, olive oil, salt, pepper and garlic cloves. Toss until well-combined and then spread over the prepared baking sheet.
Roast for 25 minutes, stirring halfway through. Remove from oven once the florets are tender with crispy bottoms.
Drizzle the lemon juice over the cooked florets and serve immediately.
Nutritional Analysis: One serving equals: 160 calories, 4g fat, 98mg sodium, 8g carbohydrate, 4g fiber and 4g protein.
I hope you get a chance to give this recipe a try. Remember that I'm only a call or email away to assist you in all things fitness. If you are not yet one of my prized clients, then call or email me now to set up your first workout – I'd love to help you achieve your best body ever!
Check out www.carriehainesfitness.com to learn even more!
Check out a variety of nutrition lectures LIVE at a MANIA® near you: www.scwfit.com/MANIA
NEW YORK CITY: www.scwfit.com/nyc
CALIFORNIA: www.scwfit.com/california
FLORIDA: www.scwfit.com/florida