Turnout — a combination of rotational flexibility and the strength to properly hold that rotation — is fundamental to barre. Before you get frustrated that your feet do not turn out as much as the person next to you, remember that not everyone (actually, hardly anyone) is born with a 180-degree rotation! That doesn't mean there isn't always room for a little bit of improvement! Here are the do's and don'ts of improving your turnout.
DO focus on core strength.
Turnout requires a rotation that starts at the head of your femur and continues down the chain all the way to your feet. It starts at your hips but requires a lot more than just hip flexibility.
Turning out correctly requires a great deal of core strength. Both the muscles in the front and the back of the midsection need to be strong in order to lift your bodyweight out of your hips. Think about how much lighter on your feet you feel when you engage your core … go ahead, try it! Now that you have your core engaged, think about how much less pressure is being put on your hip joints and how much easier is it for you to externally rotate from the tops of your femurs.
But wait … there's more!
DO turn in.
Turning out properly also requires strength and balance in the adductors and abductors. Focus on strengthening the muscles of your inner and outer thighs and your glutes to create a well-rounded foundation.
Once again, it comes down to moderation and balance. If all your movement involves turning out, the rotational muscles that are responsible for that action will get over-trained and tight. In addition to practicing yoga to stretch these muscles, it's just as important to exercise the muscles that turn in every now and then. Pilates or Gyrotonics are good exercise choices to encourage turn-in without much impact on the joints.
DON'T walk or stand with a turned-out stance during daily activities.
Some people are naturally inclined to walk with their feet turned out, and some are not. Forcing yourself to walk with your feet outward all the time will not improve your rotation. In fact, it actually can lead to ankle, knee and hip pain.
DON'T force your turnout to the point of discomfort or pain.
Just remember that pushing your turnout isn't the same as forcing it. Never turn out to the point that your hips, knees and ankles aren't aligned in plié, your hips are tucked under, your feet are rolled in, your back is swayed or there is any pain or pulling in the hips.
Not only will you risk acute injury to your hips, knees and ankles, but eventually you will create lasting imbalances that can seriously impact your posture.
DO remember that more isn't always better!
Be mindful of your body and its limits, and listen to what it tells you!
Karli and BarreFlow will be at Boston MANIA®!

BOSTON: www.scwfit.com/boston
NYC: www.scwfit.com/nyc
Most Innovative program: Barre Above®
Best Male Presenter: Fabio Comana
Best Female Presenter: Irene Lewis-McCormick
Voting for Boston MANIA® is now open. All voters receive the one-time use of a $50 AWARD off the 2018 MANIA® of their choice! scwfit.com/awards
BOSTON: www.scwfit.com/boston
NYC: www.scwfit.com/nyc

NEW YORK — Shalane Flanagan pulled away from Mary Keitany on Sunday to become the first American to win the women's New York City Marathon since 1977.
Keitany had won three straight New York marathons, but Flanagan pulled away from the Kenyan great with about three miles to go. Flanagan finished with an unofficial time of 2 hours, 26 minutes, 53 seconds — about a minute faster than Keitany.
The American cried and yelled as she approached the finish line alone.
The last American woman to win New York was Miki Gorman, who won consecutive titles in 1976-77.
Flanagan finished second in New York in her first marathon in 2010 but hadn't run this race since. After a fracture in her lower back kept her out of the Boston Marathon, Flanagan trained hard for New York with an eye on Keitany.
Running: New York City Marathon
Shalane Flanagan celebrates after winning the professional women's division at the 2017 TCS New York City Marathon on Sun., Nov. 5, 2017.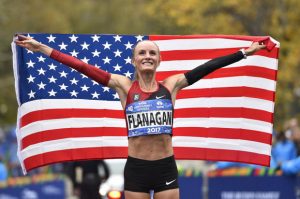 Flanagan called Keitany "the alpha racer" and said she was ready to "suffer dearly" while keeping up with the unpredictable Kenyan. Flanagan had said she may retire if she won New York.
In the men's race, Geoffrey Kamworor of Kenya held off countryman Wilson Kipsang by three seconds for his first major victory.
Kamworor ran the race in 2 hours, 10 minutes, 53 seconds. He and Kipsang embraced just past the finish line to huge cheers.
American running great Meb Keflezighi — who won the race in 2009 — completed his 26th and final marathon, collapsing as he crossed the finish line.
More than 50,000 runners from across the globe pushed themselves to the limit to traverse each of the five boroughs over a whopping 26 miles and change, CBS New York reports.
The day was dedicated to spirit and pride, and was marked by an unprecedented police presence to protect both the runners and the expected 2.5 million spectators cheering them on along the city-spanning route.
The enhanced security was in response to the truck attack in lower Manhattan on Halloween. Eight people were killed when terror suspect Sayfullo Saipov sped down the popular bike path near the West Side Highway, mowing down innocent cyclists and pedestrians.
BOSTON: www.scwfit.com/boston
NYC: www.scwfit.com/nyc
Meet Alana Sanders, MS, an SCW Presenter who got her start at MANIA® through the 2016 SCW Fitness Idol competition, where she wowed the judges with her energy.
Alana is the creator of "Get Pulsed™", a nationally accredited fitness format that is known to rock a crowd. The program, which comes with original music, mixes and choreography, presents an effective way to incorporate weights safely while dancing. To her students, Alana is the "Singing Fitness Instructor" who will serenade the cues during the workout. Not only does her cueing style help students remember the moves, it also decreases the probability of injury. Alana is certified and licensed in many group and fitness formats, and she loves how fitness can change a person's entire perspective on life. Her motto is, "Making Fitness Fun."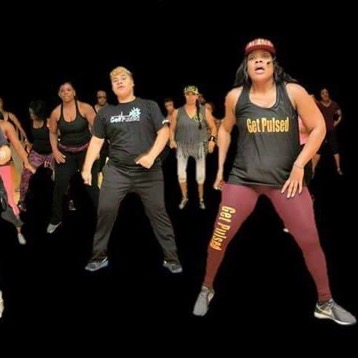 Through the SCW Fitness Idol competition, www.scwfit.com/idol, Alana earned the opportunity to be mentored by the notable presenter and Asia Idol creator, Lawrence Biscontini, and to receive valuable assistance from SCW CEO, Sara Kooperman. Alana teaches at every MANIA®, presenting sessions on Social Media Marketing, Cueing, Choreography and Dance Fitness.
Alana has graced the same stage with the likes of Wendy Williams, Jane Fonda and Nancy Grace. She has been featured on CNN, BET and NBC, nominated for "Who's Who" in Atlanta 4 years in a row, and she has been the featured fitness presenter with the "Ultimate Women Expo" and many other expos. She is a former College Business Chair and is currently a University Professor teaching the art of Business and Marketing. She wrote the first college textbook on "Social Media Marketing" through Pearson Education, which included workbooks to help business professionals utilize the networks. Her love for social media has built her reach on the networks to 7 million, and she constantly researches the program to keep updated with the trends. Alana consults businesses on the most effective ways to engage their current and future customers.
The achievement that outweighs all her accomplishments is being the mother to 12-year-old daughter McKinley, who takes after her energetic mom: McKinley published her first book at 5, started her first business at the age of 8, has been taking college courses since she was 9 and took the ACT at 10, and she is a DUKE Tip Scholar and a talented artist. Alana is one proud mom!
Come meet Alana at MANIA®, and experience her amazing energy in person! www.scwfit.com/mania

BOSTON: www.scwfit.com/boston
NYC: www.scwfit.com/nyc
"We have never seen a response to anything we have ever launched that was this big," Zumba® Fitness co-founder and CEO Alberto Perlman said of Zumba's new program, STRONG by Zumba®.
STRONG by Zumba® is not a dance class, it's a high-intensity exercise routine that is unlike anything Zumba® Fitness has ever offered. The company's first entirely new workout program debuted just one year ago. Now 200,000 to 300,000 people attend classes each week.
That's a lot faster than the original program took off: Zumba® first launched in 1999, and it took the company six years to reach 300,000 students per week, according to Perlman.
STRONG by Zumba® pairs certain exercise moves to music, but it's not choreography. The company worked with DJs, like Timbaland, to ensure that every squat or lunge matches a sound in a song. The idea came about after Perlman and co-founder Alberto Perez attended several high-intensity workout classes but left feeling frustrated.
"There was no connection between what the instructors were doing in the class and the music they are playing," Perlman said. "The most motivating part of fitness is the music."
Over the last several years, Zumba has released similar programs based on the original workout, including Aqua Zumba® or Zumba® Kids. But STRONG already has taken off; it's being taught in 100 of the 186 countries where Zumba® is offered (the company's programs aren't allowed in embargoed countries like Cuba, North Korea and Iran, where six young people were arrested in early August for promoting the dancing exercises).
High-intensity workouts have become very popular recently, especially at boutique fitness centers. But Perlman argues that these programs are too expensive for most people. STRONG by Zumba® is much more affordable, he says, adding that prices can range depending on the instructor or location. In some cases, prices could be as low as $5.
Zumba®, Inc.'s company of the year in 2012, collects fees from instructors, which can range between $250 and $300. It also requires teachers to pay a monthly rate that gives them access to company benefits, like educational videos. Zumba® instructors find locations to hold classes, whether at a gym or in a church basement, which also can dictate the price of a class.
In 2012, the company had a reported valuation of more than $500 million. Zumba® Fitness also makes money from its retail arm: Inc. reported that the company expected to sell 3.5 million units in 2012. Perlman says Zumba® Fitness has 250 employees.
"When doing innovation, don't look at what other people are doing, focus on the customer," Perlman said. "The ones that work are the ones that are completely customer-centric."
Come to a MANIA® and get certified in Zumba® B1 and STRONG by Zumba®! www.scwfit.com/MANIA

BOSTON: www.scwfit.com/boston
NYC: www.scwfit.com/nyc
Whether you're singing along to your favorite hip-hop track at a party, doing the "Electric Slide" at a wedding or tapping your foot to the beat of a TV commercial, one thing is certain: Music plays an active role in our lives. There's no doubt music brings immense joy, but did you know music also has therapeutic and healing effects?
Research shows that music can heal both physically and emotionally because it engages all three areas of the brain, which are responsible for bodily functions (reptilian), memories and emotions (limbic), and language and consciousness (neocortex).
For Sarah Knobloch, music was the turning point in her recovery.
Heal the Beat
After a near-fatal car accident, 15-year-old Sarah found herself in a coma in an Atlanta hospital. Unsure whether or not she would survive, doctors urged her mother, Caroline, to begin thinking about organ donation. But Sarah's mother wasn't ready for that. Instead, she turned to music.
"Early on, the doctors said we could bring music into her hospital room," Caroline said. "One of my friends is a music teacher who downloaded a bunch of classic music for us to play in her room. We always had music playing."
Sarah was in a coma for 20 days and remained hospitalized for seven months. As she slowly began to recover, music and movement were the cornerstones of her daily recovery program.
"I like rap and hip-hop, so that's what works best for me," Sarah said. "The music helps me remember good times, and for someone with memory loss, that's been really important."
New Beginnings
In 2016, Sarah discovered POUND®, a cardio jam session of choreographed movement inspired by playing the drums using weighted drumsticks called Ripstix. She implemented the workout into her regimen and says it helped her retain her brain for better balance and body movement.
A lot of science went into creating the drum-centric workout, co-founder Kirsten Potenza explains. Of course, one can relieve stress thanks to beating the bright green Ripstix on a yoga mat while listening to great music, but the idea behind POUND® goes beyond that. During a POUND® class, the music speaks to the heart and soul while moving and improving the body.
"There's something so powerful about being able to become part of the music," Potenza said. "This isn't about how your body looks or how you look doing it – this is about how it makes you feel. This is about making people happy through the music."
Check out POUND® for yourself at a MANIA® near you! www.scwfit.com/MANIA

BOSTON: www.scwfit.com/boston
NYC: www.scwfit.com/nyc
Exercising in water increases strength, flexibility and circulation while taking pressure off muscles and joints. We asked Jeff Howard, international fitness expert who has taught aquatic fitness for over 20 years, to give us his Top 10 exercises!
Aqua running
Just like it sounds, either stay in one place and jog with a high knee or run laps! Make sure to pump your arms in a swinging motion while staying in the water. This will get your heart rate up while toning your entire body.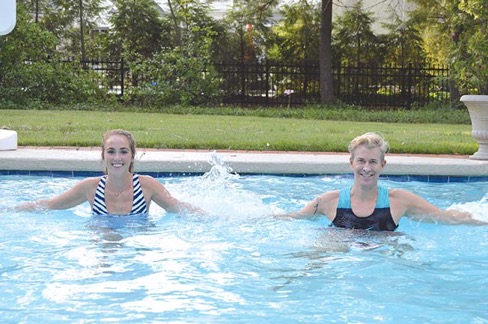 Jumping jacks
Do them just like you would on land, but make sure to keep your hands under the water while you push off from the bottom of the pool.
Moguls
Do the twist! Start with your feet facing one direction, then twist to the opposite direction. Imagine you're skiing while doing this one.
Shoot a basket
Stand with your feet as wide as your hips, then push off the bottom of the pool as if you're shooting a basketball.
Kick front and back with one leg
Stand with your feet shoulder-width apart. Imagine you are kicking a ball in front of you and then behind you. Repeat on other leg. This is a great exercise for your glutes.
Clap your hands
Stand with your feet as wide as your hips and clap your hands in front of you under the water. Make sure to start with them out by your side and bring them to the front. Another option is to alternate clapping your hands in front of you and then behind you.
Tread water
Start in a seated position, take your feet off the bottom of the pool and hold suspended without touching the bottom by moving your feet and hands. This one is great for your abs.
Tricep push-ups
Hold on to the side of the pool with hands placed firmly on the deck. The width of hands should be wider than your shoulders. Push up from the bottom, bringing your body as high as you can. For a progression, try not touch the bottom or sides while doing the dips.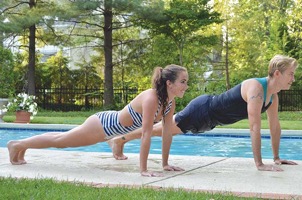 Tuck jump
Stand with your feet hip-width apart and push off from the bottom. Bring your knees up toward your chest while pushing your hands down.
Towel assisted sit-ups for the deck
Grab a towel and lie on a flat surface. Place a smaller towel or t-shirt at the back of your neck, grab with both hands and lie flat. Holding on to the towel, bring yourself up to a seated position and repeat. For a progression, add a twist while going into your seated position, alternating from right to left.
Bonus plank
Keep your hands under your shoulders while holding in a plank position. Increase difficulty by holding onto elbows and alternating weight onto one arm at a time.
For a full pool workout, set your timer for 45 seconds and do all 10 exercises. Rest for 1 minute, then repeat!
Jeff Howard presents the SCW Aqua Exercise Certification and aqua sessions at all MANIA® events. Check out www.scwfit.com/MANIA to find one near you.

BOSTON: www.scwfit.com/boston
NYC: www.scwfit.com/nyc
"Everybody wants to know… how I make… what goes into my anti-cancer shake!"- Bruce Mylrea