SCW Fitness Education & IHRSA Announce Strategic Partnership
SCW Fitness and IHRSA aim to exchange knowledge and expertise to strengthen professional relationships that will benefit the entire fitness industry.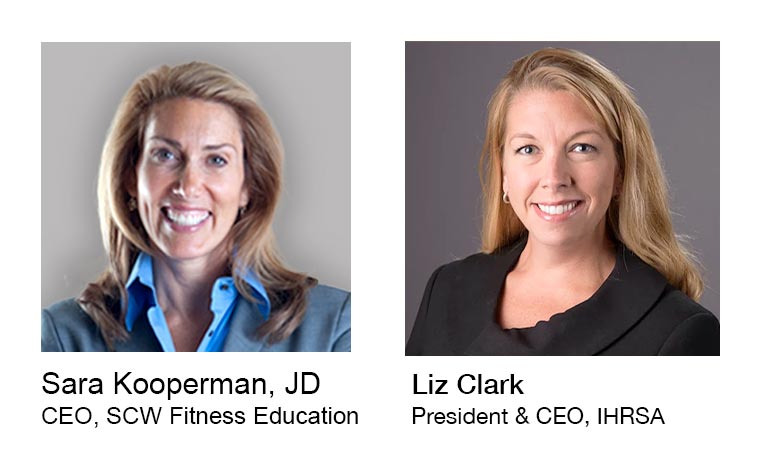 DEERFIELD, IL, & BOSTON, MA – Jan 11 2023 – SCW Fitness Education, the leading provider of continuing education for fitness professionals, and IHRSA, The Global Health & Fitness Association, announce a strategic partnership for 2023.
Through this strategic partnership, SCW Fitness aims to expand the business, leadership, and management skill sets of business owners and managers through educational offerings at the Health and Fitness Business Summits (HFBS) at the upcoming 2023, DC MANIA®, California MANIA®, Florida MANIA®, Atlanta MANIA®, Dallas MANIA®, Midwest MANIA®, and Boston MANIA® Fitness Conventions. Through the exchange of knowledge and expertise, this partnership will strengthen professional relationships to benefit the entire fitness industry. In addition, the SCW community will learn about the many benefits of IHRSA membership for their businesses and career development while supporting important industry initiatives such as the PHIT Act and other health, fitness, and pro-small business policy efforts.
"SCW is thrilled to be partnering with IHRSA and building a solid relationship with the world's largest leading health club organization," announced Sara Kooperman, CEO of SCW Fitness Education. "This partnership provides resources and education for exercise and wellness professionals globally, which is a silver lining that will help benefit consumers and the industry after the stresses caused from a terrible pandemic year."
"Liz Clark, President and CEO of IHRSA said, "this agreement builds on our strong relationship and will enable IHRSA to educate the SCW community about the many benefits of the new IHRSA membership for studio owners and fitness professionals. We are looking forward to again working with Sara and the whole SCW team this coming year."
The Health and Fitness Business Summit (HFBS) is a unique business track offered at each of SCW's seven, regional MANIA Conferences. HFBS sessions are specifically geared toward addressing the concerns of owners, managers, and directors, of both nonprofit and for-profit facilities, with sessions exclusively dedicated to marketing, technology, trends, sales retention, programming, finance, and leadership.
About SCW Fitness Education
SCW Fitness Education has been in business for 40 years and is the largest provider of continuing education conferences in the world, focusing on Group Fitness and Personal Training with an emphasis on leadership and management. With seven (7) regional live shows spanning 38 years, MANIA® Conferences are held in Washington D.C., California (San Francisco), Florida (Orlando), Atlanta, Dallas, Midwest (Chicago), and Boston annually. SCW reaches over 8,000 fitness professionals in face-to-face contacts, 70K via email, and another 300,000+ in virtual connections. MANIA® Conventions offers 150+ sessions on all aspects of the fitness/wellness industry (HIIT, Functional Training, Active Aging, Strength, Cycling, Mind/Body, Barre, Dance, Aqua, Nutrition, Recovery, Business & Leadership.) SCW is unparalleled in its provision of certifications, continuing education courses and conventions to fitness professionals in multiple disciplines both live and online.
About IHRSA
IHRSA, The Global Health & Fitness Association, is a not-for-profit trade association representing the global fitness industry of over 200,000 health and fitness facilities and their suppliers. IHRSA maintains a leadership role in advancing physical activity, which is critical for peak health and to fight the battle against obesity and chronic lifestyle disease. As the world's leading authority on the commercial health club industry, IHRSA's mission is to grow, promote, and protect the health and fitness industry, while providing its members with benefits and resources. IHRSA and its members are devoted to making the world happier, healthier, and more prosperous through regular exercise and activity promotion. IHRSA is the publisher of Club Business International, the leading monthly magazine for the global fitness industry.
Founded in 1981, IHRSA will be hosting IHRSA 2023, March 20-22 in San Diego. Learn more at IHRSA.org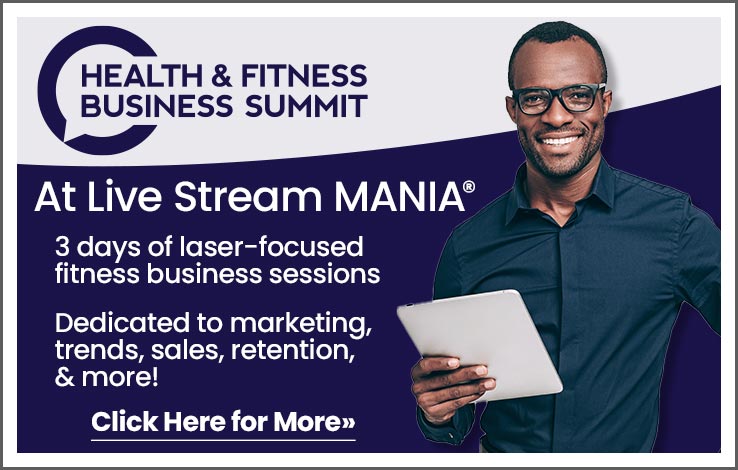 Health & Fitness Business Summit May 21-23, 2021
Join us for the Health & Fitness Business Summit included with registration at Live-Stream MANIA® Express. 3 days of laser-focused fitness business sessions exclusively dedicated to marketing, trends, sales, retention, social media, products, programming, finance and management lead by 25 top international thought leaders.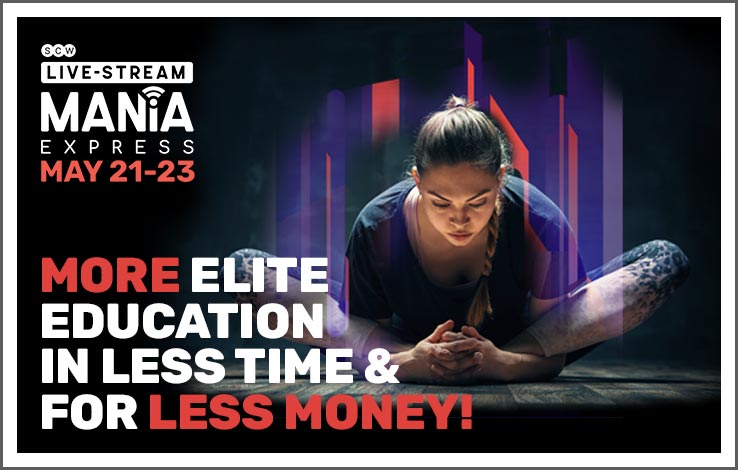 Live Stream MANIA® Express
May 21-23, 2021
One affordable flat fee gets you into all the sessions without any restrictions. Join any streaming session LIVE as it's happening or choose the All-Access Pass and attend when it's convenient for you!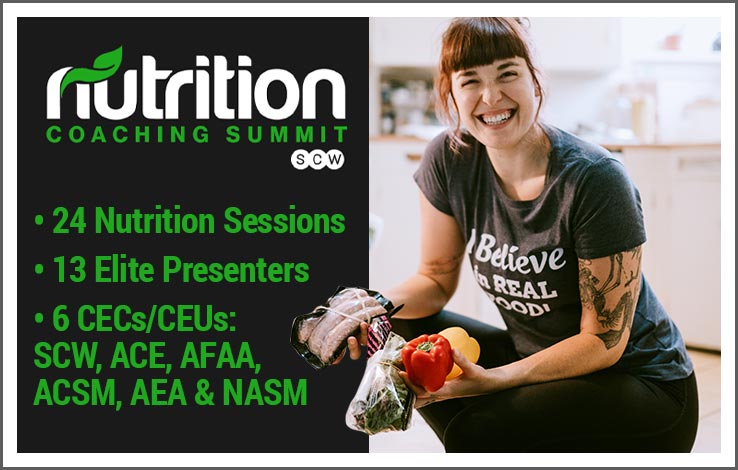 SCW Nutrition Coaching Summit
June 19, 2021
Was $199, Now only $99! Expert Nutrition & Wellness education all in an affordable one-day summit – covering all the trends and practical advice you need to help you and your clients succeed.