---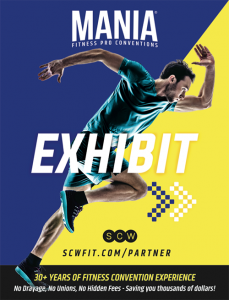 Exhibit at MANIA®
Exhibit at MANIA® and reach influential fitness pros with enormous buying power and consumer influence. This is ideal for new product sampling!
EXHIBITORS BROCHURE
---
EXHIBITORS REGISTRATION
---
MANIA® EXPO MAPS
---
Email us at: partner@scwfit.com
Become a MANIA® Sponsor
Ignite your brand and get maximum exposure when you become a sponsor at any or all of our 9 MANIA® Fitness Pro Conventions!
SPONSORSHIP BROCHURE
---
REQUEST SPONSORSHIP INFO 
---
Email us at: partner@scwfit.com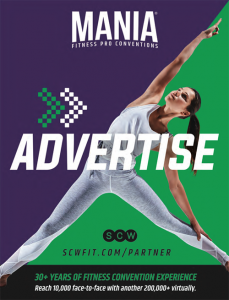 Advertise With Us
Get your products in front of 200,000+ fitness pros when you advertise with SCW. It's the perfect audience to promote your products and programs.
ADVERTISING BROCHURE
---
ADVERTISING REGISTRATION
---
DIGITAL & PRINT OPPORTUNITIES
---
Email us at: partner@scwfit.com