JOIN US FOR SCW LIVE STREAMING!
---
What is SCW Live Streaming?
Exclusively from SCW, Live Stream Certifications, Webinars & Events from the comfort of your own home with Zoom, an easy, reliable platform for video and audio conferencing across all types of devices. With SCW and Zoom, you get the benefits of a Live SCW Event (Certifications, Webinars, etc.) – participating in real time with live access to a renowned instructor while participating from the comfort and convenience of your own home!
---
---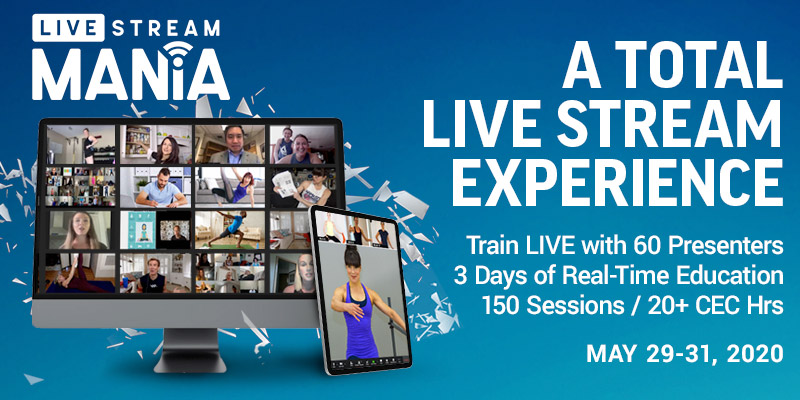 Live Stream An Entire Fitness Convention From Home
Join us for an action-packed weekend of inspiring and informative sessions with Top MANIA® presenters, streamed LIVE from their homes and studios directly to yours, May 29-31, 2020!
• Train LIVE with 60+ Presenters • 3 Days of Real-Time Education • 150 Workshops - 9 Sessions Every Hour • 20 CECs: SCW, AFAA, ACE, NASM, ACSM & AEA • Save $100 (was $259, NOW $159)
---
LIVE STREAM CERTIFICATIONS
---
---
Sunday, August 16
---
---
Wednesday, August 19
---
---
Thursday, August 20
---
---
Sunday, August 23
---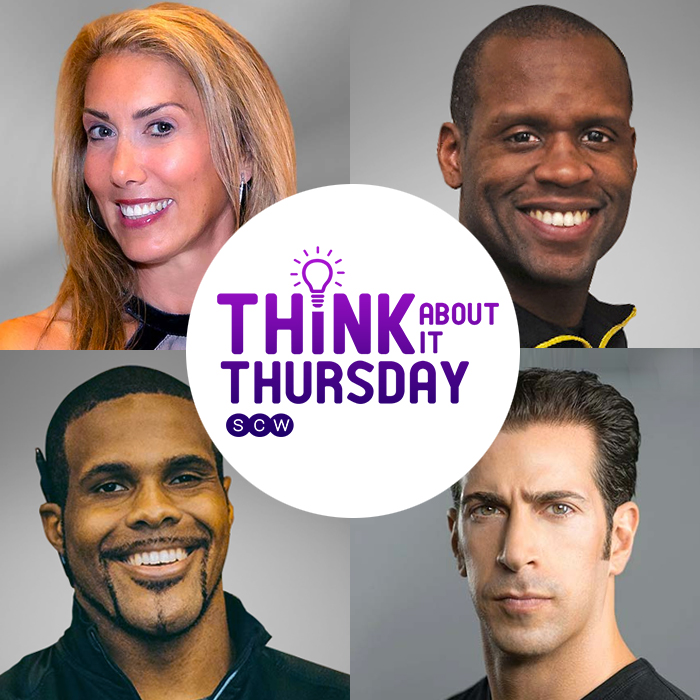 SCW FREE Webinar: Virtual Personal Training: The Ins and Outs
with Sara Kooperman, Sheldon McBee, Dane Robinson & Giovanni Roselli
THURSDAY, August 13
7pm-7:45pm EST
6pm-6:45pm CST
5pm-5:45pm MST
4pm-4:45pm PST
Join us as we explore what it takes to successfully train clients virtually. Even as your clubs open back up, virtual training will remain a way to effectively expand your reach and increase your income, and help those who aren't ready to return the gym. Our panel of experts will discuss the ins and outs of virtual training – from marketing your services, to mastering the technology needed for a successful session, to effectively communicating with your clients, this FREE webinar will help you on your way to a successful online training business.
Sara Kooperman is the Owner & CEO of SCW Fitness Education & WATERinMOTION®. Sheldon McBee has a Masters in Degree in Human Nutrition, is an ACE certified Personal Trainer, and has over 18 years of experience in health and fitness. Dane Robinson is a CPT through the National Academy of Sports Medicine, as well as a lululemon ambassador. His focus is to drive a next level boutique studio experience inside Onelife Fitness Atlanta. Giovanni Roselli is a PFP Trainer Of the Month, an Equinox employee of over 10 years and has worked as a content creator for both Nike and Equinox.
---
---
---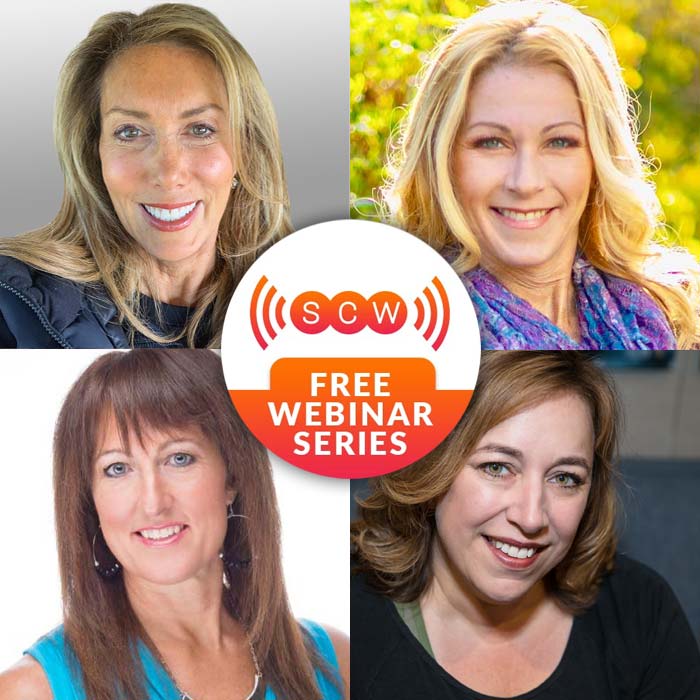 SCW FREE Webinar: Women In Fitness - Advance Your Career! Celebrate the Anniversary of Women Getting the Right to Choose their Future through Voting
with Sara Kooperman, Christine Conti, Melissa Layne & Nathalie LaCombe
Wednesday, August 26
7pm-7:45pm EST
6pm-6:45pm CST
5pm-5:45pm MST
4pm-4:45pm PST
In this impactful webinar, explore opportunities for career advancement and choices during and after this pandemic. Plan for your future with these leading women in fitness. Online programming, in-club instruction and management, educational choices, personal training options, ownership alternatives will all be addressed. Simple resume-building techniques and out-reach suggestions will be explored. Come with plenty of questions and enjoy this webinar full of answers and inspiration as we celebrate Women Getting The Right To Vote in America!
Sara Kooperman is the Owner & CEO of SCW Fitness Education & WATERinMOTION®. Christine Conti is the CEO of Conti Fitness and Wellness LLC and NJ Fitness Director for Orange Theory Fitness. Melissa Layne, MEd is a Kinesiology Department faculty member at the University of North Georgia, she has 30 years of experience and a master's degree in Exercise Physiology. Nathalie LaCombe is the former VP of CanFitPro, Fitness Industry Council Board Member and Leadership Coach.
---
---
---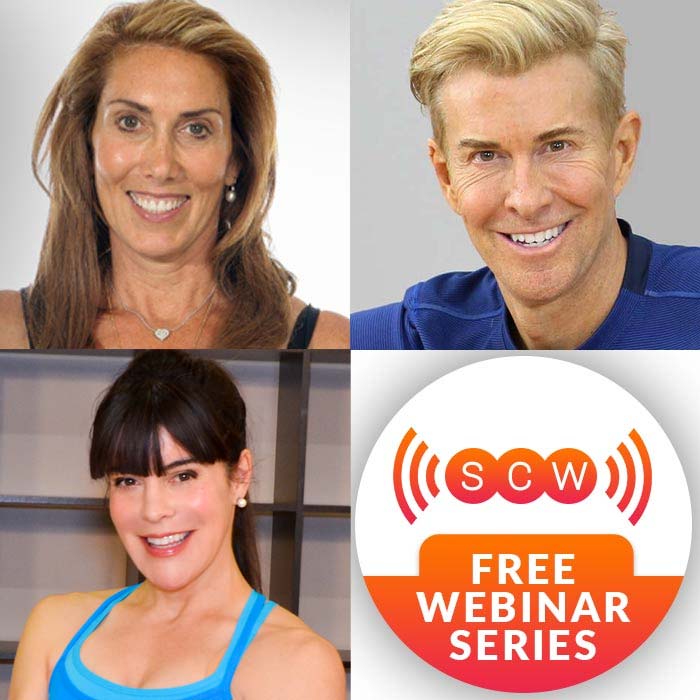 SCW FREE Webinar: Virtual Training for Independent Health clubs, Chains, Boutique Studios & Instructors.
with Sara Kooperman, Jeff Howard & Abbie Appel
THURSDAY, September 3
7pm-7:45pm EST
6pm-6:45pm CST
5pm-5:45pm MST
4pm-4:45pm PST
Learn the ins and outs of virtual training for all levels of the fitness industry. From figuring out your music, cameras & lighting, to setting the stage for financial success. Erin Kelly, Jeff Howard and Sara Kooperman share the secrets of various live streaming and on-demand programming and procedures. Don't miss this one of a kind panel.
Sara Kooperman is the Owner & CEO of SCW Fitness Education & WATERinMOTION®. Jeff Howard  is a world-renowned fitness presenter and celebrity trainer. He was a pioneer instructor at the Golden Door Spa, starred in numerous fitness videos, educated fitness professionals at conventions worldwide for more than a decade. Abbie Appel is the owner and CEO of Abbiefit Consulting, Appel Programming Solutions and the Program Director at Fitspace Studios.
We will address these important issues:

1. What are the best platforms to stream your classes?
2. How can you turn your streaming into actual profit?
3. What type of microphone should I use so my clients can hear me?
4. What are my options for music during a streaming class?
5. What are some look out points that I should be aware of when starting to stream my classes online?
6. What do I need to know about liability insurance or using waivers for my streaming classes?
---
---
---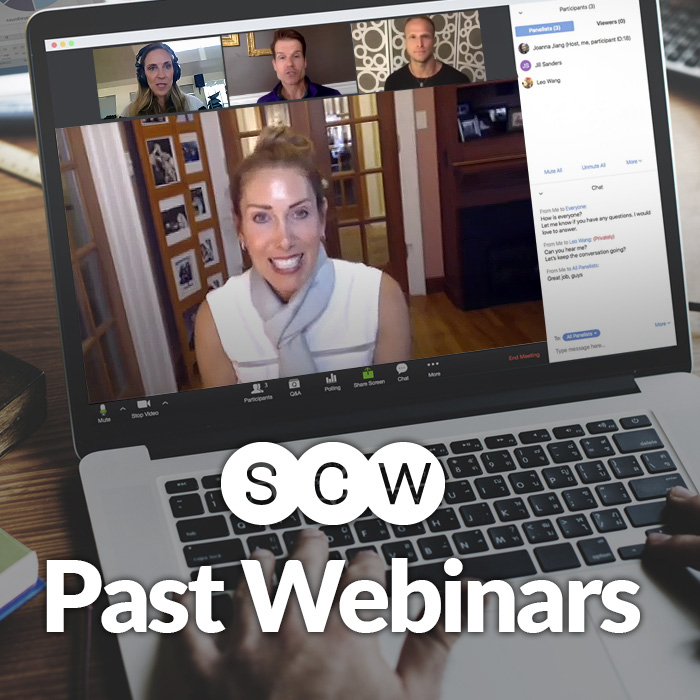 Past SCW Webinar Recordings
Catch up on valuable information you missed the first time around.
Simply click the button below and you will have complete FREE access to all the past SCW Webinars.
---