JOIN US FOR SCW LIVE STREAMING!
---
What is SCW Live Streaming?
Exclusively from SCW, Live Stream Certifications, Webinars & Events from the comfort of your own home with Zoom, an easy, reliable platform for video and audio conferencing across all types of devices. With SCW and Zoom, you get the benefits of a Live SCW Event (Certifications, Webinars, etc.) – participating in real time with live access to a renowned instructor while participating from the comfort and convenience of your own home!
---
---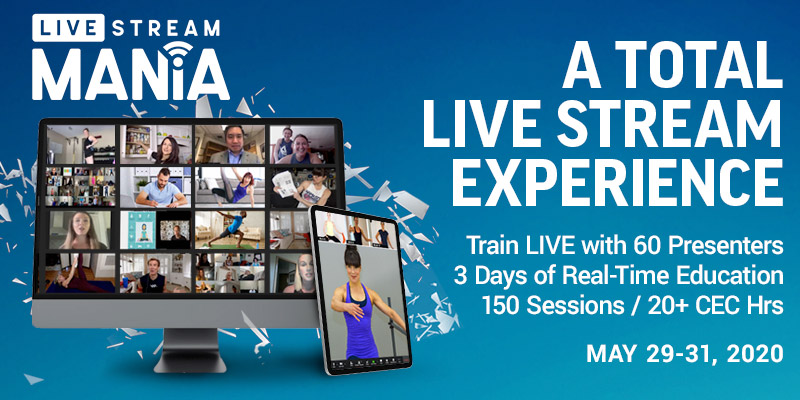 Live Stream An Entire Fitness Convention From Home
Join us for an action-packed weekend of inspiring and informative sessions with Top MANIA® presenters, streamed LIVE from their homes and studios directly to yours, May 29-31, 2020!
• Train LIVE with 60+ Presenters • 3 Days of Real-Time Education • 150 Workshops - 9 Sessions Every Hour • 20 CECs: SCW, AFAA, ACE, NASM, ACSM & AEA • Save $100 (was $259, NOW $159)
---
LIVE STREAM CERTIFICATIONS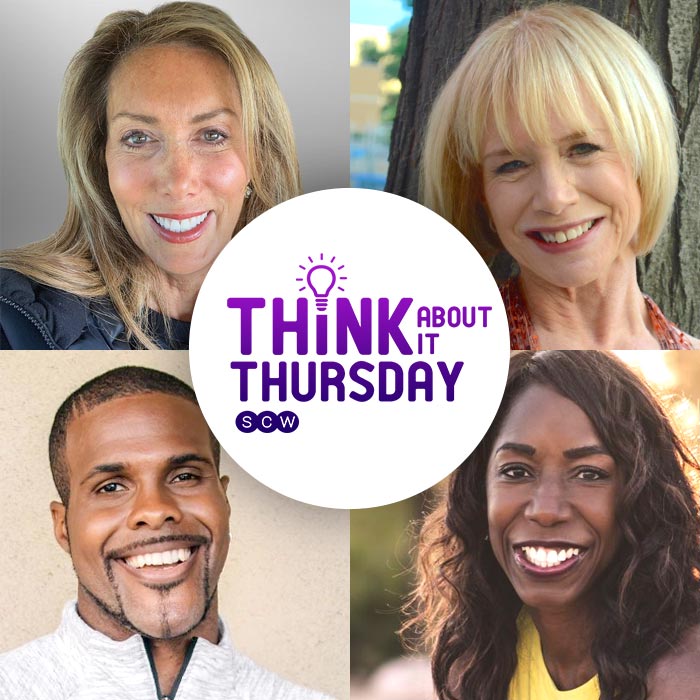 SCW FREE Webinar: Under-Employed & Unemployed GX: Survive & Thrive
with Sara Kooperman, June Kahn, Dane Robinson & Jacquese Silvas
THURSDAY, March 4
7pm-7:45pm EST
6pm-6:45pm CST
5pm-5:45pm MST
4pm-4:45pm PST
The pandemic hit the industry hard and many instructors are still feeling the hit nearly a year later. Join our panel of GX experts to learn what you can do as an under or unemployed instructor to start generating revenue today. Get tips on branching into the online market and partnership opportunities to take your career to the next level.
Sara Kooperman is the CEO and owner of SCW Fitness Education & WATERinMOTION®. June Kahn is an internationally recognized Fitness/ Pilates leader and educator. Recipient of 2009 World IDEA Fitness Instructor of the Year, Pilates Rehab Specialist & owner of Center Your Body Pilates, an award-winning Pilates studio in Louisville CO. Dane Robinson is a certified Personal Trainer through the National Academy of Sports Medicine as well as a lululemon ambassador and a 2x Head Coach of the Year with the Atlanta Steam of the Legends Football League. Jacquese Silvas is an international presenter, published author, and speaker, has been in the fitness industry for 25 years. She is the owner of JACS Figure On Fit, LLC, a successful Arizona fitness boutique and co-founder of POWRD, LLC. Additionally, Jacquese teaches health and PE classes part of the year, acts in various roles to affect strong communities.
We will address the following topics:

1. How can I transition from the club environment to streaming quickly and effectively?
2. If I don't have a club or studio to use for streaming, what other options are available?
3. What's the most effective way to take payment for my services without being at a studio?
4. How can I partner with other local businesses to gain exposure and increase revenue?
5. What are some pitfalls to avoid when taking my career online?
---
---
---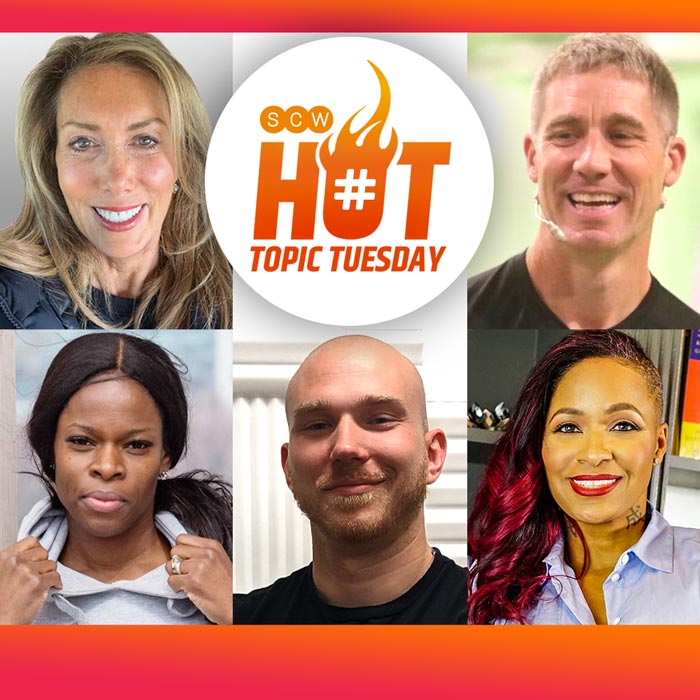 SCW FREE Webinar: How to Start a Successful Boot Camp Business
with Sara Kooperman, Fraser Quelch, Nike Charles, Alex Bryce & Diva Richards
TUESDAY, March 9
7pm-7:45pm EST
6pm-6:45pm CST
5pm-5:45pm MST
4pm-4:45pm PST
Boot camps have seen a tremendous growth rate of close to 40% over the last decade. With key planning, a boot camp is a great way to grow revenue and expand your client base. Join these boot camp experts and learn key tips on how to develop a booming fitness business.
Sara Kooperman is the CEO and owner of SCW Fitness Education & WATERinMOTION®. Fraser Quelch is an internationally renowned expert is a founder of the revolutionary training company TRX® and an award-winning presenter who's been featured at conferences and events all over the world including an appearance on the TEDx stage. Fraser combines an animated, entertaining style with his knowledge and gift to motivate and inspire. Nike Charles is the owner of JUST2SWEAT, a place where faith and fitness transform lives! She holds a Bachelor's of Science Degree in Kinesiology and a Minor in Sports Medicine. She is also a Can Fit Pro Certified Personal Trainer who has been into fitness her entire life. Alex Bryce is the Co-Founder and Head Coach at Electrum Performance, Director of Performance at Jiujiteiro, Head Strength Coach at Atos Jiujitsu HQ, and is a Certified Strength and Conditioning Specialist with Distinction (CSCS) from the National Strength and Conditioning Association (NSCA). Diva Richards  is one of the top rising motivational life coaches within the east coast region with over 15 years experience within the entrepreneurship sector. As the Founder and President of Hard Work No Excuses, LLC., which includes the 10,000+ sq foot Hard Work No Excuses Fitness Facility located in Marlton, NJ, Hard Work No Excuses fitness apparel line, The Do Work Method Motivational & Life Coaching Program and You vs You Production company.
We will address the following topics:

1. How do I start a boot camp business?
2. What is a typical boot camp workout?
3. Where do I host a boot camp?
4. What will I need to organize my boot camp business?
5. How do I get and keep clients?
---
---
---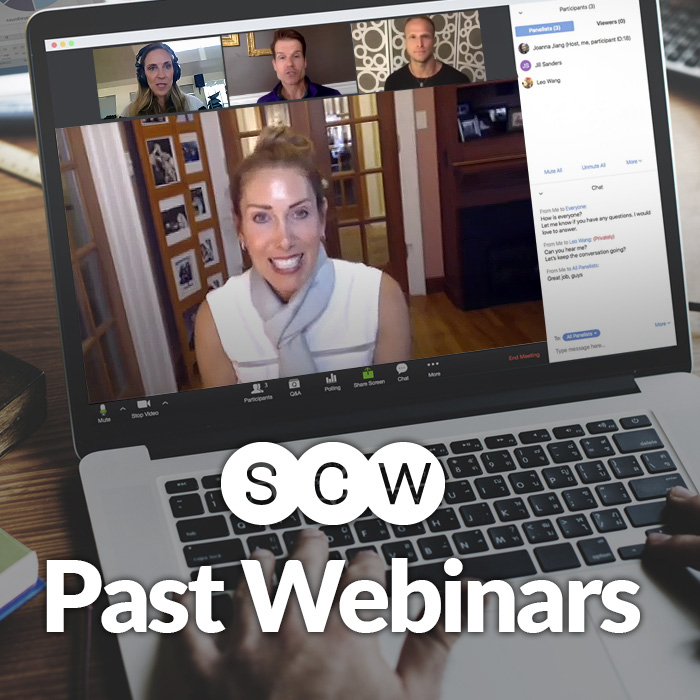 Past SCW Webinar Recordings
Catch up on valuable information you missed the first time around.
Simply click the button below and you will have complete FREE access to all the past SCW Webinars.
---