JOIN US FOR SCW LIVE STREAMING!
---
What is SCW Live Streaming?
Exclusively from SCW, Live Stream Certifications, Webinars & Events from the comfort of your own home with Zoom, an easy, reliable platform for video and audio conferencing across all types of devices. With SCW and Zoom, you get the benefits of a Live SCW Event (Certifications, Webinars, etc.) – participating in real time with live access to a renowned instructor while participating from the comfort and convenience of your own home!
---
---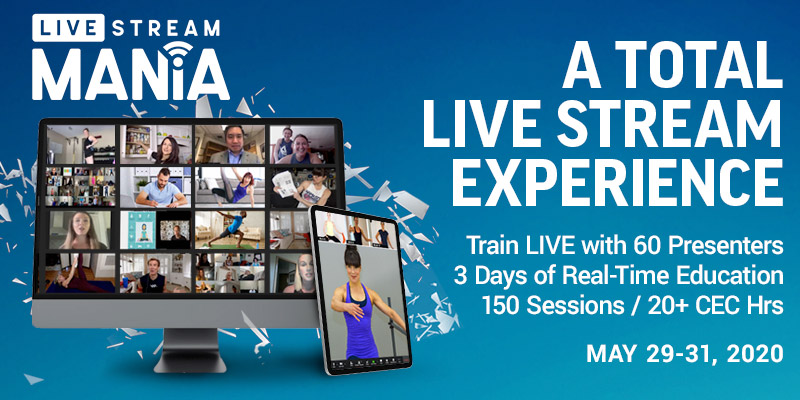 Live Stream An Entire Fitness Convention From Home
Join us for an action-packed weekend of inspiring and informative sessions with Top MANIA® presenters, streamed LIVE from their homes and studios directly to yours, May 29-31, 2020!
• Train LIVE with 60+ Presenters • 3 Days of Real-Time Education • 150 Workshops - 9 Sessions Every Hour • 20 CECs: SCW, AFAA, ACE, NASM, ACSM & AEA • Save $100 (was $259, NOW $159)
---
LIVE STREAM CERTIFICATIONS
---
---
Saturday, December 12
---
Sunday, December 13
---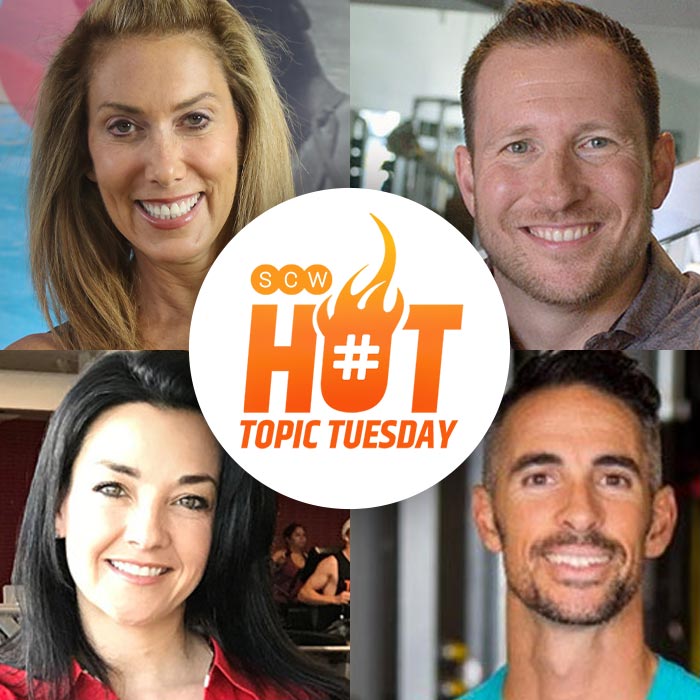 SCW FREE Webinar: Remote PT in Your Gym
with Sara Kooperman, Chris Stevenson, Carrie Kepple & Paul Christopher
TUESDAY, December 8
7pm-7:45pm EST
6pm-6:45pm CST
5pm-5:45pm MST
4pm-4:45pm PST
Clubs & Studios across the country are beginning to re-open, but many are yet to be fully operational and are operating with strict health and safety guidelines in place. With many clients utilizing the pandemic to focus on their health, personal training has become one of the top draws in the fitness business. Join our panel of experts as they give insights on how & why we should be incorporating remote PT sessions from our facilities.
Sara Kooperman is the CEO and owner of SCW Fitness Education & WATERinMOTION®. Chris Stevenson is an international speaker who regularly presents at fitness and business events across the world. Carrie Kepple is the IHRSA Board of Directors Acting Chairman and a senior-level business leader, with over a decade of national and international strategic and operational management experience in the fitness industry. Paul Christopher is an established Fitness Professional operating in the Boca Raton area for over 20 years and is the founder of the fitness brand/concept Gravity + Oxygen.
We will address the following questions:
1. Why should we be running remote sessions when our clubs are back open?
2. Is remote & virtual training here to stay in the fitness industry?
3. How should we set our pricing for remote training vs. in-person?
4. Are our clients more or less likely to stick with a training schedule if they are only being trained remotely vs. having to come into the club?
5. What technology should be upgraded or implemented to ensure remote trainings are successful?
---
---
---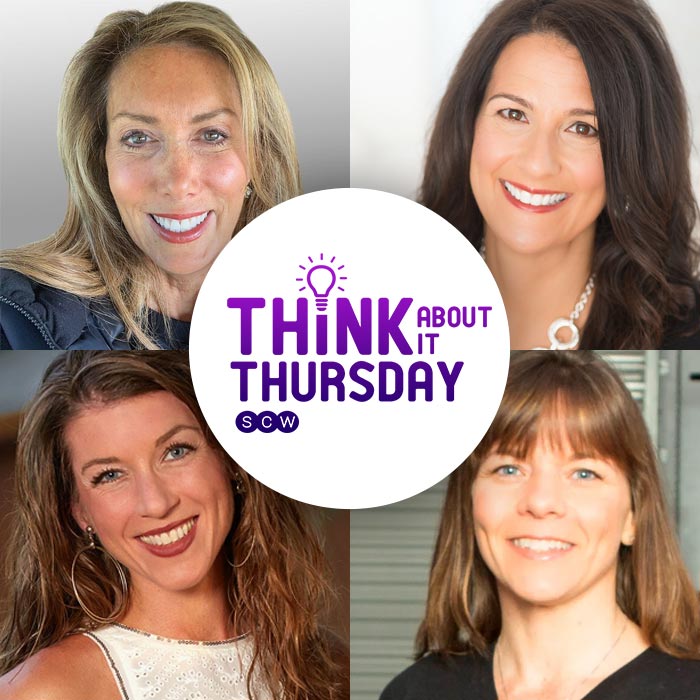 SCW FREE Webinar: Healthy for the Holidays
with Sara Kooperman, Tricia Silverman, RD, LDN, MBA, Sohailla Digsby, RDN, LD, CPT & Kim Miller
THURSDAY, December 10
7pm-7:45pm EST
6pm-6:45pm CST
5pm-5:45pm MST
4pm-4:45pm PST
It's no secret that the holiday season is the most trying time for our clients and ourselves to maintain healthy nutritional habits. Join SCW's panel of nutrition experts for easy to digest advice on how to stick to the plan, as well as some easy to implement changes to turn that calorie heavy holiday meal around! Plus, get our expert's personal favorite healthy holiday recipes.
Sara Kooperman is the CEO and owner of SCW Fitness Education & WATERinMOTION®. Tricia Silverman, RD, LDN, MBA is a registered dietitian and an SCW MANIA® Presenter of the Year. As an SCW Faculty Member, she wrote, developed & leads the SCW Nutrition for Active Aging Certification. Sohailla Digsby, RDN, LD, CPT is a registered dietician, author and the developer of the life-changing 52-day Best Body Countdown program for fitness professionals to bring sound nutrition and accountability to their fitness and wellness facilities. Kim Miller is the CEO of the Garcia Institute of Modern Excellence and the Wholota Wellness Company. With 20+ years of experience in the health and fitness industry, she is a specialist in motivating individuals to become their best self. She holds nine national certifications and is a level 3 NeuroKinetic Practitioner, Egoscue Posture Specialist, and Holistic Health Coach.
We will address the following questions:
1. What are some easy substitutions we can implement into our holiday recipes to cut calories and still enjoy holiday festivities?
2. How can we best prepare our clients to maintain healthy eating habits through the holidays?
3. What are your favorite healthy holiday meal go-to's?
4. Nutrition has already been greatly affected by the pandemic, what can we do to help our clients though one of the most nutritionally difficult times of the year?
5. What is your holiday guilty pleasure, and what can we swap to take the guilt out of it?
---
---
---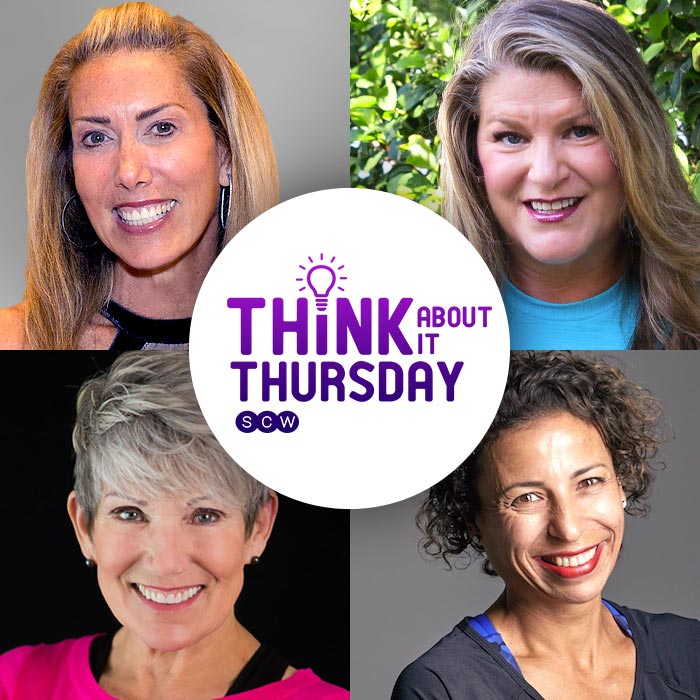 SCW FREE Webinar: Anchors Away: Aqua for the New Year
with Sara Kooperman, Connie Warasila, Ann Gilbert & Marietta Mehanni
THURSDAY, December 17
7pm-7:45pm EST
6pm-6:45pm CST
5pm-5:45pm MST
4pm-4:45pm PST
It's time to get back in the pool! The pool is one of the safest and most underutilized environments at any facility. It is time we start using this piece of equipment to its fullest abilities. Join our panel of aqua experts to learn what's new, what's safe and what we should be doing now to increase revenue!
Sara Kooperman is the CEO and owner of SCW Fitness Education & WATERinMOTION®. Connie Warasila is the choreographer for WATERinMOTION®, faculty member of SCW Fitness Education, and certified by ACE, AEA, AFAA, Balanced Body, The Braining Center, Yoga Fit, Schwinn®, Reebok Cycle, and Moms in Motion. Awarded the Aquatic Exercise Association Fitness Professional of the Year, Connie has over 30 years of teaching experience in the USA and abroad. Ann Gilbert is an owner and operator of two Shapes Fitness for Women franchises in the Tampa Bay area. Ann oversees the operations of over 50 Group Fitness professionals and 25 certified Personal Trainers, and coordinates fee-based group personal training programs. Marietta Mehanni is a multi-award winning fitness presenter, Marietta Mehanni is a successful live and online educator for both land and water-based exercise. She is the Education Coordinator for Gymstick International.
We will address the following questions:
1. How do we convince the active aging population to re-engage in our aquatic programs?
2. What are the up and coming aqua programs we should start teaching now?
3. What can we do to expand our aqua clientele to include younger members who may have been away from the gym for an extended period of time?
4. What are some of the safety measures we need to keep in mind regarding the pool?
5. What will aquatic programming look like in 2021?
---
---
---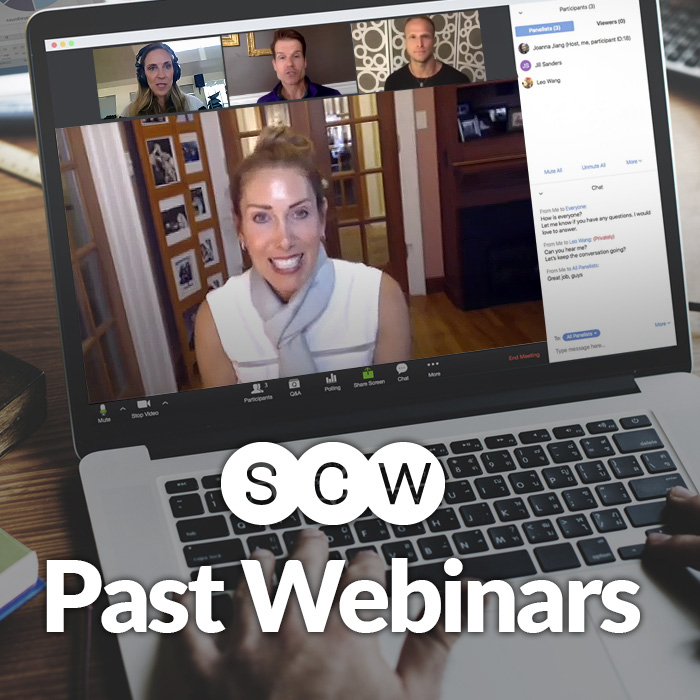 Past SCW Webinar Recordings
Catch up on valuable information you missed the first time around.
Simply click the button below and you will have complete FREE access to all the past SCW Webinars.
---