JOIN US FOR SCW LIVE STREAMING!
---
What is SCW Live Streaming?
Exclusively from SCW, Live Stream Certifications, Webinars & Events from the comfort of your own home with Zoom, an easy, reliable platform for video and audio conferencing across all types of devices. With SCW and Zoom, you get the benefits of a Live SCW Event (Certifications, Webinars, etc.) – participating in real time with live access to a renowned instructor while participating from the comfort and convenience of your own home!
---
---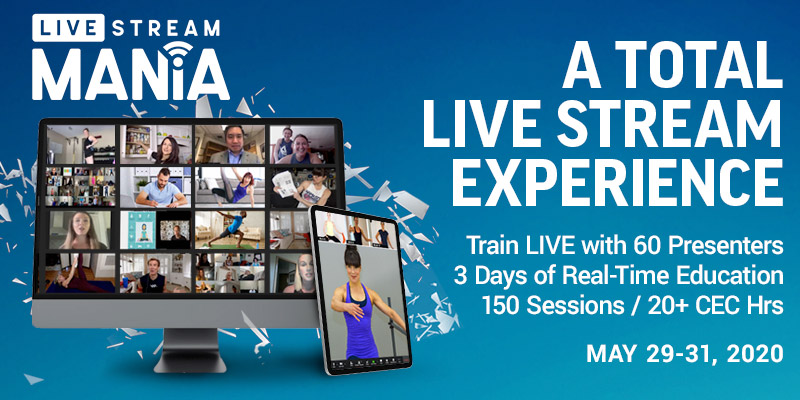 Live Stream An Entire Fitness Convention From Home
Join us for an action-packed weekend of inspiring and informative sessions with Top MANIA® presenters, streamed LIVE from their homes and studios directly to yours, May 29-31, 2020!
• Train LIVE with 60+ Presenters • 3 Days of Real-Time Education • 150 Workshops - 9 Sessions Every Hour • 20 CECs: SCW, AFAA, ACE, NASM, ACSM & AEA • Save $100 (was $259, NOW $159)
---
LIVE STREAM CERTIFICATIONS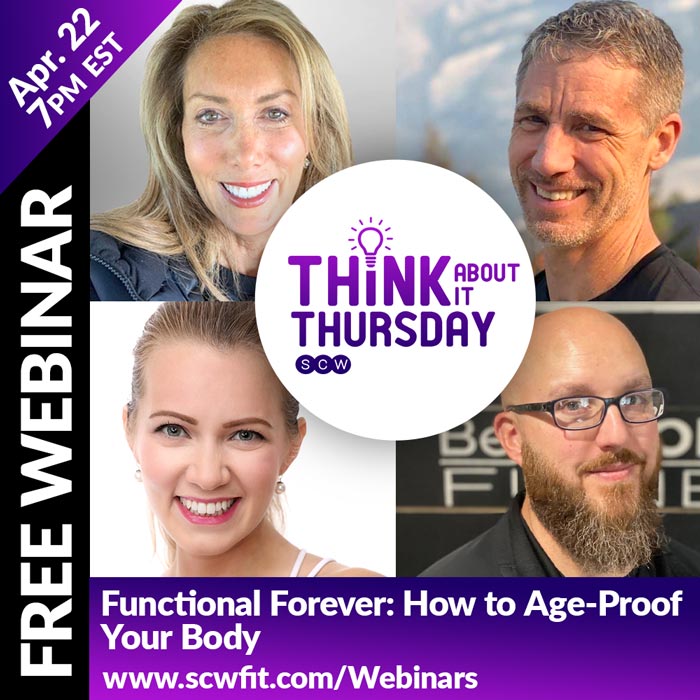 SCW FREE Webinar: Functional Forever: How to Age-Proof Your Body
with Sara Kooperman, Fraser Quelch, Siri Chilazi & Robert Linkul
THURSDAY, April 22
7pm-7:45pm EST
6pm-6:45pm CST
5pm-5:45pm MST
4pm-4:45pm PST
Studies report that people over the age of 40 may lose up to 8 percent of their muscle mass per decade, and that the rate of decline nearly doubles after the age of 70. The good news is that muscle loss can be slowed, or even prevented, by taking the right steps now. Learn from rockstar industry experts how to stay strong as you age and how to fuel and keep your muscles healthy and fit for years to come!
Sara Kooperman is the CEO and owner of SCW Fitness Education & WATERinMOTION®. Fraser Quelch is an internationally renowned expert is a founder of the revolutionary training company TRX® and an award-winning presenter who's been featured at conferences and events all over the world including an appearance on the TEDx stage. Siri Chilazi is an SCW, ACE and AFAA-certified group fitness professional with nearly 15 years of experience in the fitness industry and a background in ballet and jazz dance. She is a master trainer for Cardio Yoga® and RAQ THE BARRE® by RAQISA®, and her other specialty certifications include Pilates, Barre Above® and Balletone®. Robert Linkul is the owner of TrainingTheOlderAdult.com (TOA) and the Be STRONGER Fitness Online Training Bunker. Robert is an internationally known presenter featured for his teachings on resistance training strategies for the Older Adult and those with physical limitations and/or a decreased quality of life.
We will address the following topics:
1. What are the signs and symptoms of sarcopenia?
2. Besides age, what other factors influence muscles loss as we age?
3. How can I design an effective Progressive Resistance Training (PRT) program for virtual clients?
4. How do macronutrient needs, such as carbs and proteins, change as the body ages?
5. How often should clients participate in strength training on a weekly basis?
---
---
---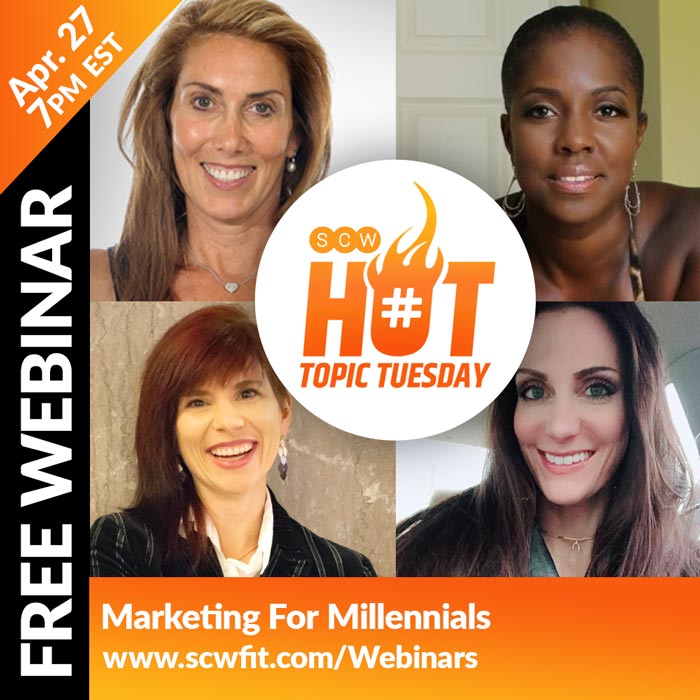 SCW FREE Webinar: Marketing to Millennials
with Sara Kooperman, Myrna Brady, Jessica Maurer & Andrea Austin
TUESDAY, April 27
7pm-7:45pm EST
6pm-6:45pm CST
5pm-5:45pm MST
4pm-4:45pm PST
The fitness industry has seen an exponential increase in millennial participation (ages 23-38). For a demographic that is typically budget-conscious, investing in health and wellness is priceless. Join our panel of experts to learn effective marketing strategies to reach millennials and harness the vast economic power of this influential group.
Sara Kooperman is the CEO and owner of SCW Fitness Education & WATERinMOTION®. Myrna Brady has 25 years of Fitness, Music, and Business experience. She has an eclectic background having worked in management and/or executive positions in sales, marketing, HR Management, and Retail Marketing. Myrna has worked for companies such as Nabisco & Nike and start-up internet ventures. Jessica Maurer is a fitness business consultant and strategist who has presented and consulted for many brands internationally. Her passion is helping fitness professionals & businesses reach full potential through education, program & instructor development, and brand creation & awareness. Andrea Austin is the owner and CEO of BeatBoss™ Indoor Biking & Consulting with over 30 years of industry experience. She is passionate about innovation and creativity, she loves to positively share her insights with those learning from her.
We will address the following topics:
1. What type of technology is most valued by millennials?
2. How can I optimize my digital content and social media posts to reach this demographic?
3. What fitness trends and programming is favored by this age group?
4. How do I create social experiences for millennials while safely practicing social distancing requirements?
5. What purchasing behaviors should I consider when marketing to millennials?
---
---
---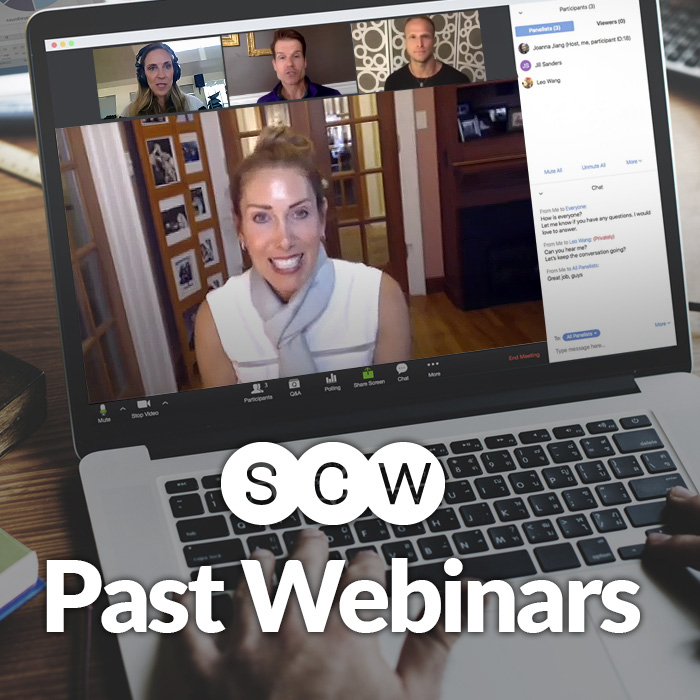 Past SCW Webinar Recordings
Catch up on valuable information you missed the first time around.
Simply click the button below and you will have complete FREE access to all the past SCW Webinars.
---